Oceans of Fun 2017
It's officially summer in Kansas City and there is no place I'd rather be with my kids than at Oceans of Fun! This post contains tips for taking younger kids to the park. This post is sponsored by Oceans of Fun, all opinions are my own!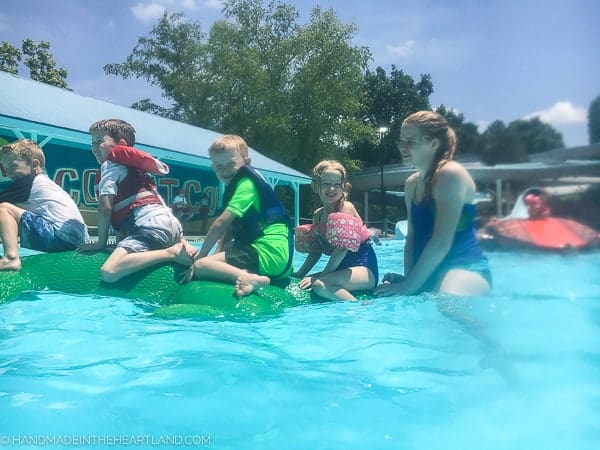 Last week Matt's sister was in town with her family, she has 6 children and 3 of them are 6 year old triplet boys! We decided to beat the heat and take everyone to oceans of fun. It was a blast, the perfect day for all our kids! Leaving the park they all were exhausted but so happy. Walking to the car one of the triplets said "that was the funnest day ever!" ???? #MomWin!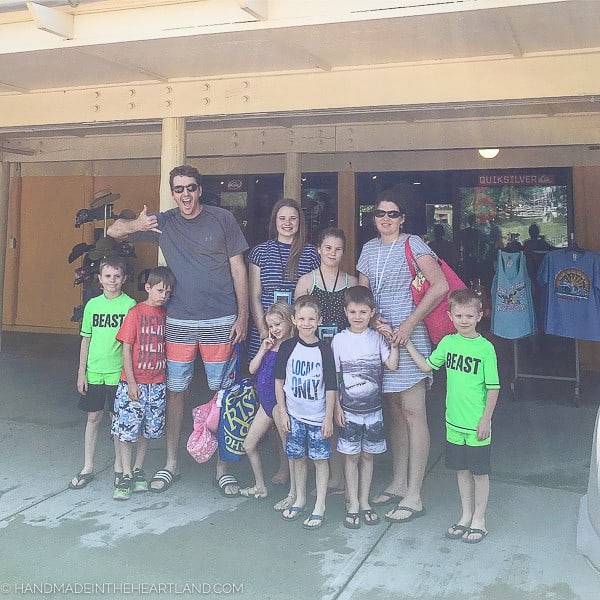 We had 2 teenagers and the rest of the kids were younger. It's totally different taking young kids to the park versus teens. We basically let the girls take off and do all the big water slides and we stayed with the kiddos. We got to the park at 10:00 am when it opened not knowing that Oceans didn't open until 11.  We took the opportunity to head over to some rides and of course pay a visit to planet snoopy.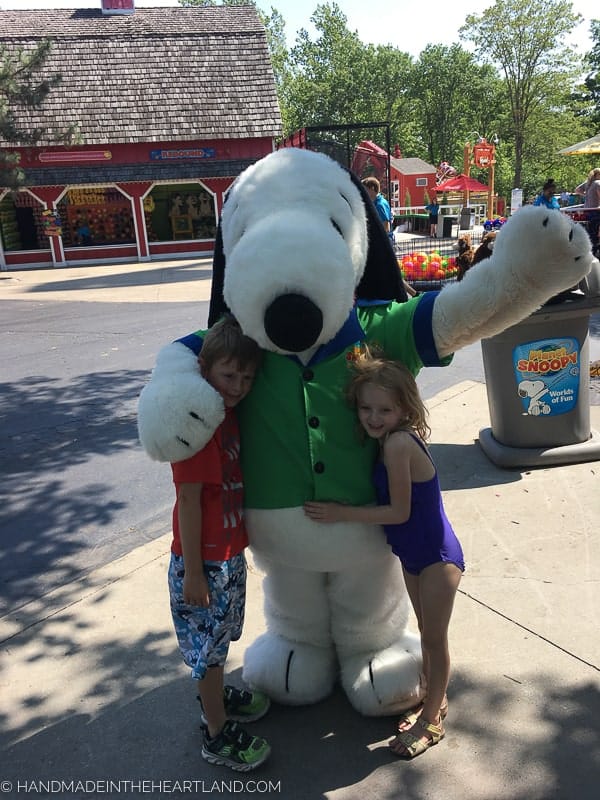 One of the disappointing things about visiting theme parks with kids is the limited amount of rides and attractions littles can ride on, and this is why I LOVE Oceans of Fun. There is so much for small children to do and enjoy. I'm totally obsessed with the Captain Kidd's area. It had a fun pirate ship to explore on, multiple slides than any size could ride, water table-like play areas and even a little wading pool.
My four year old spent over an hour just going down the slides in the picture below over and over again. The best part was that I could sit on the side and just watch her! The fact that the water was only 2 feet deep at the end of the slide and that she was wearing her puddle jumper gave me the ability to be totally hands free. Awesome!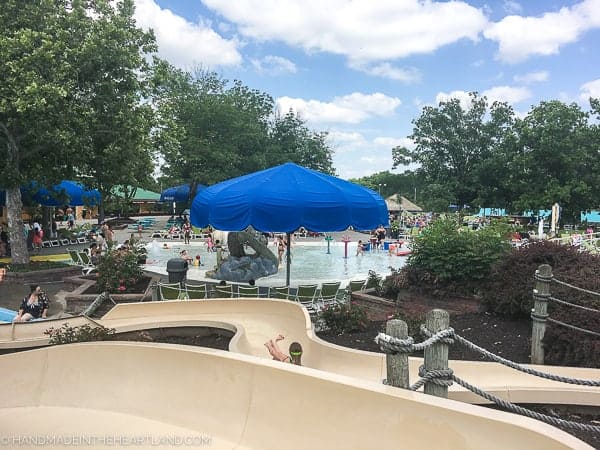 We also really loved the Aruba tuba slide which is in coconut cove. It's a big tube slide and you can ride in a double tube. You have to be 42″ and thankfully my 4 year old is. She loved riding down it with me!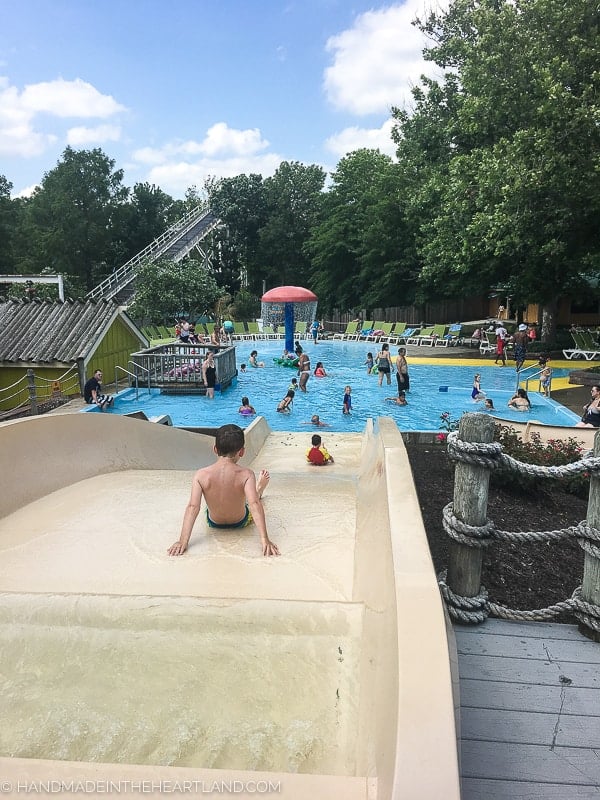 We made sure to fuel up halfway through our day at calypso cafe in Oceans of Fun. I had the bacon cheeseburger and I can honestly say I was impressed with the quality of burger! My kids opted for french fries and chicken fingers. The meal comes with SO much fries and the burger is huge! You could easily split a meal for kids.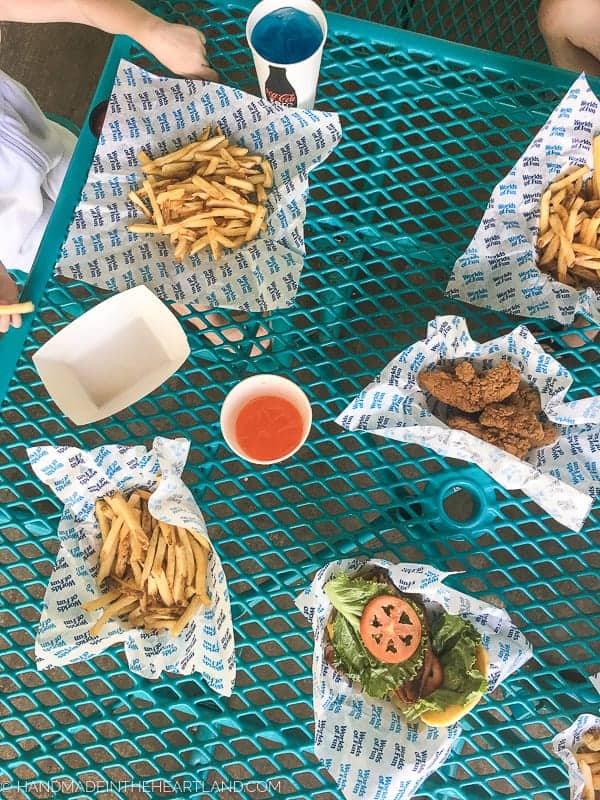 We did head over to coconut cove several times, it's much deeper water and has a lot of fun things to climb on like the alligator in our picture. We took a dip in the wave pool as well as the kids ran around in paradise falls for a bit.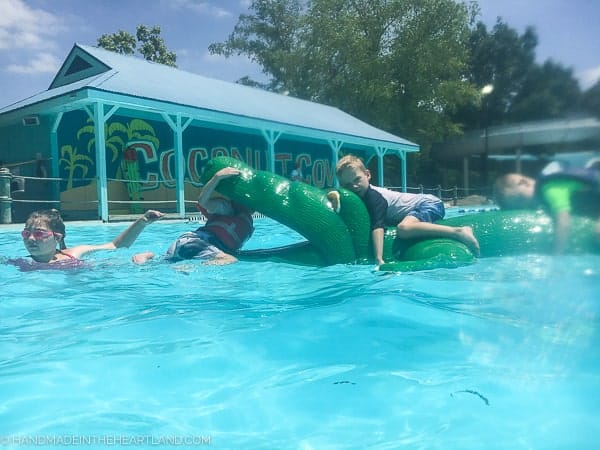 We spent almost the entire day at the park- 10:00-4:30 and we didn't even do all the attractions! I meant to head over to the Carribean Cooler lazy river and just never made it! I'm not worried- we'll go back since we have season passes this year. It's probably going to be a weekly event for us!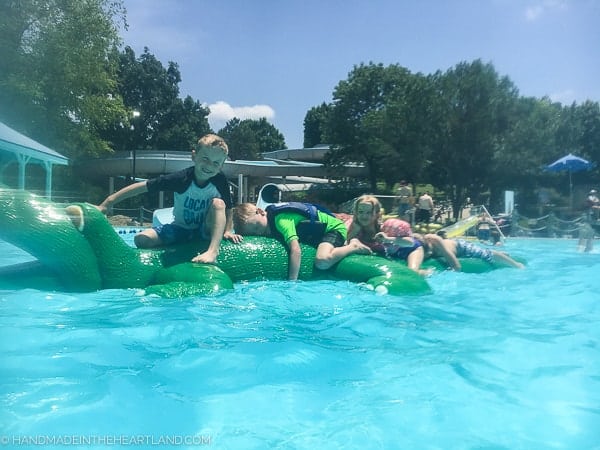 We had such a fun time at Oceans of Fun and so did our family from out of town! I'm super happy we purchased season passes this year and we can go back whenever we want! Have you been yet this summer? What's your favorite thing to do at the park?!
Creative Inspiration in your inbox!
Subscribe to get holiday ideas, delicious recipes and fun crafts sent directly to your inbox every Thursday!