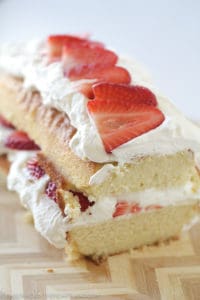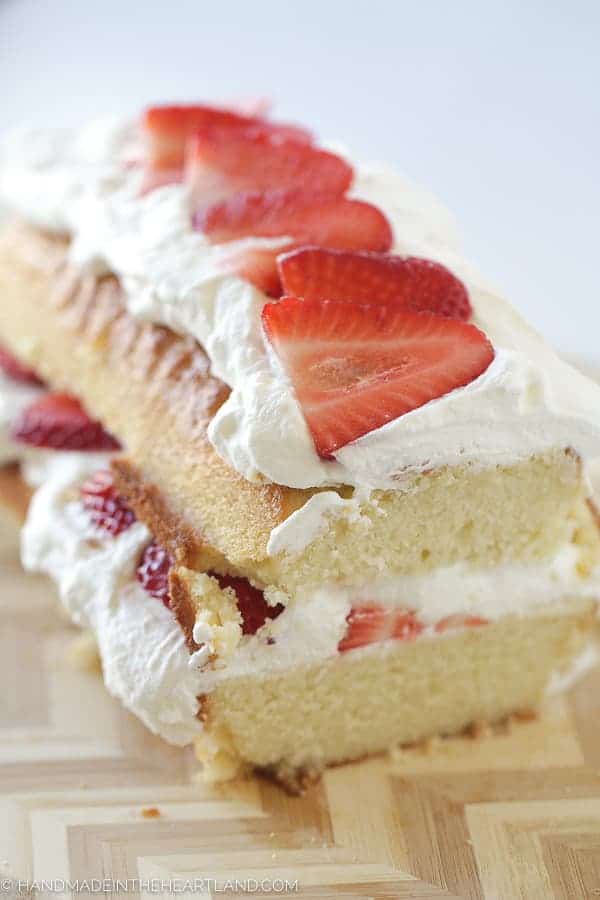 Strawberry Shortcake Cake
Yield 1 loaf size cake
This strawberry shortcake cake recipe is an easy, simple and fresh dessert to eat all spring and summer. Layered with shortcake, strawberries and fresh whipped cream it's a delicious and light traditional strawberry shortcake.
Ingredients
1 stick unsalted butter, softened
1 cup sugar
1 1/2 cups cake flour (or all purpose)
1/2 tablespoon baking powder
1/4 teaspoon salt
3/4 cup milk
2 eggs
1 tsp vanilla
8-10 strawberries, sliced thinly
1 cup heavy whipping cream
2 tablespoons powdered sugar
1/2 teaspoon vanilla
Instructions
Preheat the oven to 350. In the bowl of a stand mixer cream the butter and sugar until well incorporated and fluffy. Mix in the eggs. Add salt, baking powder and vanilla and mix until combined.
Alternate adding the flour in two parts and milk. Mix until lumps are gone and batter is smooth.
Pour batter into a buttered/sprayed loaf pan. Bake at 350 for 45-50 minutes. The middle should be set and not wiggly.
While the cake is baking slice the strawberries and make the whipped cream. In the stand mixer with the whisk attachment beat the heavy whipping cream, powdered sugar and vanilla on high until stiff peaks form. Set in the fridge. 
Remove the cake from the oven and let cool completely.
Remove the cake from the pan and slice in half lengthwise.  Spread a thick layer of whipped cream on the bottom cake piece, then place a layer of strawberries on top of the whipped cream. Place the top layer of cake back on top to sandwich the strawberries and whipped cream and then top with a few dollops of whipped cream and strawberries. 
If you aren't serving immediately place in fridge. 
Notes
This cake is not overly sweet, if you're wanting a sweet cake add 1/2 cup of sugar.
Courses Dessert
Recipe by Handmade in the Heartland at https://www.handmadeintheheartland.com/strawberry-shortcake-cake/