Winterfest at Worlds of Fun
Winterfest at Worlds of Fun is a new experience this year and the perfect event to enjoy with your family! My family went last weekend and we loved it! Keep reading to see a few insider tips for your visit to Winterfest and our favorite things to do at the park during this special Christmas event! This post is sponsored by Blog Meets Brand and Cedar Fair, all opinions are mine! Thank you for supporting the brands that support Handmade in the Heartland.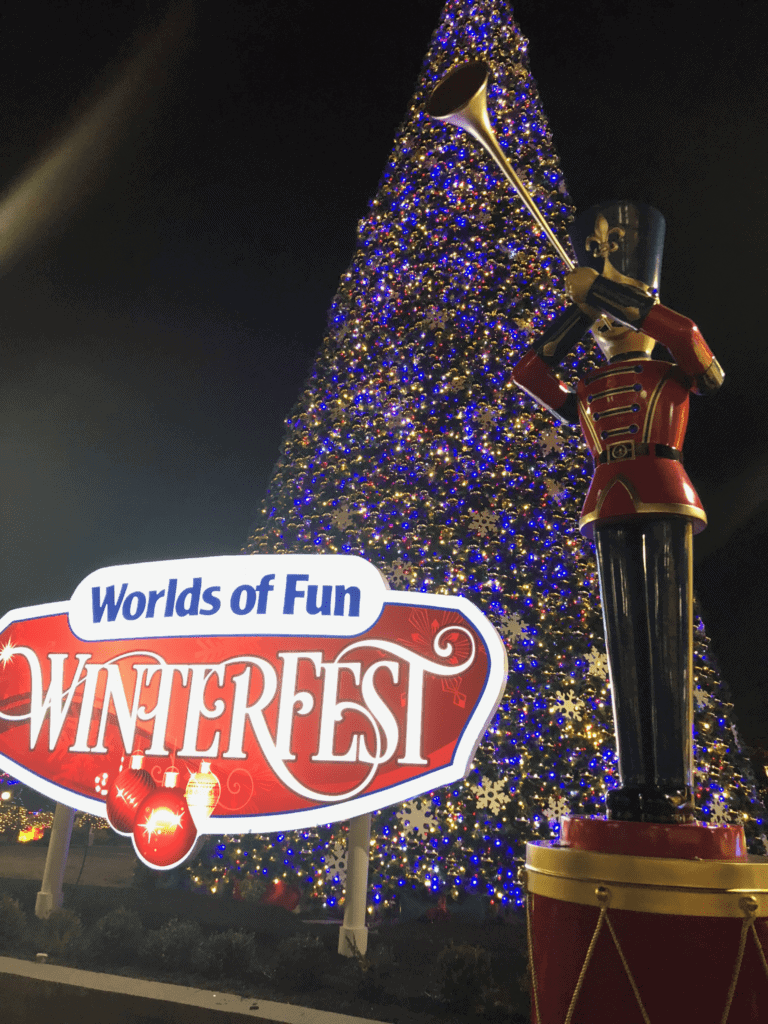 You guys. I love Christmas and I was so excited to visit Winterfest at Worlds of Fun! It did not disappoint! I was so entertained the entire time we were there. The performances throughout the park, the lights at every turn and the delicious holiday treats are going to make this event a new Christmas tradition for our family.
I've been so impressed with Worlds of Fun and Oceans of Fun this year. Worlds of Fun has become one of our favorite places in Kansas City for our family to enjoy days together and Winterfest is the perfect end to the year!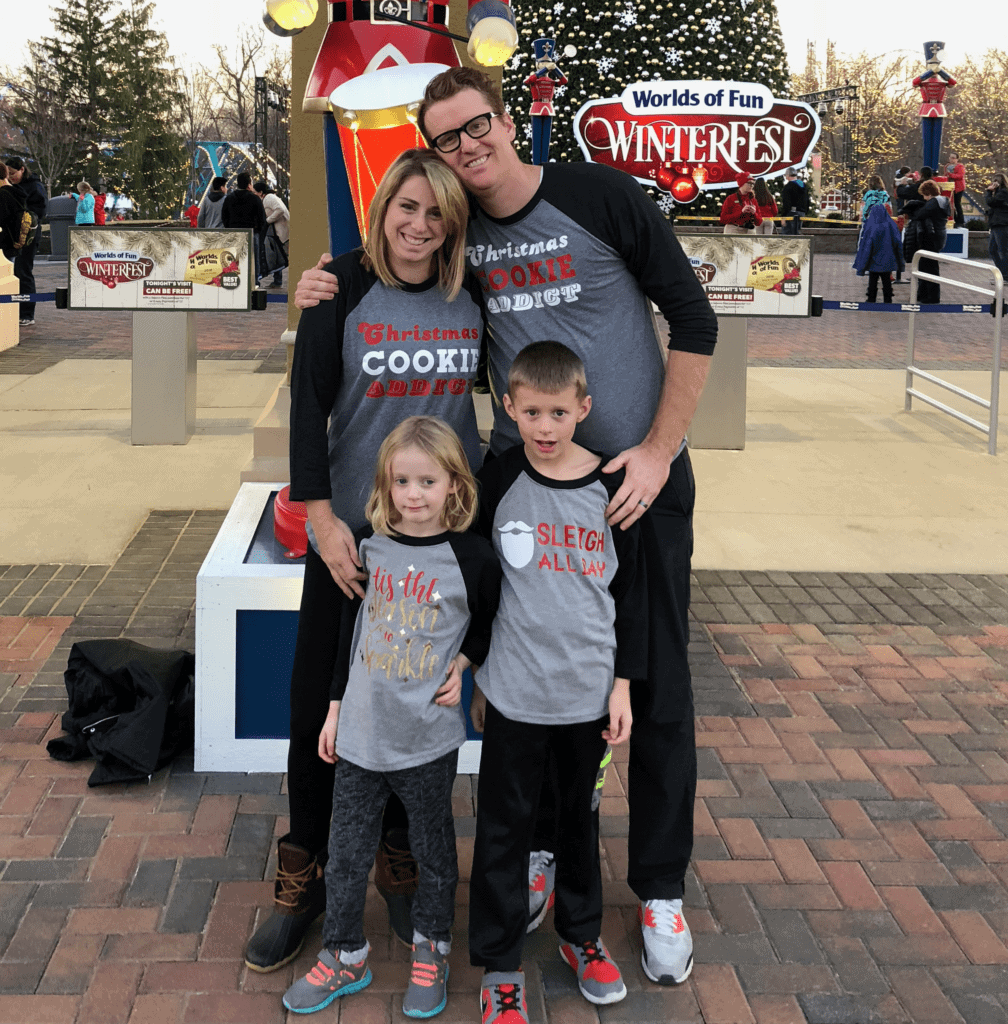 Tip #1- Arrive early!
We got to the park at 4:45 and had a super easy time parking and getting in to the park. Park hours are 5:00-10:00pm. If your kids want to ride rides get there when it opens, the later it got the longer the lines for the rides became. Planet Snoopy was the only exception, lines in that area seemed to always stay pretty short.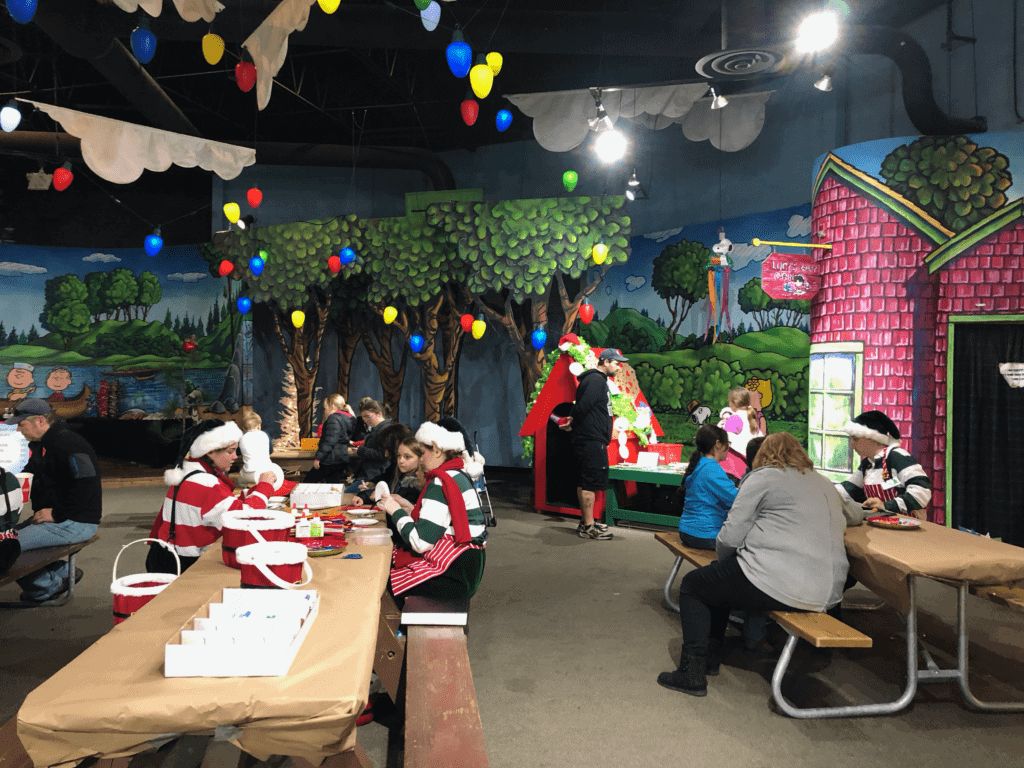 Tip #2- Stop and make Christmas crafts
Sally's Christmas Crafts is set up inside the gift store in Planet Snoopy. Sally Brown has set up her own special section in the park for all of her friends to enjoy her holiday craft activities. She welcomes all children aged 12 and under to create their own special memories including ornaments and greeting cards to take home as a souvenir from WinterFest.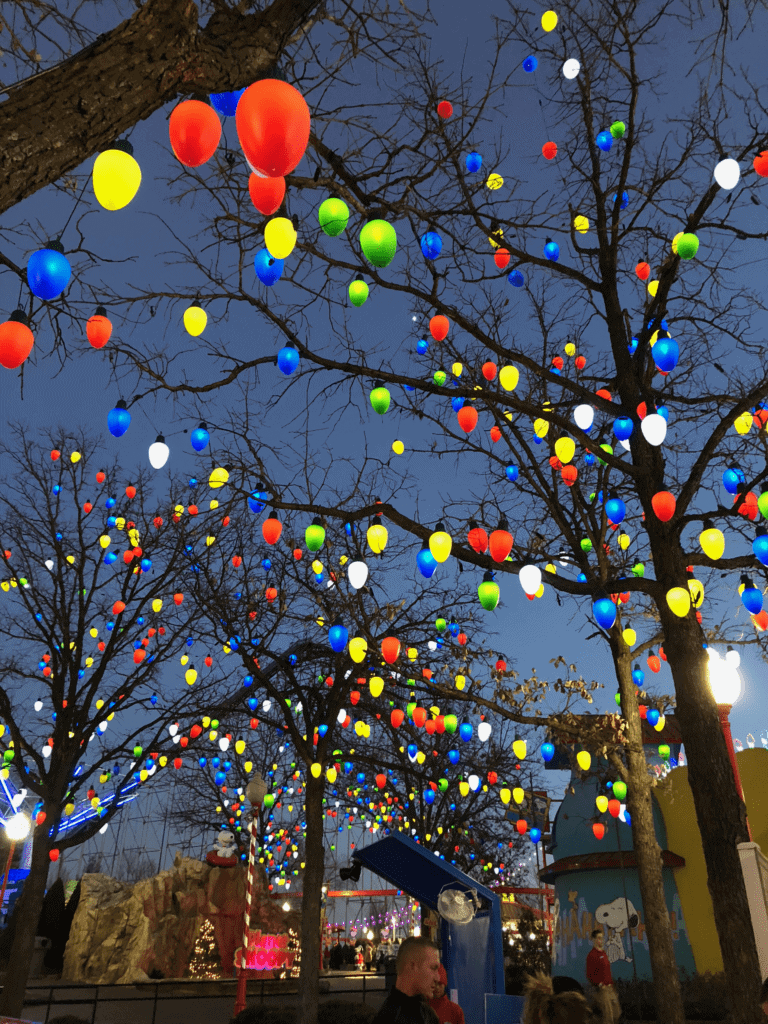 We spent the most time in planet snoopy, as we do with every trip to WOF. Most of the rides are open in that area and I think the oversized lights might have been my favorite light display. So fun!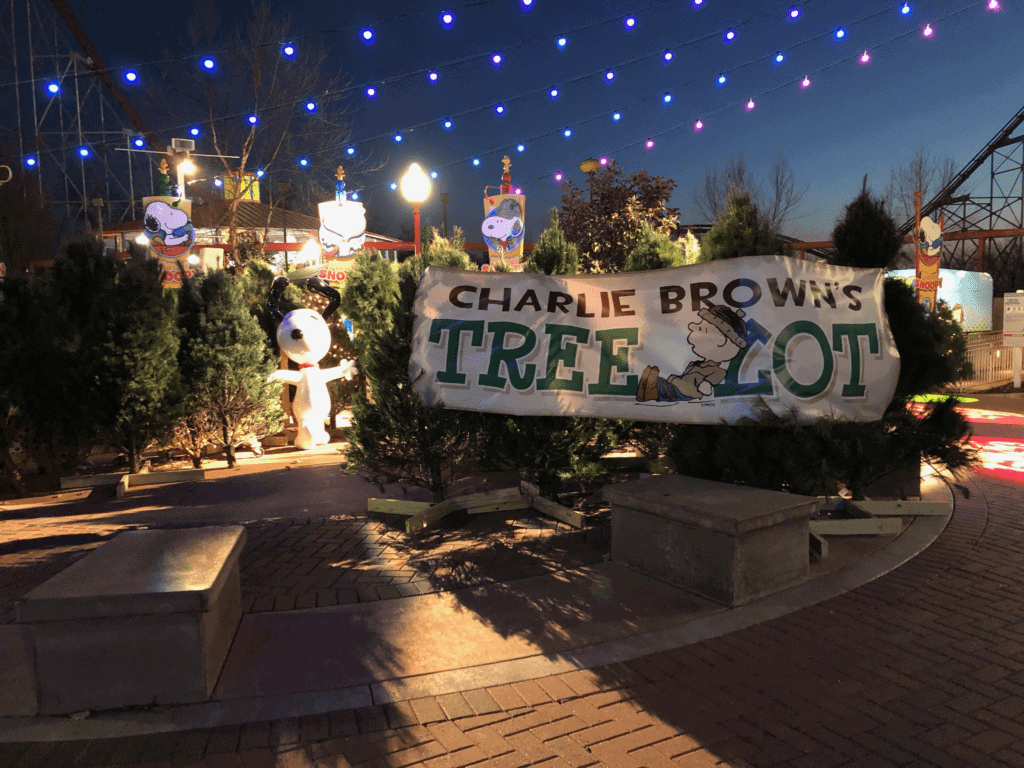 I loved the performances that happened all over the park. The well lit Hometown Square Gazebo features a rotation of the Jingle Jazz singers and the Mistletones. Both groups are impressive and fun to listen to, my kids also enjoyed the snow machines that were working around the square while the performances were happening.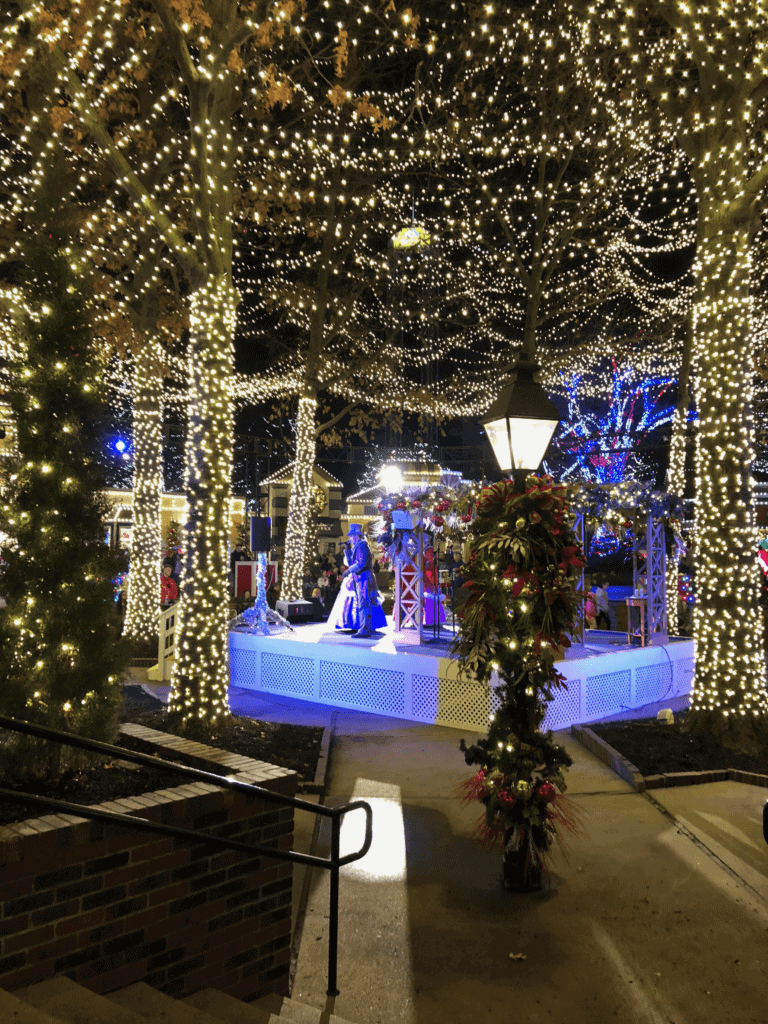 The Jingle Jazz were similar to a pentatonix a cappella group and I loved listening to their beautiful voices! Christmas music is my favorite!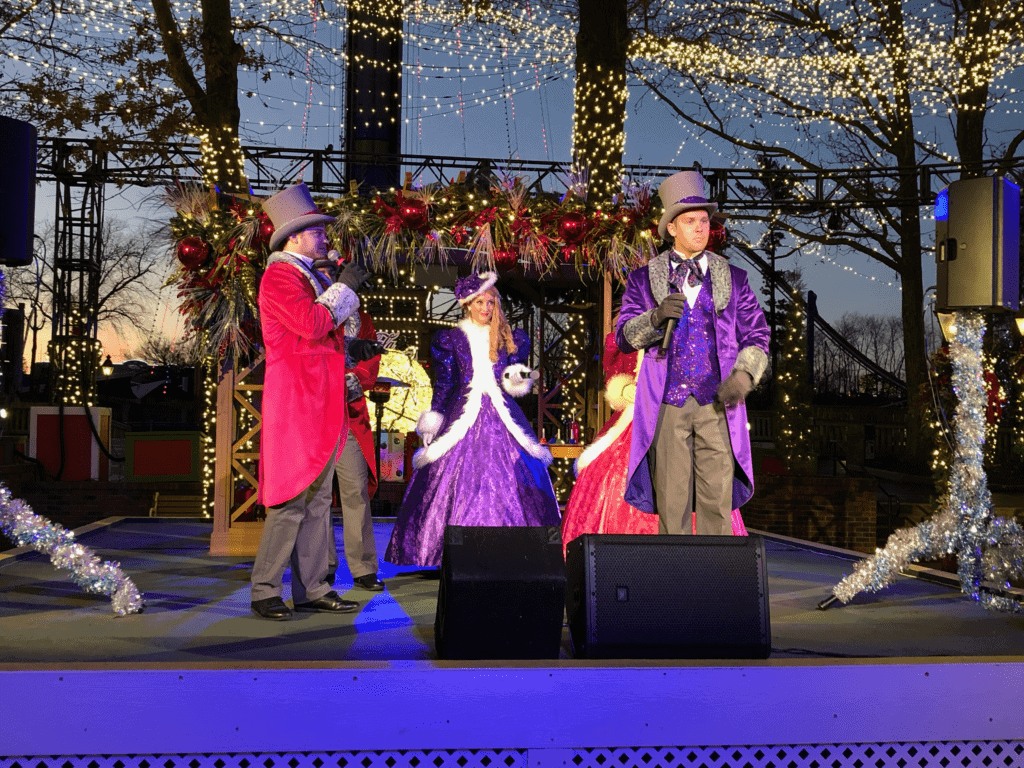 Dressed in their glittering skirts my daughter was enchanted by the Mistletones!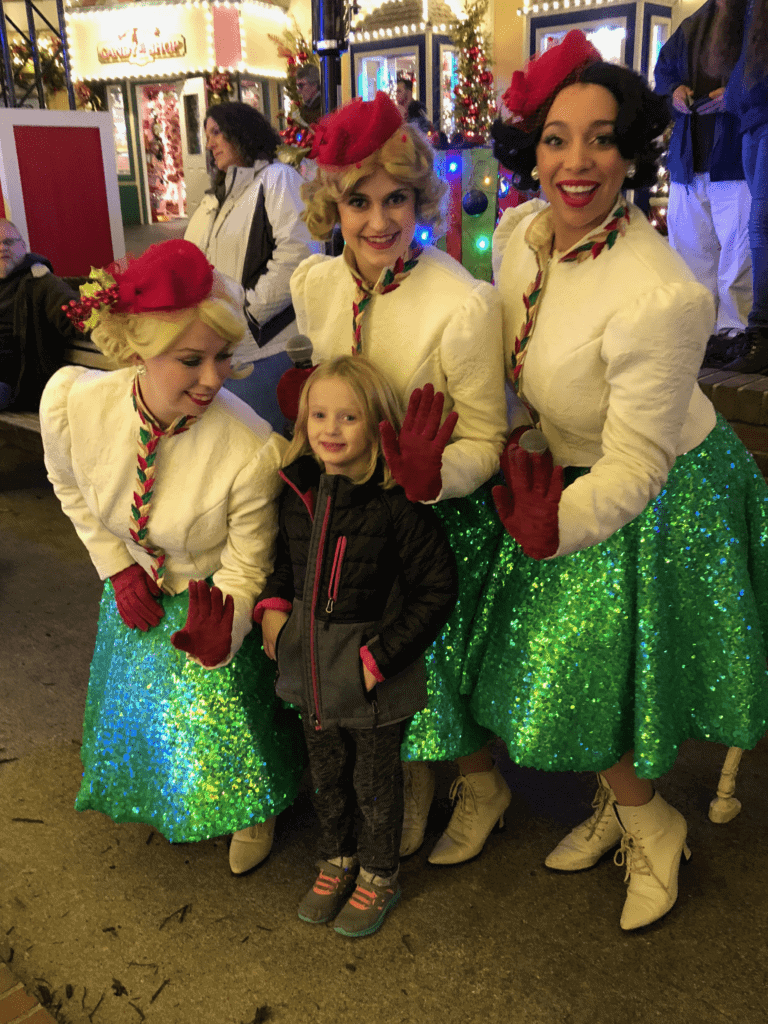 All the food around the park is transformed into holiday themed eateries. Prancer's Pizza and Vixen's Fixins for example, we ate a special holiday burger with cranberry sauce and stuffing- it was delicious! We also enjoyed a funnel cake, because I mean…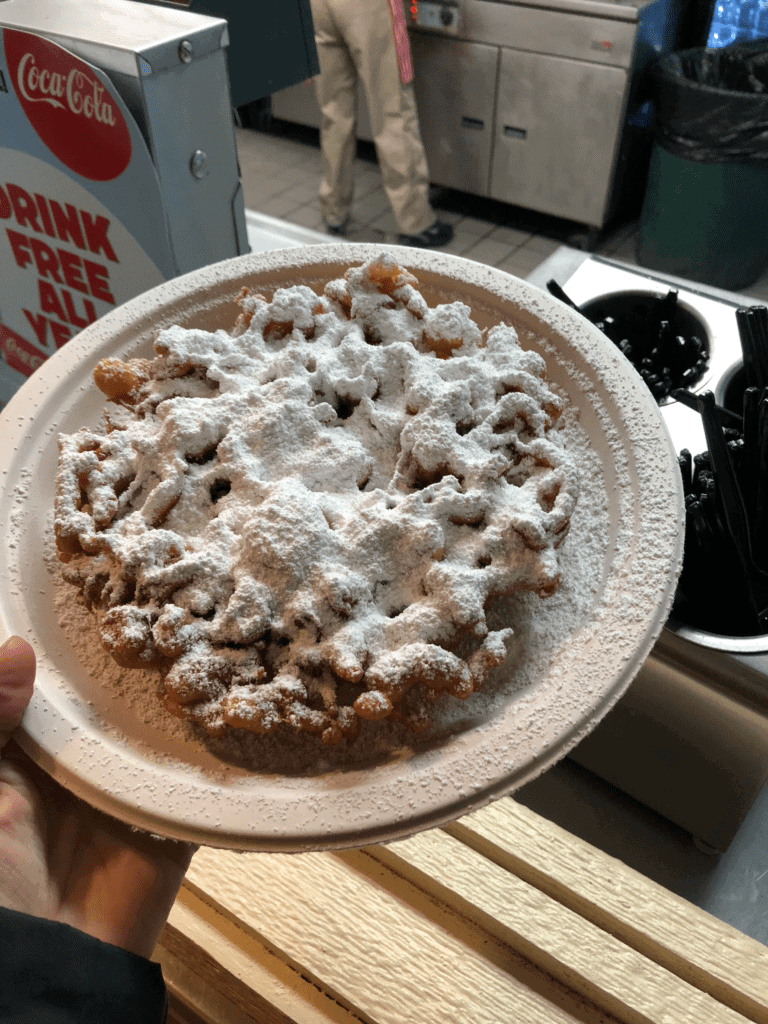 Tip #3 Decorate Cookies with Mrs.Claus
One of our favorite activities was decorating cookies with Mrs. Claus. I LOVED that we could knock this Christmas activity of our list and I didn't have to make the cookies or frosting and I didn't have to clean up the mess of sprinkles all over the floor! Genius!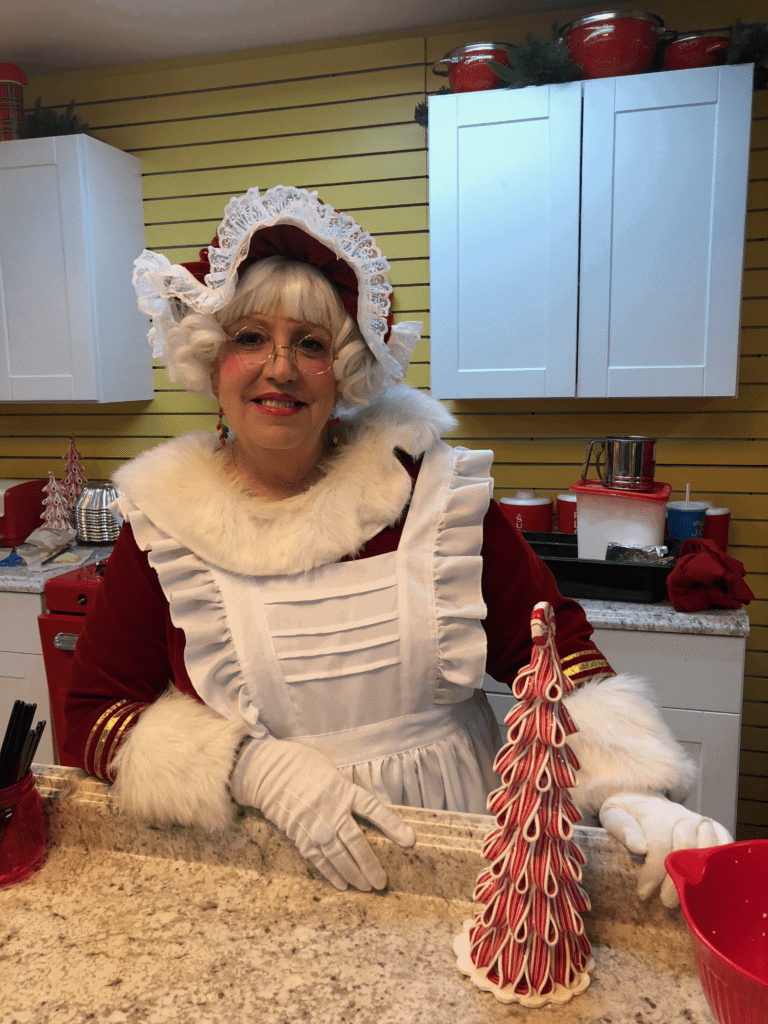 For $15 you get 4 HUGE cookies, all the sprinkles you want and frosting to decorate with. It's also in a nice heated little building so you can take a break from the cold.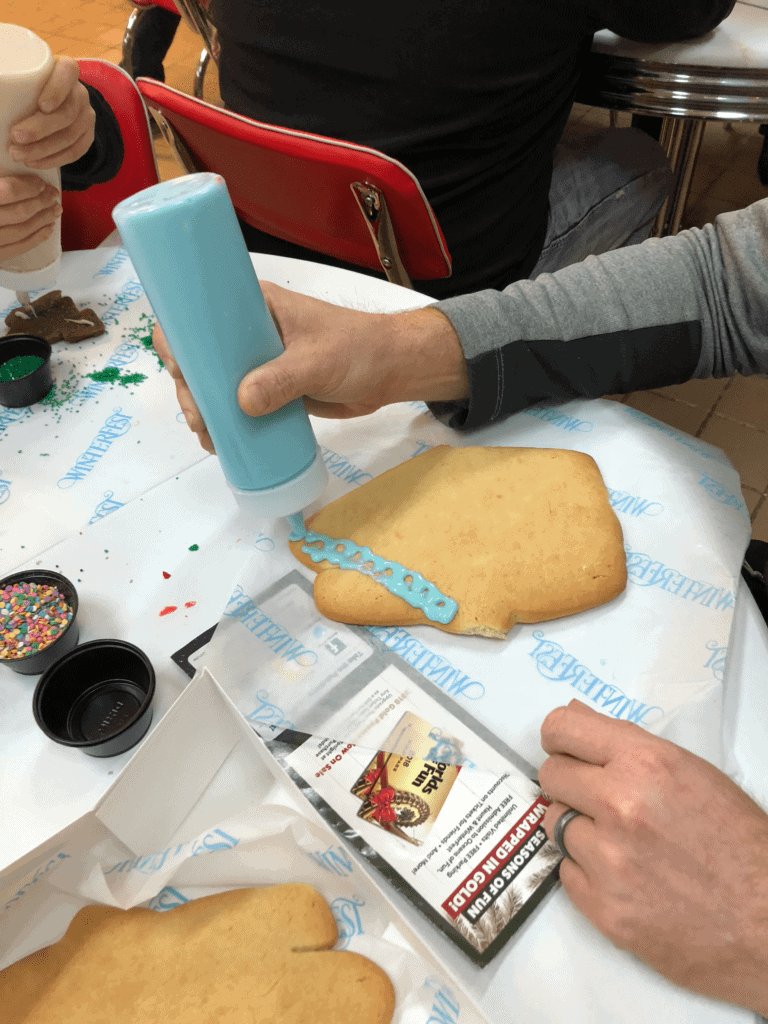 Tip #4 Find the holiday characters!
There are holiday character's like Jack Frost and Elves dressed up all over the park! It's fun to find them and take photos with them! The costumes and makeup are incredible! We didn't make it to where Santa is, but you can also take pictures with the big man himself! I'm sure the setting and photos are beautiful, we left our 2 year old at home so we decided we'd wait to get a picture with Santa when we had everyone together.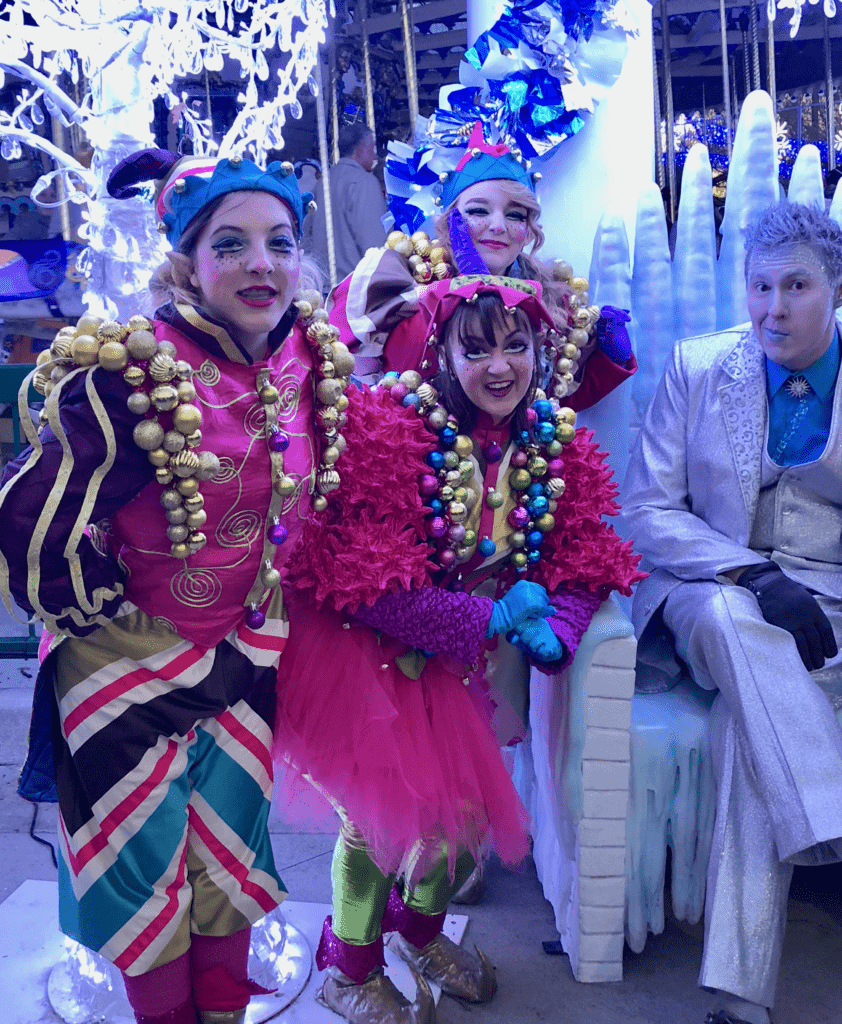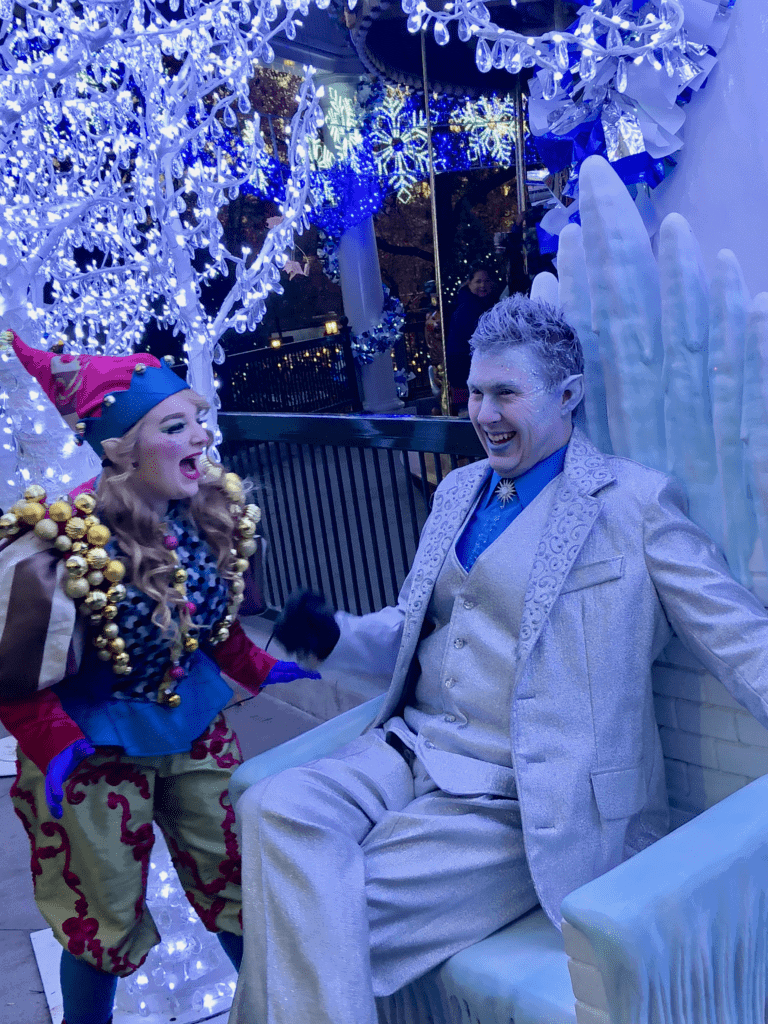 The lights across the park are incredible, there are millions at every turn and it's so fun to walk through! We all enjoyed seeing the park dressed up so festive for the holiday season!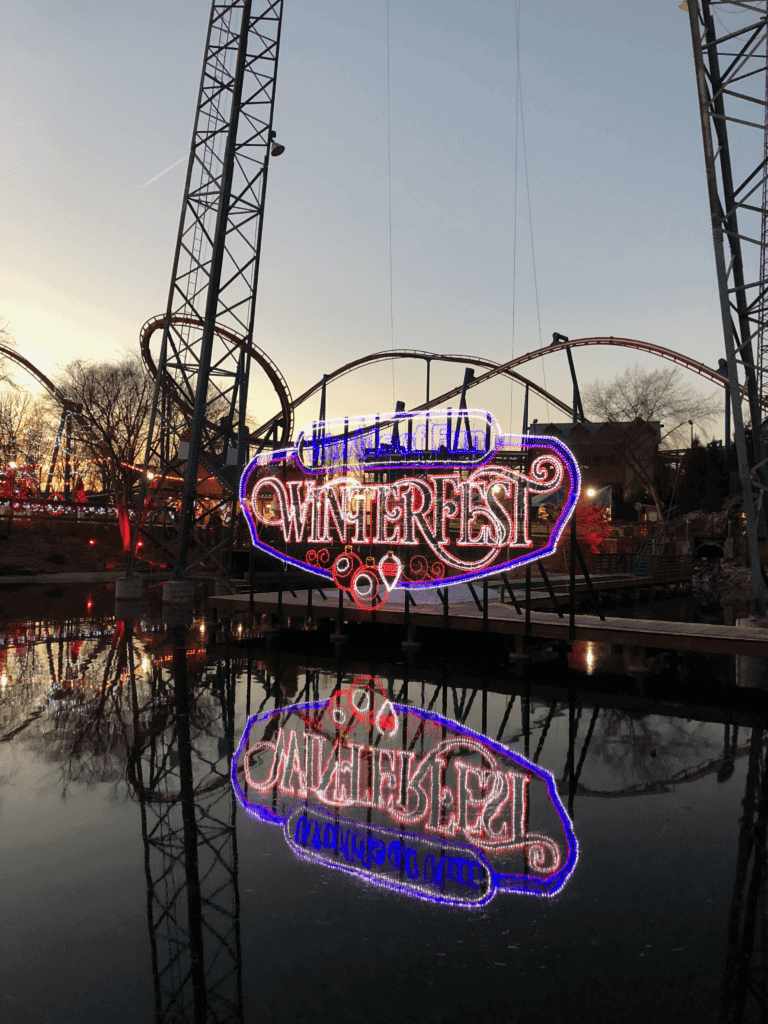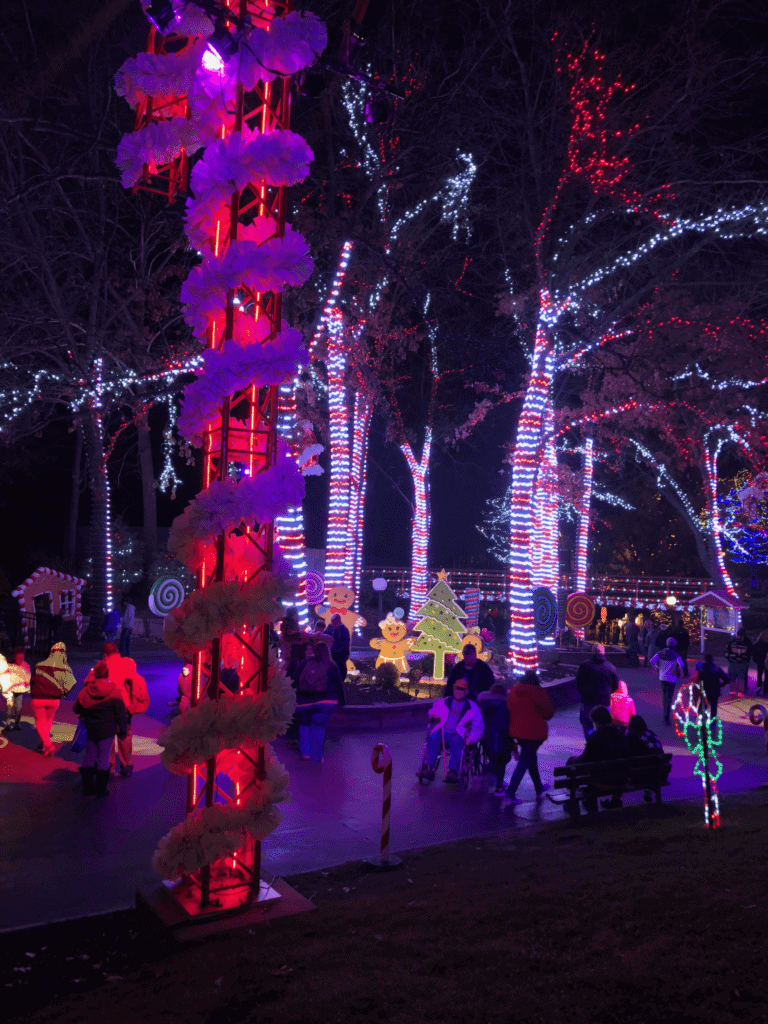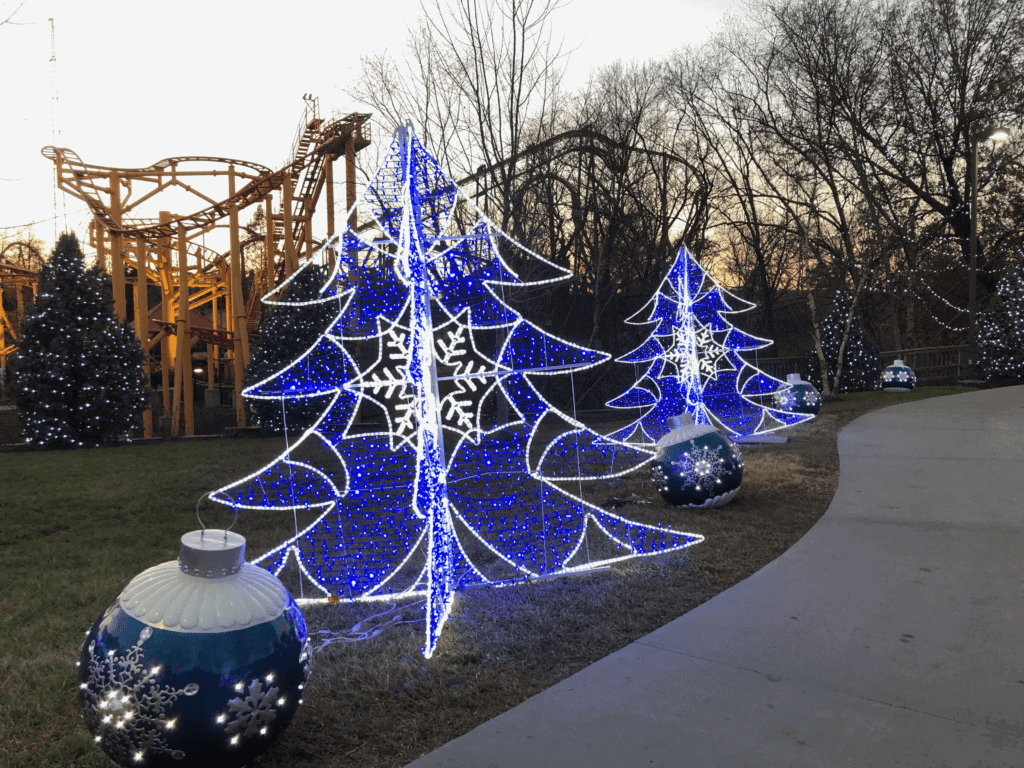 Tip #5 Watch the Charlie Brown's Christmas Spectacular
Another activity that is indoors to get a break from the cold, this broadway style show is so fun for kids and adults! It's high energy and full of favorite Christmas songs and characters. We ended our evening with this show, it's in the Tivoli Music Hall which is right near the entrance and the show times play throughout the evening with 5 performances each night!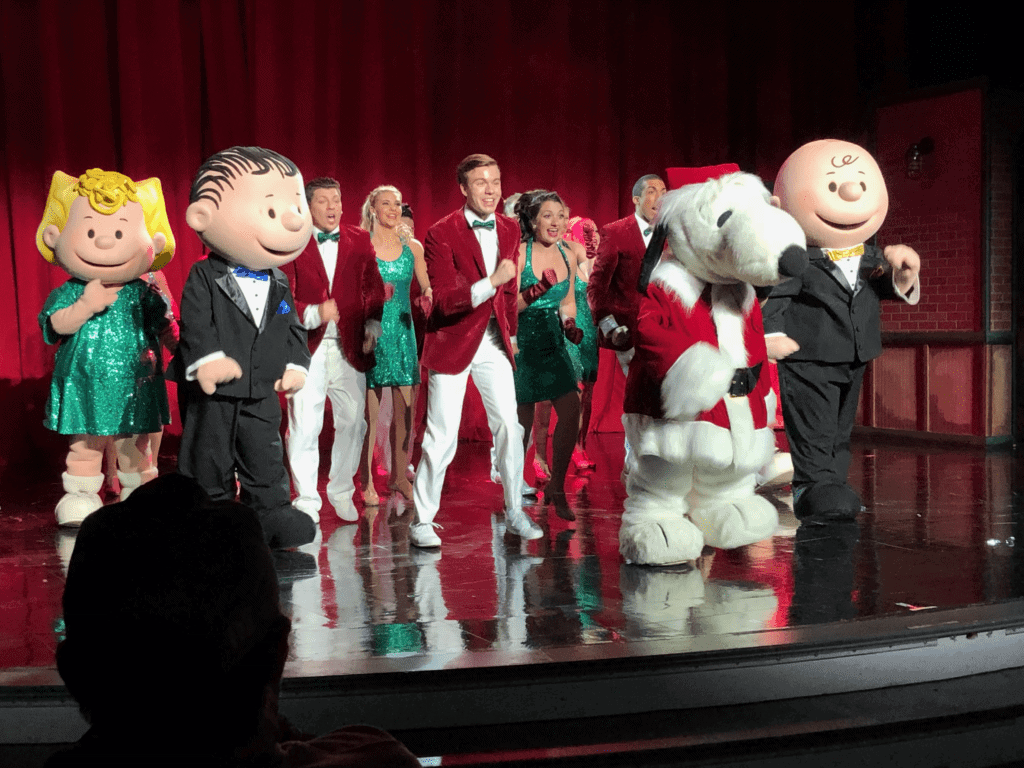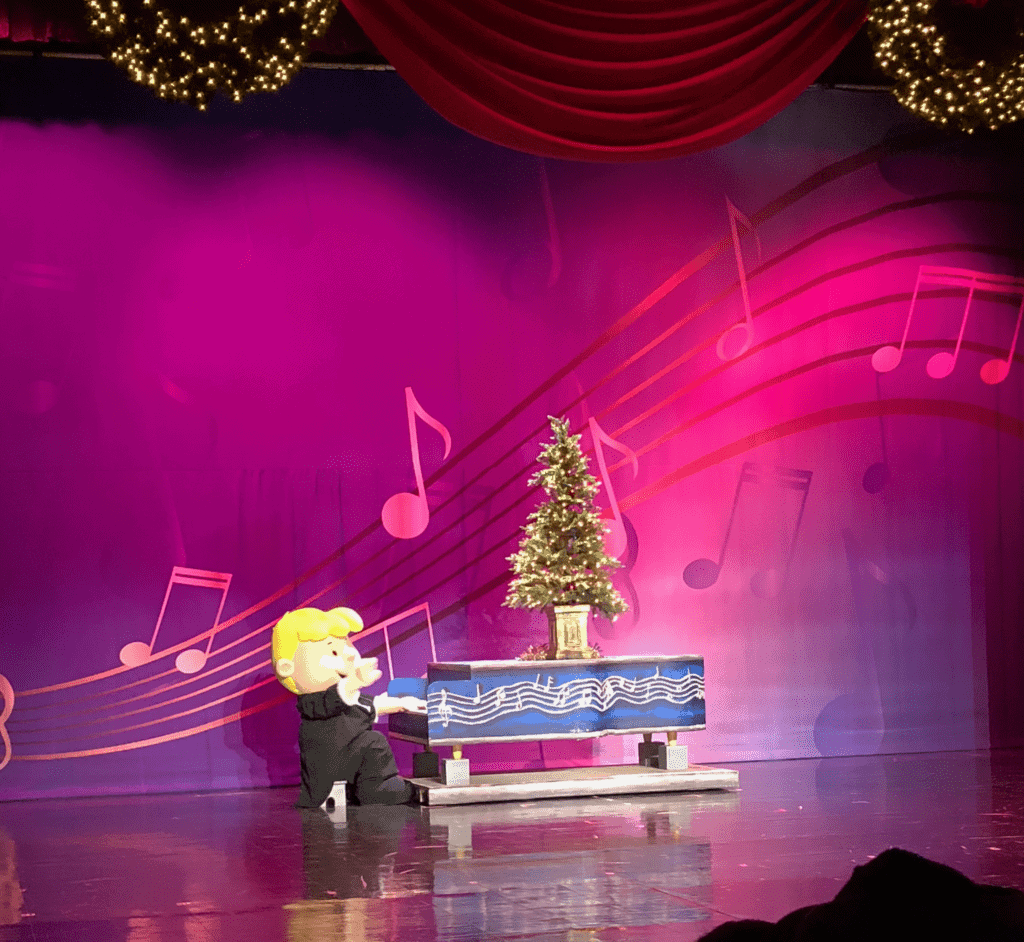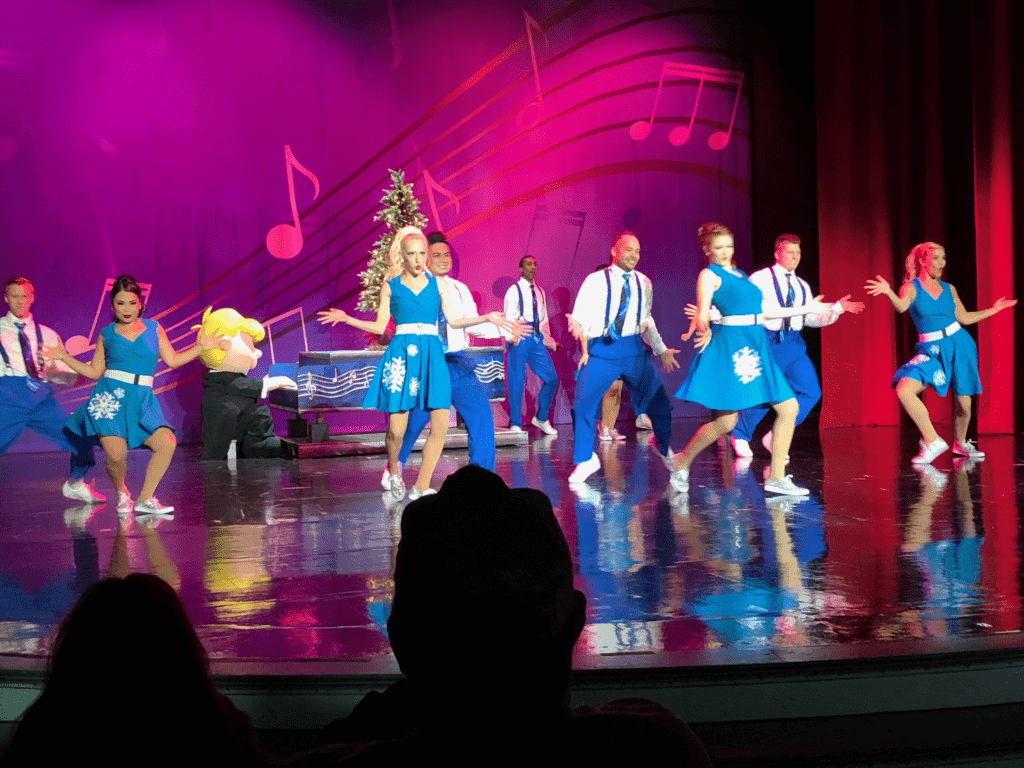 There is so much more to do at Winterfest that we didn't get to. With a 5 and 6 year old we left earlier than most people but we still felt like we did so much! A few things we did not get to include ice skating, meeting Santa, Artisan Alley- a handmade Christmas market, the north pole post office and all the shows that were going on at the main stage by the huge Christmas tree.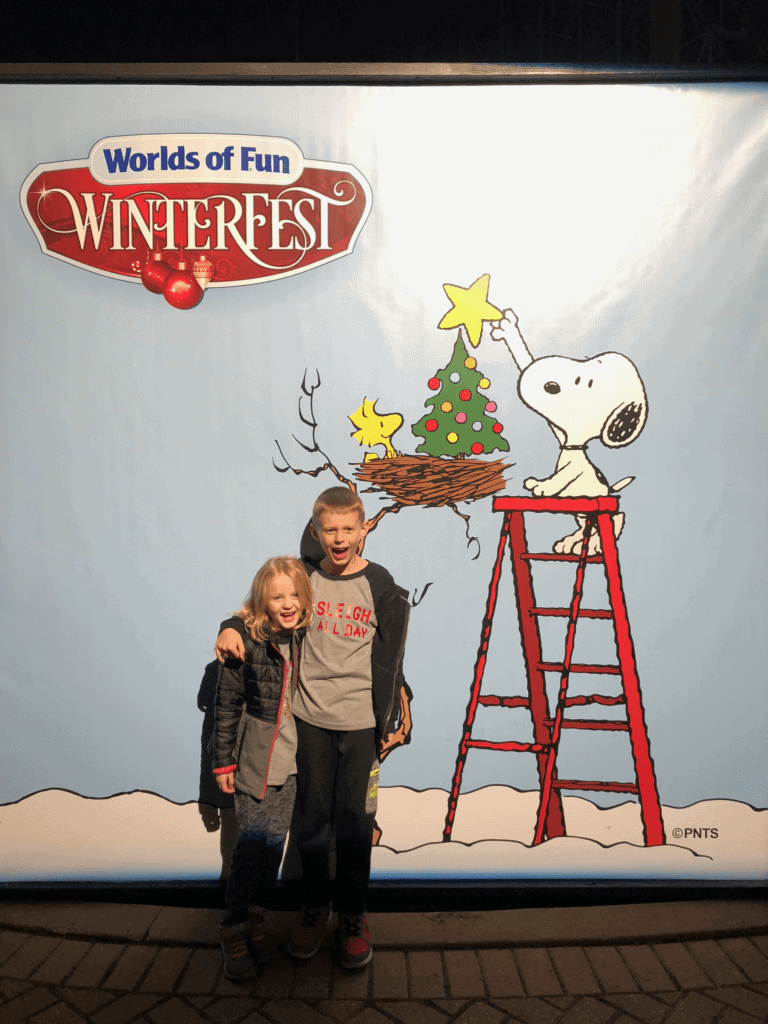 Are you planning on going to Winterfest? Have you already been? What was your favorite activity? I'd love to hear in the comments!
Creative Inspiration in your inbox!
Subscribe to get holiday ideas, delicious recipes and fun crafts sent directly to your inbox every Thursday!