Summer is right around the corner and I've got the perfect summer treat to cool you down and satisfy your sweet tooth! This recipe for frozen hot chocolate is so easy, fast and delicious! You and your family are going to love it! This post is sponsored by my friends at AE Dairy, you know I love all things AE!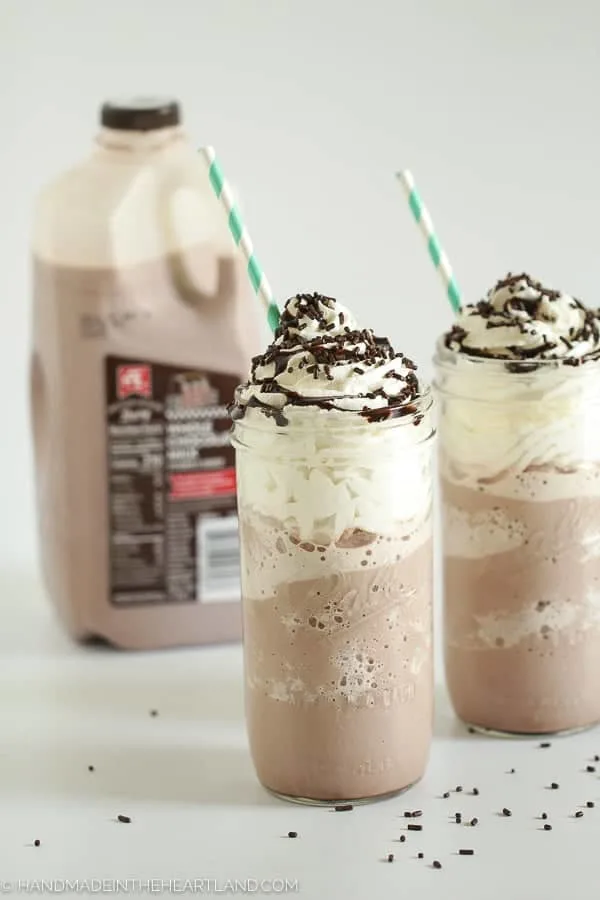 Have you ever had frozen hot chocolate? It's this cold chocolatey drink originating from a cute little cafe called Serendipity in New York City. They serve it in a huge parfait bowl with straws for everyone. If you've never had it, it's kind of a mix between a chocolate shake and a chocolate smoothie. It has the distinct taste of hot chocolate because you add the hot chocolate powder to it. It's cool and refreshing and a great treat for a hot summers day.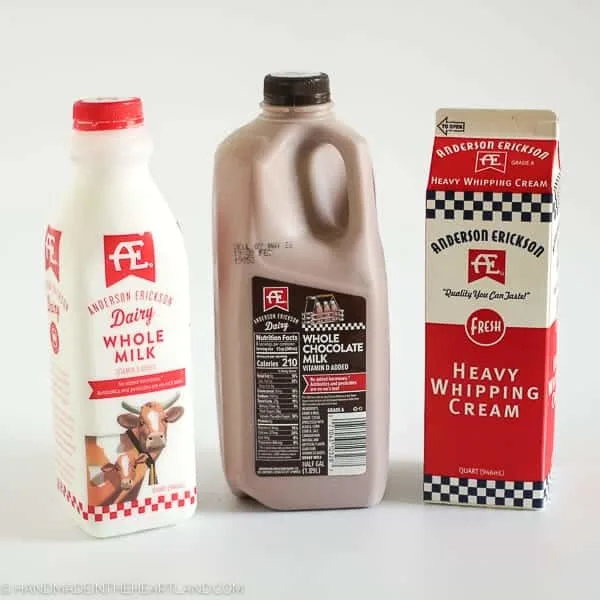 How do you improve an already delicious recipe for frozen hot chocolate? Whole. Chocolate. Milk. You guys AE Dairy's chocolate milk just got even better, and I didn't even know that was possible! I'm having a glass of it as I type this and it's thick, rich, creamy and ahh-mazing! Hands down it's the best chocolate milk I've ever had. Moral of the story? GO get some. ????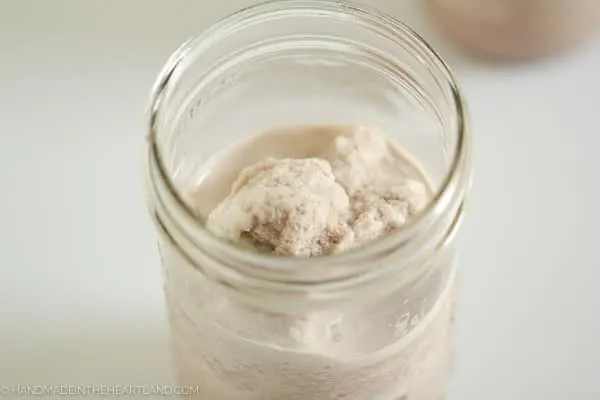 You can see the texture of frozen hot chocolate in the photo above. You mix the milk, chocolate milk, and hot chocolate powder with ice in a blender. It's a unique drink and if you've never tried it you have to this summer!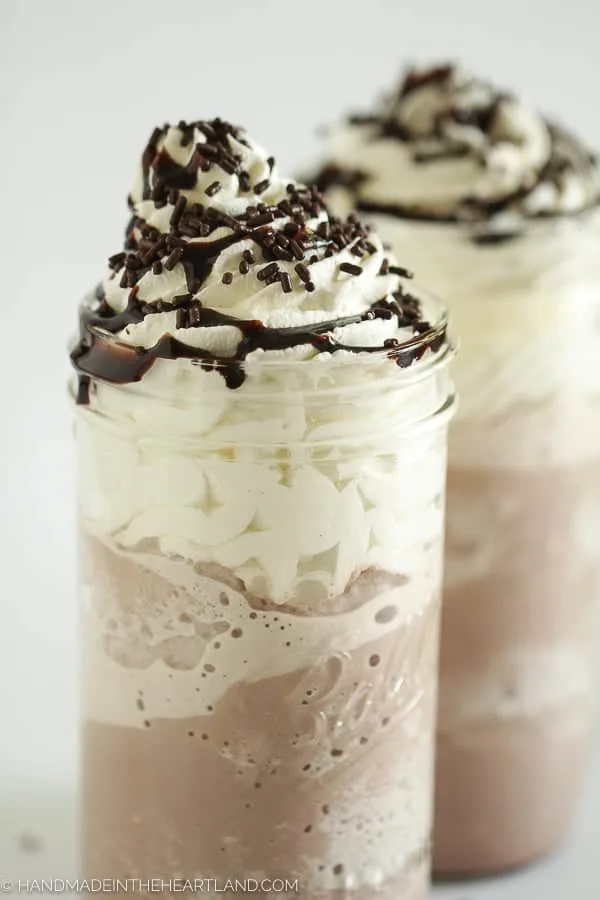 Frozen hot chocolate is not complete without a mound of whipped cream, a drizzle of chocolate sauce and a topping of sprinkles. You can purchase store bought whipped cream, but I don't recommend it. Making your own is so easy and so much better. You may remember my chocolate and caramel cream parfaits and how I talked about how much better fresh whipped cream made with AE heavy whipping cream is. I still agree with my earlier opinion, friends. it's just better!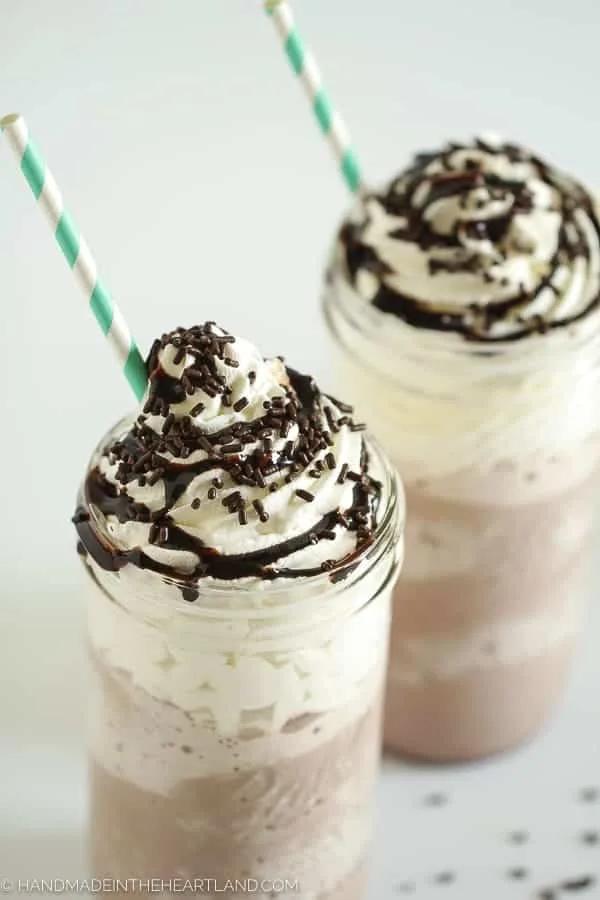 If you make this please be sure to let me know! It thrills me to see you making things from the blog! Leave a comment or tag me on Instagram (@handmadeintheheartland) or Facebook!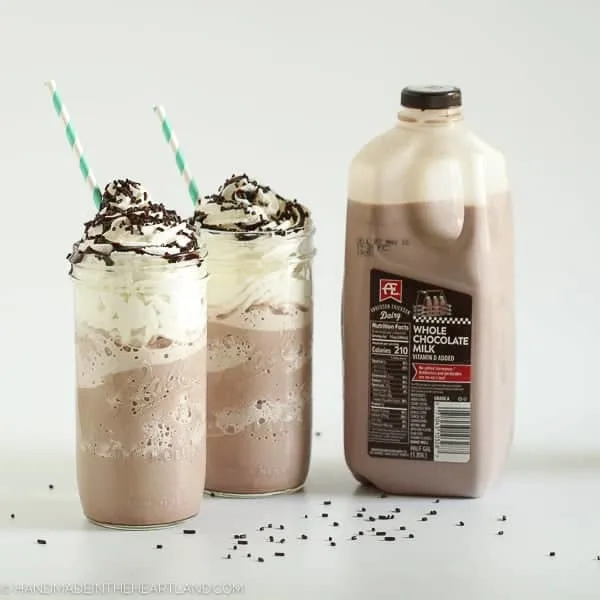 This frozen hot chocolate is rich, sweet and delicious! It's the perfect summer treat!

This recipe for frozen hot chocolate is so easy, fast and delicious! You and your family are going to love it!
Ingredients:
1 cup AE Whole Chocolate Milk
1 cup AE Whole Milk
2.5 Tablespoons or 4 packets hot cocoa mix
3 cups ice
1 cup AE Heavy Whipping Cream
2 Tablespoons powdered sugar
Chocolate sauce
Chocolate sprinkles
Instructions:
Make the whipped cream by adding the heavy whipping cream and powdered sugar to the bowl of a stand mixer or beat with a hand mixer using the whisk attachment. Whisk for several minutes until light and fluffy. Set aside.
In a blender add milks, hot cocoa mix, and ice and blend until smooth.
Divide your drink into 4 separate containers and top with whipped cream, chocolate sauce, and sprinkles.Enjoy Immediately!