This tutorial teaches how to sew a simple fabric mixing bowl cover that can be used on a variety of bowls including a Kitchenaid mixer bowl. It's perfect for covering a bowl while bread dough rises or to take a dish to a party when you don't have a lid.
This post is sponsored by Fairfield world and contains affiliate links.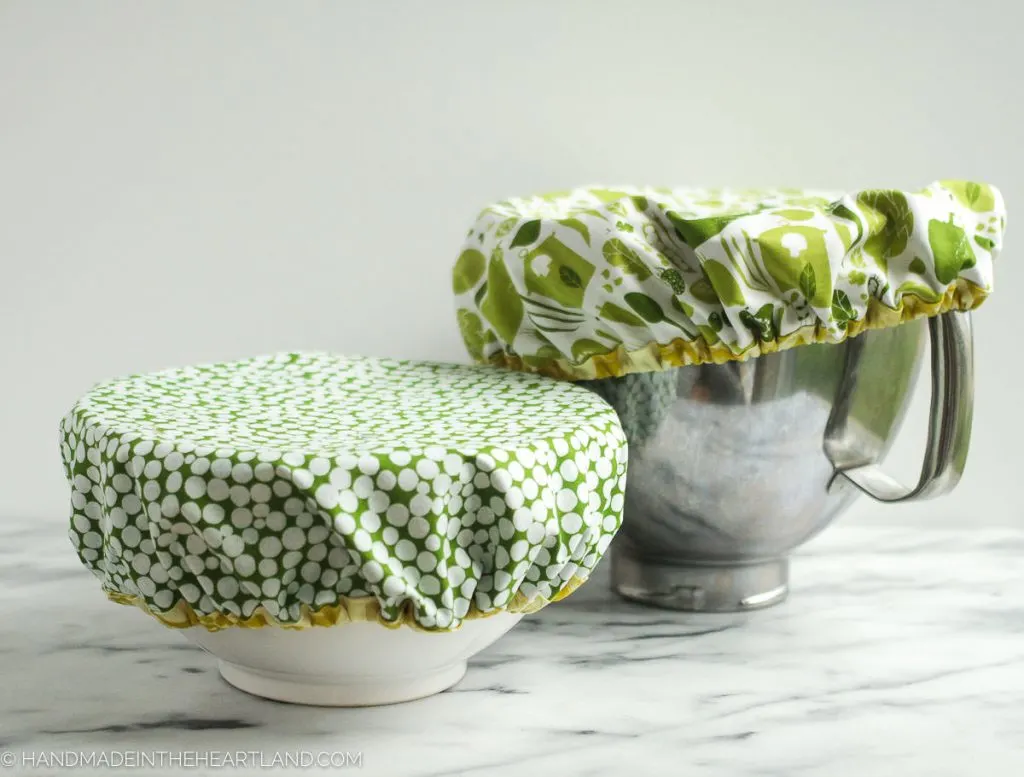 It feels so good to sit down at my sewing machine after months of not using it. Especially when it's a quick easy project that brings instant satisfaction.
I've been meaning to make more mixing bowl covers since I received this fun fat quarter fabric bundle from PBS fabrics, the collection is Fresh Pick and the food inspired prints are so fun!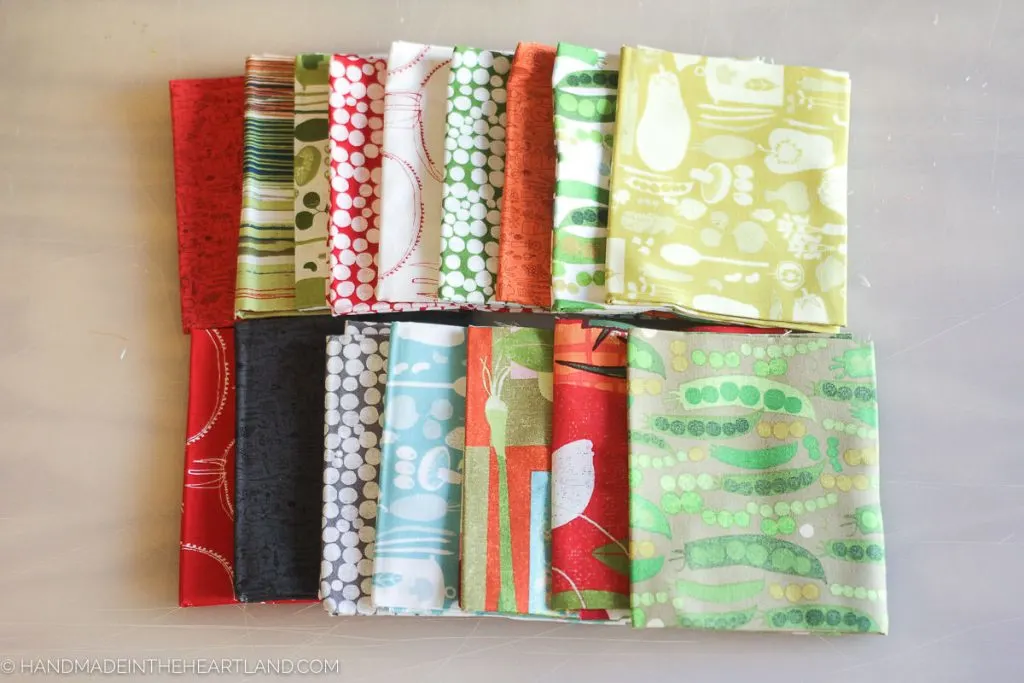 While you're making this mixing bowl cover why not add on a few other fun quick sewing projects to the afternoon? My Quilted Pot Holder tutorial and easy scrappy Sewn Coasters are super fun!
Supplies:
Cotton Fabric Fat Quarter- I love that this project only takes a fat quarter! The print collection I used in this post isn't available anymore but I found THESE cut prints on amazon!
Solarize Interlining– For this project I used the new solarize interlining from Fairfield World to really make these mixing bowl covers awesome. Solarize is a new interlining that creates a thermal barrier and helps keep things hot or cold, perfect for this project!
Bias Tape- You can either purchase bias tape or use another fat quarter to make your own. HERE is a full tutorial on making your own bias tape.
1/8″ Elastic- a thin piece of elastic is what makes this mixing bowl cover stay put on any mixing bowl.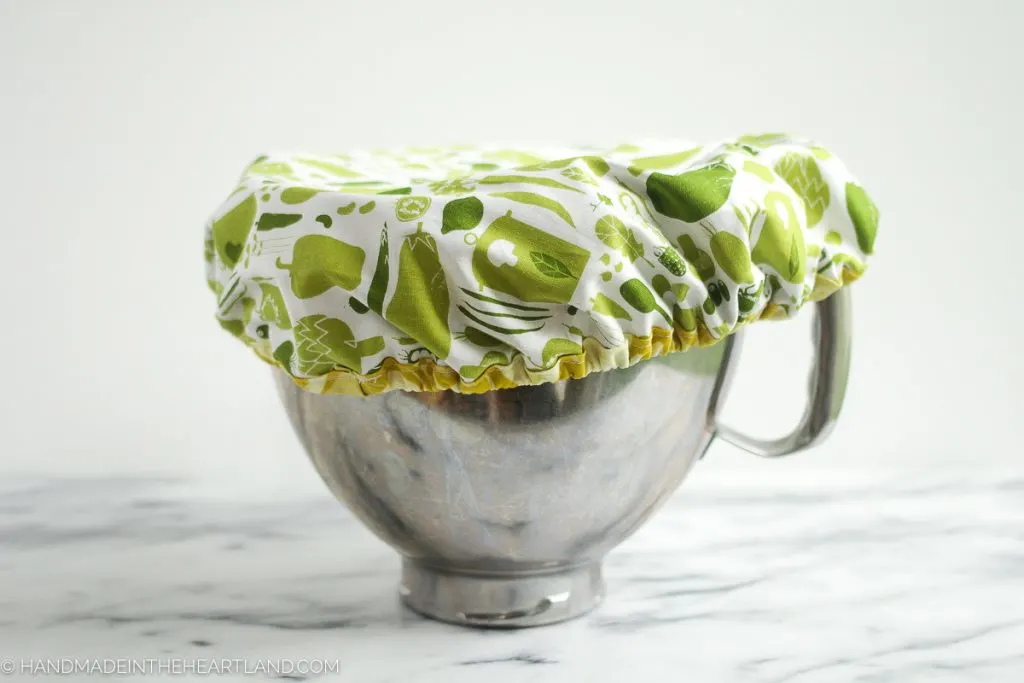 What to do with a Mixing Bowl Cover?
Cover dough to rise- The main reason I created this project was to have a cover for my mixing bowls for dough that needs to rise. I often have pizza dough or my favorite whole wheat bread dough that needs to be in a warm place and covered. The elastic on these covers provides a better seal than just a towel placed over and the solarize reflects the heat of the rising dough to help it stay warm and rise faster!
Keeping food warm- While I'm cooking dinner I'll sometimes need to keep something warm while I cook the rest of dinner. I love these to pop onto a bowl instead of getting foil or plastic wrap out.
Covering for transport– These are not airtight or leak proof but I have several serving bowls which I don't have lids for and I use these when I'm taking a salad or other dish to a friend's house in one of those bowls.
Handmade gifts- I think these would make the perfect gift! Add them with a set of mixing bowls for a wedding or Christmas gift.
How long will this project take?
This project is SO fast! If you purchase bias tape its an easy 30 minute project, if you make your own it's still under an hour. The most time consuming part of the entire project is pinning the bias tape on to the big circle.
Want a smaller cover? You could easily make this a smaller circle, I've seen a lot of people do 12″ circles, but I like it being bigger so it fits pretty much every bowl I have in my kitchen.
If you make one please share it with me! It makes me so happy to see when people use my tutorials! Leave a comment or tag me on Instagram (@handmadeintheheartland) or facebook!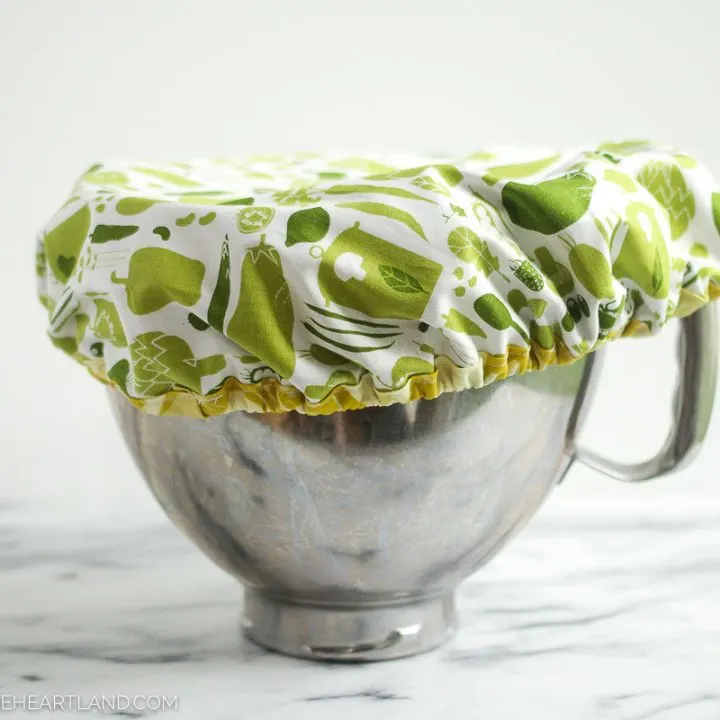 Fabric Mixing Bowl Cover
Sew a mixing bowl cover in less than an hour and with only a fat quarter and few supplies! This simple project is so useful in the kitchen.