This recipe for sausage meatball pasta bake with vodka sauce is so delicious you'll be adding it to your weekly dinner rotation. It's a great recipe to serve a crowd or freeze half for a dinner later.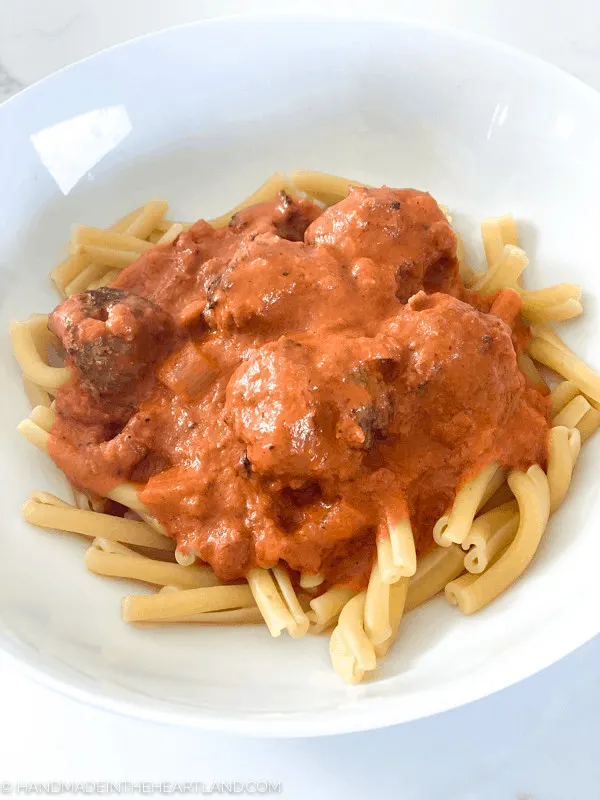 Does your family have favorite go-to dinners? Every family does, right. Well its kind of rare that I have a dish that I make multiple times, even rarer still that I make it more than 3 times. Matt always tells people that we never eat the same dinner twice, which isn't really that untrue. However, I have made this sausage meatball pasta bake with vodka sauce more times than I can remember. Its fail-proof, always delicious and feeds a crowd.
If you need a great recipe in your back pocket to take to friends when they have had a baby, or a meal to take the church pot luck, this recipe is it!
I often just make this sauce if I'm in a hurry and toss it over noodles and skip the baking step. It's super delicious if it's baked but it's really good as a quick spaghetti sauce too.
Sausage Meatball Pasta Bake with Vodka Sauce
This meatball pasta bake is one of my very favorite dinner recipes! The vodka sauce is full of flavor and it serves a crowd.
Ingredients
olive oil
½ cup finely diced yellow onion
¼ cup vodka
1 can (15-ounce) tomato sauce
1 can (28-ounce) crushed tomatoes
1 ½ cups heavy cream
1 tsp dried oregano
1 tsp dried thyme
S & P
1 pound sweet italian sausage
1 box pasta
1 cup fresh baby spinach, coarsely chopped
4 ounces Fontina or Havarti cheese, shredded
Instructions
Cook pasta according to package directions and the strain and place into a large mixing bowl.
Heat a large stock pot to medium. Add a little olive oil and the onion and cook until translucent, around 5 minutes. Add the vodka and cook until most of the liquid has evaporated.
Stir in tomato sauce, crushed tomatoes, cream, oregano and thyme. Bring the sauce to a boil, season with salt and pepper and reduce the heat to medium. simmer until thickened 20-30 minutes.
While the sauce is cooking roll the sausage meat into 1 inch balls. In a large skillet over medium-high heat saute the meatballs until well browned on all sides. 8-10 minutes. Add the meatballs to the sauce and cook until they are no longer pink in the middle, until the sauce thickens.
Add the sauce with meatballs and spinach to the large mixing bowl you put the pasta in. You can either move on to the next step and bake (which does make it delicious) or if you are short on time eat at this point. I often make this dish and just spoon the sauce over the pasta and call it a day. 🙂
Dump the combined pasta mixture into a large baking dish. You can split the recipe in half at this point and put half in the freezer for later. Top the baking dish with fontina cheese and bake at 375 for 20-30 minutes. The top should be slightly browned and bubbling.
Notes
This is a great recipe for a large crowd, if you have to take dinner to a family or serve a group this is a great meal to serve!
I can't wait to hear what you think of this recipe! Please let me know if you make it. Leave a comment or connect with me on Instagram (
@handmadeintheheartland
) or
facebook
I love seeing when you are cooking recipes from the blog!