The triple threat Kansas City burger is piled high with three different types of meat, topped with a slice of the best cheddar cheese and crispy shallots, it might just be the best burger you'll ever eat. The post is sponsored by my friends at Sprouts Farmers Market.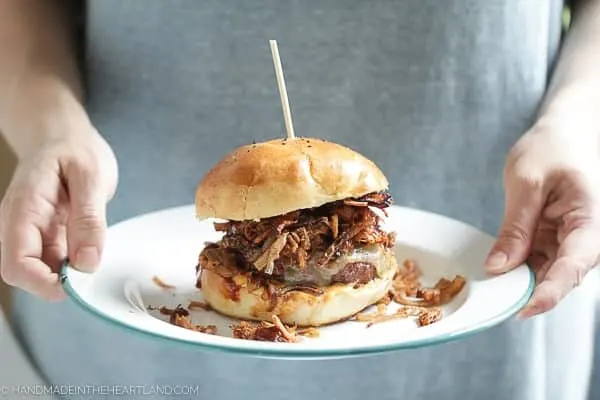 You guys. THIS burger. It might be my favorite recipe on the blog to date. Maybe it's because my husband said it was the best burger he's ever eaten and trust me, we have eaten a lot of fancy delicious fifteen dollar burgers. This one, this one is pretty freaking amazing. In true Kansas City style it's piled high with 3 different meats- burger patty, bbq pulled pork & maple glazed bacon. Topped with real vermont cheddar cheese and homemade crispy shallots then finished off by slathering Sir Kensington's special sauce and mayo on the inside of a homemade burger bun. Are you hungry yet???!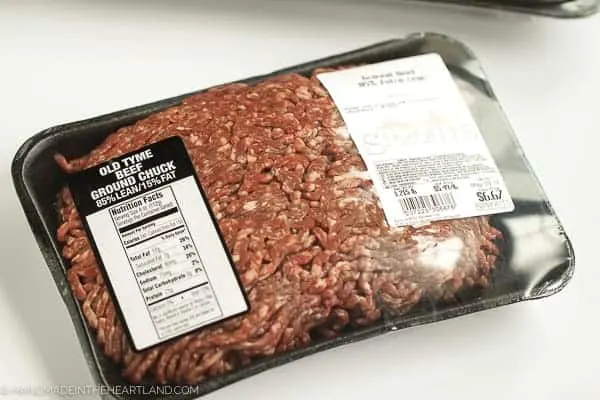 Can I tell you something I love. I love a friendly butcher. When I walked up to the meat counter at my local Sprouts and started talking with the meat guy I knew he was my kind of person. He's the meat guy by day and an aspiring chef by night. He showed me which burger meat I should buy for the best burger- the 85/15 and he we talked about this recipe for a good 5 minutes.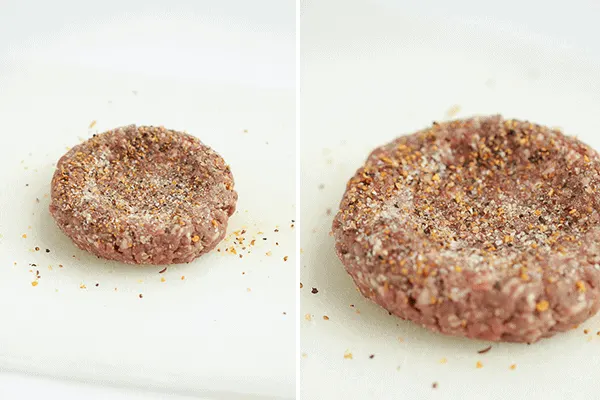 Burger patty pro tip:
My Sprouts butcher also gave me a great tip for making my burger patties. He said if you make the center of the burger concave- so the center is lower than the sides- your burger won't shrink when it's grilling. GUYS. It's genius and I so wish I could take credit for it but I owe it all to the fantastic butcher at Sprouts!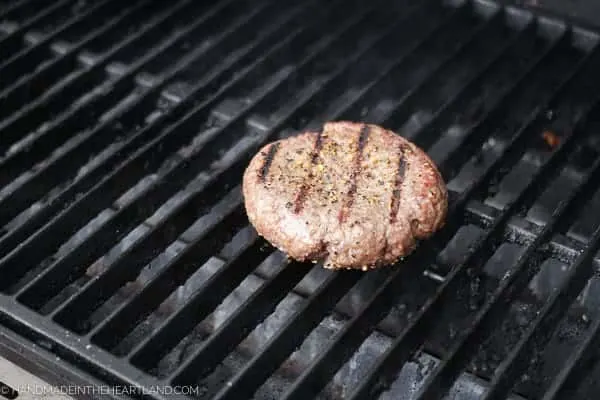 My butcher was totally right about everything, especially which meat to buy. Sprouts brand beef is always fresh, never frozen and is the same quality meat that is served at fine restaurants at a fraction of the price. It's more juicy, tender and flavorful that other grocery store meat I've purchased and I love it!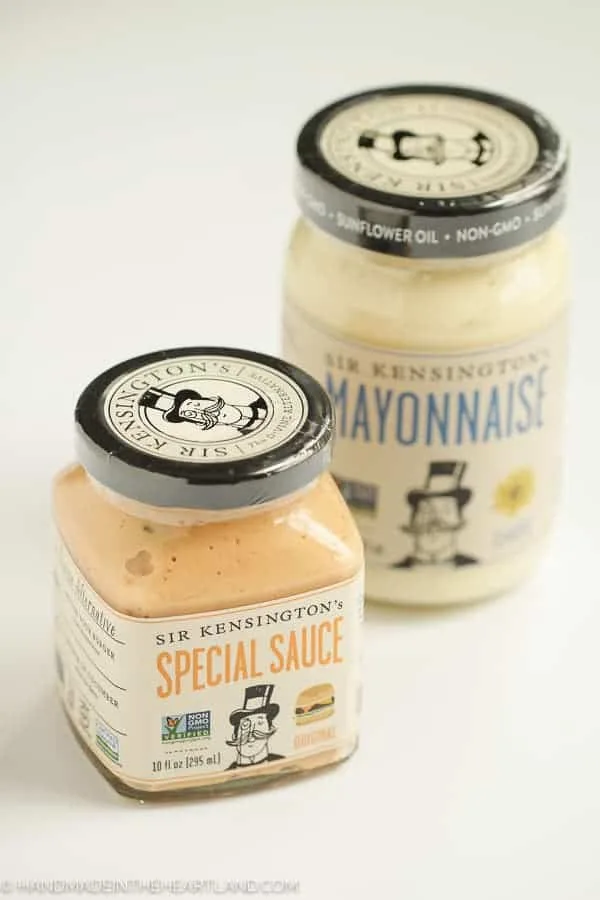 I tried out a new brand of condiments for this burger and loved the taste of Sir Kensington's special sauce and mayo. I also purchased their mustard and all three are spot on!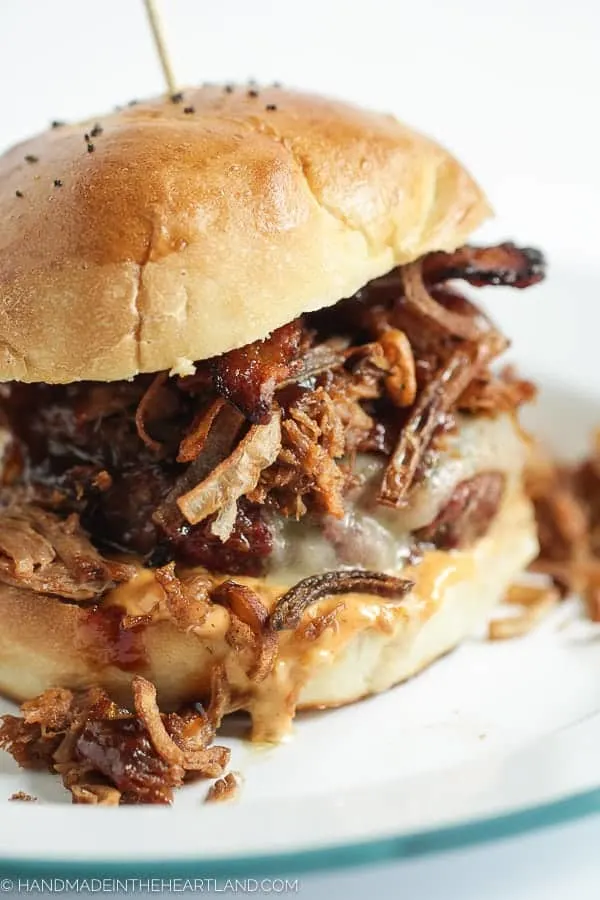 Let's talk about these shallots for a second because making these little flavorful bits of heaven might seem like a step you want to skip but DON'T! I'm telling you this burger needs to be eaten just the way the recipe says. All these flavors combine to make the most delicious burger you'll eat all summer!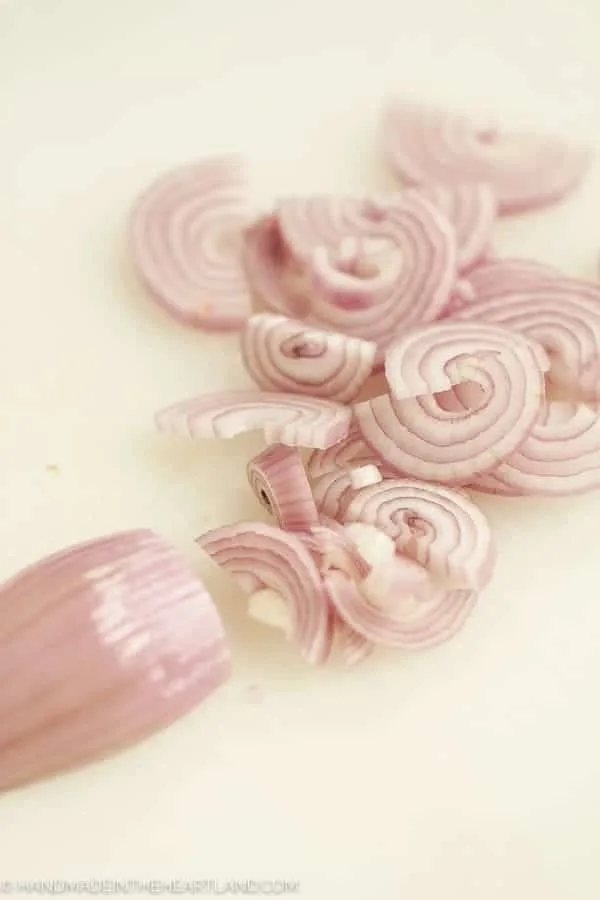 I found a really large shallot at Sprouts so I only used 1, however for 4 burgers you might want to use 2 smaller shallots if yours is small. I cut the shallot in half lengthwise and then cut each half into 1/8″ strips, pictured above. You end up with little rainbow shaped pieces. Toss those in a plastic bag with flour and spices to coat them.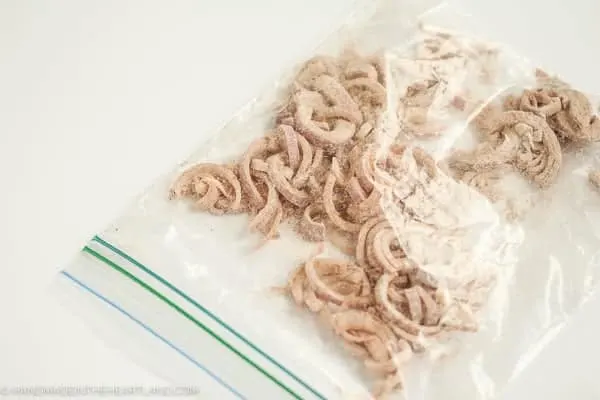 Frying is kind of an art and I tend to screw it up a lot, so I'm not going to give you perfect instructions on how to fry- you can go google that. ???? I will say that you want them to be nice and golden brown and they shouldn't take that long to get there if the oil is at the right hot but not too hot temperature. Let them cool on a paper towel to soak up an excess oil before topping your burger.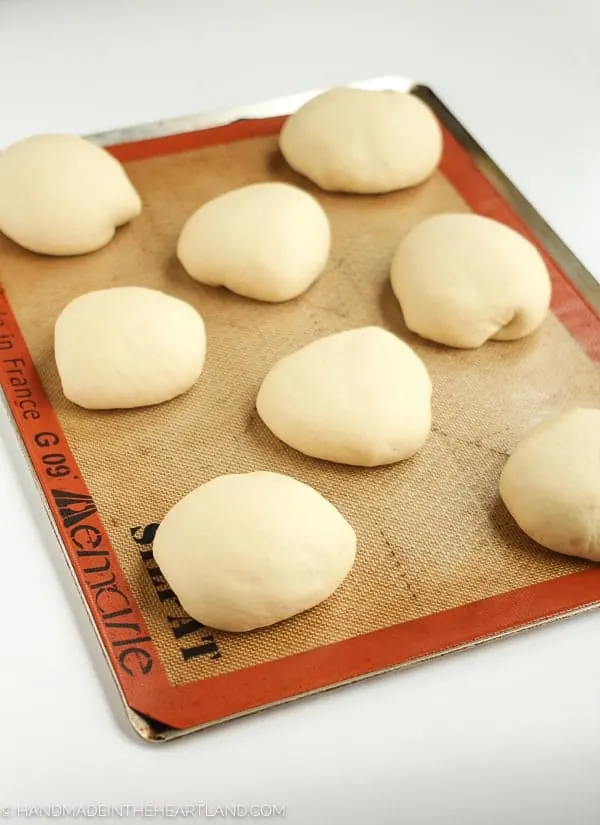 Buns. I knew I wanted a really really delicious bun for this recipe and I was in the mood to bake. If you are not in the mood to spend a few hours making homemade buns, by all means buy some good brioche buns and call it a day! I followed Handle the Heat's recipe to a T and they turned out perfect!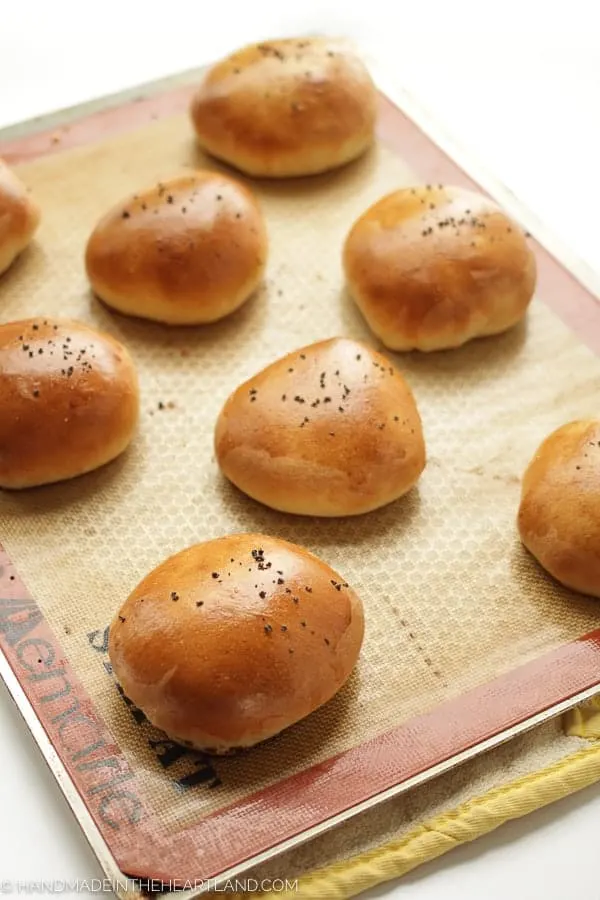 Is there anything better than fresh made bread? I don't know that there is, well maybe baby snuggles but that's about it. ????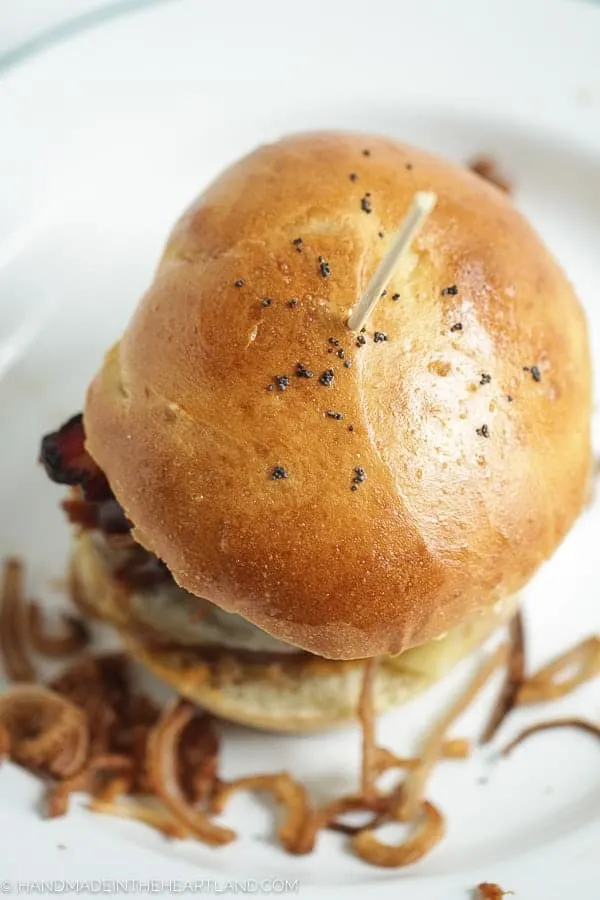 So when you make this, because you have to make this burger, please let me know! It makes me so happy, literally makes my day, when you tag me on instagram (@handmadeintheheartland) or share a photo with me on facebook of your creations from the blog. I can't wait to hear how much you love this Kansas City burger!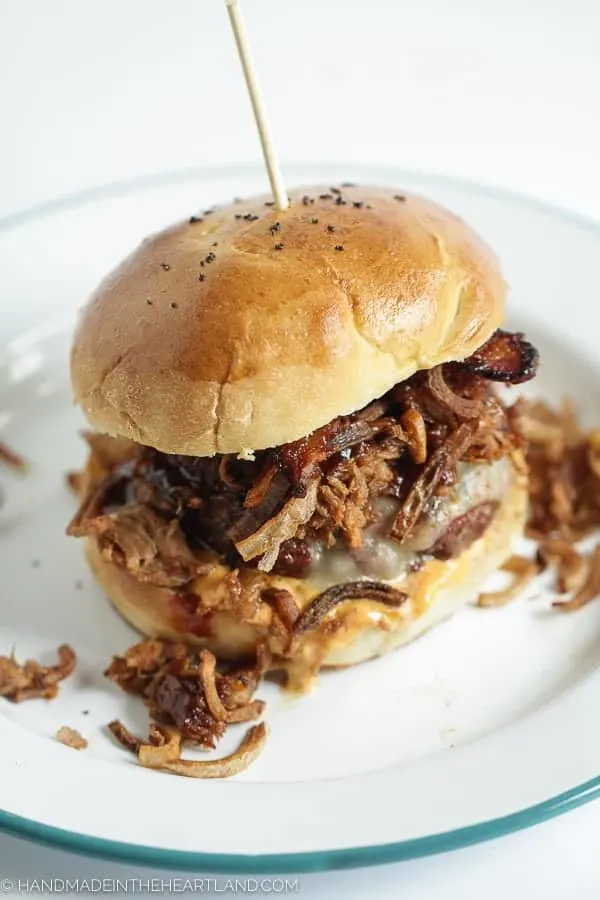 This triple meat burger with juicy beef, sweet bbq pulled pork and maple glazed bacon is the best burger my husband has ever eaten, make it this summer to impress everyone at your bbq!
The triple threat Kansas city burger is piled high with three different meats, topped with a slice of the best cheddar cheese and crispy shallots, it's the best burger you'll ever eat.
Ingredients:
For the Patties:
Sprouts 1 lb old thyme beef ground chuck 85/15
1 tsp Onion powder
1 tsp Sea Salt
1 tsp Montreal Steak Seasoning
For the Bacon:
1 tablespoon Sprouts brand pure maple syrup
8 slices Sprouts bacon
For the Pulled Pork:
For the Crispy Shallots:
1 large or 2 small shallots
1 tablespoon flour
1/2 tsp salt
1/2 tsp paprika
1/4 tsp pepper
vegetable or coconut oil
To Assemble:
4 Vermont white cheddar slices
1 tablespoon Sir Kensington's special sauce
1/4 tsp pepper
tablespoon Sir Kensington's Mayo
Instructions:
Place bacon in a baking dish and spread maple syrup on top of it. Bake at 400 for 10-15 minutes, depending on the crispiness that you prefer.
Placed pre-made pulled pork on a baking sheet and toss with bbq sauce. bake at 400 for 10 minutes to warm and crisp edges.
Make the shallots by cutting the shallot into thin slices and then placing in a ziplock bag. Toss the flour, paprika, salt and pepper with the shallots in the bag until they are coated. Heat a small saucepan to medium heat and add enough oil to fill the pan 1/4" deep. Test the heat of the oil by putting in one shallot piece, if it sizzles and turns golden you know it's hot enough! Place all the shallot pieces in the hot oil and let them fry until they are golden brown, only a few minutes. Remove and place on a paper towel to let cool.
Make your burger patties using about 1/4 pound of beef each. To prevent your burgers from shrinking make the middle of the patties concave. Sprinkle onion powder, salt & Montreal steak seasoning on both sides of the patties. Grill patty to desired doneness, at the end of grilling top with slice of cheese.
Put the burger together by spreading mayo on one side of the bun and special sauce on the other side of the bun. Layer patty, pulled pork, bacon and then shallots. Enjoy!
SaveSave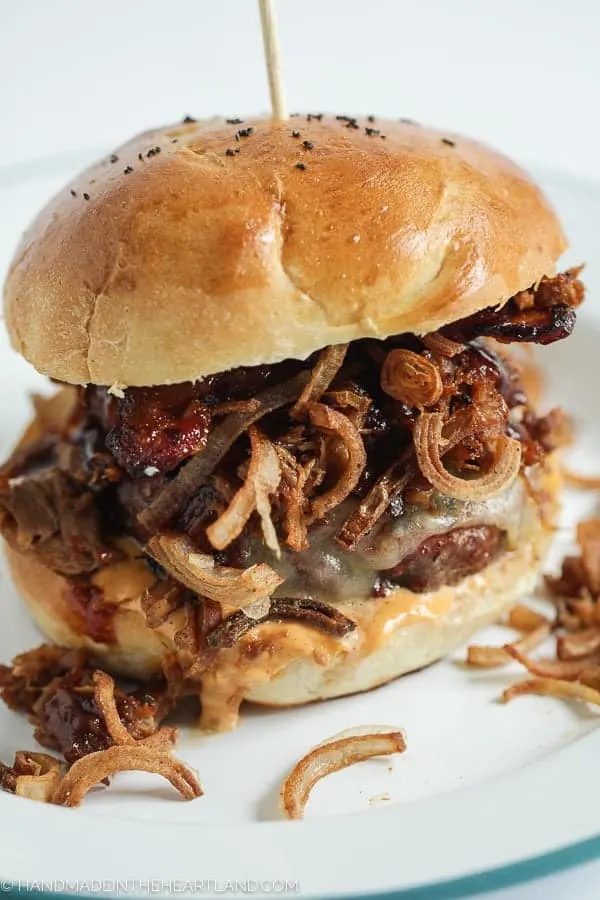 SaveSave