I have 4 kids and currently their ages are 9, 8, 5 & 1. I have experimented with a lot of chore systems over the years and right now this chore chart is working really well for our 9 and 8 year old so I thought I would share. You can download the blank chore chart for free below! This post contains affiliate links, which means I make a small commission if you purchase something I recommend.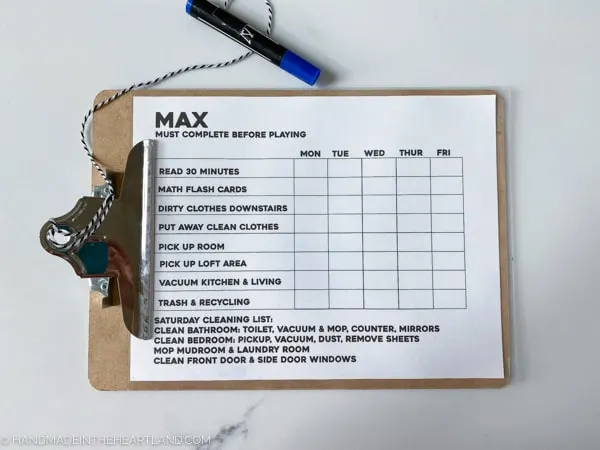 Why should kids have chores
As a parent I really want my kids to learn and know how to work when they leave me at 18. It's so hard to let them do household chores that I know I could do better. But it's really important that I teach them how to do it. We also have an allowance that they get each Sunday, which I feel is important for them to understand money, and they aren't getting that for free! 😉
I've been so impressed with my kids this summer. We instituted this chore chart right after we moved from Kansas City to Oklahoma City and they have been so good at getting up each morning and getting their chores done. I think distance learning last spring helped them get in a routine of waking up and doing work.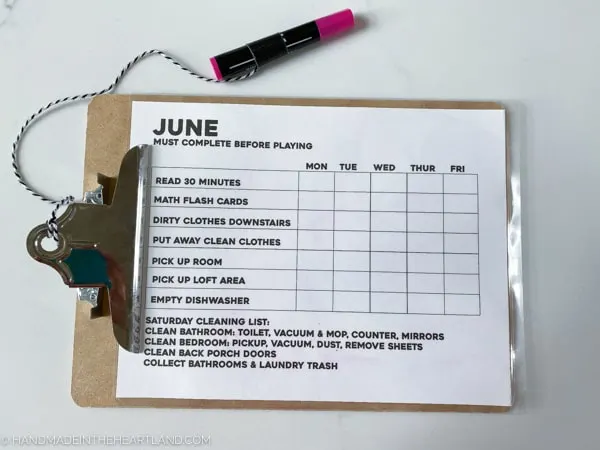 What chores can children do at what ages?
My kids are 8 and 9 and are able to do a lot. That doesn't mean they do them perfectly but they are fully capable of doing quite a bit of chores. My 5 year old does not have a chore chart yet. She's a whole different story because she's a super difficult kid but we do make her clean up her toys.
Most 5 year olds are capable of doing more than cleaning up however I feel like 3-5 are training ages, I have my littles help me with chores but it's not a full on system. 6-7 seem to be the magic ages for wanting to earn money, having expectations and being able to do chores independently. Every kid and every family is different.
My 8 and 9 year olds do these chores daily: read, do math practice, bring their dirty clothes to the laundry room and put the clean clothes away, pick up their room and pick up the play area. Max the 9 year old also vacuums the main living and kitchen area and takes the trash out each morning. June the 8 year old empties the dishwasher. On Saturdays there is an entire extra list for our big cleaning day. They are both responsible for cleaning their bathroom, deep cleaning their bedrooms and a few extra chores like cleaning windows, collecting bathroom trash and mopping small areas like the laundry room.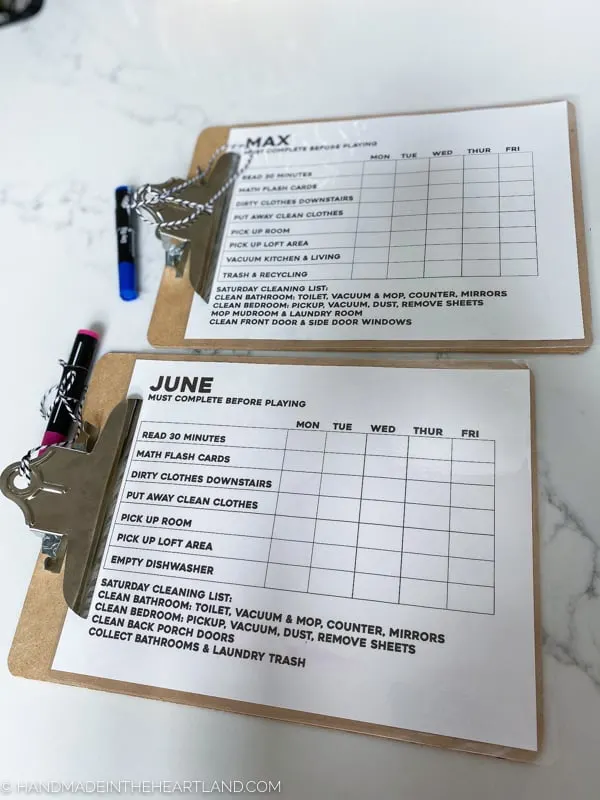 How to make a chore chart
This chore chart system is super simple. You can print out the blank chart and write in the chores or you can edit it on your computer. I used the font Heavitas which is free to download on Dafont if you want to use the same one. Download the blank chart below
After filling the chore chart out and printing it I laminated it, stuck it on a clipboard and then tied a dry erase marker to it with string. Super simple. I'm not sure why but dry erase markers on plastic lamination don't erase with anything except rubbing alcohol. So make sure you have some on hand to clean off the chart each week.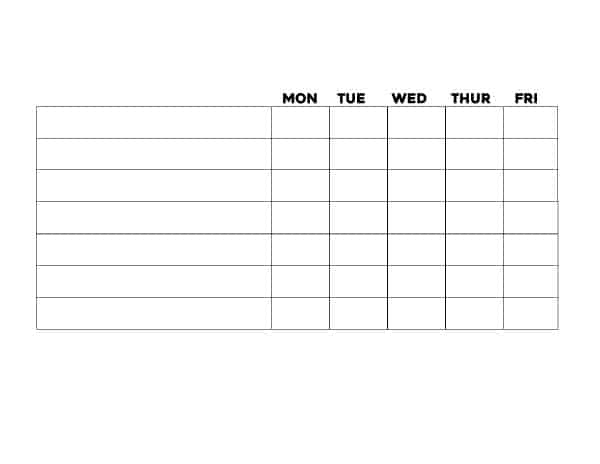 LAUNDRY TIP:
Since moving into our new home we have a new laundry system I thought I'd share. Our home is laid out with the laundry room on the main floor and all the kids bedrooms upstairs. To keep up with laundry throughout the week instead of doing one extra large laundry day we have hampers in our laundry room and I purchased small laundry totes for the kids. Every morning they bring their dirty laundry down and carry the clean laundry up and put it away. Some days there is no laundry to put away but 3-4 days a week there is.
In the picture below you can see the laundry tote I purchased. I got them at Target and when I went to grab the link I realized they were actually seasonal summer totes made for pool or beach use. Heres the link. They are great because the kids can easily bring them down and they only hold a few days worth of clothes so the dirty laundry can't really build up.
Whenever I'm done with a load of laundry I fold each kids clothes in a pile and they come down and grab them, put them in the basket and take them up to put away. I'm impressed with how it's really been working for us!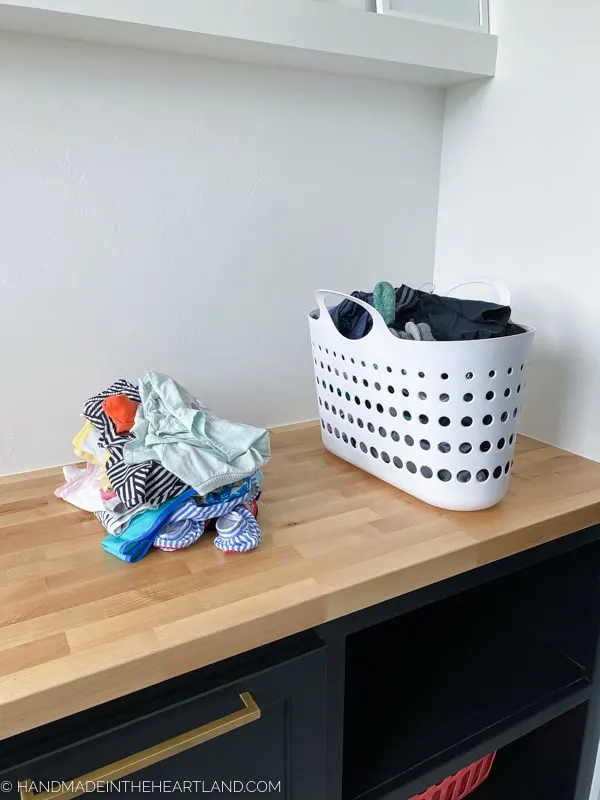 Why make a chore chart?
I don't know about you but I'm super motivated by crossing something of a to do list, putting a check mark by a task or any other physical action of completing a task. It's why tracking apps are popular and to do lists work for so many people. I honestly feel like the chore chart has tremendously helped my kids stay on task each morning and actually do the things on the list. They are motivated to be able to check each item off. Everyone is different and chore charts might not work for you, but they might work for your kids. I encourage you to try it and see if it does!
If you use this chore chart please let me know! Find me on Instagram (@handmadeintheheartland) or facebook or leave a comment! I love to see you using ideas from the blog 🙂
Supplies for making a chore chart