I'm so excited to share my first post with details of our new home in Oklahoma City! In this post I'm sharing all the paint colors we used as well as all the hardware choices we made in our modern farmhouse. This post contains affiliate links, which means I make a small commission if you purchase something I recommend.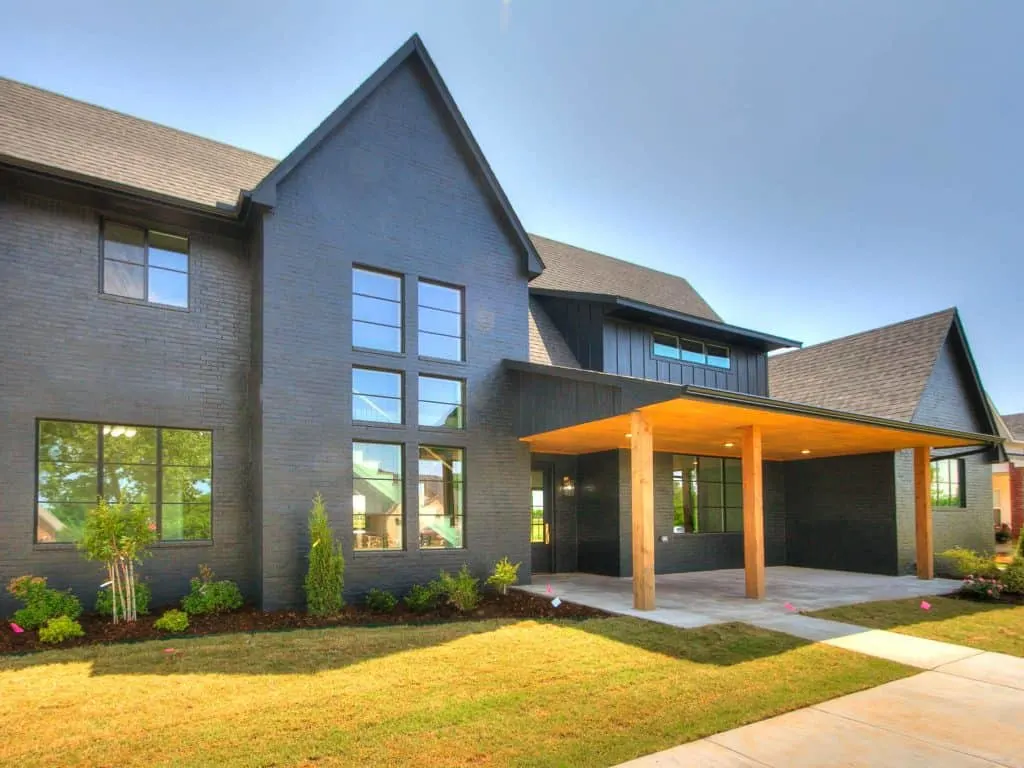 I always refer to our home as a modern farmhouse because my aesthetic is much more modern that it is farmhouse. If you'd like to follow along as I decorate and furnish our home be sure to follow my dedicated instagram account for our home @modernokc
I like clean lines and although I went through my shabby chic phase about 10 years ago I now lean toward mid century modern and minimalism. Which leads me to the first and boldest color we used in our new home: Tricorn Black.
Modern Farmhouse Paint Color 1: Tricorn Black
Tricorn Black by Sherwin Williams is a true black. The entire exterior of our home is painted brick and siding in tricorn black. We love how the use of color changes the exterior from a farmhouse to a fully modern farmhouse. The color is so bold and we are in love.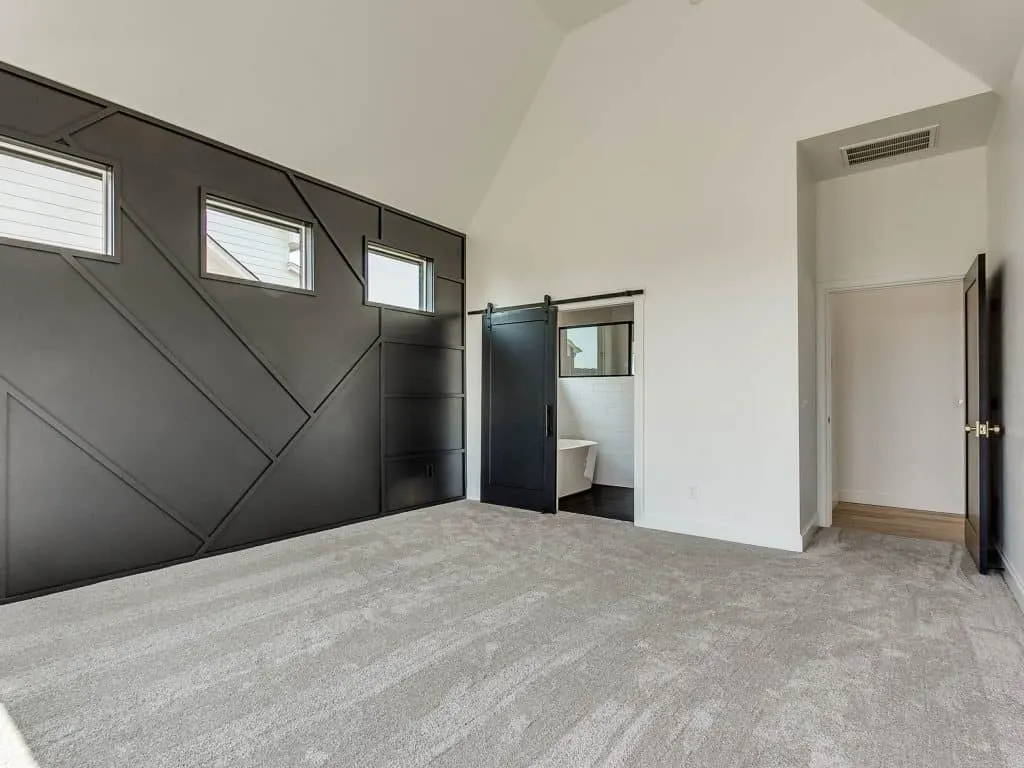 We also used tricorn black throughout the house. All the doors on the main floor are black as well as the accent wall in the master bedroom. We also went with a brick fireplace facade and painted it black to echo the outside of the home.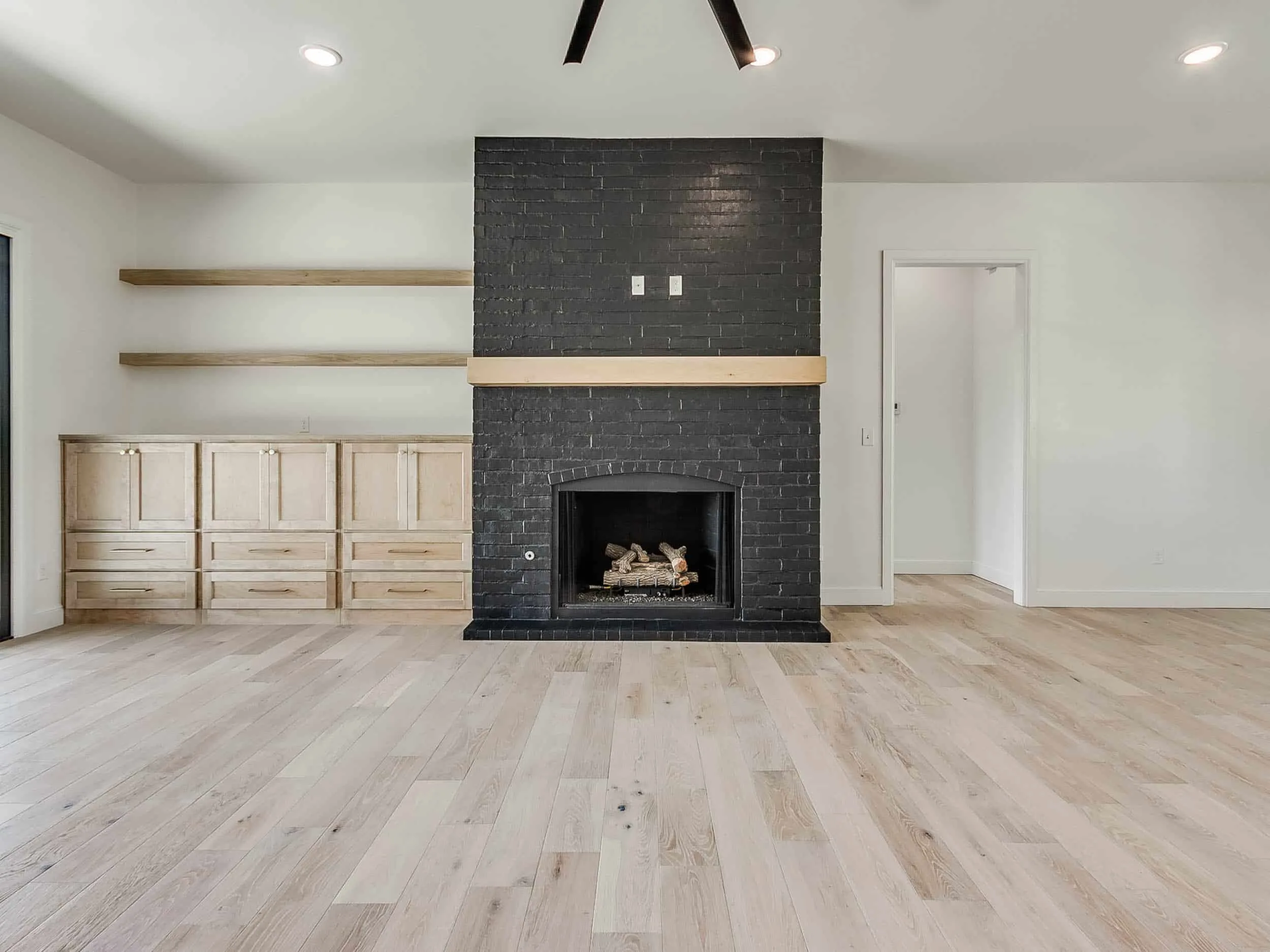 I painted some of our cabinetry black as well, in the laundry room and a built in cabinet in the kids bathroom upstairs. The mudroom as you walk in from the garage is also black painted cabinetry.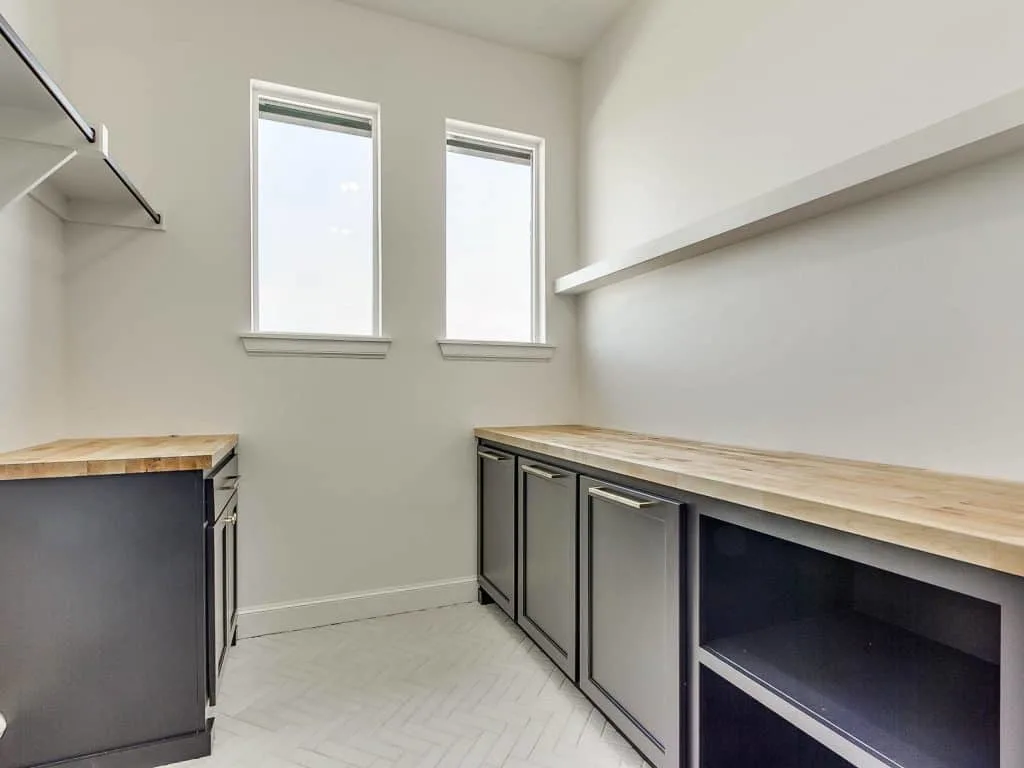 I adore how the brass hardware jumps off the black doors and cabinets. I'll link to all our hardware later on in this post.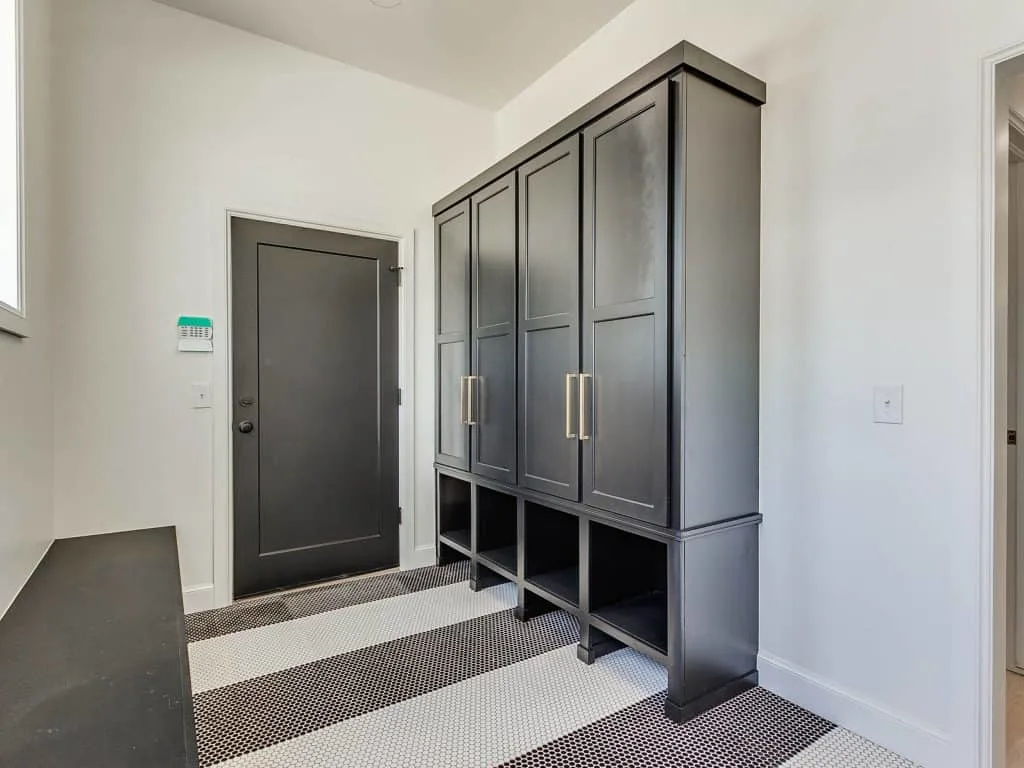 Modern Farmhouse Paint Color 2: Pure White
In our last home I painted all the walls white about 3 years ago and I just loved it. I know I'm not the only one loving white walls right now but there is a reason it's popular. It feels so clean! (until your kids grubby mitts leave handprints) So I went with pure white by Sherwin Williams and love the crisp white!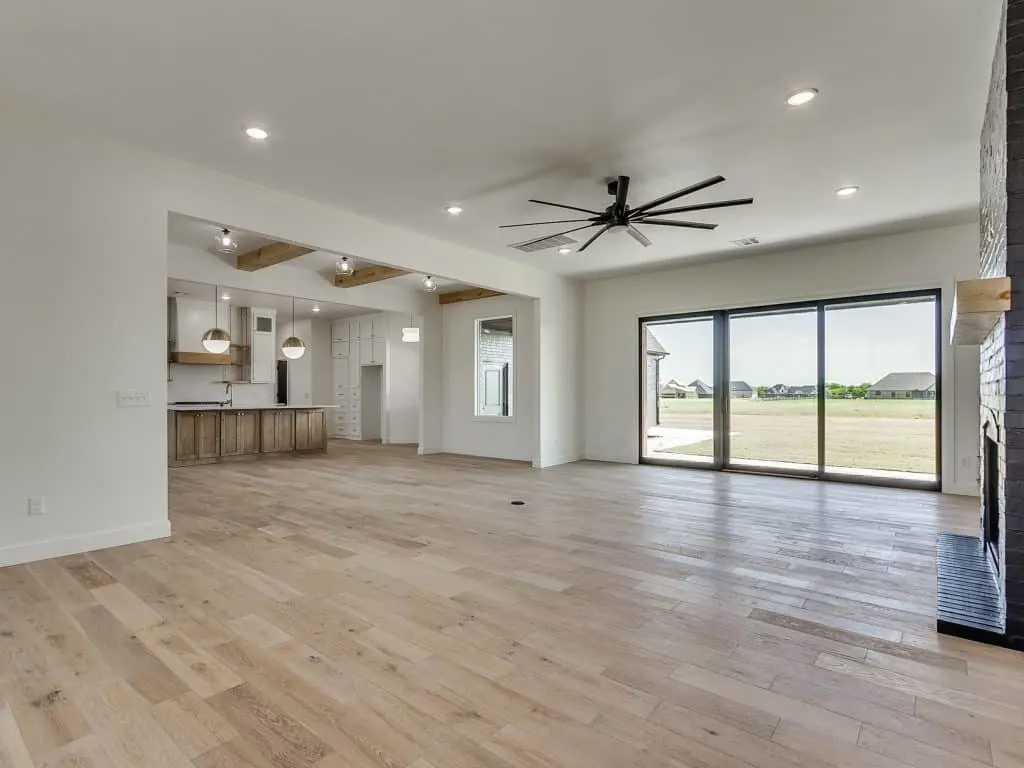 In the past I was always up for painting walls bold colors but it never failed that I got sick of the bright blue or yellow or green within a year. Painting neutral walls is so helpful for me to be able to change the look of the room without having to go through the work of painting!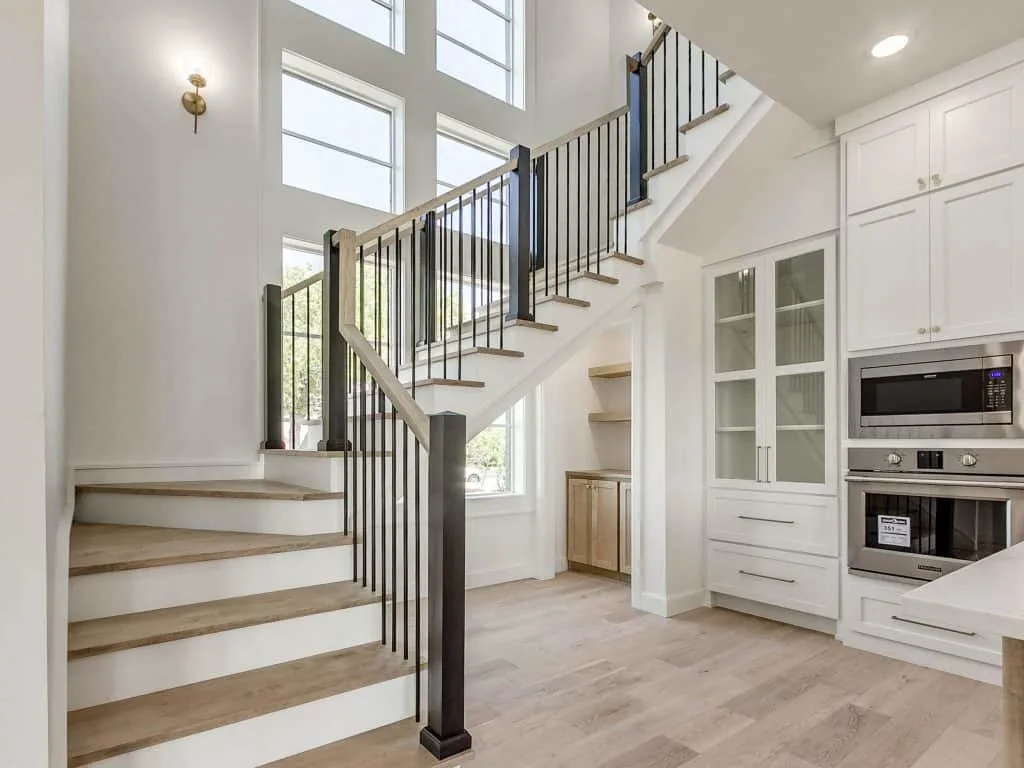 So basically every wall in our home except a select few are pure white as well as the trim. The black doors downstairs and gray doors upstairs totally pop off the white.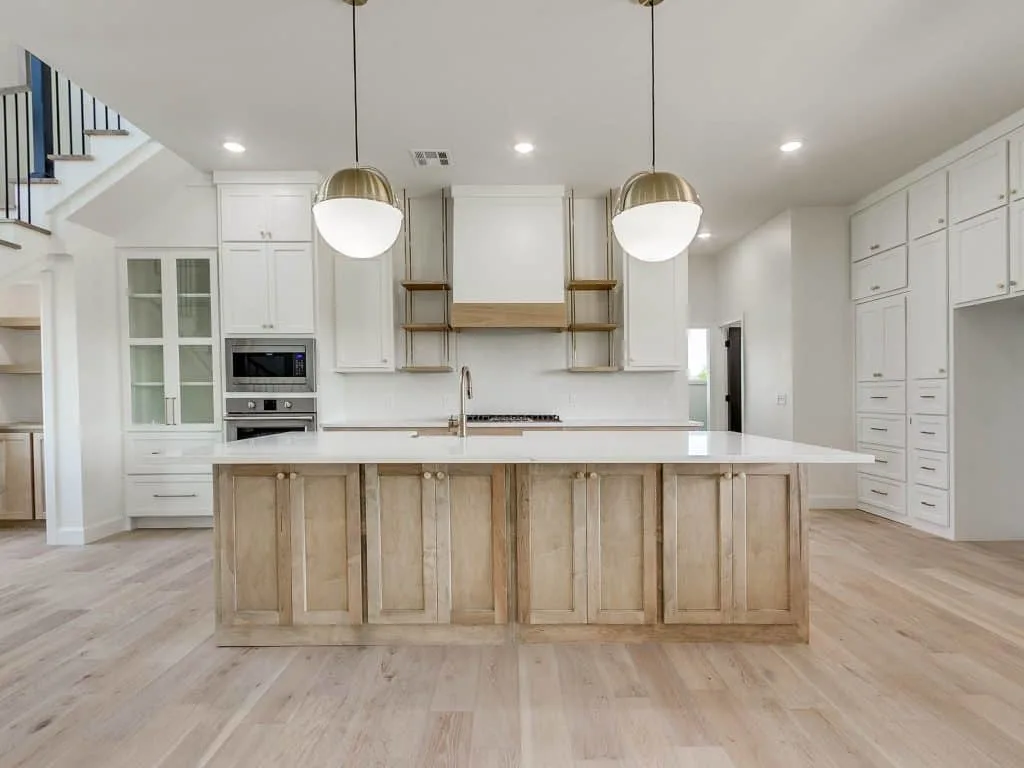 For the kitchen we decided on all upper cabinets and towers being white and all lower cabinets being stained. I love the mix of the wood, white and brass. I contemplated doing a color on the lower cabinets on the island but I just couldn't make up my mind on a color I would like more than this diluted weathered oak!
Wood Stain: Weathered Oak
For a lot of the cabinetry in our home I wanted a very light wood stain. The builder came up with this stain by diluting weathered oak at 50% and it's awesome. All of my cabinetry is maple, which if your looking for a wood stain you have to consider what type of wood you are starting with.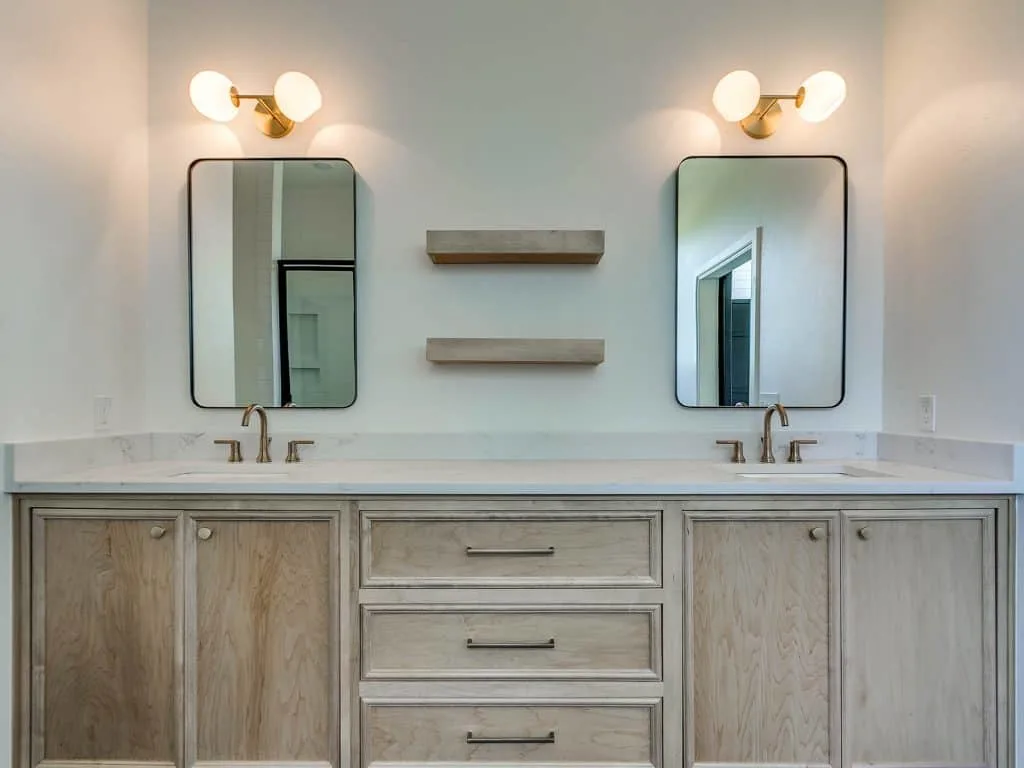 I opted to do wood stain on all the bathroom vanities throughout the house. In my master bath and kitchen we did brass hardware and upstairs we did black. I like both of the hardware options on the wood.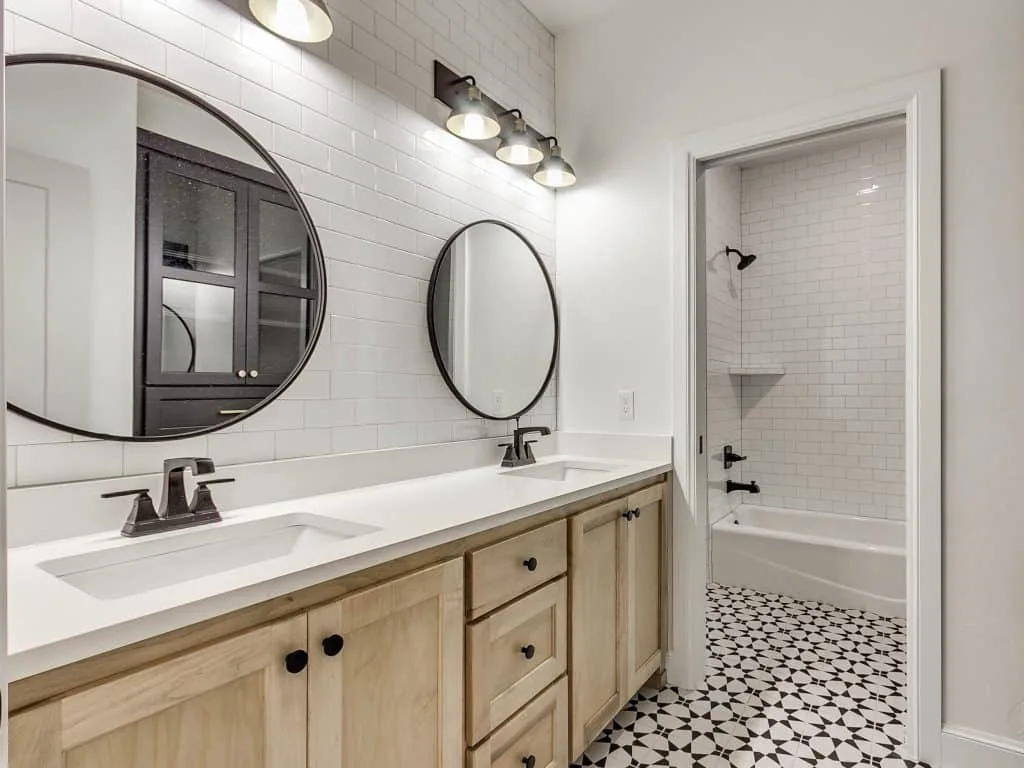 Paint color 3: Agreeable Gray
The other staple color I used throughout the house is agreeable gray by Sherwin Williams. I love this gray! It's a very warm gray that almost reads as a greige with warm gold undertones. It looks so stinkin' amazing with the brass hardware in my office, I love it so much.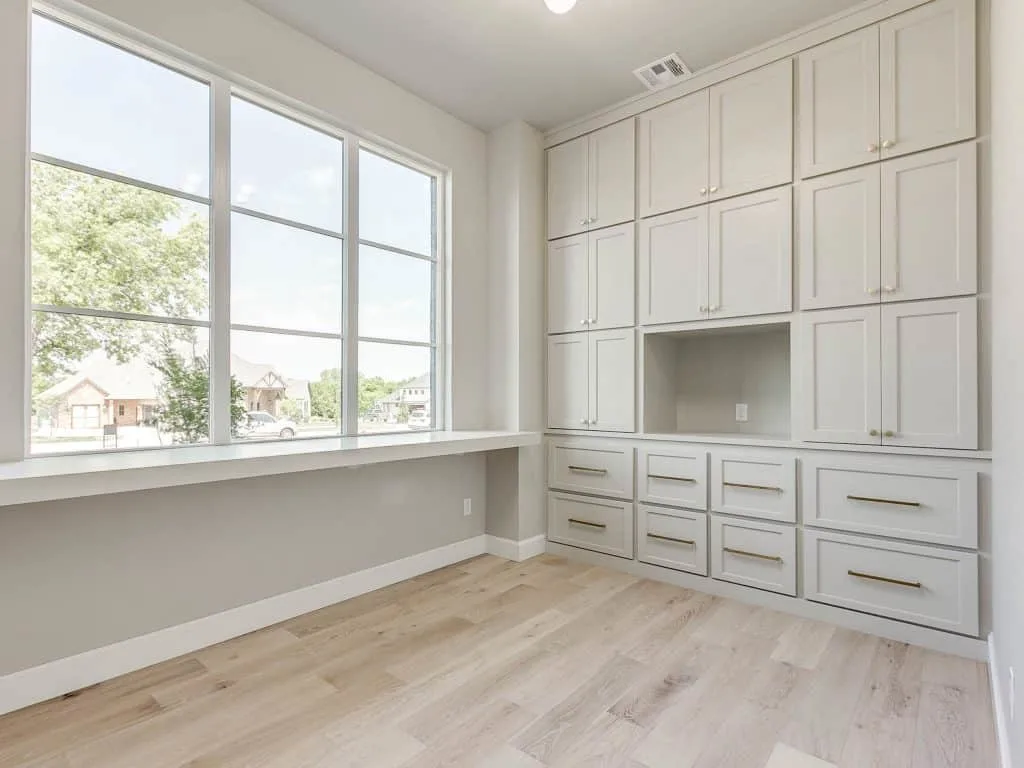 I painted our home office walls and cabinetry agreeable gray as well as all the doors upstairs and two of the upstairs bedroom walls. This warm gray is so neutral and I've paired it with blacks and browns in decor and love it! I'm so happy with all our modern farmhouse paint colors!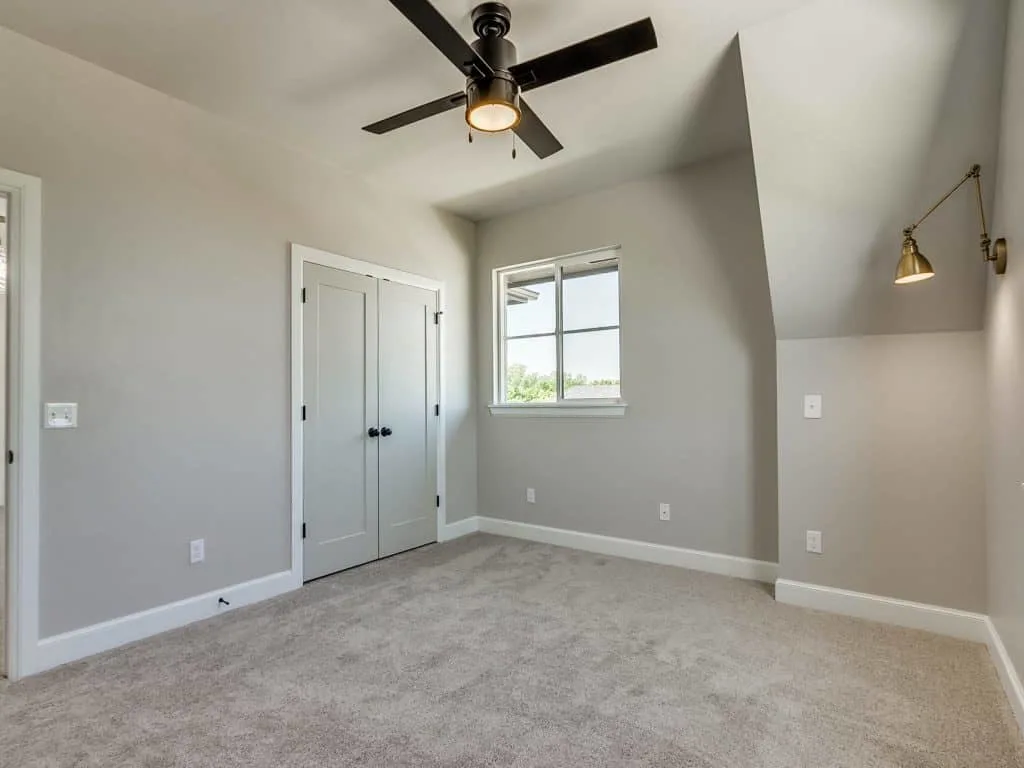 Modern Farmhouse Hardware Choices
Choosing hardware was a lot more difficult that I would have guessed! Decision fatigue is real and after looking at what felt like thousands of pulls and knobs I'm super happy with what we came up with.
The real stunner of all the hardware choices is this brass hexagon door knob. Isn't it awesome?! Get it on Amazon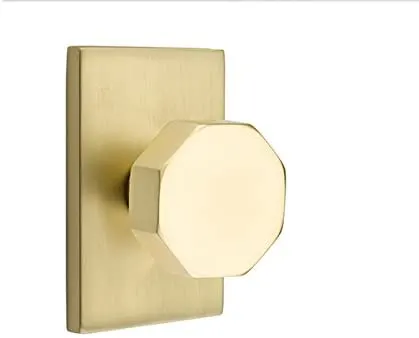 All the circle knobs are from Amazon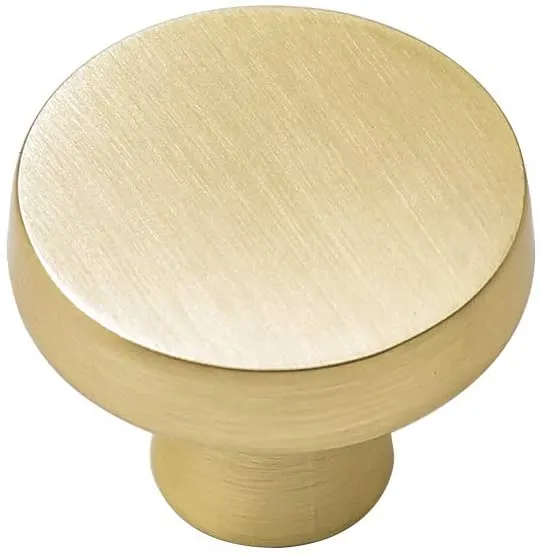 The pulls are also from Amazon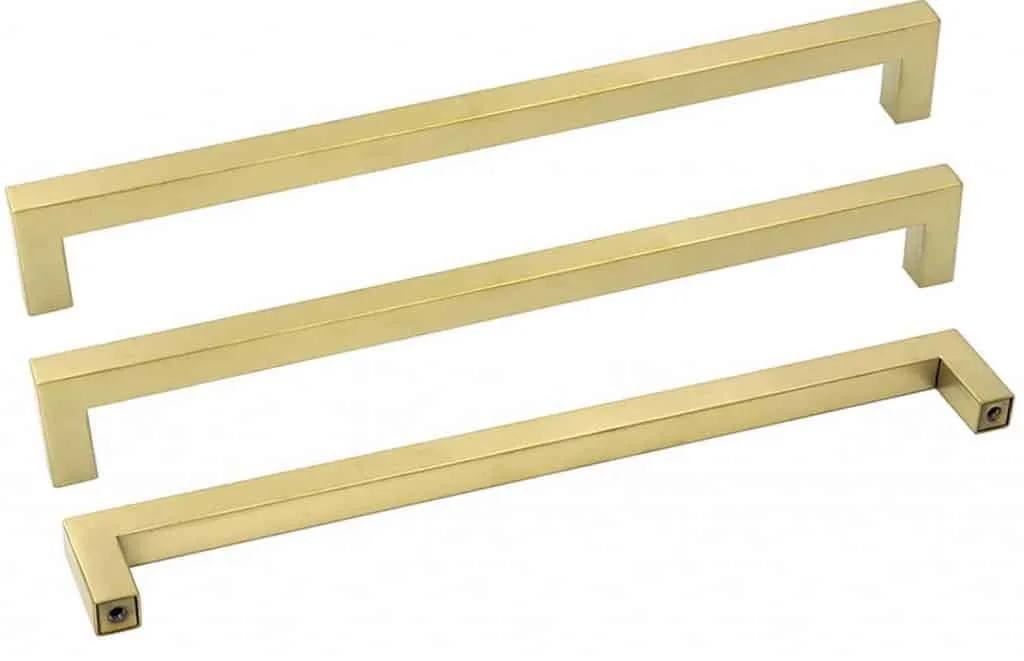 Here are the black knobs that we used upstairs, also from Amazon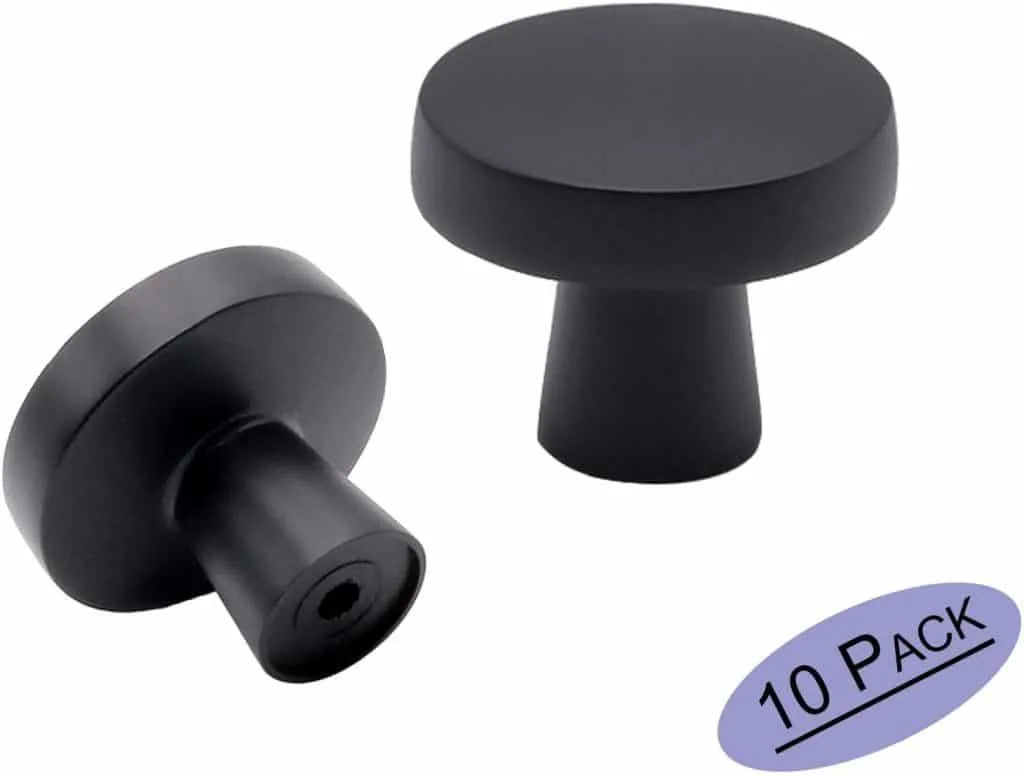 And these black pulls from Amazon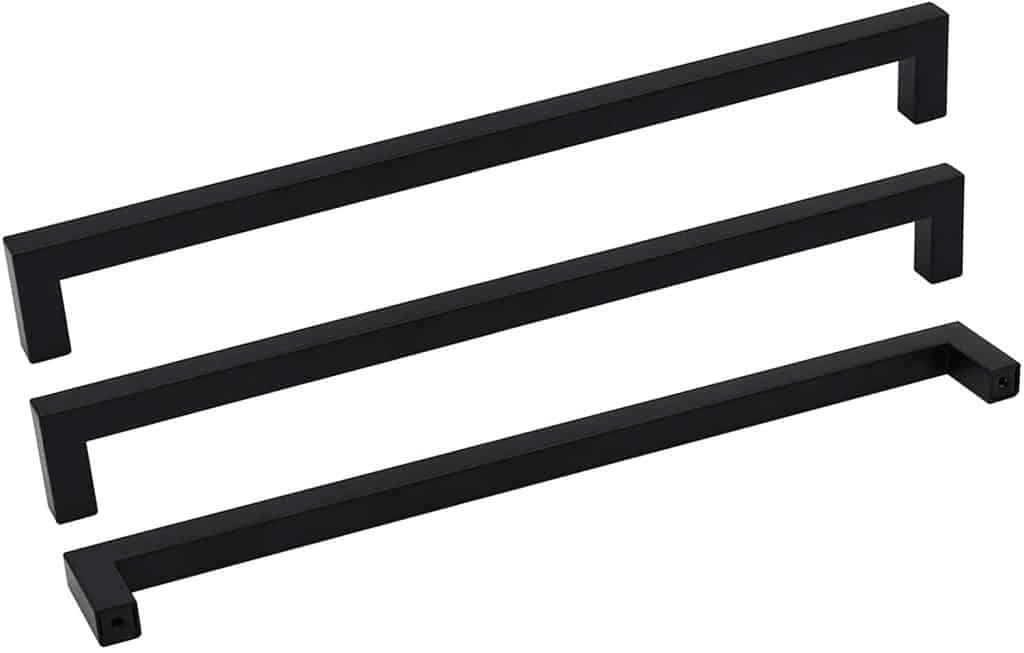 We used these toilet paper holders in all the bathrooms, Love them! Purchased on Amazon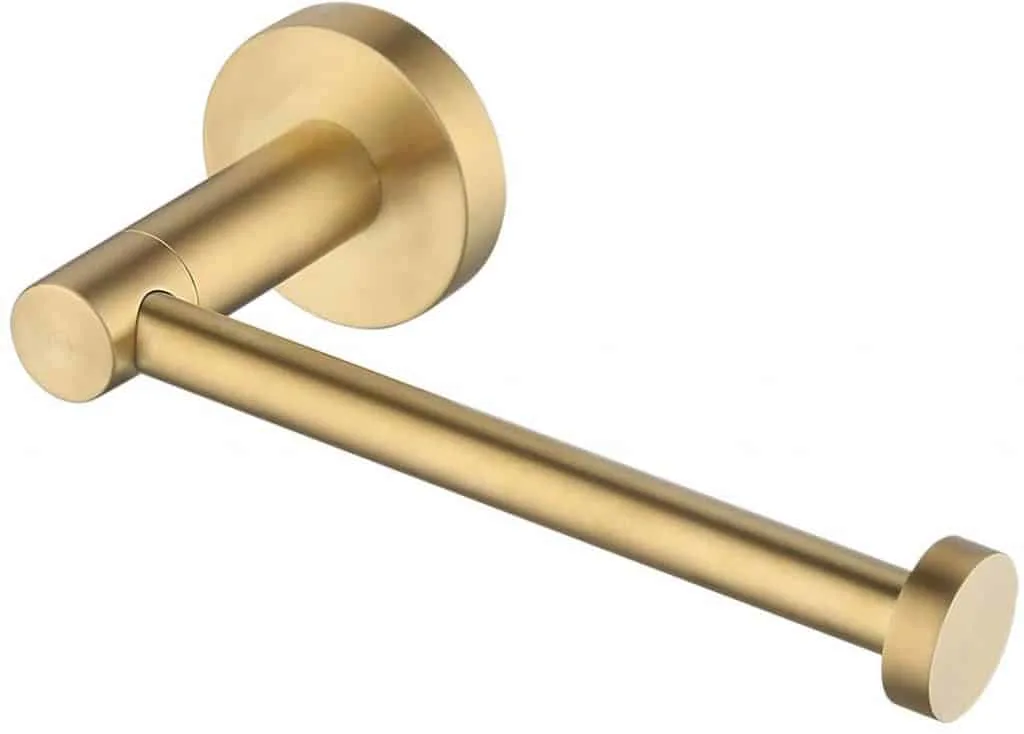 I am in love with the rounded edge black mirrors in my master bath. So pretty and also from Amazon.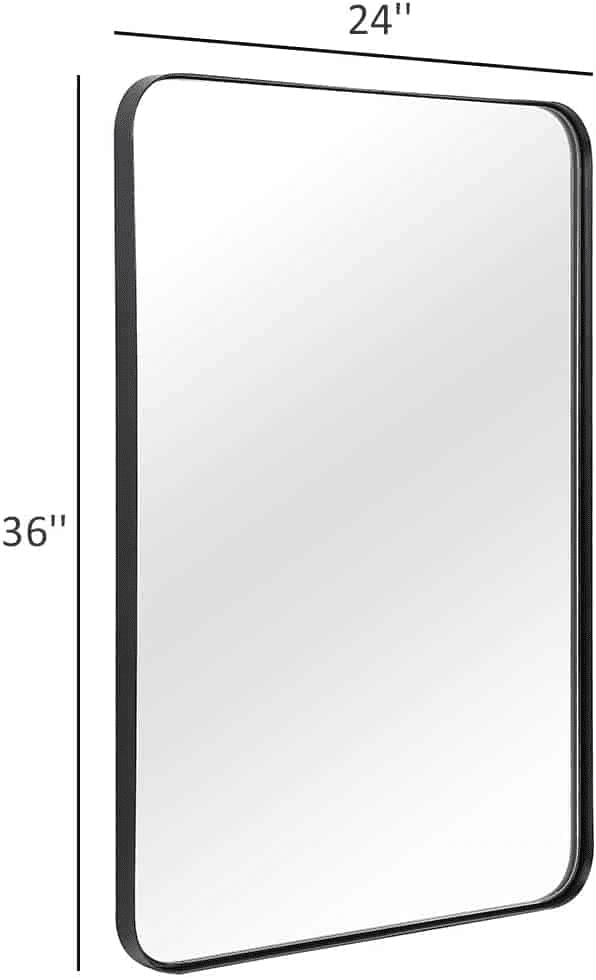 The mirrors for the girls bathroom are also super fun! Love these hexagon mirrors, purchased on Wayfair.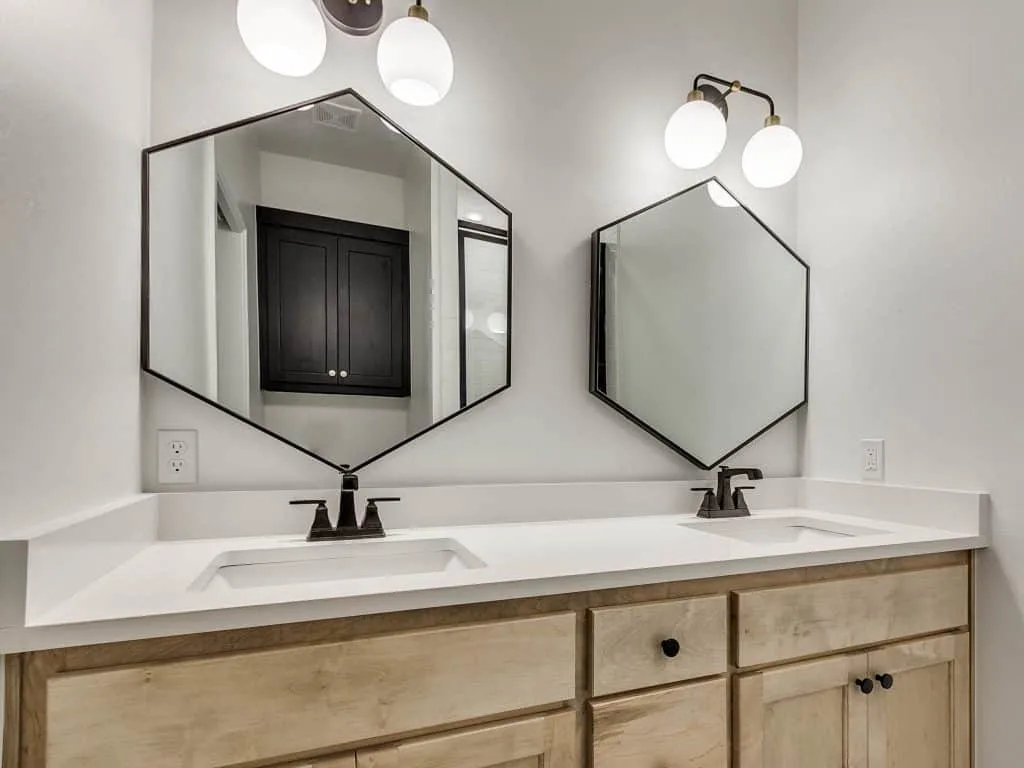 If you have any questions feel free to ask in the comments or find me on Instagram (@handmadeintheheartland) or facebook
If you're curious about our builder, we built in a suburb of Oklahoma City with Crabtree Homes. I would 100x's recommend to build with them. After talking to others who have built homes I was so happy I chose them. I had full control over all these choices like hardware and paint colors, lighting and fixtures. I could choose from any website on the internet and I worked closely with their designer to make all my selections. It was such a fun process! All of the staff that I worked with at Crabtree were awesome, if you're building in OKC call them! 🙂
Check back as I'll be posting the sources for all our lighting and plumbing fixtures later next week. I'm having so much fun sharing this house that I'm so in love with. 🙂