Federal glass refrigerator dishes are antique glass dishes with lids made by the Federal glass company between 1900-1980 in Ohio. In this post you'll learn about the Federal Glass Company and where to buy vintage glass pieces online.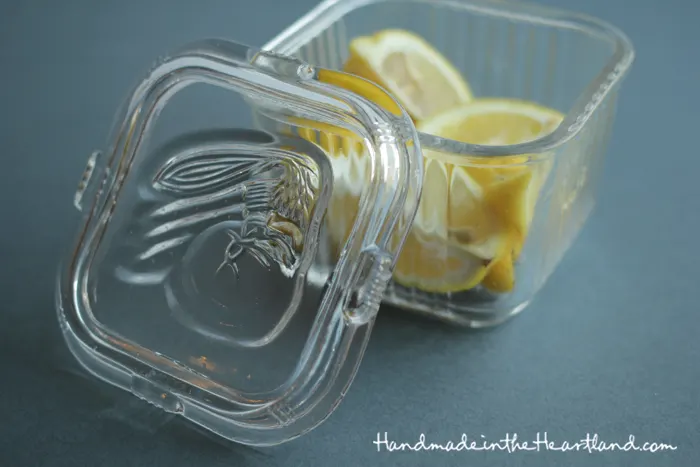 A few years ago for my birthday my mom sent me the cute little vintage glass dish above. After doing some research and learning about federal glass I've come to love my little refrigerator dishes and have even collected a few more in different sizes.
Who is the Federal Glass Company?
All of these pieces were made by the Federal Glass Company that opened its doors in 1900 in Columbus Ohio.
Federal Glass closed in 1980 after decades of making pressed glass or more commonly referred to as "depression" glass that they made through the 1920's and on.
The method of pressed glass was mass production and allowed the company to make large quantities and sell at a reasonable prices through the depression.
What are vintage glass refrigerator dishes used for?
At first I didn't quite know what I would do with my cute little glass lidded dish but I quickly realized it was great for many things- including jelly or jam and lately I've been using it for sliced lemons.
You can only imagine that before the wide use of plastics in the 1960's these lidded glass dishes were used as the depression era Tupperware.
Using them today is a little tricky since we know they are not air tight so food will not last as long in them as they do in other containers.
I often use them when I have guests over and want to have a pretty dish to put out on the table or counter.
Is federal glass oven safe? No, probably not. Since the original intent of these dishes was not for the oven and through my research I can't find any source saying that they are oven safe I would say No.
We don't know exactly what type of glass these are and what temperature they can withstand so to be safe, keep them in the refrigerator or on the counter.
How do you know if a glass piece is from Federal Glass?
Pressed Logo- Most Federal Glass pieces bear their logo which is an F inside of shield, usually on the bottom of the piece. The exception is refrigerator dishes! I'm guessing that because these pieces were less expensive than their tumblers or plate sets that they didn't put the seal on them.
Seam- Federal's method for making glass pieces was to press the glass in molds and all the authentic vintage pieces have a seam. The seam is from where the two sides were molded together. Newer reproductions will not have this seam. Another exception for the refrigerator dishes, they don't have seams!
Bubbles in the glass- When the glass was poured into the molds sometimes air would be trapped and bubbles would form. Many of the Federal glass company's pieces have a few bubbles in the glass.
Chips and wear- Especially these refrigerator dishes were made to be used. They are typically pretty thick glass and might have a chip or two in them from being used for decades.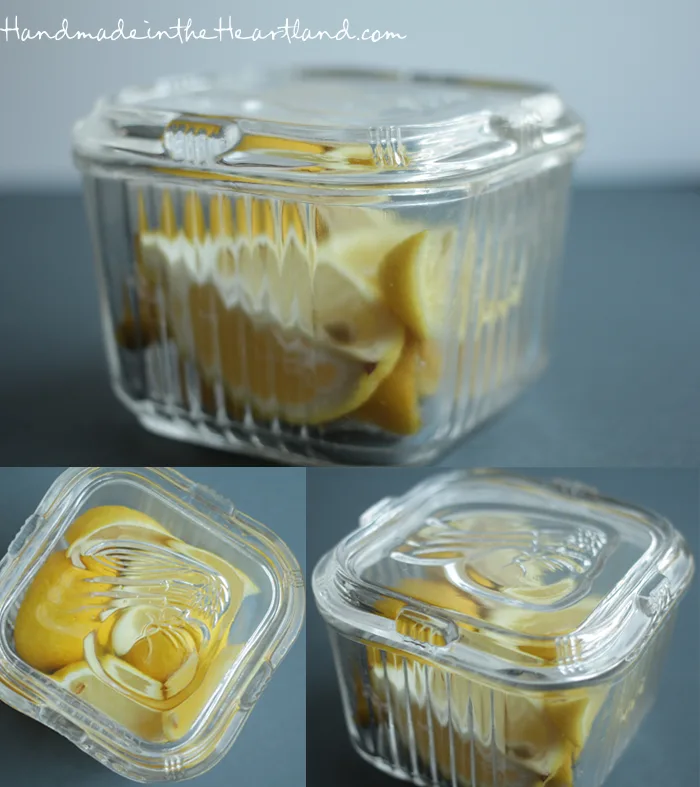 Where can I find vintage glass refrigerator dishes with lids?
The best places to find Federal Glass refrigerator dishes online are Etsy and Ebay. Because these are unique items and they are bought and sold frequently the best way to find them is to search Etsy and Ebay. Search for "Federal Glass Refrigerator Dishes" to see what's for sale now.
Are vintage refrigerator dishes expensive or valuable? Typically No. These pieces were mass produced and you can find them at affordable prices between $10-$30. The Federal Glass company was known for under pricing their competition so we still reap the benefits of that today!
Originally refrigerator dishes were sold in sets of 4, One large 8″ square, 2 small 4″ squares and 1 medium 4″ x 8″ rectangle. If you find a full set together you'll probably be looking at $50-$60 to purchase the set.
What patterns and colors were federal glass refrigerator dishes made in?
From what I can tell these vintage glass lidded containers were made in clear, amber, green and pink. The pink is the most rare and the most expensive if you find it. The patterns I have seen are the ribbed sides and top, vegetable & fruit patterns on the lids and knobs on the lids.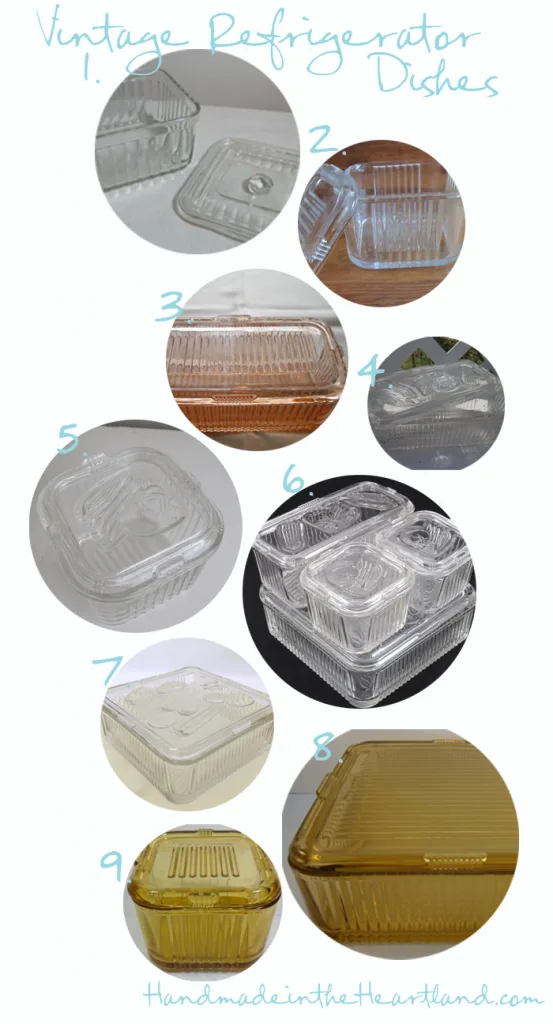 The picture above shows the variety I found online. I don't have direct links because these pieces will all be sold in a matter of months. The best thing to do is search on
Etsy
and Ebay and see what's currently available.
Do you collect refrigerator dishes? I'd love to hear about it in the comments! Tag me on Instagram (
@handmadeintheheartland
) or
facebook
and show me a pic!