I am so thrilled to share my modern kids room decor refresh with you today! We moved into our home 2 years ago and their room was left undecorated until just a few weeks ago when my friends at Walmart helped me give my kids room a major facelift! This post is sponsored by Walmart.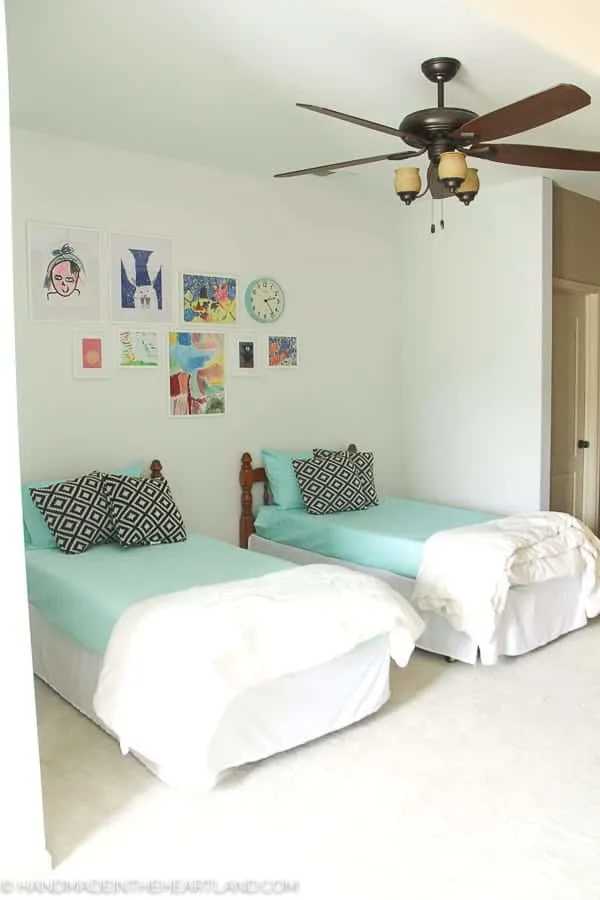 When we moved into our home all the walls were a light brown, and with the beige trim it was just brown on brown. We painted the rest of the house last summer but the bedrooms were still unpainted. I knew that was the first thing that needed to happen for this modern kids room decor refresh! I chose to paint the walls pure white. I'm in love with white walls.
When you paint walls white it truly does feel like a blank canvas to create whatever you want! I knew I wanted to do something with my kids' artwork and when I was browsing walmart.com I found the simple white wood frames that were perfect for the children's artwork gallery wall above their bed. I used 3 sizes, 3 16×20" frames, 4 8×10″ frames, and a 16×12" frame I already owned. The frames are great because they come with white mats in them. To give variety to the gallery wall I chose to size some of the artwork within the mat and some to the size of the entire frame without the mat. Because the artwork is so varied in color and style it all works together because they are all framed in simple white frames on a white wall.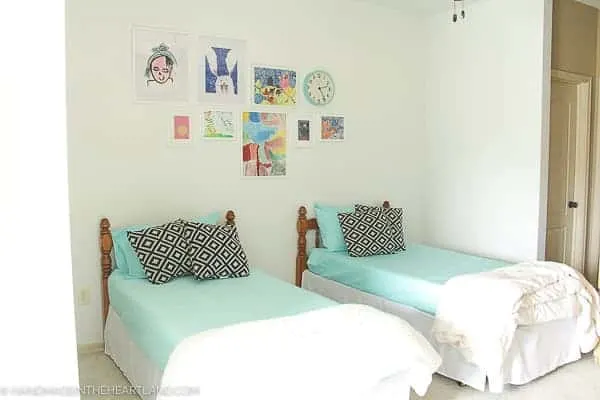 This room is actually shared by my oldest son and daughter, a gender neutral room is just as hard as you would imagine. Especially with a 7 and 5 year old! Eventually big brother will get his own room but for now they'll continue to share. With Max wanting to decorate with Mario and Minecraft and June wanting to decorate with pink flamingos I had to make an executive decision and just decorate how I thought would work for both of them. Mean mom, I know. 😉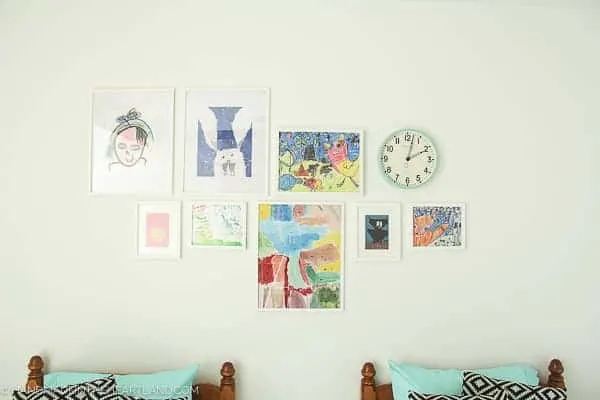 I love how it turned out!! They are both represented on the wall (with equal number of artwork mind you, no one can complain about having less artwork!) and the colors give the room a playful and happy feeling that a child's room should have.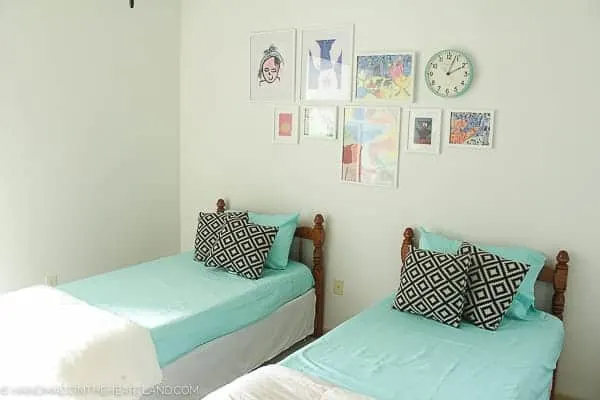 I purchased Better Homes and Gardens sheets in a fun aqua color and simple Mainstays white bed skirts from Walmart, and if I'm honest my son probably won't keep those sheets on very long. Ha! They worked so great for the pictures though. 🙂 I love the black and white geometric print pillows I found when browsing my local Walmart, they are also available for 2 day free shipping!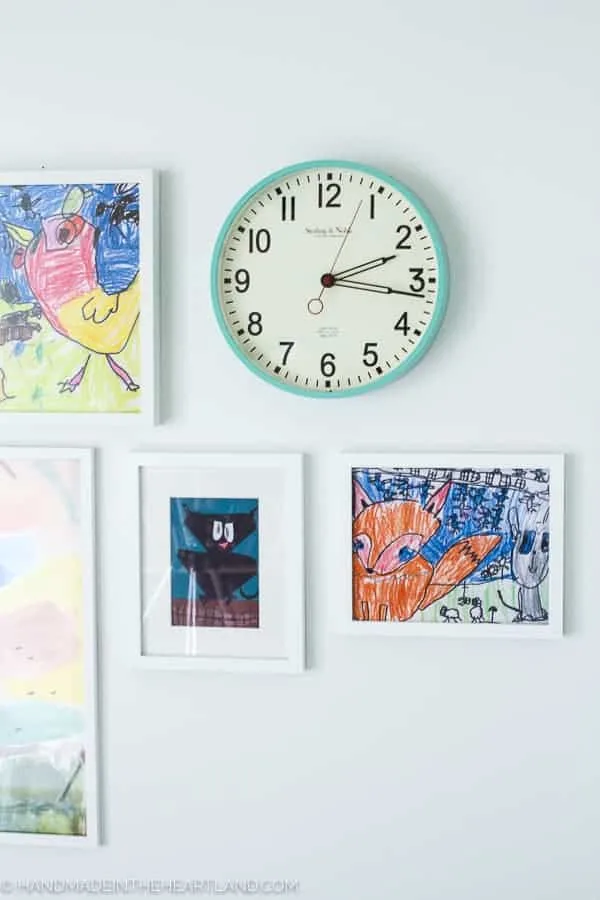 Max and June's room has a fun little nook that should have been attic space but the builder sectioned it off into little play areas and there is a cute little reading nook as well. We've always had a chair in that space, but it was lacking in decor and curtains. I found the thick striped curtains on walmart.com and fell in love! The hardest part was deciding which color stripe to choose! I was torn between the gray and white, navy and white, and black and white but ended up choosing the black and white and I love it!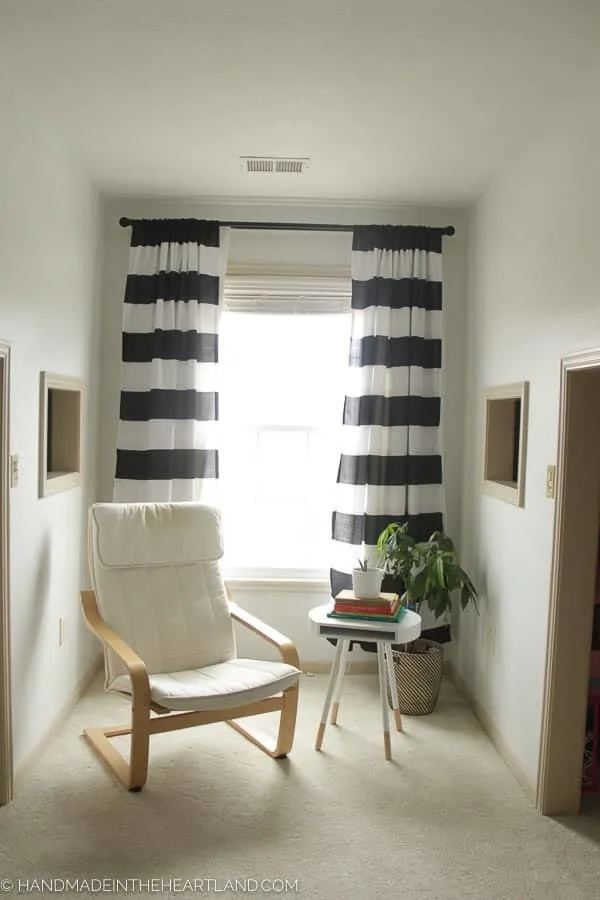 I also purchased blackout shades to go behind the stripe curtains, they are so helpful for the summer when the sun comes up at an early hour and my kids need to sleep a little longer! I love the double rail curtain rod (I picked it up in my local Walmart) it was easy to install and matches the other oil rubbed bronze hardware in our house.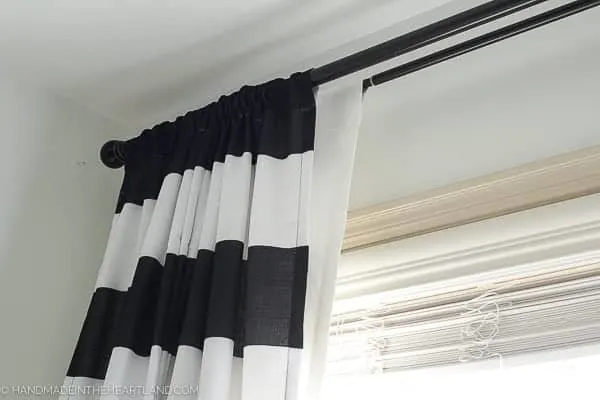 Can we talk about the star of this nook?! THAT end table! I'm simply obsessed with it. One of the fun things about shopping on walmart.com is the selection is so much bigger than what they have in store and with 2-day shipping you can't beat it! Just search mid-century and see all the cute things that come up! I'm a little obsessed with all things mid-century right now, you too? I thought so. 😉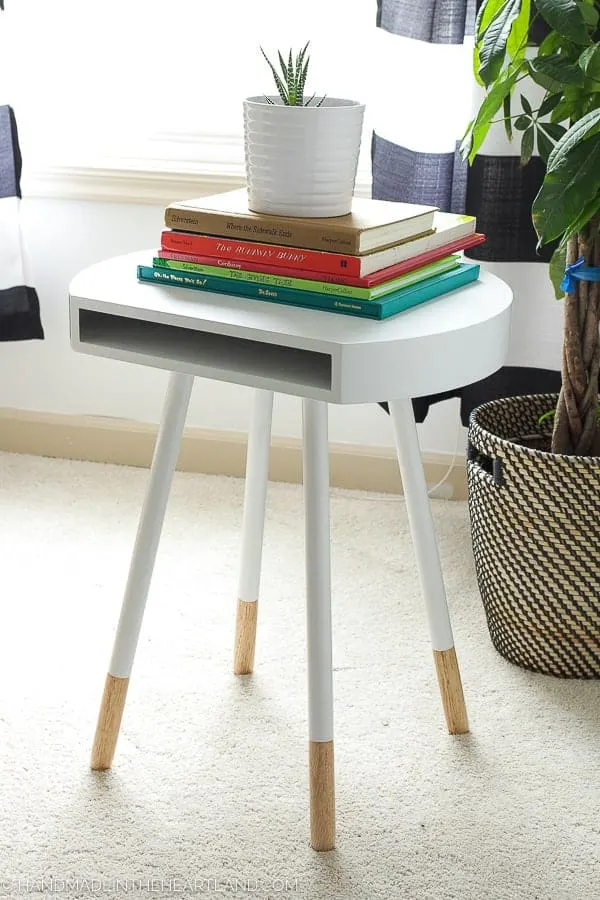 I love the free 2 day shipping with purchase of $35 or more on walmart.com! When I'm planning out a room to decorate I usually find the key pieces to start the room online (hello 30 browser tabs open at once!) and then as I play with those pieces in the space I'll shop more online or in person to find other items to finish off the room. Walmart's online selection and unbeatable prices are within my budget and perfect for finding fun pieces to decorate and update my home!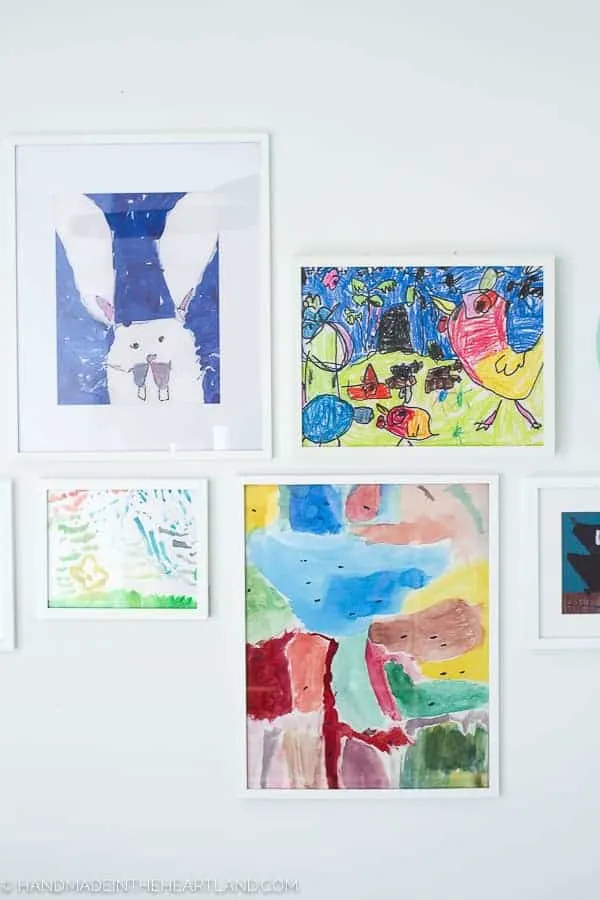 I have a little more work to do on this room, for instance I have plans to paint the headboards white (that brown is screaming at me!) or possibly some other color? black? What would you do?! However, I'm just in love with how it's turned out so far. What do you think? I'd love to hear your thoughts and what items you've found on walmart.com that you love!
Modern Kids Room Decor Sources:
Black and White Striped Curtains
Better Homes and Gardens Double Curtain Rod- in store at Walmart
Better Homes and Gardens Aqua Sheets -in store at Walmart
Mainstays White Bedskirt- in store at Walmart
If you like this room be sure to check out my gender neutral nursery. Gosh it feels like forever a go, this nursery was for Max (he's 7!) but it's still one of my all time favorite rooms I've ever decorated!