Download this free Mother's Day printable card and make this fun eos lip balm gift! Everyone loves a new lip balm, especially when it's dressed up with a beautiful paper flower! This post is sponsored by eos Thanks for supporting the brands that support Handmade in the Heartland!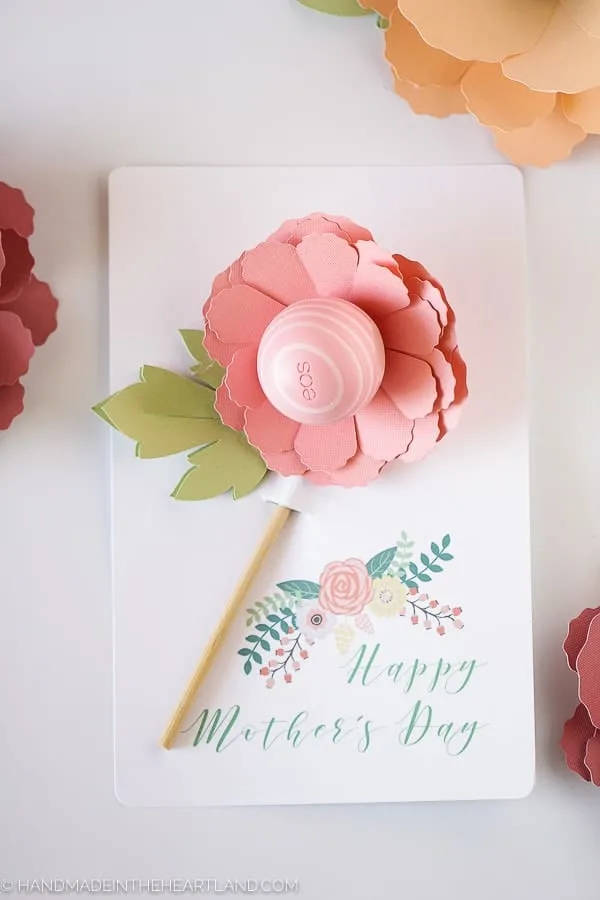 If your itching to get your hands busy with a project this is perfect! It's quick, fun and gives you such a beautiful result! Perfect for gifting to your mom, grandma or just a friend who you want to remember on Mother's Day. I think it's safe to say we all love eos lip balms, the shape is SO fun! I'm also a fan of the lotions. The spring gift packs are fresh and fun and perfect to pick up to make some gifts with.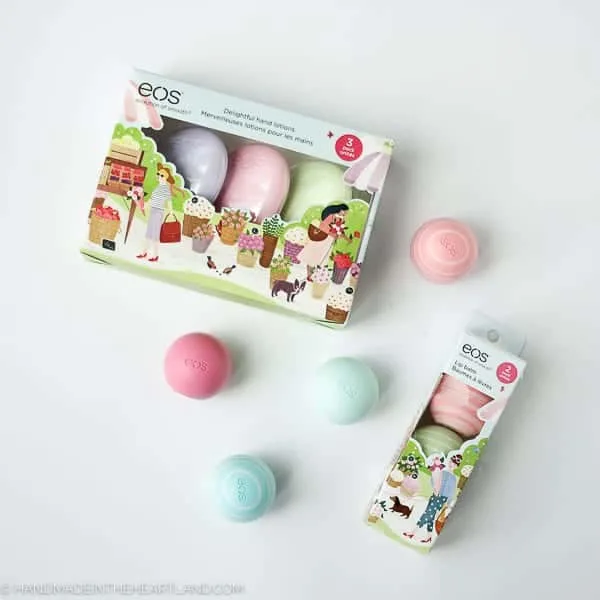 My skin is always dry, especially my hands. I think it's all the washing after changing diapers.???? So I love the eos small little lotions to stash in my purse, car and kitchen drawer. Oh and of course they smell wonderful!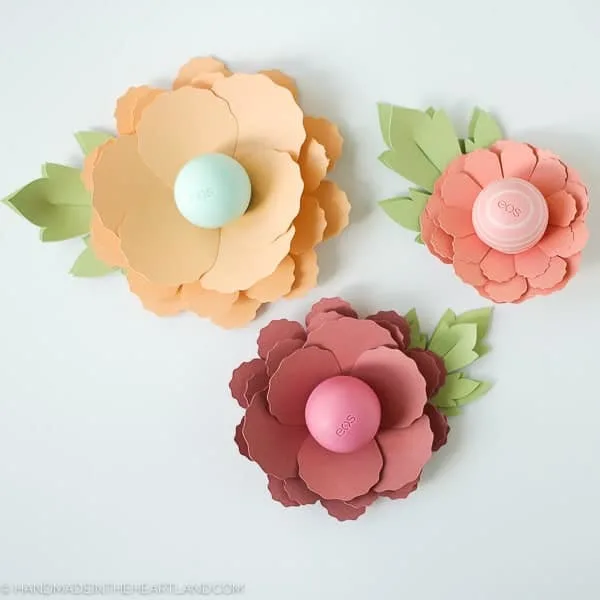 To make this fun Mother's Day card first make your paper flowers. Click over to the post: How to make paper flowers with the Cricut for the instructions. If you don't have a Cricut machine you can easily hand draw flower shapes onto colored card stock and cut them out. Make sure to draw each layer slightly smaller than the layer before it. I like to use hot glue to glue the different layers together. Then use a wood dowel and hot glue it to the back of the flower. I picked up the dowels at Walmart for 80 cents!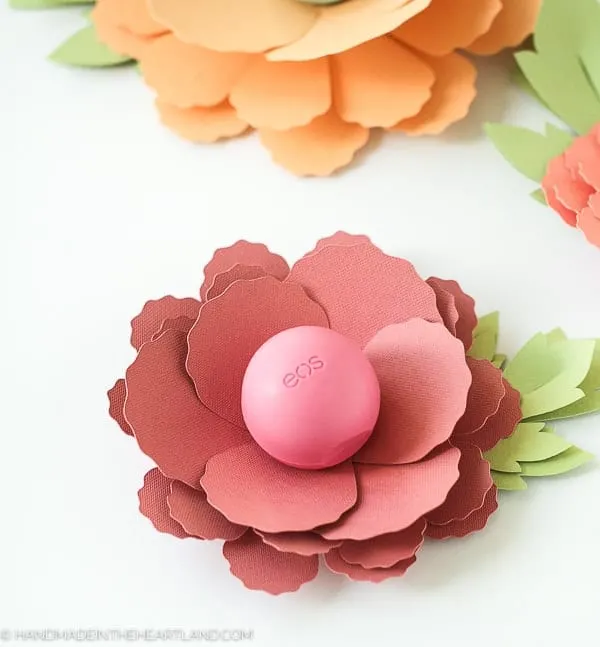 Next print out your Mother's day card! The file is a normal letter sized paper with 2 cards to a page. Print it out in color on white card stock. Take an Exacto knife and slice the paper where the little gray lines are in the middle. That gives you a little space to slip the dowel of the flower into.
Download the free Mother's Day card HERE to print!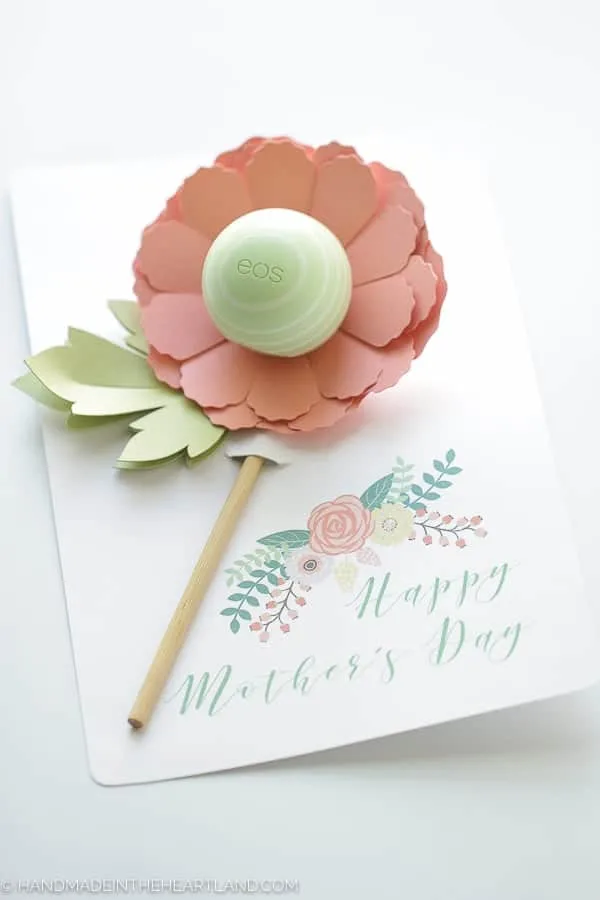 I used advanced strength glue dots to adhere the eos lip balms to the paper flower. I put about 4 glue dots onto the bottom of the lip balm and it stuck onto the flower and held well. When you make this share a picture with me!! It makes me so happy to hear when you make ideas from the blog! I'd love to hear in the comments or tag me on Instagram (@handmadeintheheartland) or Facebook!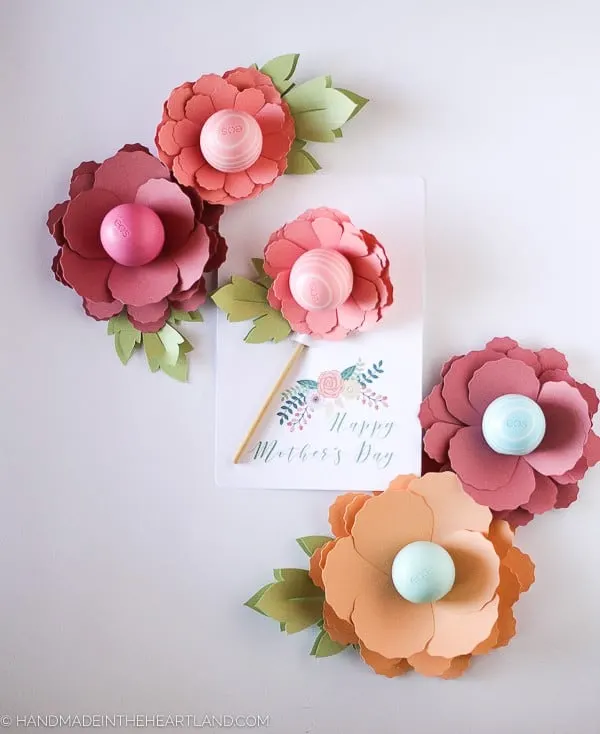 Need to save this for later? Pin the Image below!