Streamline and simplify your pantry organization with uniform containers and creative labeling. Your kitchen pantry will never be the same! This post contains affiliate links which means that I make a few pennies should you choose to purchase something I recommend. I would never recommend something I don't firmly stand behind!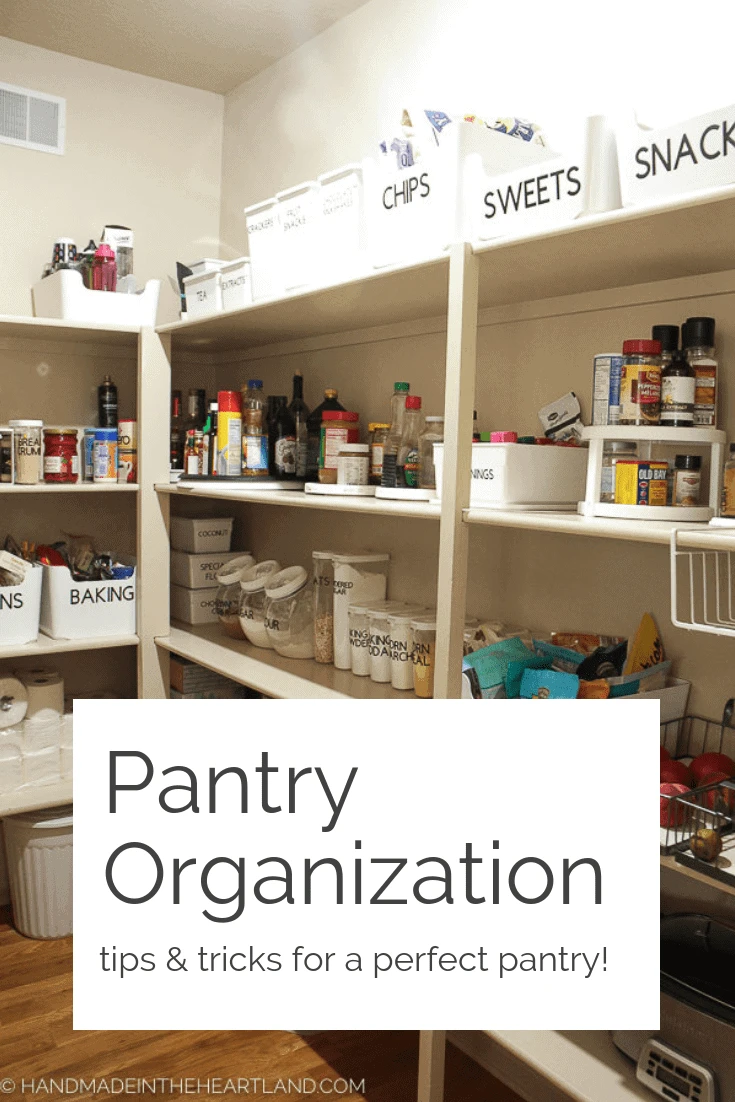 You guys. I'm not even kidding when I tell you that this project of organizing my pantry changed my life, okay, maybe that's an exaggeration but it has brought me SO much happiness. I listen to a podcast by one of my favorite authors, Gretchen Rubin, called Happier, she and her sister talk each week about how to make your life happier. She has this motto that I have whole heartedly adopted: "Outer Order, Inner Peace".
When I first heard her say this little phrase it resonated so deeply with me that I yelled YES! out loud to myself. I'm one of those people who gets twitchy when there are crumbs on the countertop and it feels like a weight is lifted off my shoulders when I clean a closet. So it's no surprise that organizing my pantry made me giddy.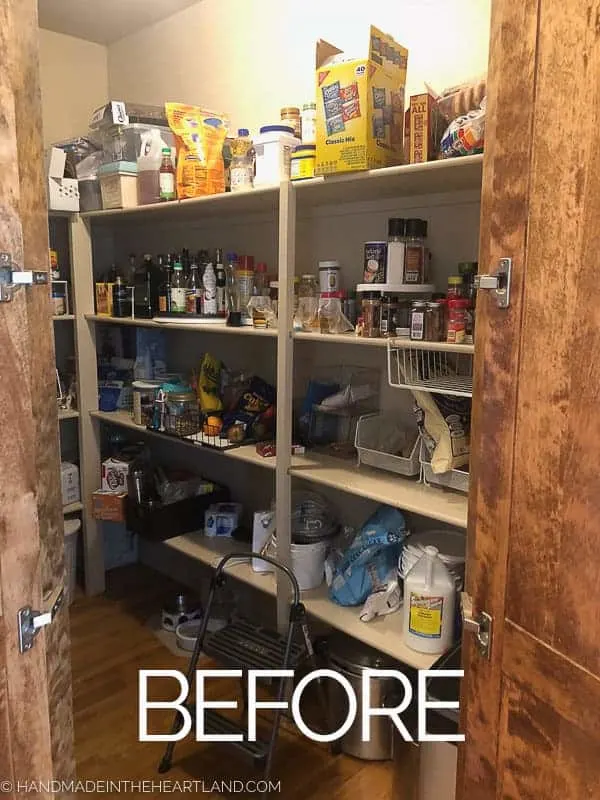 We moved into our home 3 years ago and one of my favorite things is my pantry. It's HUGE and I can fit so many things in it, which also means it becomes a dumping ground for anything I don't want to see on my kitchen counters. Having lived with the pantry for 3 years I have learned a few things:
1. Items on the top shelf that are pushed toward the wall are out of sight and out of mind, I used to put items that I have multiples of up there but I always forgot about them.
2. I hate having things on the floor under the shelves.
3. I have too many random baskets that don't match and drive me nuts.
4. I have too much stuff.
With this pantry organization project I wanted to eliminate some of my problems and make the entire space look cleaner and less cluttered.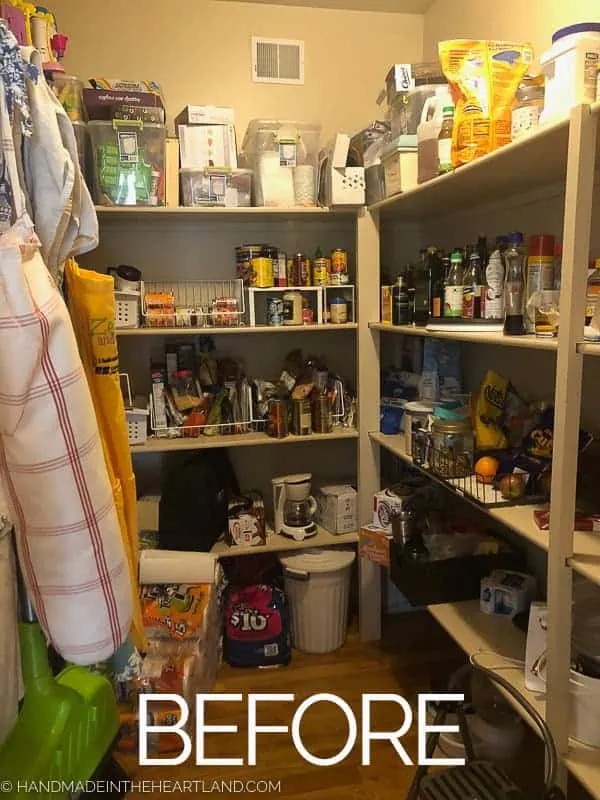 How to Organize your Pantry
When I was preparing for this project I looked at all the containers. I think I stared at different food containers on amazon for several hours one Saturday and then finally around 6:00pm I just threw up my hands and went to IKEA. When it comes to containers on a budget IKEA has the best prices and quite a few different options. All the skinny clear food containers are from IKEA, the larger round containers that I put sugar and flour in are from Walmart.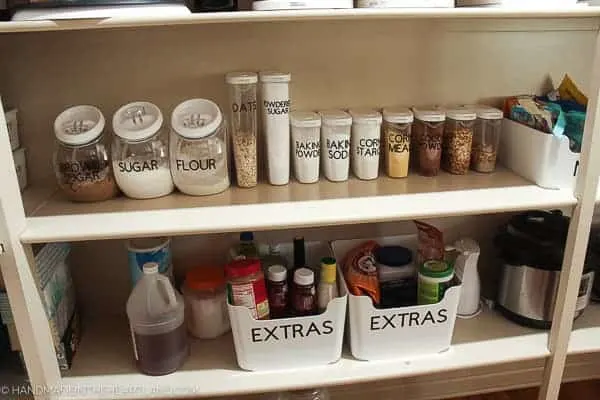 I knew I wanted to put certain food items into clear containers, like cereal and rice. A smarter person would have gone through everything, made notes and then only purchased the amount of containers they needed. I don't have the patience for that so I went to Ikea and over-bought containers knowing I would return items. I only made 2 trips to Ikea so I call that a win. 🙂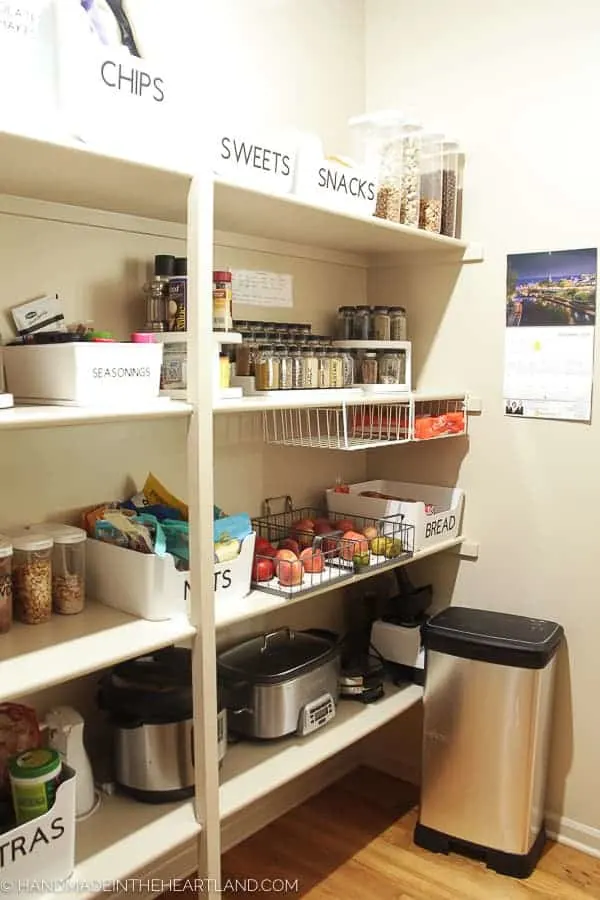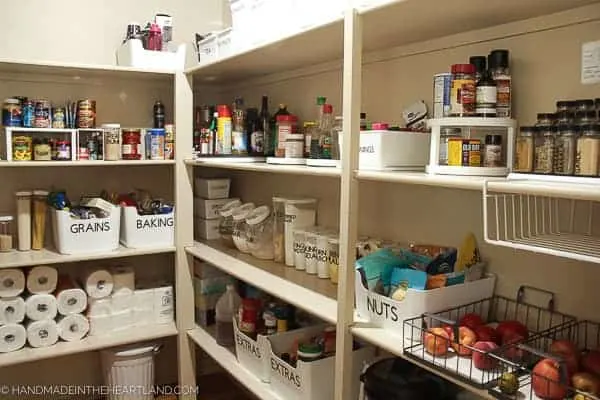 I feel like I'm at a place in my life where I've been cooking long enough that I know what staple products we use enough to have a container specifically labeled for that item. My staples include: Flour, sugar, brown sugar (in large containers), oats, powdered sugar, spaghetti noodles & rice in tall skinny containers and then in smaller containers baking powder, soda, corn starch, corn meal, cocoa powder, peanuts, cashews, breadcrumbs, rice, and quinoa.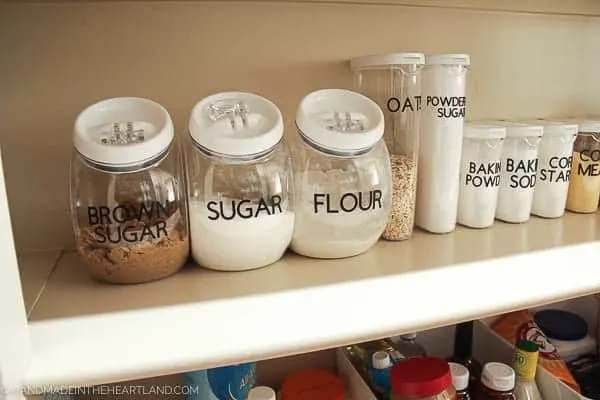 I labeled everything in the pantry with black vinyl that I cut using my Cricut Explore and I used the Cricut Sans font. I knew I wanted a simple font, I often second guess and over think design decisions like what font and color to use so I just made myself choose something simple that I wouldn't hate in a few months. To read more about my Cricut, which I looooove clickHERE.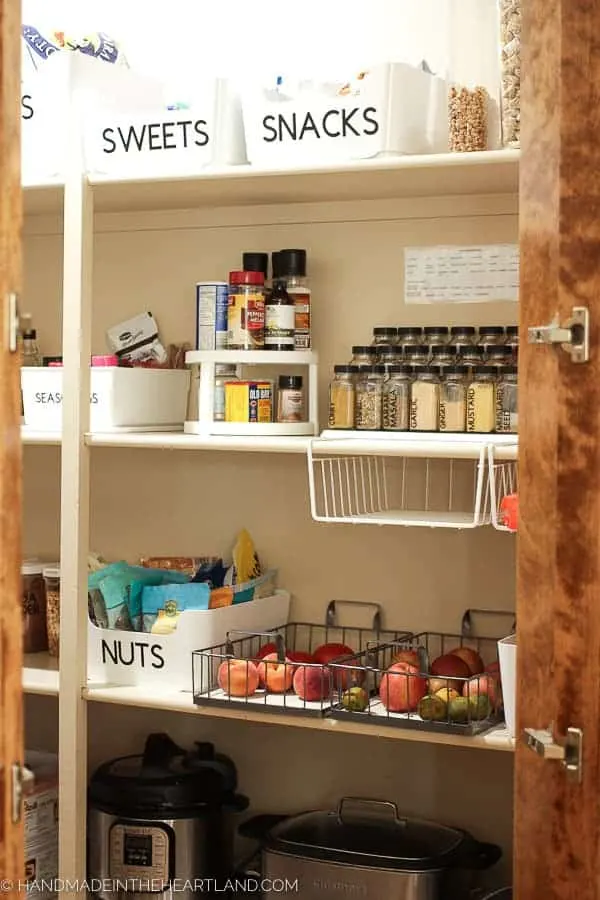 I used a variety of white lidded containers and white open basket style containers from Ikea. The lidded containers are in the TILLSLUTA line, found in the kitchen organization section. The open style white bins are in the general organizing area of ikea and named PLUGGIS, there are 2 sizes three and half gallon and four gallon.
I made a very conscious choice to change where I put snacks, sweets, and chips. You can see in the photo below they are in white bins (so I can't see what's inside them) and they are on the top shelf. You wouldn't believe how just the fact that I can't see exactly which cookies are in the bin and that I can't easily reach them how less often I am eating them. I placed fruit and nuts in an easily reachable area to encourage myself and my family to snack more on those items and it has worked!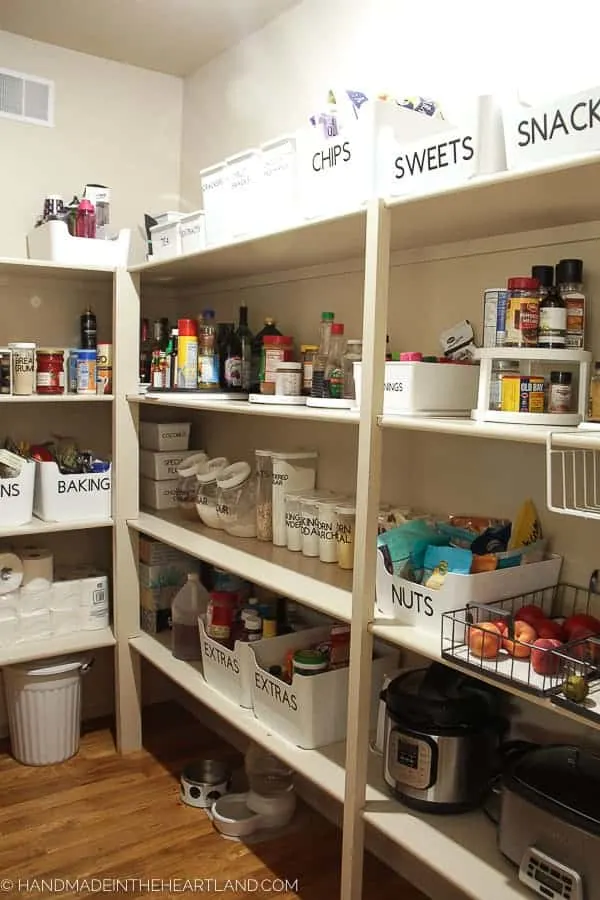 One of my favorite organizing items for this large pantry has been lazy susan's or turntables. You can see in the photos that I store some of my spices and all of my bottled items on turntables and it makes it incredibly easy to keep things contained, organized and easily accessible. I don't have a fantastic solution for canned goods. I do have a basket and shelf in the canned goods section of my pantry and I don't really love either solution, but I haven't thought of a better one. If you have a great idea let me know!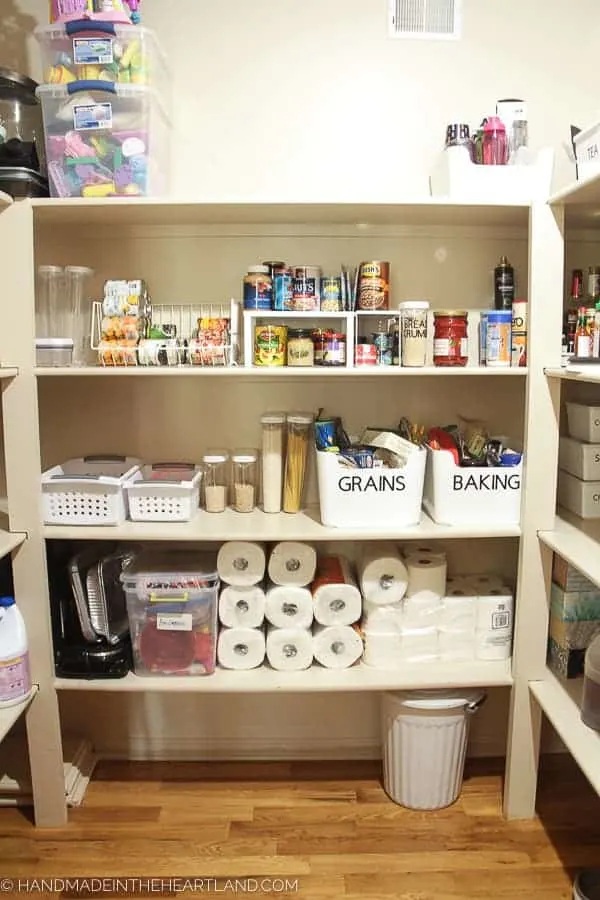 How to Organize Spices in the Pantry
I think it's important to know yourself enough to know what small things make you happy on a daily basis. As we all know sometimes the things that make us happy don't necessarily make sense to others. One part of this project that brings me the most joy is the spice organization. Honestly it doesn't really make that much sense, all spices come in perfectly good containers, are labeled correctly and could easily be alphabetized as you acquire them for organization.
BUT FRIENDS, these uniform clear containers make me SO HAPPY. The look of them in my pantry every time I walk in makes me smile. This little happiness boost may cost me a little bit of time to transfer the store bought spices from their original container into my containers when I run low, but it is so worth it to me!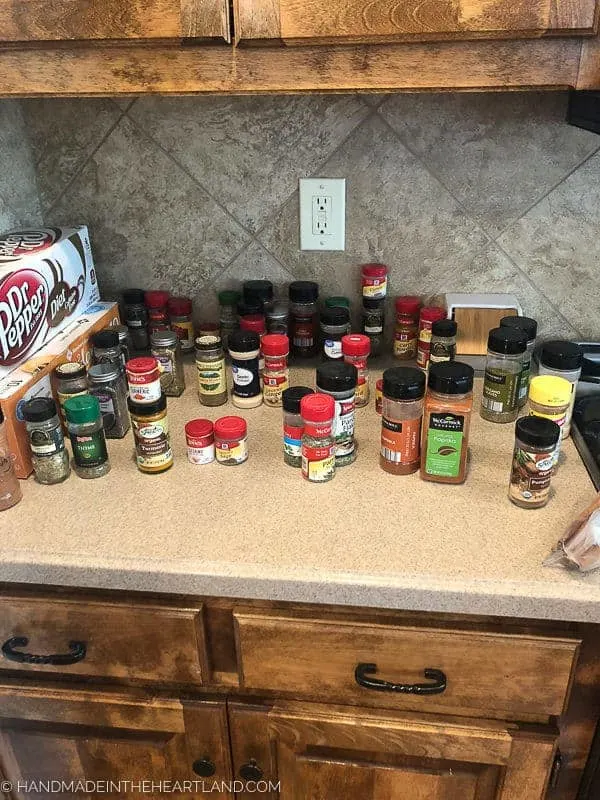 The spice containers came from Amazon in packs of 12, I ordered 3. They come with circle labels that I put on the top of the lids and then I cut vinyl letters out for labeling the fronts of the jars. As you can tell from the pictures it's hard to see what is behind the first row of jars on my tiered organizer so I made a "map" of the spice jars that I laminated and keep on the wall behind the spices. This may seem like way over the top type-A organizing but it always bothered me that when I would alphabetize my spices they would get out of order almost immediately.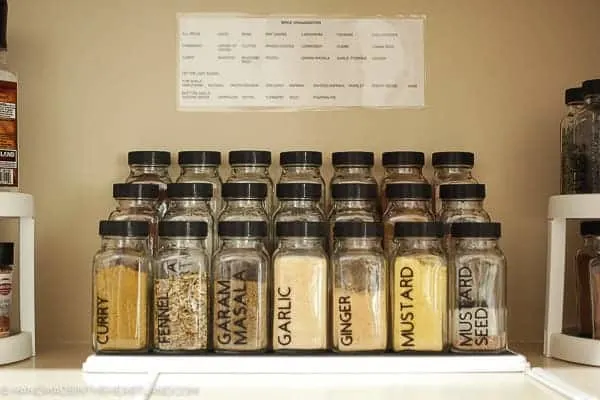 With my "map" I can always see where each spice goes with little mental energy! This also comes in handy when I'm menu planning and making my grocery list. I can easily see if I even have the spice a recipe calls for with just one look at the map and then check if it's filled, which is so much easier than sorting through tons of random small containers. As I was organizing the spices I realized I had several duplicates because of this exact problem, it was too hard to see if I had something or not so often times I ended up buying a duplicate.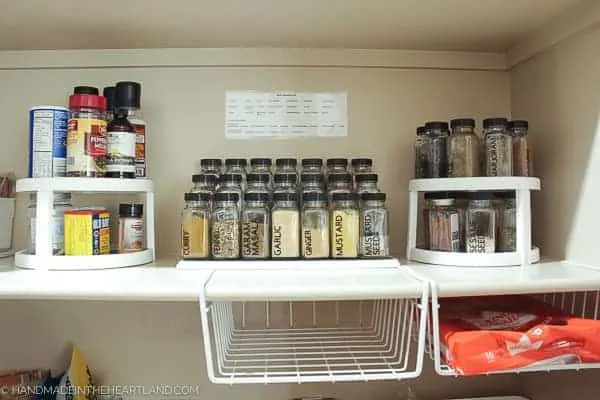 What small things make you happy? Does organization make you happy like me? What has been your favorite organizing project?! I'd love to hear in the comments tag me on Instagram (@handmadeintheheartland) or facebook! Trust me, I will share in the joy of an organized space with you!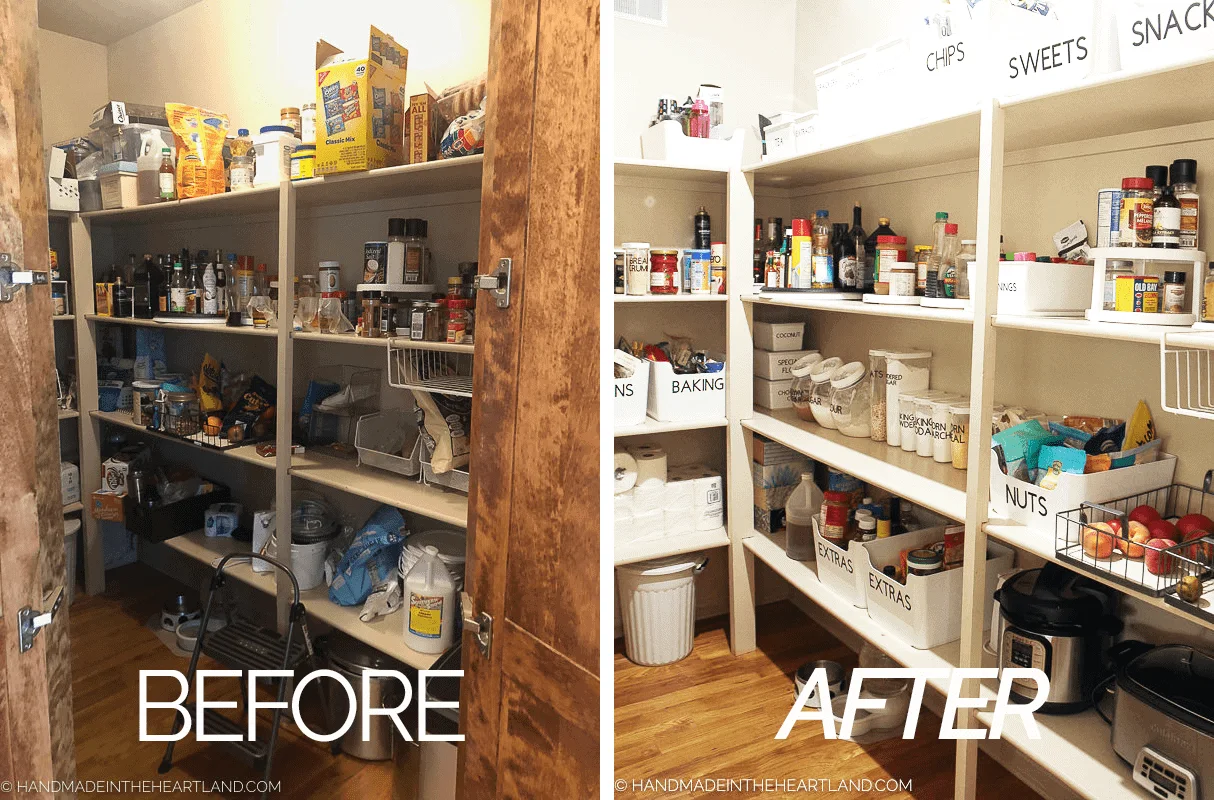 I've listed below the items I used in this pantry organization project! Let me know if you have any questions and be sure to let me know if you use some of these ideas in your own home!
SOURCES:
Spice Containers
3 Tiered Spice Shelf
Under Shelf Basket
Round Food Containers for Flour & Sugar
2 Tier Lazy Susan for spices
Large lazy susan for bottles & jars
Short skinny food containers
Tall skinny food containers
Lidded white IKEA containers
White open bin containers 4 gallon
White open bin container 3.5 gallon
Cricut Explore Air