Planning a quick trip to Seattle, Washington? Use this list of where to eat, shop, stay and what to do in Seattle!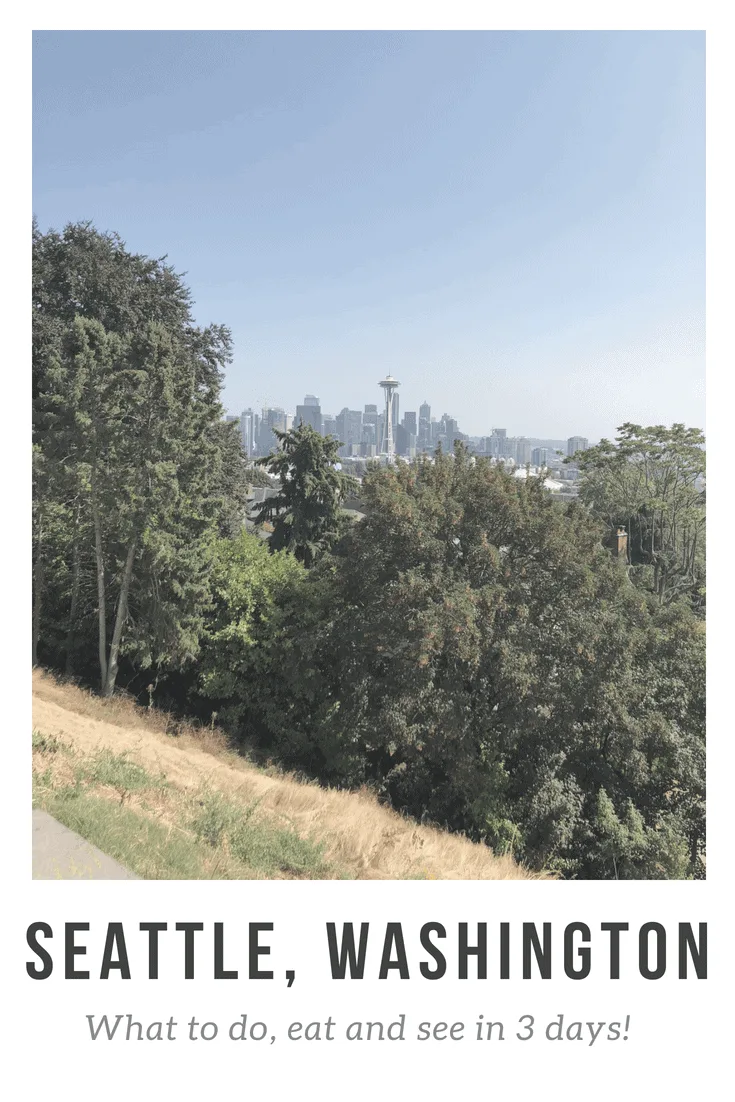 I love to travel and as a mom with 3 small children it's essential for my mental stability to get away a few times a year! My favorite trips are when Matt and I can get away together. This weekend we spent 3 days in Seattle and we loved it! Seattle is such a unique and fun city and I'll share with you everything we did!
Getting to Seattle from Kansas City
We flew southwest airlines, we are staunch supporters of southwest. We have the southwest credit card and earn a good amount of points so our flights were free! We were super happy that SW has non-stop flights from KC to Seattle, so nice!
The airport in Seattle is kind of crazy to fly out of. Matt and I have traveled a lot and this was the longest security line we had every stood in. I've been told by friends that Seattle is always difficult to fly out of so I highly recommend arriving at the airport at least 2 hours before your flight.
Getting around Seattle
Seattle has a good amount of public transit, however we opted to rent a car. I originally just booked a car through a major rental company but then Matt wanted to try out Turo. It's a new car-sharing/rental app similar to airbnb. Individuals list their cars and you can look through what is available in different areas and book a car. It ended up being the exact same price as the normal rental car companies and we got a convertible BMW. It made our trip SO much more fun! Riding around Seattle in August with the top down was one of my favorite things about our trip.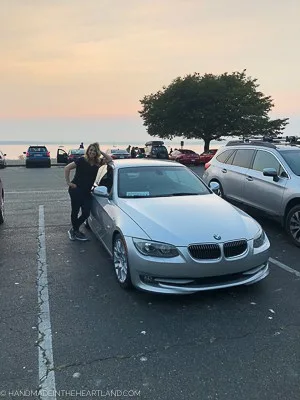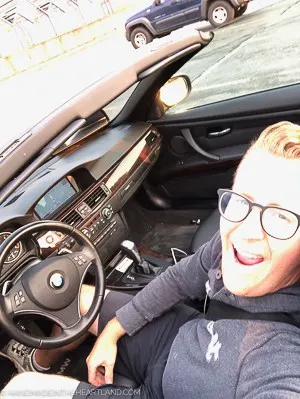 Parking in downtown Seattle is a hassle, it's not fun and you're lucky if you find street parking. The small lots often charge upwards of $25-$30 to park in them. We got lucky and found street parking several times and then on the day we went to Pike Place we arrived at a garage at 1st Ave & Pike Street at 9:15 which was offering an early bird price of $14 for the day if you arrived before 9:30.
Staying in Seattle
I've been staying at Airbnb's for a while now and so when it came to figuring out where to stay in Seattle I went strait to the app. I found an adorable little guest room in Ballard, just slightly north of downtown Seattle. It was perfect, inexpensive and had free parking on the street. It was just a guest room, so just a bathroom and bedroom. A side entrance to the guest room is a private entrance and although there is a door that is locked connected to the owner's home it was quiet and private.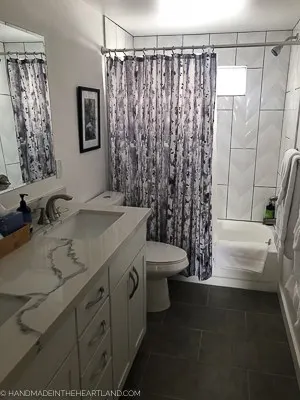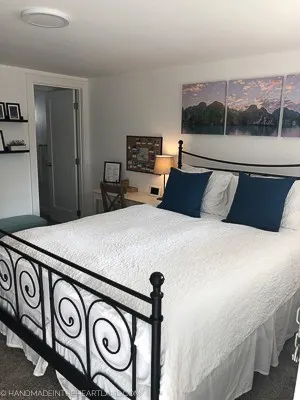 When to go to Seattle
August-September is prime time to visit the pacific northwest. It was PERFECT weather for us, 70's and sunny and just gorgeous. Coming from 90's heat and humidity it was such a beautiful break from the heat! Seattle's temps drop in the evening and morning so we needed sweatshirts for much of our trip.
What to do in Seattle
There are so many things to see in this amazing city. I'll tell you what we did and then list a few things I wanted to do but didn't have time for.
Olympic Sculpture Park– Part of Seattle Art Musem this fun sculpture park has some wonderful public art pieces as well as beautiful waterfront views. I loved the large red Calder sculpture. On a nice day the views of the puget sound are beautiful and it's free!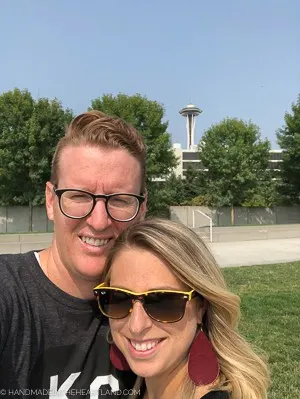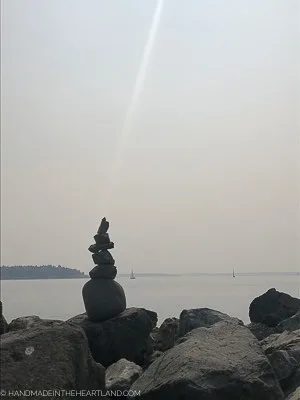 Golden Gardens Park/Beach– Our Airbnb was close to this beach and we headed there after dinner one evening and watched the sunset. We loved it!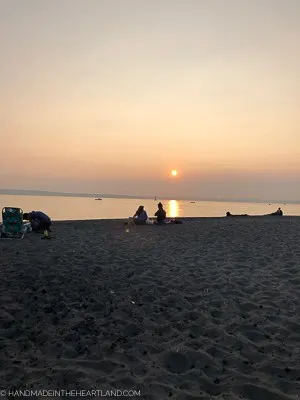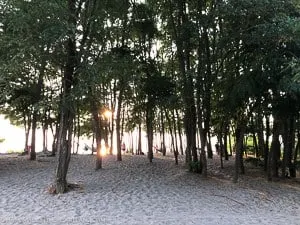 Shopping in Ballard. We had fun just walking around the cute shops in Ballard along Ballard Ave. Everything from little gift shops, outdoor gear, clothing boutiques to a paint your own ceramic studio. You can easily spend a few hours walking in and out of these shops.
Pike Place Market Food Tour. Run by EAT SEATTLE, a group of chef's who give you an in depth tour of Pike Place Market. We loved this tour, it was one of our favorite things we did on this trip. The tour guide is not just a wealth of knowledge about the food in Pike Place but also the history of the market and the people who run and own the businesses inside. While you are on the tour you skip lines, like the famously long line of pike place chowder, because the tour guide goes up and gets your sample for you. The samples were not chintzy but medium- large sample sizes and with the amount of food that you consume at 10 different locations you really wouldn't want them to be any bigger. If you're going to Seattle and plan on going to Pike Place (because how could you not) you should definitely take this tour!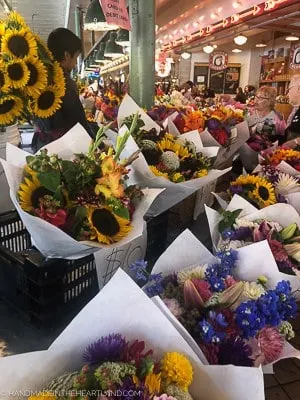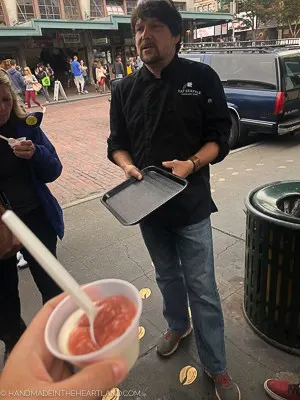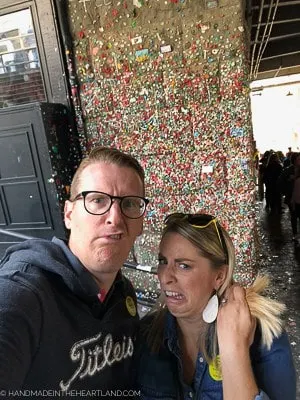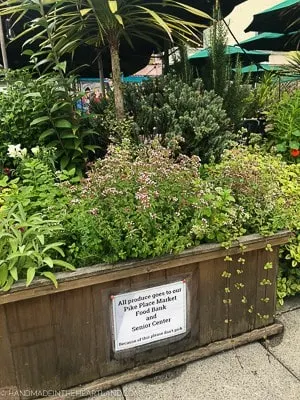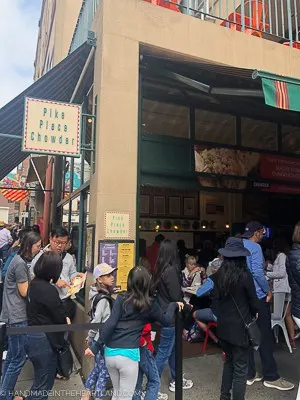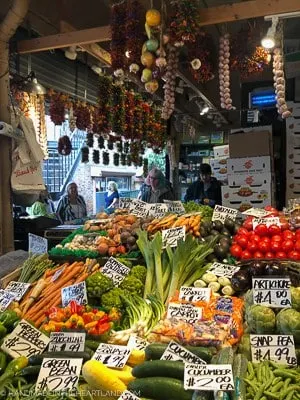 Shopping in downtown. Although most of the stores that we went into we could find in other cities Matt and I don't often get to go shopping and it was my birthday weekend. There is a large mall called Westlake Center as well as an enormous Macy's. We went into Zara (which we don't have in Kansas City) an extremely large Nordstrom Rack and a few other large stores around 4-6th Ave and in between Pine St & Olive Way.
Amazon Spheres & Amazon Go. Amazon is headquartered in downtown Seattle and it's not too far of a walk from Pike Place Market. The spheres are pretty cool to look at and walk around even though you can't go inside unless you are an Amazon employee. They do have a small room called the "understory" which is open to the public that explains the building, the architecture and the foliage that is in the spheres. The amazon go store that's been circulating on social media was also next to the spheres and it was kind of fun to see, it's the store where there is no checkout it just scans things as you walk out and charges them to your amazon account, you scan the app as you walk in. so weird and so cool.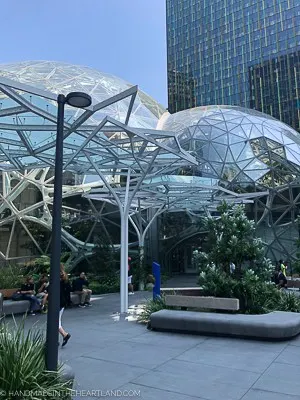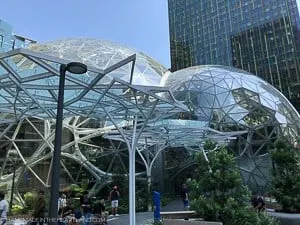 Kerry Park. This little park in the Queen Anne neighborhood offers one of the best views of the downtown skyline with the space needle in full view as well as the beautiful puget sound. It was fun to take a few pictures and just sit on a bench for a few minutes.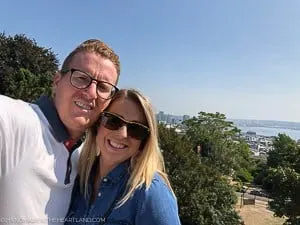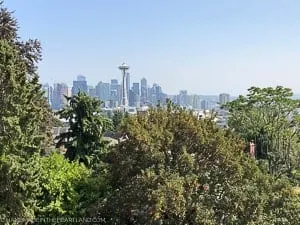 Space Needle. Such a fun touristy thing to do. The line was long but moved quickly, we probably waited a total of 30 minutes before getting to the elevators. There is a fun hallway you walk through before getting to the elevators that shows the history of the process of building the needle. The elevators go surprisingly fast- I think it was 40mph and you're at the top in no time. Earlier in 2018 the lower level of the observation deck was replaced with a rotating glass floor. So cool. It's a great activity and a beautiful way to see all of Seattle.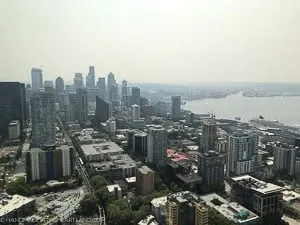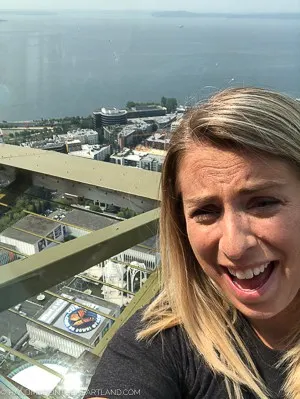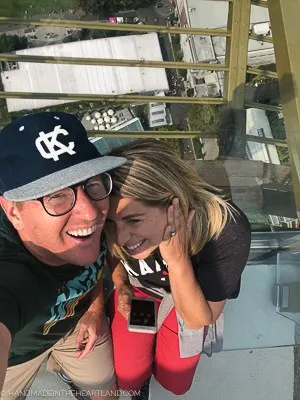 What we missed.
Dale Chihuly garden and glass– this is right next to the space needle and I was super sad we didn't have time to walk through.
Seattle Art Musem. Pop Art Musem. Seattle Aquarium. Museum of Flight. Pioneer Square. Ballard Locks
Where to Eat in Seattle
We were surprised to find that at every "sit down" restaurant we ate at that a 20% gratuity was added to our bill. We thought it might be something quirky at the first restaurant but then we quickly realized it was the norm in downtown Seattle.
Serious Pie. I was told by many people to make a stop at this pizza place. We ordered the heirloom tomato & burrata appetizer and then a sausage and roasted red pepper pizza. Both items were delicious and just what we needed after our flight.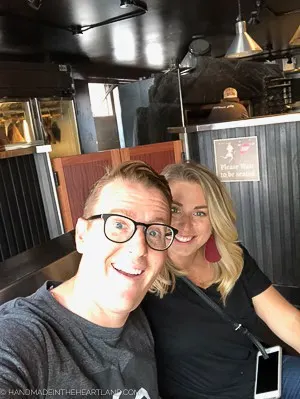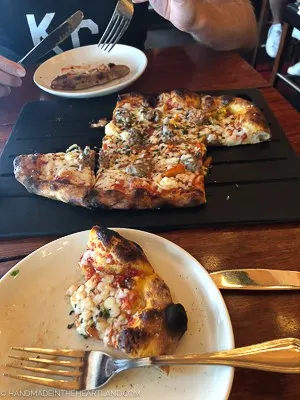 Dahlia Bakery. Delicious little bakery around the corner from Serious Pie. The sign outside claims they have the best coconut cream pie and it's definitely in the running for one of the best I've ever had!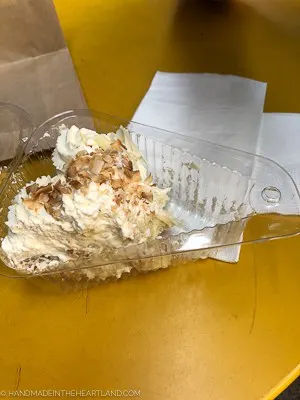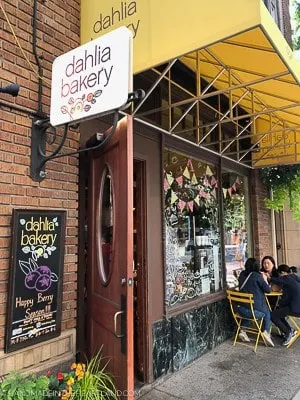 The Walrus and the Carpenter. Located in the cool little neighborhood of Ballard. This restaurant kept coming up when we asked people where to eat in Seattle. It's a tiny little restaurant that really should be called a raw bar, pretty much everything on the menu is raw. They are known for their oysters, which Matt and I don't even like, however we did try some! We loved the fresh bread, whipped butter and the steak tartare. We also enjoyed a watermelon salad that was SO interesting, it had feta, cilantro, urfa biber (strangest spice ever?!) and fried pepitas on it.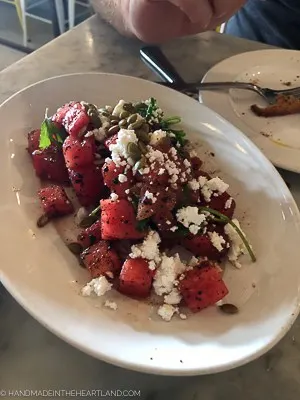 Salt & Straw. Also located in Ballard. After we ate dinner at the walrus and the carpenter we headed over to this adorable ice cream shop. Fresh made waffle cones and delicious creative flavors make this a must stop ice cream shop in Seattle!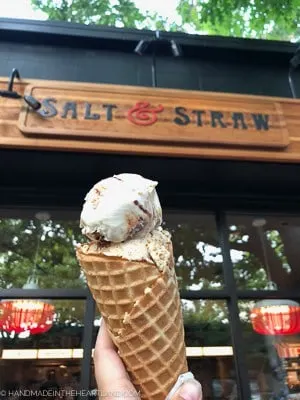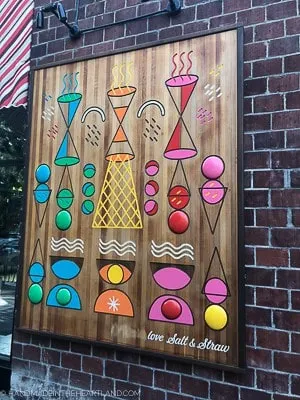 The Herbfarm. This restaurant is for the serious foodie and holy cow is it amazing. My mom and step dad were in town at the same time and my mom used to live in Seattle. She had always wanted to eat at the Herbfarm and so the 4 of us went. It's more than just a meal it's an entire evening experience. We were invited to arrive 40 minutes before the meal started and go on a tour of the garden with the owner, she showed us and had us taste herbs and flowers in the garden that they would be using in our meal. She also introduced us to the 2 pigs who act as the "disposal" for the restaurant. If you are interested in feeding them you can take a break from the dining room in between courses you can take a little bucket out and feed them.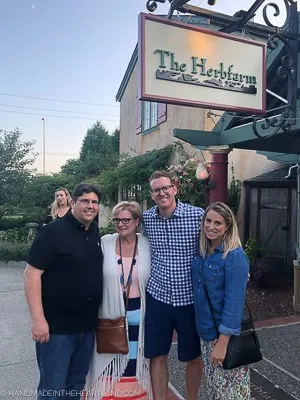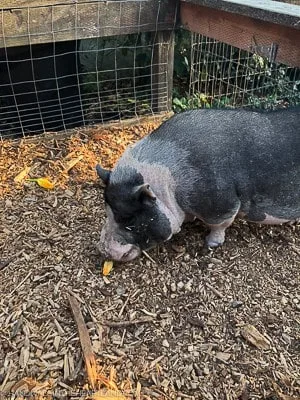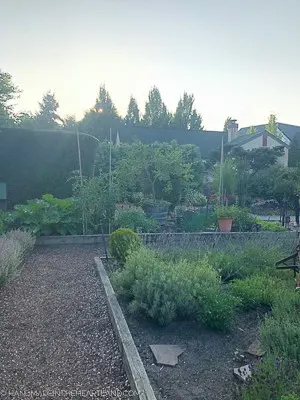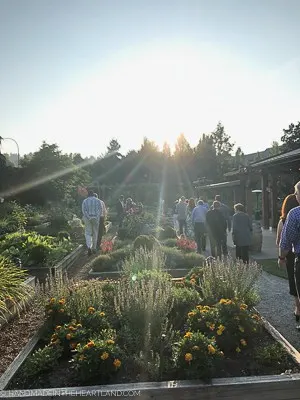 After the garden tour we then went into the restaurant and were seated for our 7:00pm dinner. There is only one seating at 7:00pm, everyone is served together and it's a 9 course meal, 11 courses if you count the bread service and the tea/coffee at the end. You do not choose anything, you sit down and open the little booklet menu and are served every course. Each course is very small so that you can enjoy all the food. It is served over a 4 hour period, which in my opinion was a little too long, we didn't leave until 11:15! Each course is paired with a drink, since we don't drink alcohol they had herbal infusions that they served us.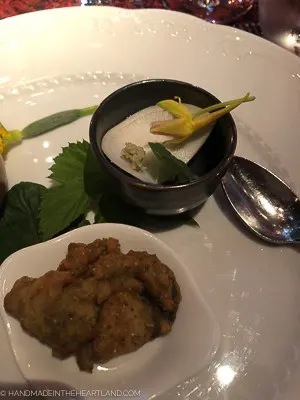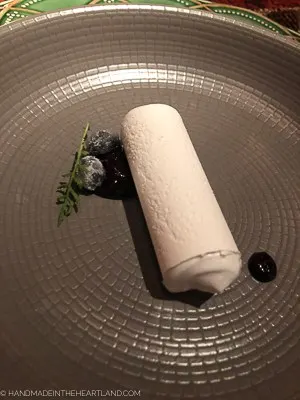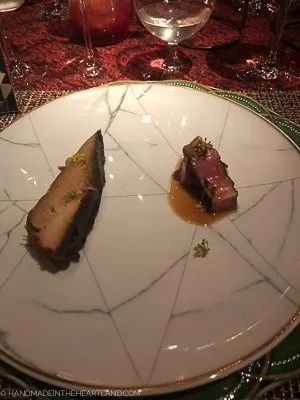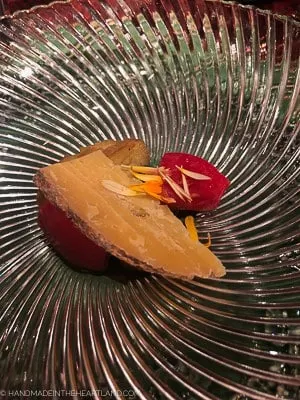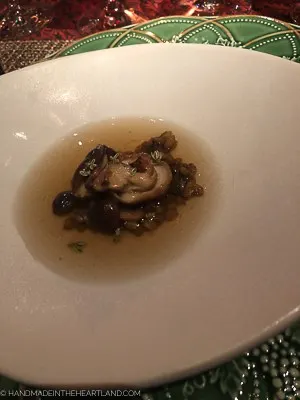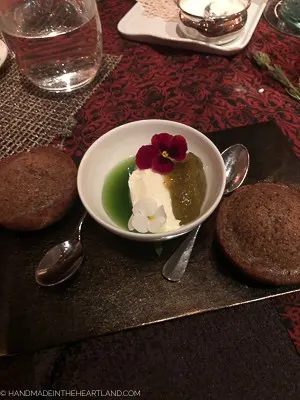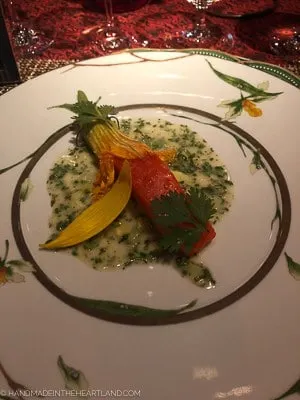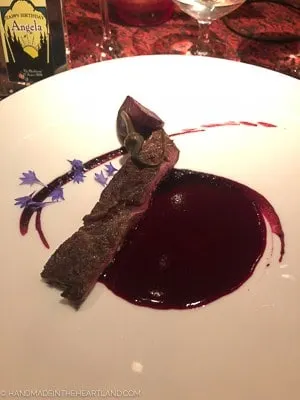 The food was incredible. The best meal I've ever eaten, hands down the coolest dining experience and ever bit was so delicious. If you are a hard core foodie and taking a trip to Seattle it's worth the little drive over to Woodinville to experience the Herbfarm!
Morsel. The best biscuits I've ever eaten. This place is a must go to for breakfast. It's in the University of Washington neck of town and we could tell it's a local favorite. It's a fast-casual type of place where you order and pay and then they call your name when you're order is read. We had a plan buttermilk biscuit with house made maple butter as well as one of the biscuit sandwiches on the caramelized onion biscuit and then their biscuits and sausage gravy. It was all exceptional.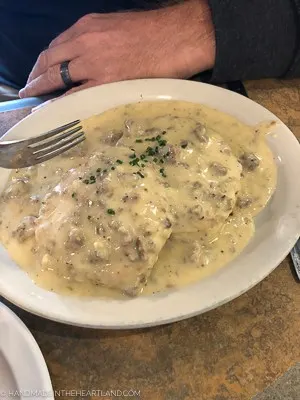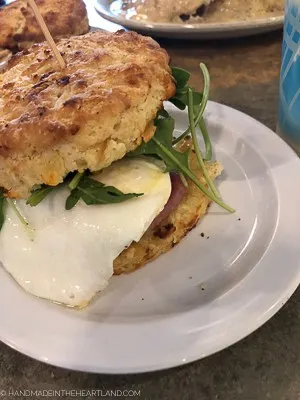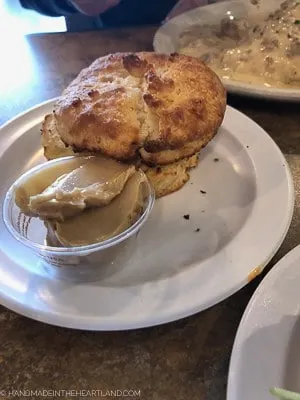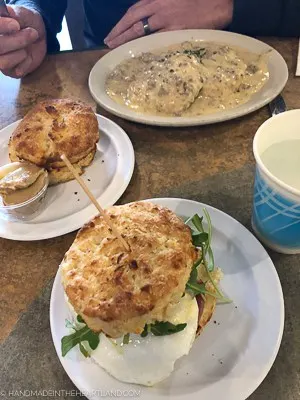 San Juan Islands
On Saturday we headed out of the city and north to see the puget sound and it's wildlife up close.
Anacortes Ferry Terminal. On Saturday morning we drove our rental car north to the Anacortes ferry terminal to catch the ferry to Friday Harbor on San Juan Island. We parked at the terminal and walked on to the ferry. The ferry ride was beautiful and we loved how at some tables there were puzzles! They stay on the ferry the whole day so you can sit down and do a little bit and then let the next passenger pick up where you left off.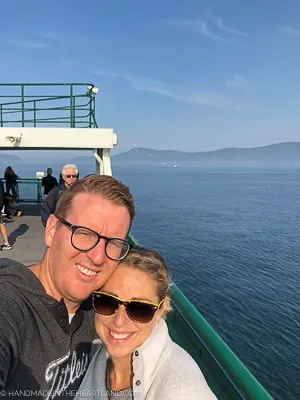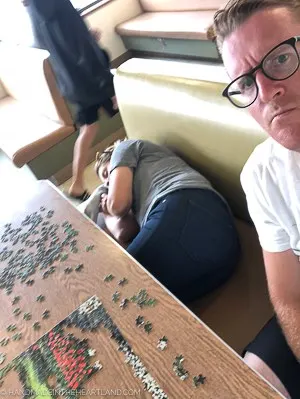 Prince Whale Watching Tours. We LOVED this whale watching tour! We opted to take the Western Explorer II tour with a new boat that the company had designed specifically for sea life viewing. It's lower to the water than most boats and there are fewer passengers than most whale watching tours which means everyone has a great view. I loved that they gave everyone overall jump suits and big coats that are also your life vests for the tour. It is chilly on the water and I was never cold! They also offered gloves and hats if you wanted them. I have been on other whale watching tours and never been offered warm protective clothing. Such a plus! Our tour guide and captain were so kind, knowledgeable and fun. We saw a family of orca whales and were able to watch them for nearly 45 minutes. Once of the highlights of our trip!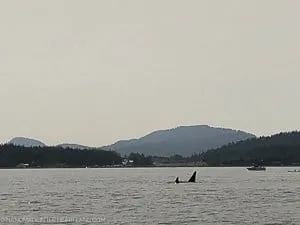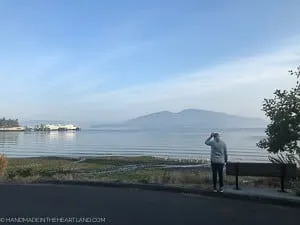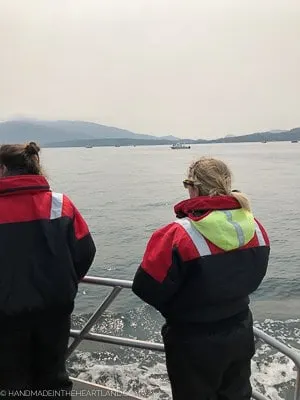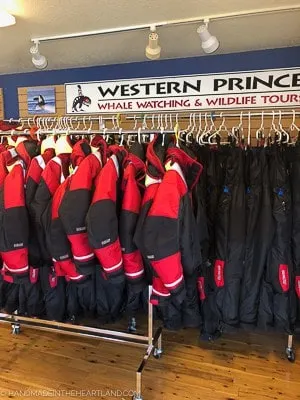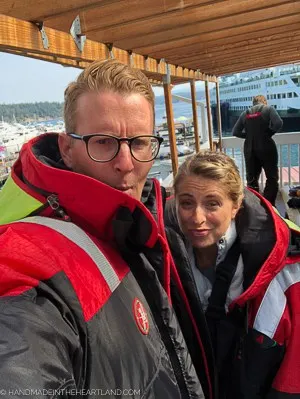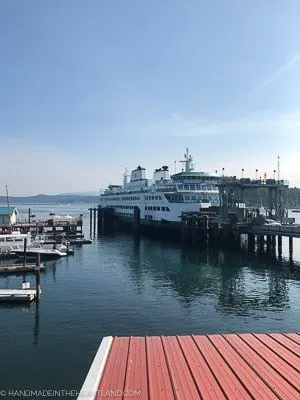 Shopping on Friday Harbor. Spring street, just up from the ferry terminal is lined with adorable shops and places to grab a bite to eat. I'm still kicking myself that I didn't snap pictures of the front of these shops because I don't know their names! Regardless, I can assure you that you'll find adorable little boutiques and gift shops lining the street. It's such a fun place to walk around for a few hours.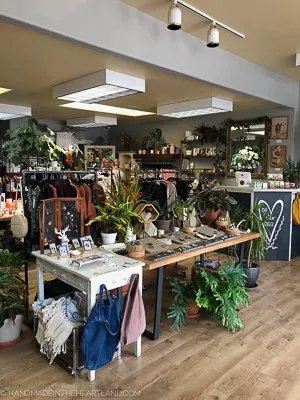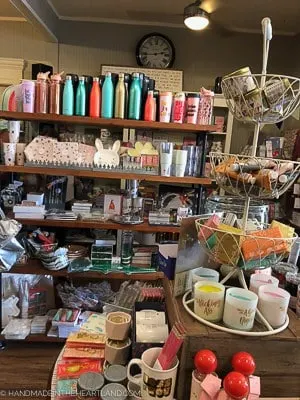 Snow Goose Roadside Ice Cream & Market.
After taking the ferry back to Anacortes we picked up our car and plugged Snow Goose into the GPS. We had been told by good friends that we needed to make a stop at this roadside market for ice cream, even if it was a few minutes out of the way. I can say with full confidence that this is 100% worth the time it may take to drive out of your way. So many cute things in the market and the ice cream servings are HUGE! $4 for a scoop the size of your face! We loved this fun stop on our drive back to Seattle.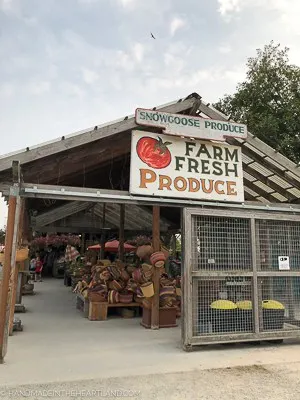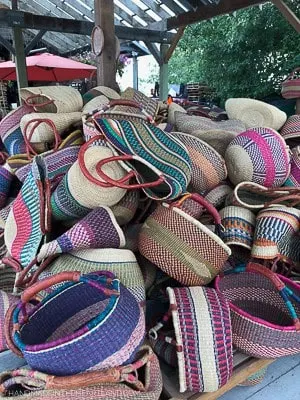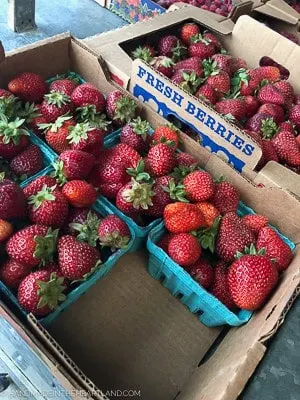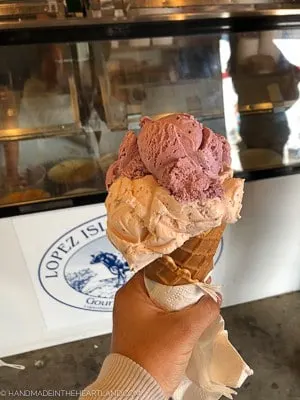 3 Days in Seattle Itinerary
Below is our itinerary for our weekend in Seattle. If you're planning a trip to Seattle it might be helpful to know what we grouped together and when we did the items listed above. All the places we went or ate are listed above with lots more detail.
Day 1: Thursday
Arrived at Seattle airport on a nonstop Southwest airlines flight from Kansas City at 1:00 in the afternoon. Took an uber to pick up our Turo rental car at the owner's home close to the airport. Headed downtown to Serious Pie, picked up treats at Dahlia bakery around the corner. Drove over to Olympic sculpture park and walked around, enjoying the beautiful weather and the puget sound views! After walking around the park we headed back to our Airbnb for a few then set out to explore Ballard. We walked around all the shops on Ballard Ave and then down to the walrus and the carpenter, after eating we walked back up to Salt and Straw and got ice cream. To end the evening we drove over to Golden Gardens Beach Park and watched the sunset over the water.
Day 2: Friday
Headed into Seattle and parked by 9:15am in the parking garage on 1st & Pike St, right by the market, because we arrived before 9:30 we got a great early bird daily rate! Met just outside the market with our Eat Seattle tour group. From 10-12 we did the food tour through pike place market, eating at 10 different places inside the market. After exploring the market a little more on our own we walked over to the shopping district, just a few blocks away and went into the extra large Nordstrom Rack, Zara and a few other fun stores. Then we headed down to the Amazon Spheres, Amazon's headquarters and the Amazon Go store. We stopped at the macaron store Lady Yum right around the corner from the spheres and then walked back to the car. We took the car up to Kerry Park to get a great view of the space needle and the Seattle skyline. That evening we ate with my mom & stepdad at the Herbfarm in Woodinville.
Day 3: Saturday
We woke up extra early and drove up to the Anacortes ferry terminal to catch the 9:05 ferry to Friday Harbor. We had a 11:00 whale watching tour that left out Friday Harbor and we needed to get there at 10:20. The ferry takes an hour. There was no traffic early on a Saturday morning so we arrived at the ferry a whole 45 minutes before we needed to be there. We parked our car at the ferry terminal and walked on, you can take your car with you but we had no need for it. Arriving on Friday Harbor we walked just one building over from the ferry to our whale watching tour, Western Prince Tours. You can read above how much I loved this tour! The tour was 2 1/2 hours and we saw a family of orcas, a mom and 3 babies and watched them swim around for nearly an hour. It was so cool! Once we arrived back in Friday Harbor we were hungry so we grabbed some fresh shrimp with cocktail sauce from the marina and then ate fish and chips at Cask & Schooner. I don't recommend it, it was over priced and not that great, we wished we had just walked up Spring street before eating and went to the bait shop. Rookie mistake. After eating we meandered around Spring street and the little alleys around that have cute stores. My favorites were pebble and a store next to it that I can't figure out the name to! There are lavender fields on Friday Harbor that you can take an uber to that we didn't have enough time to get to. We caught a ferry back to Anacortes at 3:45. Once getting back in the car we headed to a little local fruit and ice cream stand in Mt.Vernon called Snow Goose. It's a little off the beaten path but if you're heading back down to Seattle it's not far out of your way and WORTH IT. Ice scoops the size of your head, literally, for $4. One of my favorite stops of the trip.
Day 4: Sunday
We got up and headed to a cute breakfast spot in the University of Washington neighborhood called Morsel. Delicious breakfast! Then headed over to Seattle central and went up in the space needle. We had just enough time to do the space needle before we needed to get the rental car back and get to the airport for our 3:00pm flight.
What did we miss? What is your favorite thing to do in Seattle? Is there a cannot miss restaurant that I did not make it to? Tell me in the comments! It's so helpful for other people reading this to see!