This recipe for sweet potato casserole cups is a fun twist on the traditional Thanksgiving side dish wish streusel topping & marshmallows!
This is a sponsored post by Jet-Puffed Marshmallows.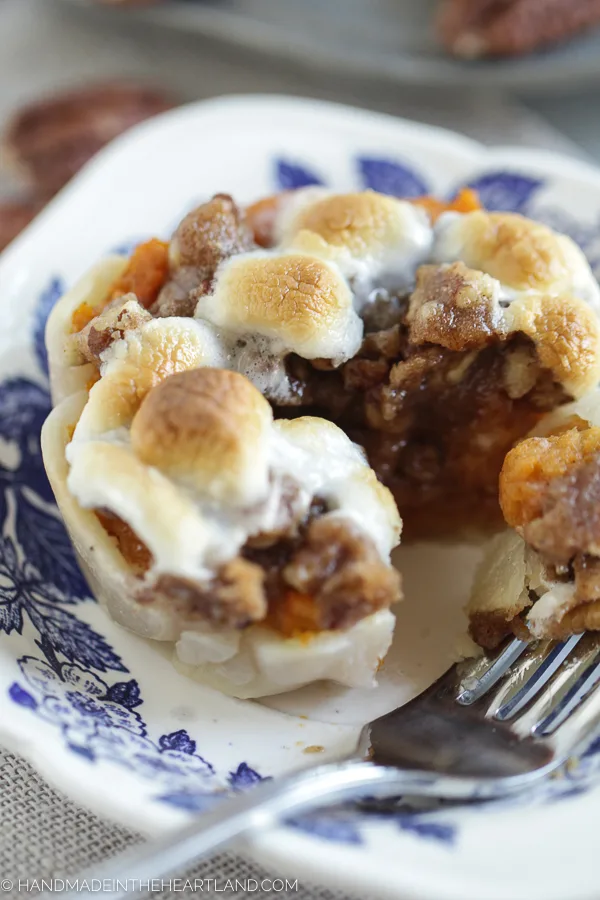 Guys, I LOVE sweet potato casserole. It's hands down my favorite thing on the Thanksgiving table. I don't know about at your house but it's always the first thing to be gone as well! With this recipe for individual sweet potato casserole cups you'll make sure that everyone gets their share of this traditional favorite!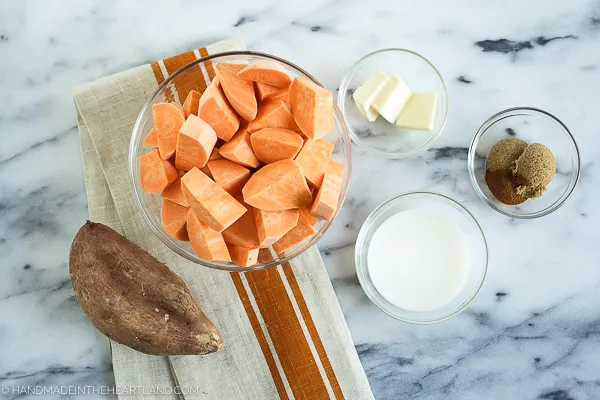 How To Make Sweet Potato Casserole
My sweet potato casserole has 3 parts:
Filling. The mashed sweet potatoes with just a little bit of butter, milk, brown sugar and spices.
Topping. Oh the topping. How can you have a real sweet potato casserole without the fluffy goodness of Kraft JET-PUFFED Marshmallows on top?! The streusel topping really should put this side into the dessert category but we all know it's going to be on the table with the turkey.
Crust. Part 3 is the pie crust shell that takes this side dish and makes it into individual portions. Everyone gets the same amount of sweet potato casserole this year!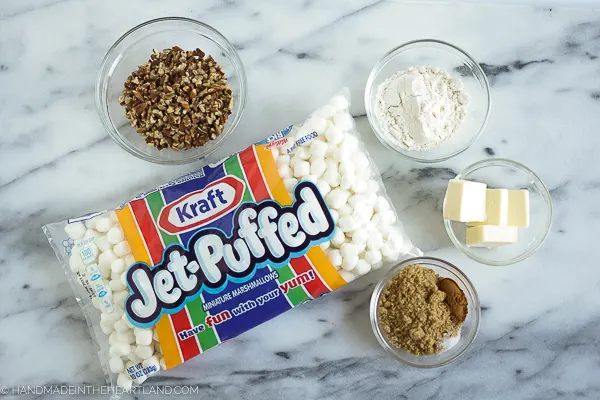 How To Make Streusel Topping:
Making the topping is simple- just mix the ingredients together with melted butter.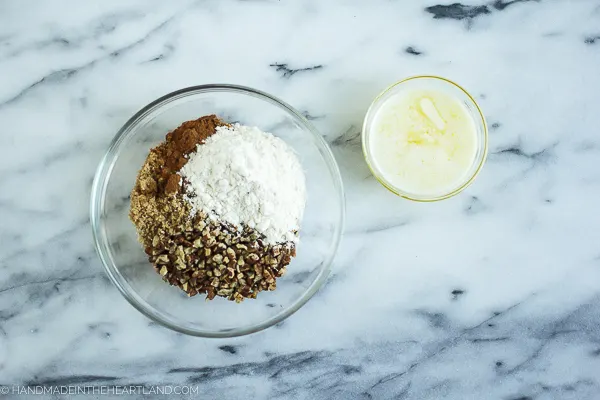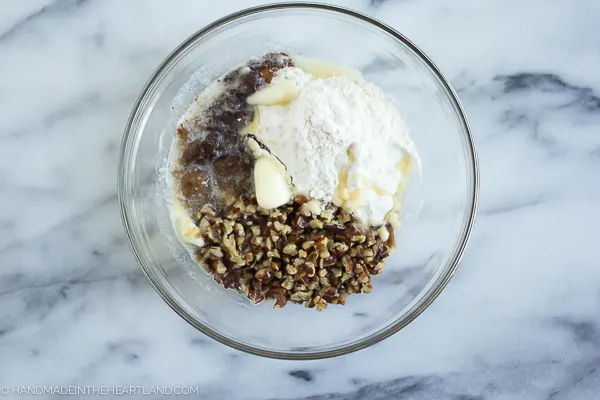 Streusel topping, done!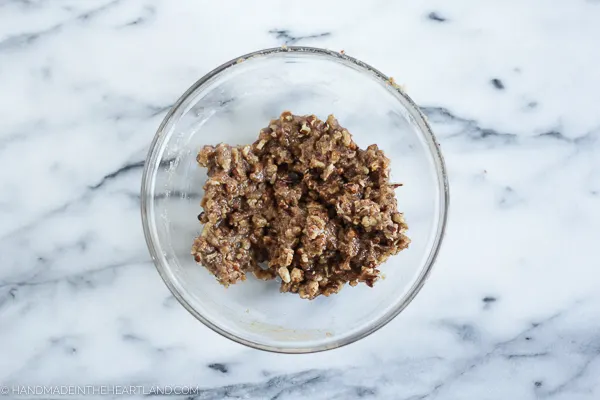 How To Make Individual Sweet Potato Casseroles
Using a muffin tray to make sweet potato casserole is simple, makes the recipe cook faster and it automatically portions it out so everyone gets the same amount! I added a store-bought pie crust cut into circles to the bottom of the muffin trays to make these sweet potato casseroles easy to serve and eat.
TIP: I have made this recipe multiple times and although I didn't pre-bake the cups in these photos I have since realized that pre-baking the crusts for 10 minutes gives you a crust that is cooked through. So follow the instructions in the recipe and pre-bake for 10 minutes.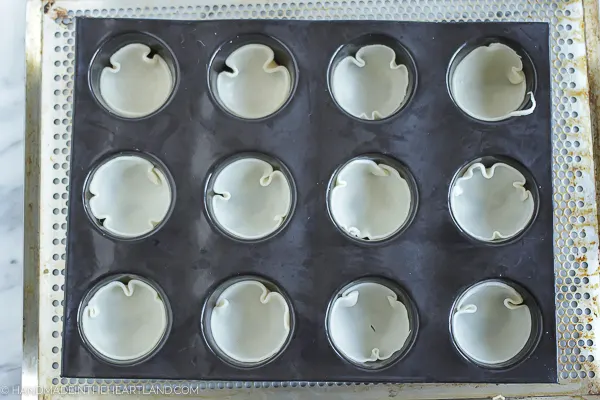 I used a large circle cookie cutter to cut out the pie crust and then popped them in the muffin tray. You can see the pie crust folds over itself in a few places and thats totally fine!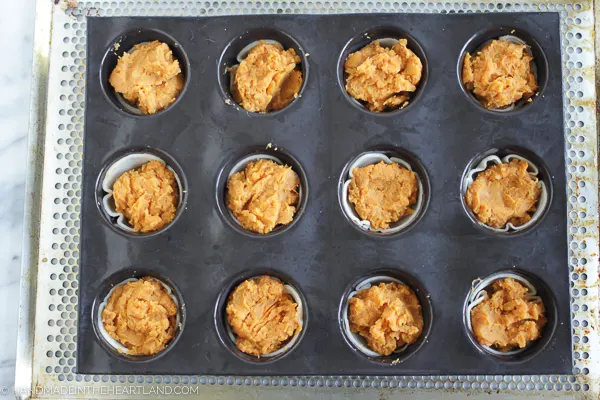 Once you add the mashed sweet potato mixture you'll then add a scoop of streusel topping.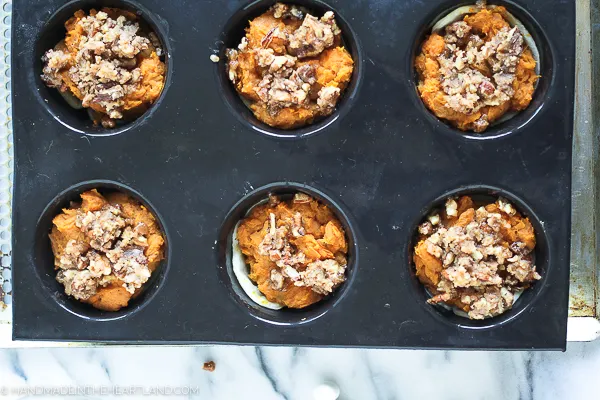 What is the Difference Between a Sweet Potato and a Yam?
This side dish is literally the best of both worlds, it satisfy's my sweet tooth and the sweet potatoes are such a great source of Vitamin A. Did you know that yams and sweet potatoes are different? Yams don't have near the amount of vitamin A in them, and here I thought it was an interchangeable name this whole time! 😉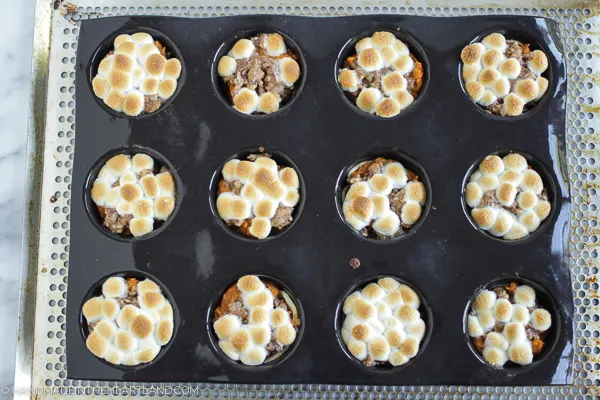 You will bake the casseroles for a few minutes before adding the marshmallows. I just love the way the marshmallows brown on top, so pretty and so good!
Thanksgiving Traditions
When I was growing up I pretty much always had Thanksgiving with my dads side of the family. We had this tradition of eating on a ping pong table (with a tablecloth covering it of course) because we wouldn't all fit around the dining room table at my grandmother's house.
We didn't want to split into kids table and adult table like we did for every other Sunday dinner, because we ate at my grandmother's house every Sunday as well. Thanksgiving was different.
As you can imagine since we were eating on a ping pong table it became a tradition to then play ping pong after the big dinner. I remember year after year creating a ping pong tournament schedule for the post meal festivities.
This is the first year that my grandmother won't be with us for Thanksgiving, she passed away in January and I still miss her all the time. She loved Thanksgiving and I know she would totally approve of these sweet potato casserole cups.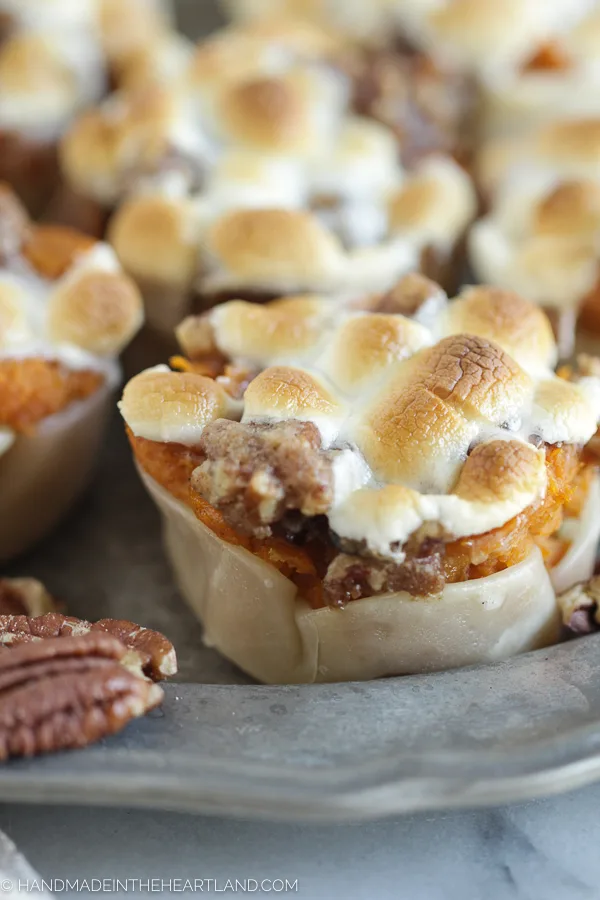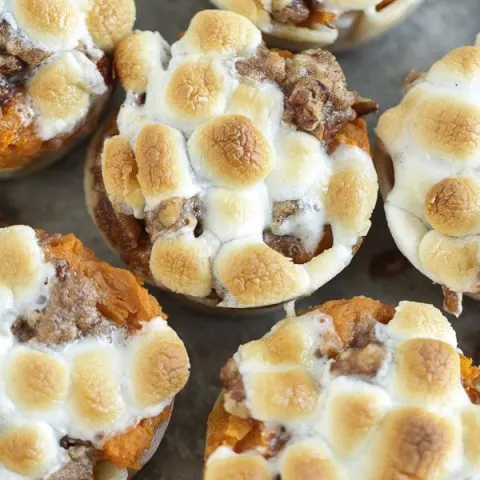 Sweet Potato Casserole Cups
This recipe for sweet potato casserole cups is a fun twist on the traditional Thanksgiving side dish!
Ingredients
4 cups sweet potatoes, peeled and diced into large pieces
2 Tbsp. unsalted butter, softened
1/4 cup milk
1/2 tsp. ground cinnamon
3 Tbsp. brown sugar
cooking spray
2 ready-to-use refrigerated pie crusts
4 Tbsp. unsalted butter, melted
1/4 cup chopped pecans
1/4 cup brown sugar
1/4 cup all-purpose flour
1/2 tsp. ground cinnamon
1/8 tsp. salt
1-2 cups Miniature Marshmallows
Instructions
Heat oven to 450ºF.
In a large pot of boiling water add sweet potatoes. Make sure the potatoes are completely submerged in water. Cook until fork tender.
If using a metal muffin tray spray with non-stick spray and set aside. Roll out pie crust according to packaging instructions. Using a large circle cookie cutter, cut out 12 circles that are bigger than the bottom of your muffin tray by an inch. Place each circle on the bottom of each muffin well. Gently press the edges up onto the sides to create cup shape. Poke a few holes in crust with a fork and pre-bake crust for 10 minutes.
Meanwhile, add the butter, milk, cinnamon, pecans and brown sugar to a large mixing bowl or bowl of a stand mixer. Once the potatoes are done, drain the water and add them to the mixing bowl. Using the paddle attachment, mix together until consistency of mashed potatoes. For a chunkier or creamier consistency, mix less or more accordingly.
Evenly, fill each pie crust cup with the mashed sweet potatoes. Bake for 15 minutes.
For the topping, whisk the remaining ingredients excluding the marshmallows. Set aside.
After the cups have been in the oven for 15 minutes, remove the tray and fill each cup with a spoonful of the topping mixture. Add a layer of JET-PUFFED Mini Marshmallows on top of topping mix and place back in the oven for 5 minutes.
Remove from the oven. Let cool for 10 minutes before serving.
Nutrition Information:
Yield:

12
Serving Size:

1
Amount Per Serving:
Calories:

240
Total Fat:

10g
Saturated Fat:

5g
Trans Fat:

0g
Unsaturated Fat:

4g
Cholesterol:

16mg
Sodium:

119mg
Carbohydrates:

37g
Fiber:

3g
Sugar:

16g
Protein:

3g
When you make these sweet potato casserole cups make sure and let me know! I love to see when you make recipes from the blog! Leave a comment or tag me on instagram @handmadeintheheartland or facebook !