This recipe for the perfect pan-seared filet mignon is easier than you think. With the right meat, tools and directions you can learn how to cook filet mignon in a pan on your stove. I promise it will taste just as good as a fancy steak house!
A few years ago I learned how to cook the perfect pan seared filet mignon and I'm not gonna lie, it's kind of life changing. All of the sudden you feel like you can make a restaurant quality meal right at home.
It's actually crazy simple and it's all about getting a great quality steak and paying attention to your cooking time.
All about Filet Mignon:
This recipe calls for very few ingredients. The first and most important ingredient is filet mignon. Adding some salt, pepper and then a blue cheese butter on top is all you need!
What part of the cow is the filet mignon cut from? Filet Mignon comes directly from the center of the beef tenderloin. A cow only has two tenderloins and only a few filets per tenderloin which is one reason this is an expensive cut of meat. The other being that this cut of meat is very tender contains little fat and is full of flavor.
Does a filet mignon's beef grade matter? Yes and no. There are 3 common grades of beef that you will see at the grocery store. Select, Choice, and Prime. Select being the lowest, Prime being the highest. In other cuts of beef this typically tells you how much marbling the steak with have- Prime having the most marbling throughout the cut. However the filet mignon inherently doesn't have a lot marbling or fat, the tenderness comes from where the tenderloin sits in the animal. So even a select or grocery store choice filet is going to taste good. The real difference comes into the aging process. A lot of lower end filet mignon's at the grocery store will not have been aged. Aging allows for the meat to have a higher concentration of flavor. If you want a really tender, flavorful steak go for Choice and if you want an outstanding best meal of your life at home, choose Prime!
Where to buy filet mignon? Almost every grocery store will have a selection of filet mignon to choose from. Finding a local butcher shop can be a great resource and I personally like Sam's Club's meat selection. If you're looking for a really outstanding steak for a special occasion I highly recommend Kansas City Steak Company, I've had several deliveries of their top quality steaks and they are so good.
How long should I cook filet mignon? To cook a 1 1/2″ thick filet mignon to medium-rare you will sear the first side for 7 minutes and then the second side for 5 minutes. The filet mignon cook time is going to depend on the thickness of your steak and your desired doneness. Check this chart for a complete guide to cooking times. The best way to know if your steak is cooked to your preferable done-ness is to use a meat thermometer. Rare is 120-130, Medium-Rare is 130-140, Medium is 140-150.
How to Cook the Perfect Pan Seared Filet Mignon:
Step 1:
Heat your pan. Having a high quality, heavy bottomed stainless steel skillet is going to ensure the best results. Have you ever had a filet at a steakhouse and wondered how they get the delicious crust on the outside of the meat? It's 100% due to the heat of the skillet when the meat goes in. You want that pan piping hot!
Step 2:
Don't mess with the meat. Once you place your meat into the skillet don't touch it! You should hear it sizzle when it is placed onto the pan and then you leave it there. Having it cook without moving it ensures that beautiful crust that we all love. To get an exact time for your cut of meat visit the Kansas City Steak Company's meat cooking chart
HERE
.
Step 3:
Flip it. Once your time for the first side is up, flip it. I flip mine using tongs, I find tongs to be the best tools for flipping and turning steaks. Pay attention the time the steak is cooking. I set the timer on my phone, seriously! I don't like my steak to be well done and I've been super disappointed when I have over cooked them, paying attention to the cook time is the only way to ensure the doneness you want.
Step 4:
Sear the sides. I like to try and sear my sides as well, so I flip them with tongs and carefully place them so they stand on the side. I usually only let them cook on each side for 1-2 minutes and try to move them around so I get all the sides nice and crispy as well. All said and done my steaks are not in the pan more than 15 minutes.
Step 5:
REST. Once you remove your meat from the pan tent it with foil and let rest for 5 minutes. this step is so important! You want it to come to serving temperature as well as absorb the juices into the steak, if you cut it right away you will see the juice all over your plate!
Filet Mignon Variations:
Garlic & Herb Compound Butter: Instead of blue cheese add a few tablespoons of fresh herbs like rosemary, basil and parsley and a minced garlic clove to softened butter.
Balsamic Reduction Sauce: Make a balsamic reduction sauce with 1 cup of balsamic vinegar and 1 tablespoon of honey. Heat them in a saucepan and simmer until reduced to 1/3 cup. Serve over the filet mignon.
Peppercorn Sauce: Try a shallot and peppercorn cream sauce. Recipe HERE.
What to serve with Pan Seared Filet Mignon?
I usually like to serve some type of potatoes and a vegetable when I pan sear filet mignon. Here a few suggestions:
Pear & Goat Cheese Salad: Love this recipe!
Potatoes: Twice baked potatoes, scalloped creamy potatoes, garlic mashed potatoes, loaded sweet potatoes.
Roasted Vegetables: Toss sweet potatoes, broccoli and cauliflower in olive oil and salt & pepper, roast in a 425 degree oven for around 25 minutes. Sprinkle with parmesan before serving.
Sautéed Summer Squash: In a skillet over medium heat add 2 tablespoons of butter and a variety of zucchini, summer squash and 1 clove of minced garlic. Cook until soft, sprinkle with salt and serve.
Knowing how to cook the perfect pan seared steak will elevate your kitchen game, no question! It's surprisingly simple to cook a delicious restaurant quality filet at home, stove-top with the right meat and the right tools.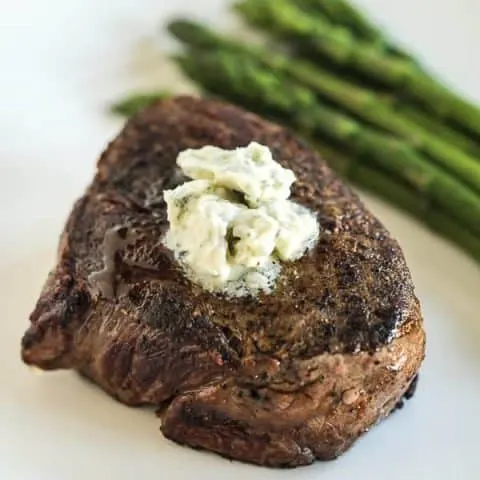 Pan Seared Filet Mignon with Blue Cheese Butter
Additional Time:
5 minutes
This recipe for the perfect pan-seared filet mignon is easier than you think. With the right meat, tools and directions you can make this restaurant quality meal at home!
Ingredients
4 6oz Filet Mignon Steaks
Kosher Salt & Pepper
3 Tablespoons butter, softened
2 Tablespoons blue cheese
Instructions
Remove your filets from the fridge 30 minutes prior to cooking. You want them to come to room temperature. Season the steaks with salt and pepper, take out the butter and let it also come to room temperature to ensure it's nice and soft.
Heat a stainless steel skillet to high heat. Place the filets on the dry skillet, you should hear them sizzle. Let them stay there for 6-7 minutes. don't move them! This creates the nice crispy crust we want on the outside of the filet. After 6-7 minutes flip them to the other side, I find tongs to be the best tool for this. Let it sit on that side for 5 minutes. Then using your tongs sear the sides by setting the filets on their sides, try and cook each area of the sides for 1-2 minutes.
The best way to know if your steak is cooked to your preferable done-ness is to use a meat thermometer. Rare is 120-130, Medium-Rare is 130-140, Medium is 140-150
Remove your steak from the pan, tent with foil if you like, and let rest for 5 minutes. do not cut into immediately! Resting allows the meat to absorb all the juices and be so delicious!
While your meat rests mix together the softened butter and blue cheese. I love a rich gorgonzola for this. Mix them together until they are completely combined.
Spoon a pat of the blue cheese butter on top of each steak and serve!
Recommended Products
As an Amazon Associate and member of other affiliate programs, I earn a small commission if you purchase something I recommend. I would never recommend products I don't love and use!
Nutrition Information:
Yield:

4
Serving Size:

1
Amount Per Serving:
Calories:

545
Total Fat:

39g
Saturated Fat:

18g
Trans Fat:

0g
Unsaturated Fat:

16g
Cholesterol:

191mg
Sodium:

282mg
Carbohydrates:

0g
Fiber:

0g
Sugar:

0g
Protein:

46g
How do you cook your steak? I know most people are a fan of the grill but I would choose this method hands down over grilling, it just tastes better!
Let me know if you try it! Share it with me in the comments or tag me on Instagram (@handmadeintheheartland) or facebook!