Magnolia Market in Waco Texas is the perfect girls trip for all fixer upper fans and home decor lovers. In this post I'll share my tips for having a great weekend trip and giving my recommendations on where to eat, shop and stay.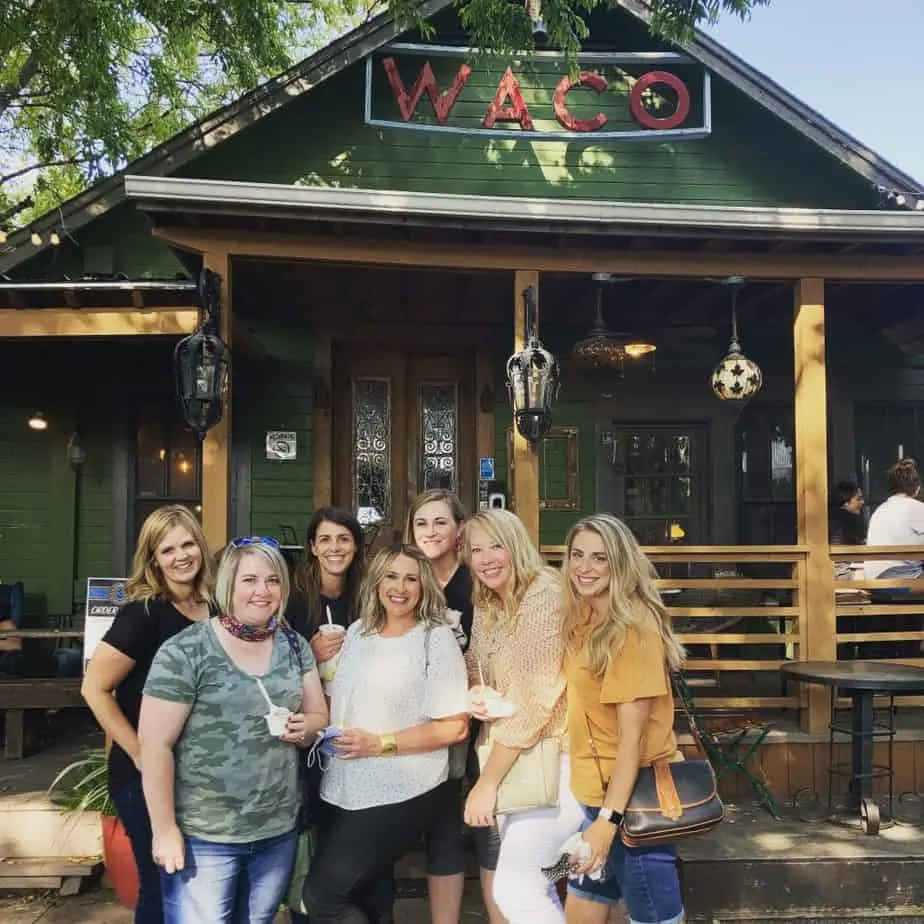 I visited Magnolia Market and Waco the second weekend in September. There was a group of 7 of us and we had so much fun shopping, eating and hanging out in Waco Texas.
How long should you stay on a visit to Waco Texas?
I would recommend 2-3 days, of course you can always stay longer. We were only there for 2 days but we saw most things that we wanted to. Magnolia Market and everything at the Silos is closed on Sundays, so plan your trip accordingly. We arrived on Friday and left Sunday morning.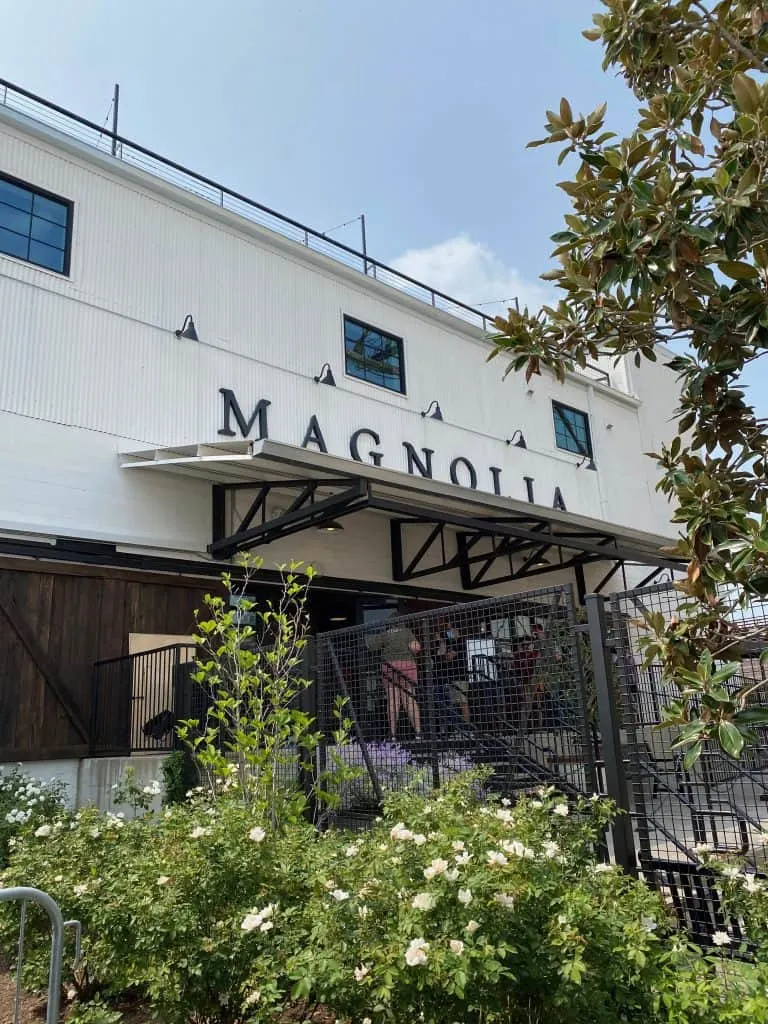 When is the best time to visit Magnolia Market Silos in Waco Texas?
Spring and Fall are beautiful in Waco, Texas. Summer is hot and the winter is mild. I visited the second weekend in September and it was beautiful, warm but not uncomfortable.
Magnolia hosts events a few times a year so if you don't mind crowds attending for these could be fun! Currently the 2020 events have been cancelled but once things return to normal I'm sure spring at the silos, Silobration and the silo district marathon will return.
Speaking of crowds, is Magnolia always crowded? For the most party yes. Magnolia Market and the silo district is a popular destination and if you're there on a Friday and Saturday expect to wait in lines to get into the shops, at the bakery or to eat at Magnolia Table.
If you want to avoid crowds and lines try to visit Magnolia Market mid-week on a Tuesday or Wednesday. Another smart tip- check for other events that might be happening in Waco like the Baylor Athletic Calendar and the City of Waco Events Calendar. If you're avoiding crowds don't go the weekend Baylor is playing TCU at home.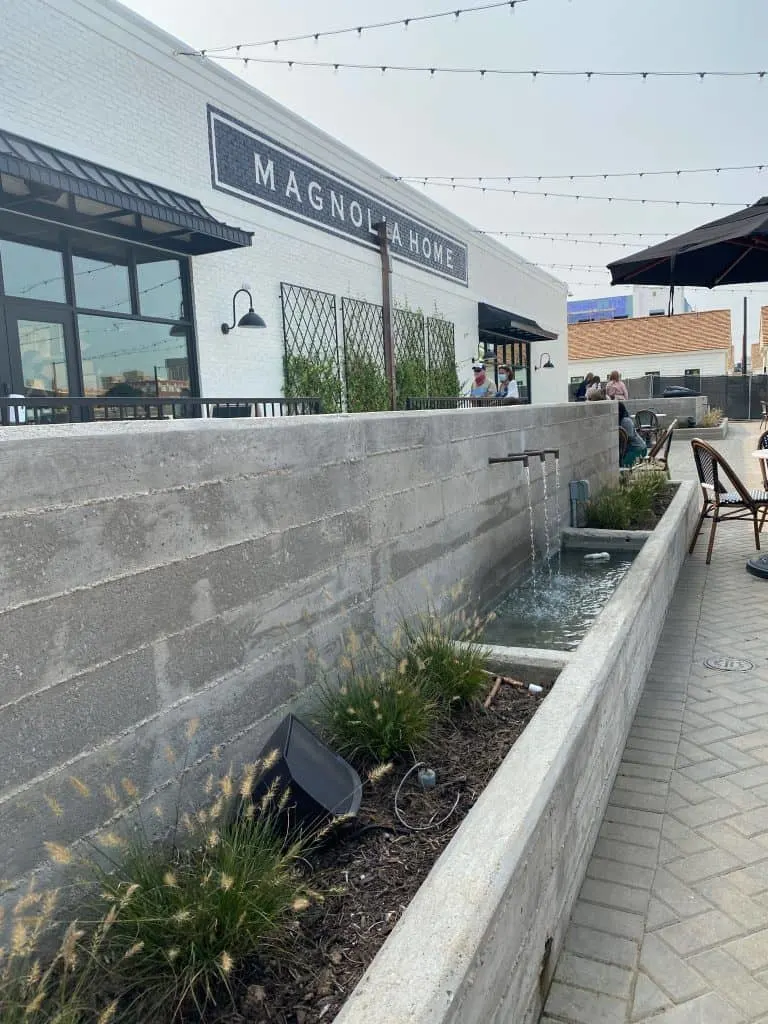 What to do on a visit to the Magnolia Silos?
When visiting the Magnolia Silos district you are probably most interested in shopping and being inspired by all things Joanna Gaines. The Magnolia complex has plenty to do for a long morning into afternoon but I've also got lots of recommendations for other cute shops in the area.
Magnolia Shops
Currently (2020) the Magnolia complex is under construction. The Market, Home, Press and Bakery were open when we were there. The expansion looks like it's going to be amazing, I expect nothing less from Chip and Joanna. 😉
Magnolia Market- the main store in the complex has all the magnolia goodness you could want. The entire line of home goods all displayed in perfect vignettes to inspire you! The bottom level of the market is filled with magnolia merch- shirts, hats, cups and more! I spent about an hour in the market.
Magnolia Home- I think I might have enjoyed the home store a little more because for some reason it was less crowded than the market and it was FULL of inspiration. Magnolia Home showcases the furniture line and sets up all the pieces in staged home scenes decorated as you would expect them to be- simply beautiful. There are so small goods for sale like candles and vases but not near as much small merchandise as in the market.
Magnolia Seed & Supply- The garden shop by Magnolia was under construction (as was much of the silos complex) when I was there, but when I go back I'll be sure to go in this cute little shop.
Little Shop on Bosque- Not in the silos complex you'll have to drive to get to this store but it's worth it! It's basically the sale store for all the leftover last season items from Magnolia market, so if you like a deal you can't miss a stop at the little shop on bosque.
Harp Design Co.- Not technically a part of Magnolia but a regular feature on fixer upper, the woodworker that Joanna uses has his own shop. This might have been my favorite non-magnolia shop we went to. The prices were SO reasonable!
Austin Ave Shops
Along Austin Ave. in downtown Waco, only a few block from Magnolia there are some cute shops not to miss!
Simply Irresistible- Extra large interior decor store with lots to look at! We loved the throw pillow selection, reasonable prices!
Christi's Shop- If you were a fan of trading spaces then you will recognize the owner of this shop Christi Proctor-Hurst. This shop is another fun place to get interior design inspiration. Prices on the high-end side.
Cottontail Jones- Darling children's boutique right next to Christi's shop.
Hey Sugar- Fun candy store! We all picked up unique treats to take home to our kids.
Adorn- women's clothing and accessories. beautiful shop.
More Shopping in Waco
We didn't get to everything on my list and these are some of the shops I had found doing research that looked so fun but we didn't have the time. You can see them all on my Waco google maps list HERE.
Spice Village
Riverside Relics
The Junky Monkey
Junque in the Trunk
January Letterpress
Paper Crown
Gather
Interior Glow
Iron Willow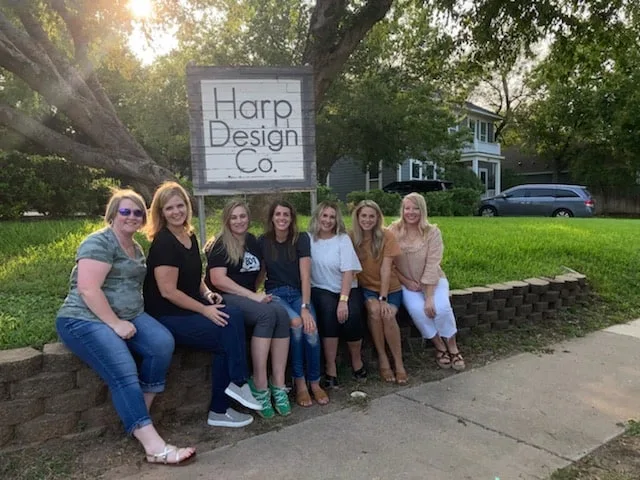 How to find fixer upper homes in Waco Texas?
The best way to see homes from the show fixer upper is to take a tour. There are a few companies that run tours, we chose Waco Tours and went on the classic tour. The tour is run in a large comfortable Sprinter van and gives you an entire overview of the history of Waco, shows you several fixer upper homes and takes you to other interesting places in Waco.
Can you tour fixer upper homes in Waco Texas?
No. Unfortunately, as far as I know, there are not any homes from the TV show fixer upper available for you to walk through. However you can see a lot of the homes from the tour van on Waco Tours. Several of the homes are for rent on airbnb. See my list below on where to stay.
Is Waco Tours worth the price?
Our group agreed that it was an expensive tour- $80 a person is not cheap! But we were all glad we did it, it was a great start to our trip.
Where to stay in Waco Texas near Magnolia Market?
A search on google will give you all the typical hotel chains where you can stay in Waco, however over the past several years I've had great experiences with airbnb and vrbo. When traveling on a girls trip I especially like to stay in a home or condo setting with a common area to stay up late and talk!
We stayed at Wendy's hideaway which was about 15 minutes from Magnolia Market. It was perfect for us. It has beds for 7 and included so many thoughtful details including extension cords at every bedside, essential oils and diffusers, makeup remover wipes and Qtips in each bathroom. And it was super affordable! If it's available and fits your group size I highly recommend it!
If you're interested in a full Fixer Upper experience you can stay in one of the fixer uppers from the show! Here's a list of all the available fixer upper homes to rent for your vacation.
How to visit Magnolia Market
Depending on where you live you will either fly or drive to Waco, Texas. We are in Oklahoma City so it was about a 5 hour drive, my friends in Kansas City had a total of a 9 hour drive.
The closest airports to Waco are Austin or Dallas they are about equidistant at just over 100 miles away. There are two airports in Dallas and one in Austin. You'll have to rent a car and drive either way so it's worth shopping around to get the best deal on airfare.
Once you are in Waco you'll need a car to get around. You can also use the Trolley Route to get around the Silo district and downtown.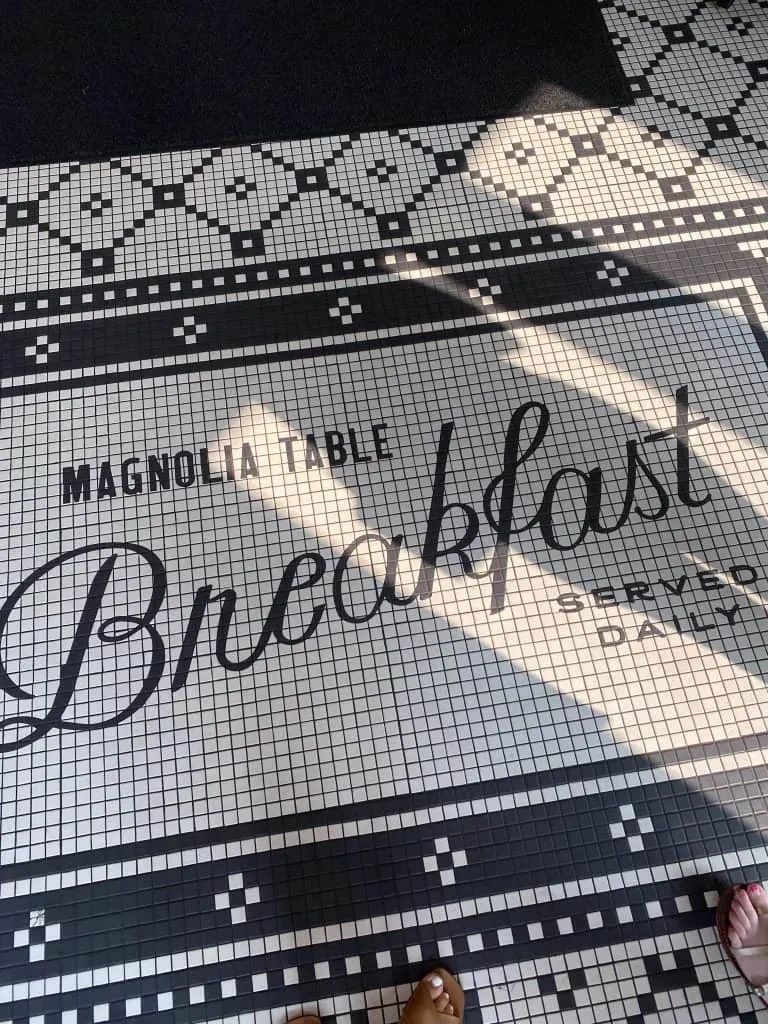 Where to eat in Waco Texas near Magnolia
Magnolia Table- It's worth the wait. Magnolia Table is not at the Silo's, it's a few miles away and it's open for breakfast and lunch. It's delicious. Everything we had was really good and it's the only sit down restaurant done by Joanna Gaines.

They do take reservations but also leave enough room for walk-ins. The reservations open up 3 weeks in advance, I forgot to get on and make reservations exactly 3 weeks and by 2 weeks before our date they were full. The restaurant opens at 8am, we arrived at 8:20 and there was already an hour and a half wait. We waited and were not disappointed.

It was by far our favorite meal in Waco. The blueberry muffin was the best muffin I've ever had in my life, it came in the bread basket.


Silos Bakery– So good. So many amazing sweet treats. You can get a cupcake sampler that has all the flavors in, I recommend you get this and cut them up in your group and try them all. SO good. The oatmeal cream pie is also to die for.
Magnolia Press Coffee Co.
Hecho En Waco
Milo
Heritage Creamery
Lula Jane's
Sironia
What to know about visiting Magnolia in Waco Texas
In summary here are my quick takeaways for visiting Magnolia Market & Silo District.
Get some friends together who love home decor to plan a fun girls trip!
Plan to spend 2-3 days to get the most out of your trip. Remember everything is closed on Sunday so plan accordingly!
Plan your trip in the spring or fall for the best weather.
If you want to avoid crowds go mid-week, Tuesday or Wednesday. Or arrive early in the day when everything opens at 9am.
For a real fixer upper experience rent a fixer upper on vrbo or airbnb to stay in while you are in Waco.
Plan to spend most of a day at the Silos and Magnolia Market area but don't miss out on the other cute shops in downtown Waco. Harp Design Co being a can't miss shop!
Drive over the the little shop on Bosque for all the Magnolia Market sale items!
Go on a tour with Waco Tours to see fixer upper homes.
Make a reservation at Magnolia Table if you can, if not walk up and wait however long it takes, because it's that good. Get cupcakes at Silo Baking Co.
Shop and take in all the inspiration until your heart's content. 🙂
Every time I go on a trip I make a google maps list. It helps so much to have everything plotted out on a map when we are actually there. Click HERE for my Waco google map.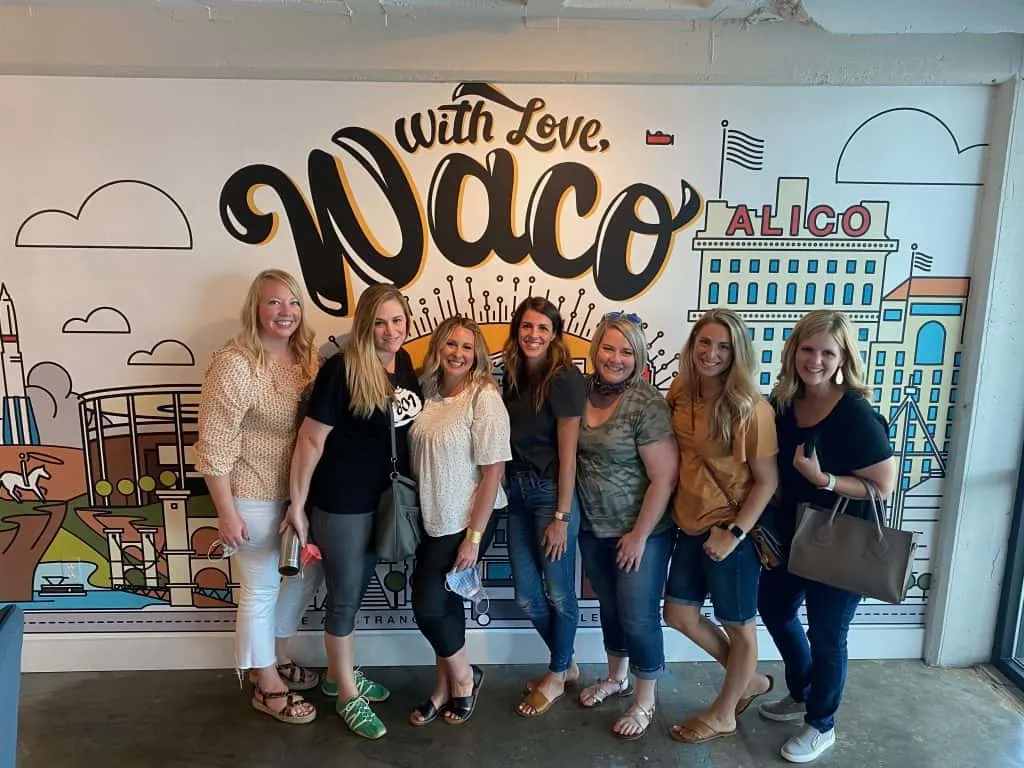 I hope this has helped you plan your trip to Waco, TX. If you have any questions Please let me know in the comments or tag me on instagram @handmadeintheheartland or facebook !