This is the second year for the Etsy Design Awards and I'm blown away by the 100 finalists. This is a list of my favorite 17 Etsy shops featured in the 2020 Design Awards.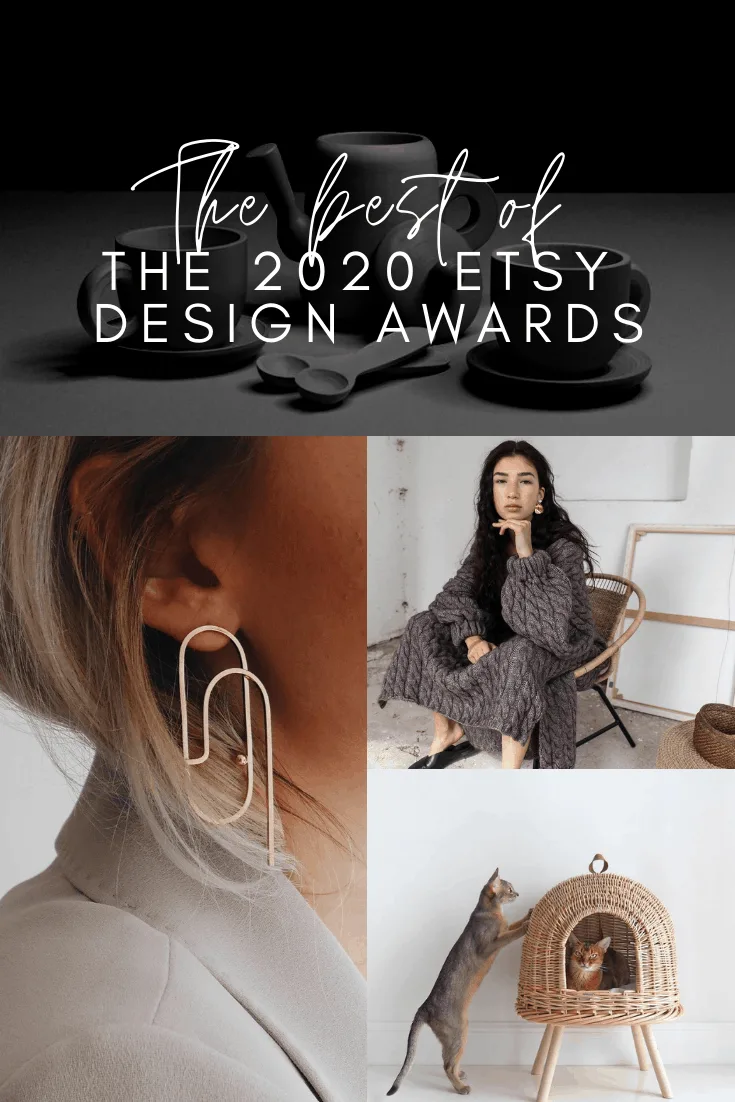 This post contains affiliate links which means I make a small commission if you purchase something I recommend.
We all know that Etsy is the place you go to look for unique gifts and personalized products. Sometimes it can feel overwhelming when you search for wood sign and find 648,000+ results. Woah. Searching through all that to find your style match is daunting.
That's why I love the design awards! Featuring outstanding handmade small businesses is just what we need right now! All 100 finalists are wonderful and I recommend checking them all out HERE. However below you'll find my list of 17 of my favorite.
10 categories for the Etsy Design Awards:
Jewelry
Vintage
Clothing
Art
Home & Living
Weddings
Paper & Party
Kids
Pets
Bags, Accessories & Shoes
What are the prizes for the Etsy Design Awards:
Etsy sellers could enter a single item in any of the categories above for the awards. They are competing to win several lucrative prizes:
Grand Prize Winner: $15,000 in USD, A grand prize winner shop badge, $100 in Etsy Ads & 100 free listing credits.
People's Choice Award Winner: $5,000 in USD, people's choice winner shop badge, $75 Etsy ad credits, 75 free listing credits
10 category winners: $1000 in USD, category winner shop badge, $50 Etsy ads, 50 free listing credits
The winners of the above prizes will be chosen from the 100 finalists. The people's choice award is new and is determined by votes from the Etsy community! If you have an Etsy account all you have to do is login and then go and favorite the items you like the most! Every favorite is a vote!
Here's my favorites 🙂
The Best of the Etsy Awards 2020
My favorite Etsy shops from the 2020 Etsy Design Awards.