Yogurt, granola, peaches and basil complement each other in the best way! Read on to hear my thoughts on the new AE Whole Milk Yogurt (spoiler, I love it!) and learn how to make infused simple syrups! This post is sponsored by my friends at AE Dairy.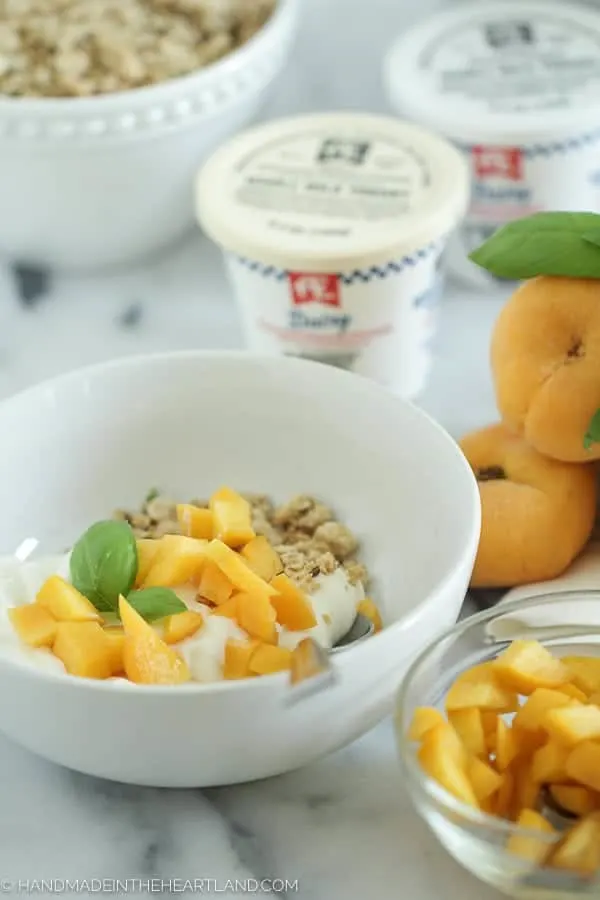 We really like yogurt in our house, especially my almost two-year-old. She refuses to eat meat or pretty much any other protein so she eats a lot of yogurts. I was so excited to try the brand new AE Whole Milk Yogurt. It's thick, creamy and the 7 flavors are all delicious! The banana custard and sweet cream are my favorite and I'm a huge fan of the cocoa hazelnut.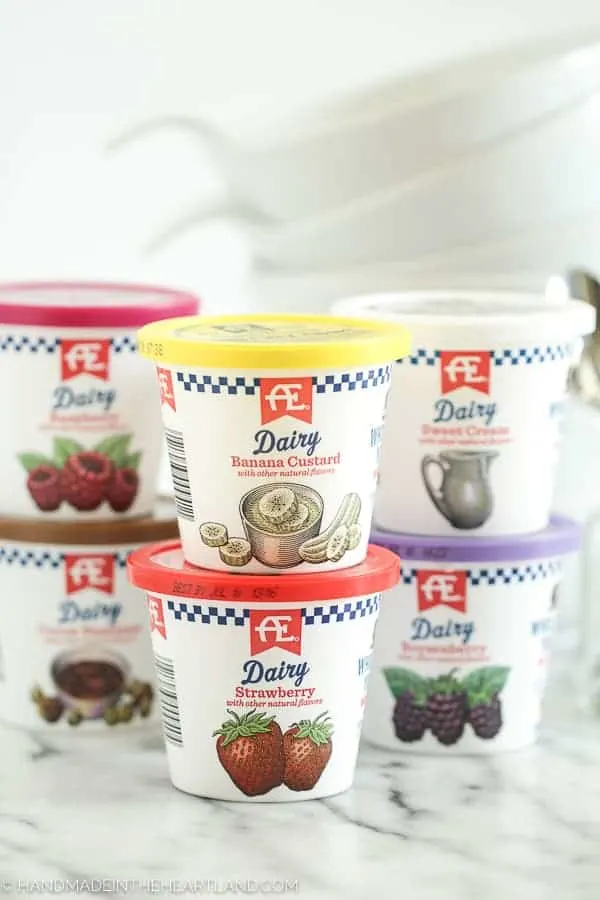 Can we talk about the packaging for a minute, I love when good design meets a great product and I love the packaging on these guys! Also the LIDS! The lids on AE yogurt are plastic lids that you can put back on! GUYS. It's life changing to not have to throw out all the half eaten yogurt containers from my children!! I don't know why all yogurts aren't packaged like this but it doesn't matter because AE has it figured out for me!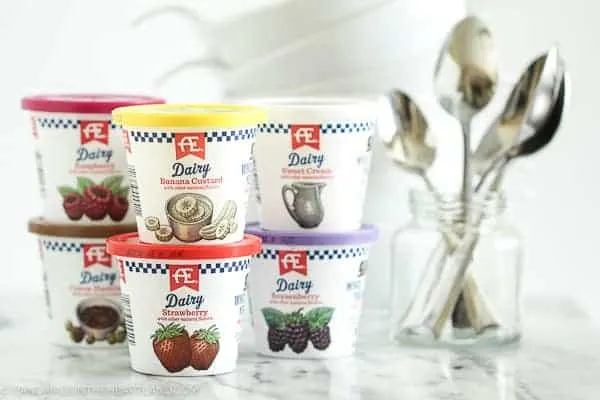 As mentioned above I have little non-finishing yogurt eaters in my house and it's full on summer over here. Do you love summer with your kids home from school? I have mixed feelings about it. We have had a lot of sibling fighting going on but we are enjoying these long hot days with lots of time at our neighborhood pool. I guess it's like everything in life, there are good things and bad things about it. The key to it all is learning to embrace the positive and push through the negative, right?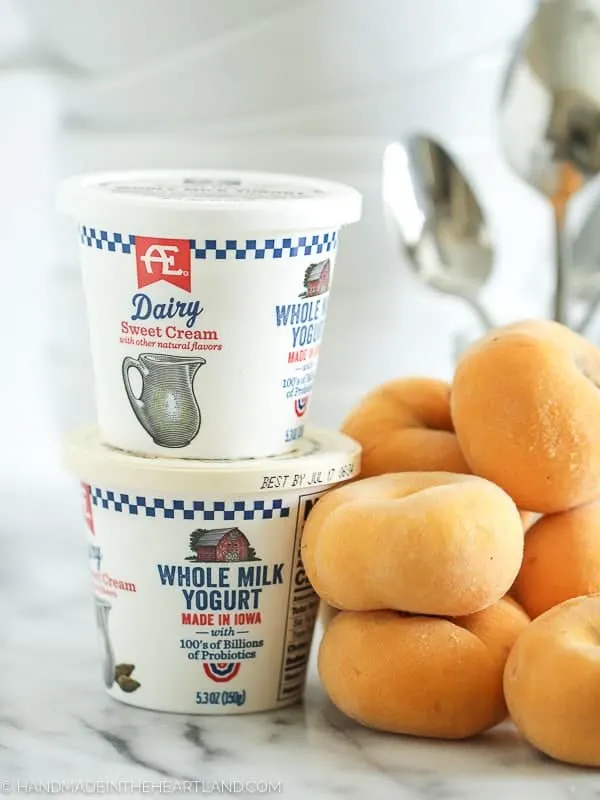 Another part of the positive of summer? Fresh, delicious, full flavor fruit. I eat more fruit in the summer than any other time of the year. You too? I just can't get enough watermelon, cantaloupe, peaches and off the vine tomatoes. I also grow kind of lazy in the summer, especially at breakfast. My kids love pancakes and waffles for breakfast but we've been pulling out the yogurt containers a lot more than the waffle iron this summer.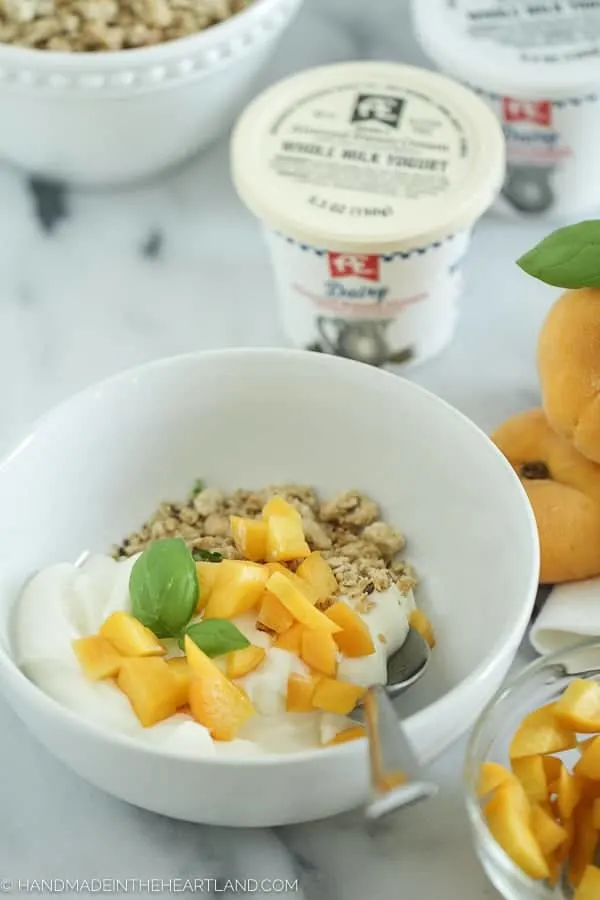 I always prefer to eat my yogurt with stuff in it. Give me some fresh fruit and granola and I'm 100% in love with my breakfast. I've always loved infusing simple syrups with flavors and fresh ingredients and basil are some of my favorite summer flavors. It's perfect with peaches and a super simple way to add a delicious layer of flavor to the fresh fruit.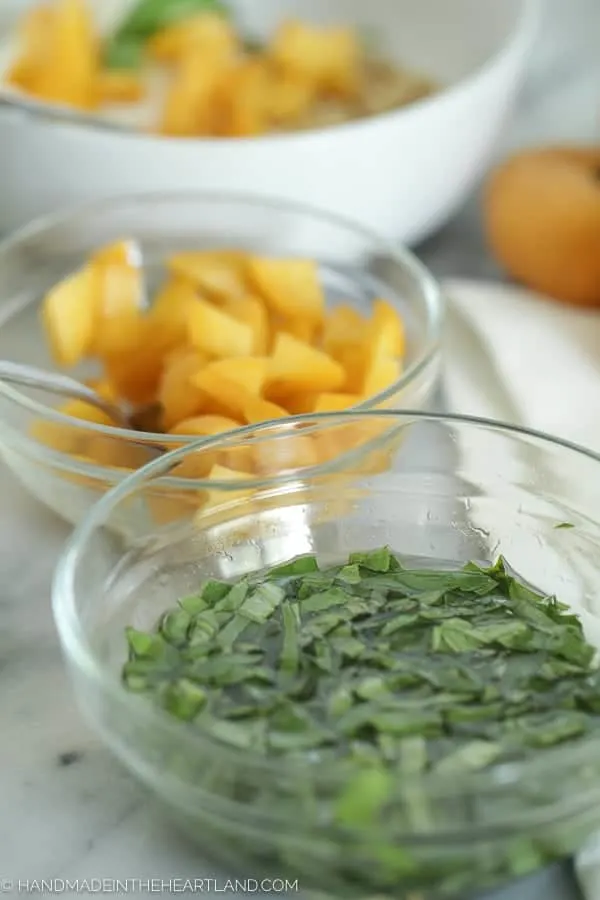 So here's my summer breakfast recommendation. Go get some AE Whole Milk Yogurt (sweet cream is the perfect flavor for this combo), chop up a few fresh farmers market peaches and then top it off with a drizzle of basil simple syrup. I know what you're thinking "Angela I don't have time to make simple syrup for breakfast, who do you think I am?!" I know, I know. But this syrup is perfect to keep in your fridge to drizzle over ice cream, make basil lemonade (Yum!) or other summer drinks. This is just one thing you need your syrup for and trusts me it's a little indulgence that's going to make you excited about breakfast.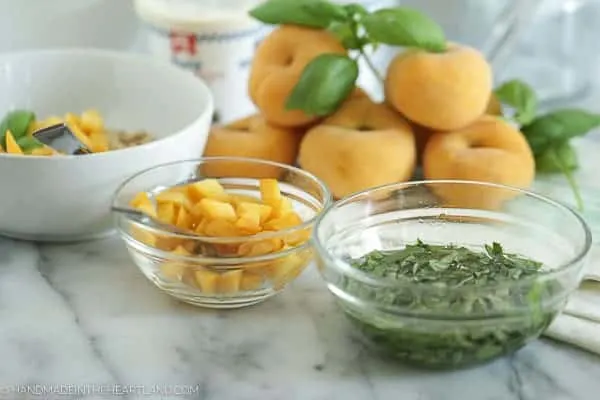 This recipe for easy basil simple syrup can infuse your fruit, drinks or desserts this summer!

Ingredients:
1 cup sugar
1 cup water
1/2 cup, or large handful of fresh basil, chopped
Instructions:
In a small saucepan heat the water over medium high heat until simmering. Add sugar and stir until dissolved completely. Remove from heat and add the basil. Let steep for 30 minutes. Strain out the basil leaves. Keep syrup in the fridge in an air tight container for up to 2 weeks.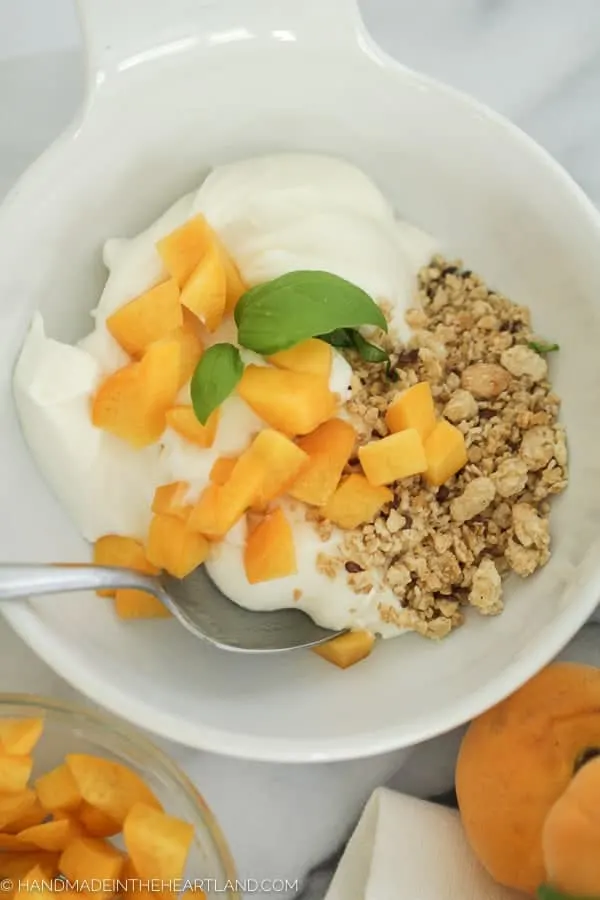 Happy breakfasting! Make sure to follow AE Dairy on social! Facebook // Pinterest // YouTube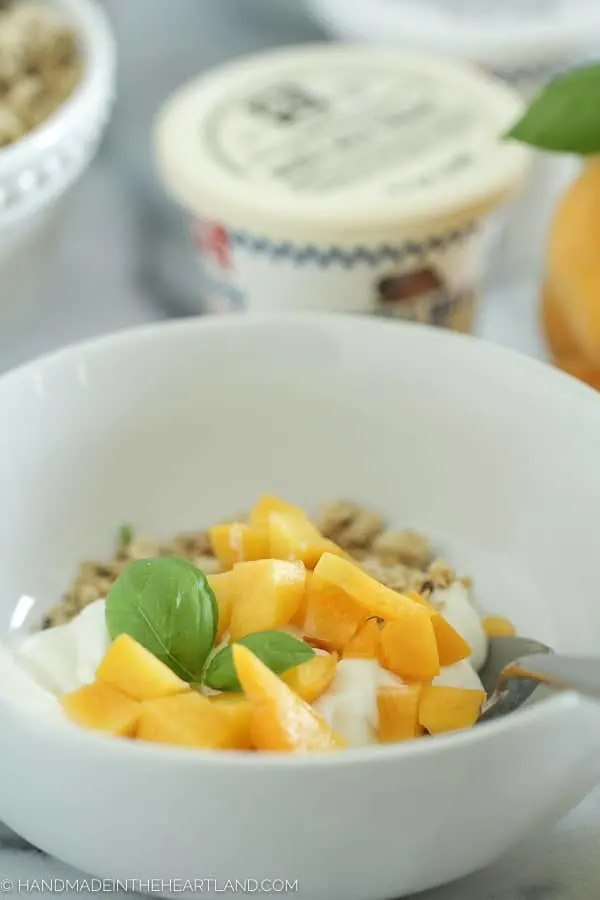 This is a sponsored conversation written by me on behalf of AE Dairy. The opinions and text are mine.