I've been cooking on my Blackstone Adventure Ready 17″ Tabletop Outdoor Griddle purchased at Walmart and I love it! This griddle is great for camping and enjoying cooking outside.
This post contains affiliate links which means I earn a small commission if you purchase something that I recommend.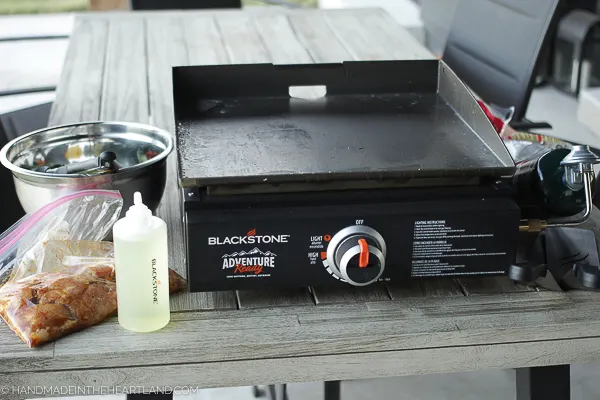 Blackstone griddles take the best of the pros and fixes the cons of cooking on a gas grill. A flat surface means nothing falls through the slits of a grill grate.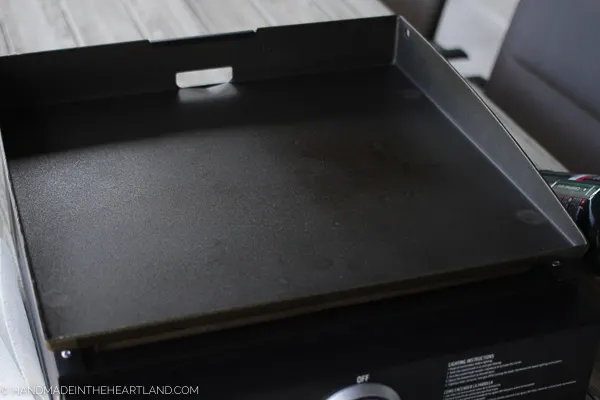 Which Blackstone Griddle Should I Buy?
There are several options when choosing which Blackstone griddle to buy.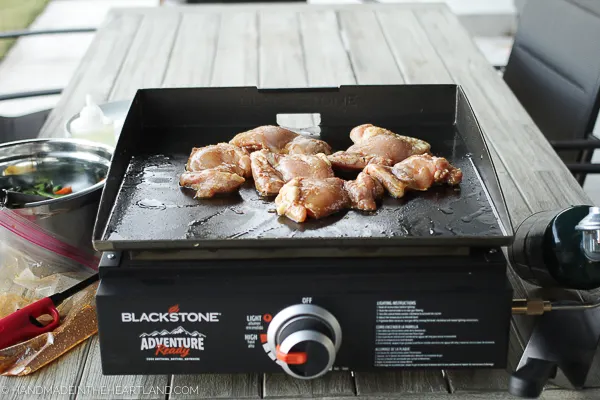 Why I chose the 17″
I purchased the 17″ because of it's affordable price and portability. At the time I purchased it was only $84 at Walmart.
Don't let the size fool you. First it's heavy. The rolled carbon steel cooktop is legit. It's thick and heavy and I can't imagine hauling anything larger than the 22″ one around to tailgating or camping.
The 17″ griddle has handled plenty of food to cook for my family of 6. It is a single H shaped burner so it only heats the cooktop to one uniform temperature but that has been fine for me in most cases. To give you a more visual picture you can fit 9 hamburger patties on the 17″ griddle.
Here are my pros & cons for the 17″ Blackstone Griddle:
Pros:
Portable. It's easy to move. Put it in the car or RV for a camping trip, the back of the truck for a tailgate or even take to a friends house to help with the neighborhood bbq. It's still a heavy piece of steel but you can easily move it.
Inexpensive. At less than $100 this can significantly add some enjoyable outdoor cooking experiences at a minimal cost.
Cooks evenly. The solid steel cooktop is a dream and the patented rear grease catching system is awesome. It's a super fun cooking experience.
Cons:
Only 1 heat zone. If I would have sized up to the 22″ I would have 2 heat zones which would be nice when cooking. However I've cooked multiple items on the griddle at the same time and as long as they need the same temperature they cook fine.
A little small. Again, if I had just sized up to the 22″ I would have more room to cook, oh let's say, the onions and meat for Philly cheesesteaks at the same time. The 17″ does limit how much you can cook at one time.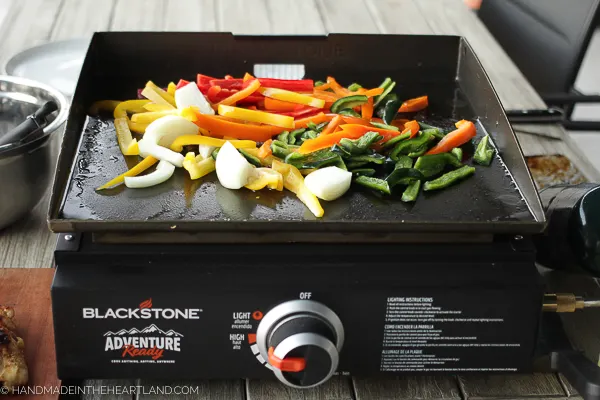 Although there are drawbacks to the small size any of the bigger ones add significant weight which means it's that much more difficult to move. If you plan on taking your Blackstone Griddle on the go I highly recommend the 17″.
---
What is the Blackstone Griddle made of?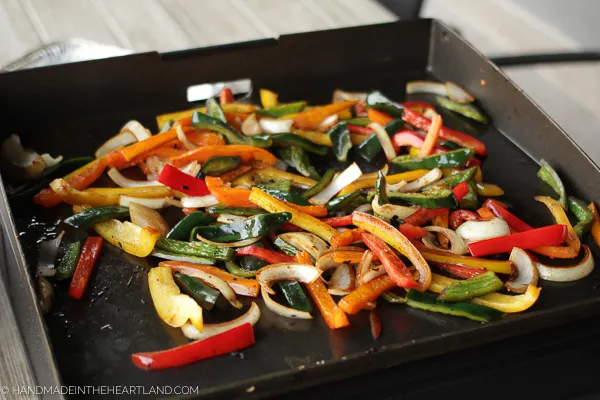 The griddle top of Blackstone Griddles are made of rolled carbon steel. I originally thought they were made of cast iron because the require seasoning but carbon steel is different.
The biggest advantage of carbon steel is it heats up faster, which I can attest to! My griddle heats up surprisingly quick. Carbon steel is more conductive than cast iron so it heats more evenly too.
The carbon steel provides a super smooth surface and with seasoning a nonstick surface to easily cook eggs, omelets and crepes on. You can use your Blackstone Griddle to cook anything you want!
What Can I Cook on a Blackstone Griddle?
The beauty of the Blackstone griddle is that you can cook anything on it! It's outdoor cooking with endless possibilities. When I'm trying to think of what to cook on my griddle I think of things I would cook on the stove inside and recipes that restaurants cook on large cook tops that I can't cook easily on a pan (like Philly cheesesteaks).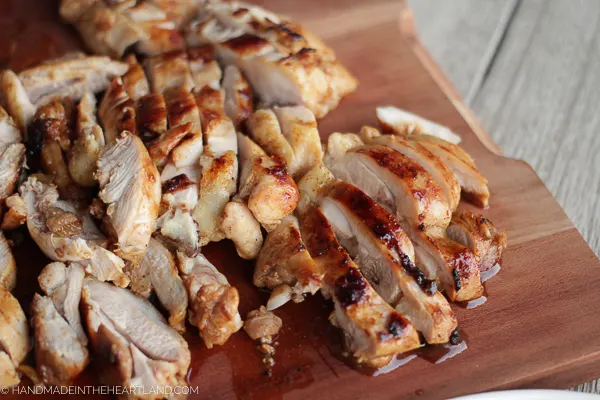 Here are some of my favorite ideas for outdoor cooking on Blackstone Griddles:
Philly cheesesteaks and other sandwiches with melty cheese
Fajitas
Steaks, check out my recipe for Steak & Mushrooms
Fried rice & other hibachi style food
Burgers & hot dogs
All the breakfast food! Pancakes, Eggs, Bacon, Sausage, Omelets
Quick Review
In summary I totally love my 17″ Blackstone Griddle. It's a fun way to cook outside and if you're looking for something to take with you on your RV and camping adventures this would be a great addition to your gear. The Blackstone griddle is more versatile than a regular charcoal or propane grill because of it's nice flat cook top. It's well made with high quality materials and offers high quality cooking outdoors.
Do you have a Blackstone griddle? Are you thinking of buying one? Let me know! I would love to see what you're making on your Blackstone! Leave a comment or tag me on instagram @handmadeintheheartland or facebook !