Make the most delicious Blackstone griddle ribeye steak and mushrooms! This Blackstone griddle recipe is quick, easy and only calls for a few ingredients.
This post contains affiliate links which means I earn a small commission if you purchase something that I recommend.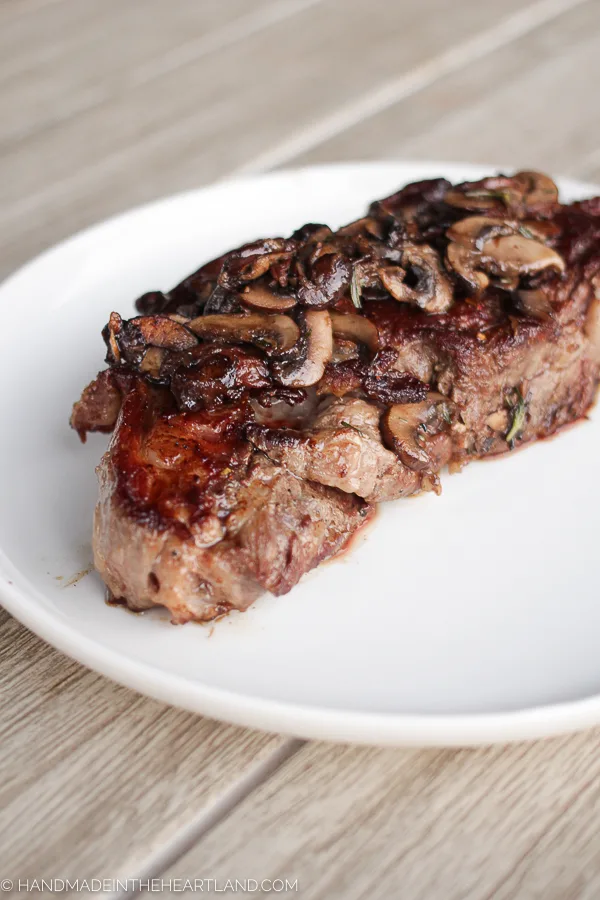 Cooking on a Blackstone griddle is a cross between a grill and a restaurant cooktop. I love the versatility of it. A lot of people love to take their Blackstone Griddle camping and this recipe would be a perfect gourmet camp meal! I've got directions below for how to do some prep ahead of time to make it even more simple at the campsite.
Ingredients: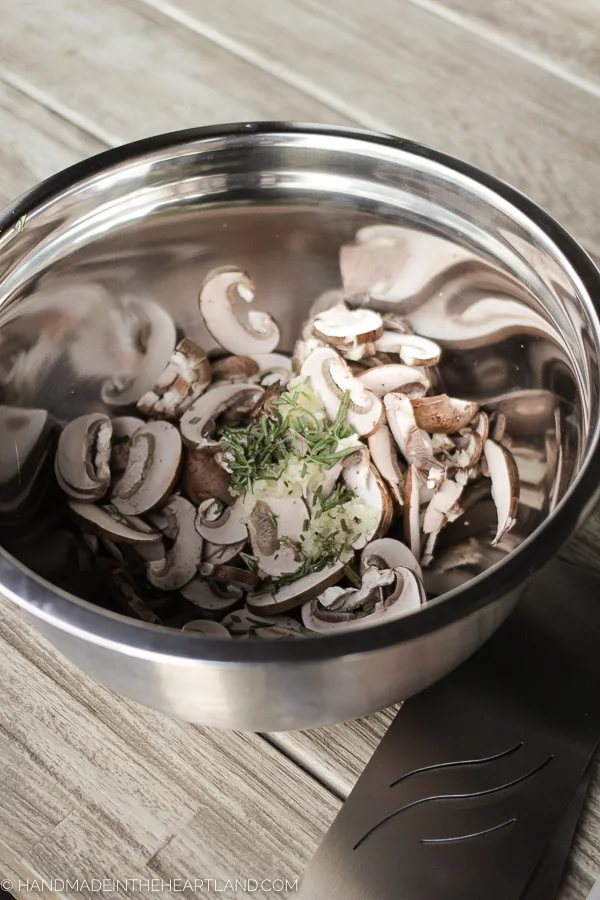 Ribeye Steaks– I chose ribeye steaks because they are full of flavor. The marbling and fat content in ribeyes make them an easy and forgiving cut to cook on the griddle.
Salt, Pepper & Fresh Rosemary– I love cooking with fresh herbs and rosemary and mushrooms pair so well together. Salt and pepper are essential for seasoning steaks.
Mushrooms– I use baby bella mushrooms most of the time. I think they are more flavorful than button mushrooms and just as widely available.
Garlic– Adding garlic to the mushrooms in this recipe adds flavor and depth.
Butter– I will always cook mushrooms in butter because you can't beat the flavor! You could use ghee or clarified butter as well.
Vegetable Oil- You will want some kind of oil to do a light coating on the griddle, you could also use avocado oil or canola oil.
How to prep this recipe ahead of time
If you're going camping and want to prep this recipe ahead of time I recommend slicing the mushrooms, grating the garlic and chopping the fresh rosemary at home and putting it all in an airtight container. That will cut down on your meal prep at the camp site. Then all you'll have to do is season the steaks and pull out the mushroom mixture and cook!
Supplies: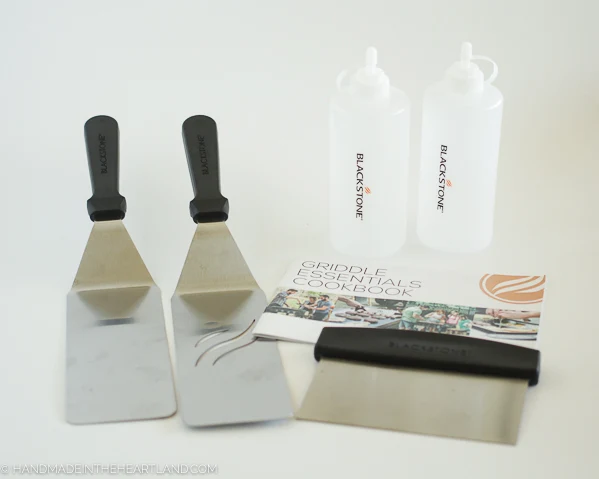 For this recipe I used a Blackstone Griddle. Read my 17″ Blackstone Griddle Review for more information on why I love this fun outdoor cooking appliance!
When cooking on a Blackstone you'll want some tools to make cooking a little easier. Most of the supplies I've listed come in the 5 piece Blackstone griddle cooking toolkit
Scraper
liquid dispensers for oil & water
stainless steel spatulas or tongs
Aluminum Pan for covering during cooking
How to make Blackstone Griddle Ribeye Steak:
Step 1:
Pat steaks dry with paper towels and season liberally with salt & pepper and prep the mushrooms.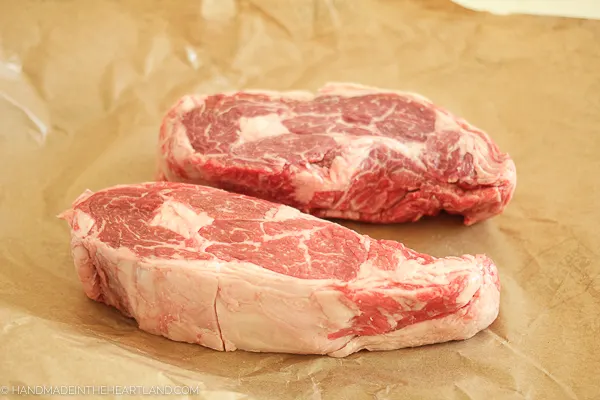 Step 2:
Preheat the Blackstone Griddle for 5-10 minutes.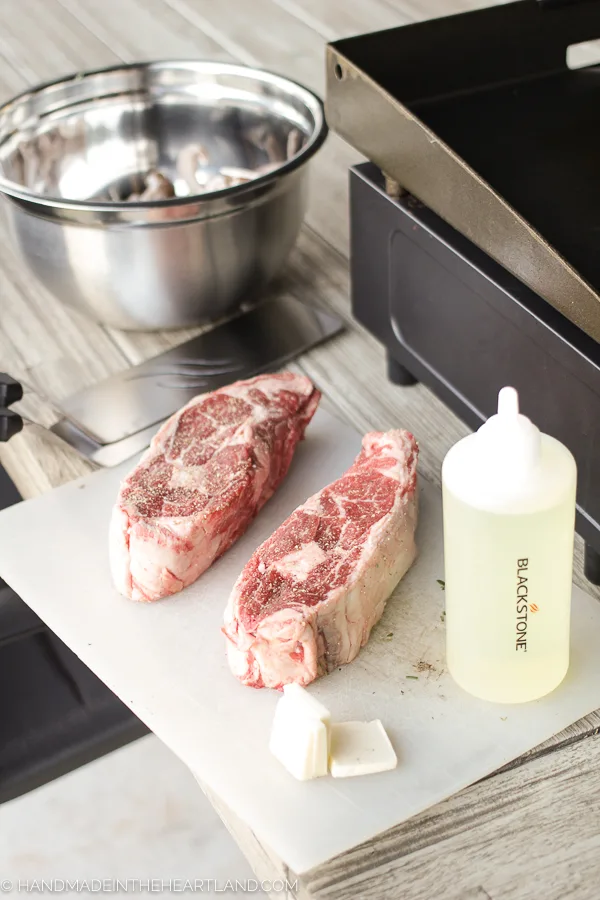 Step 3:
Cook the steaks! Squirt a little bit of oil on one side of the griddle and then add the ribeye steaks. Let them sit for 5 minutes without moving. Cooking length and final temperature will be determined by your steak thickness and how done you want your steak.
How long should steak be cooked for? I use this quick reference chart by Kansas City Steak Company to determine how long steaks need to cook and to what temperature. If you don't already have a meat thermometer get one, it's essential for determining when to meats are cooked thoroughly.
The key to cooking perfect steaks? As stated by Kansas City Steak Company: Remove from grill 5° before desired doneness and allow meat to rest 5-10 minutes before serving. Juices will be absorbed into the meat and bring meat up to desired temperature.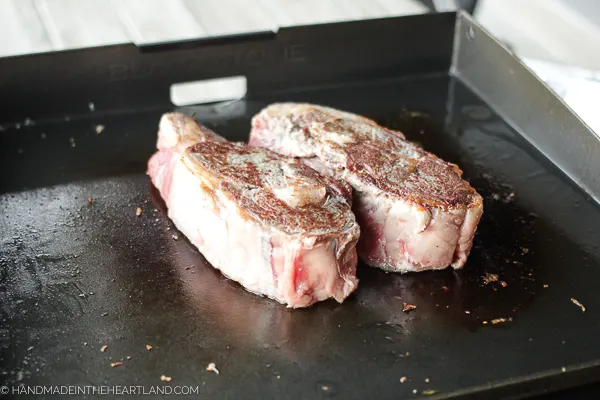 Step 4:
You will want to move the steaks to sear on both top and bottom as well as the sides of the steaks. After the initial 5 minutes sear use an aluminum pan or griddle cover to cover the steaks as they cook to seal in some of the heat. This is especially essential if it's cold outside.
After the steaks have been cooking for 10 minutes melt the butter next to the steaks and add the mushrooms, garlic and rosemary. Toss and cook under the aluminum pan with the steaks until the mushrooms are soft and juicy.
What temperature should steak be cooked to?
Here's a quick list of the internal temperatures and doneness of steak:
Rare- cool red center is 125°
Medium Rare- warm red center 135°
Medium- warm pink center 145°
Medium Well- slightly pink center 150°
Well Done- little to no pink center 160°
The USDA recommends steaks be cooked to 145° to prevent food-borne illness.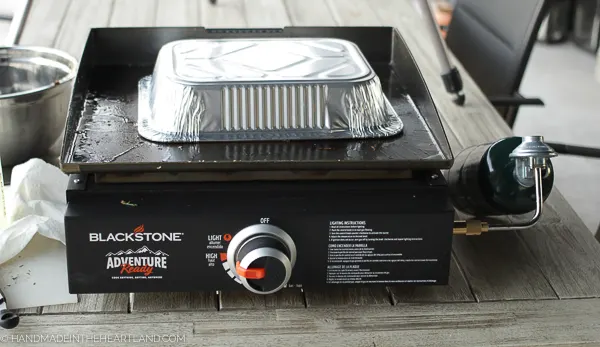 Step 5:
Let the steaks rest for at least 5 minutes! I promise your steak will taste so much better once it's been able to fully absorb all the juices. Then serve the steak with mushrooms on top. YUM.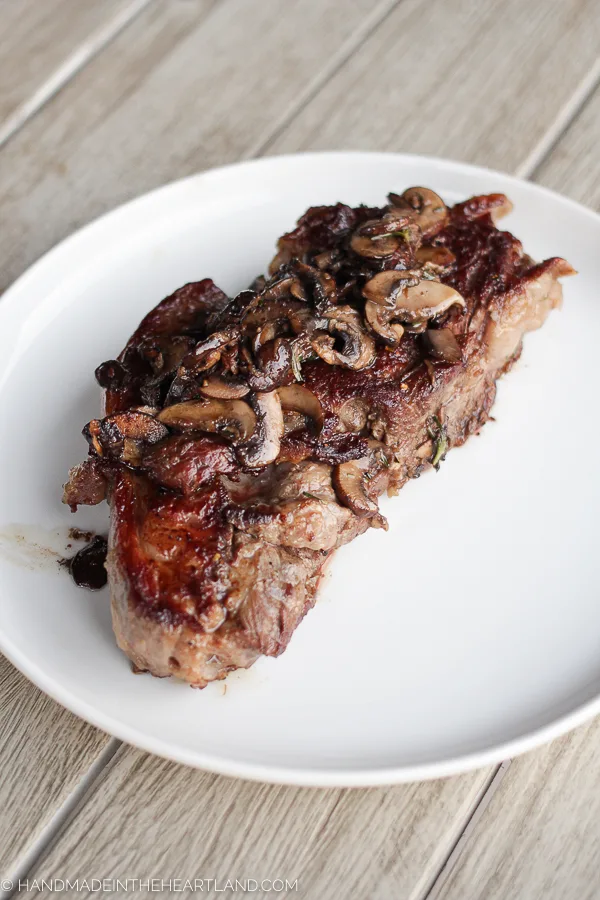 Blackstone Griddle Ribeye Steak & Mushrooms
Additional Time:
5 minutes
Making a restaurant quality meal on your tabletop outdoor Blackstone griddle is so easy! Make these Ribeye steaks with garlicky mushrooms for a quick, easy and delicious dinner!
Ingredients
2 16oz. Ribeye Steaks
Sea Salt & Fresh Ground Pepper
8oz. Baby Bella Mushrooms
3 Cloves Garlic
1 Tablespoon Fresh Rosemary
2 Tablespoons Butter
1 Tablespoon Vegetable Oil
Instructions
Prepare your ingredients. Remove steaks from fridge and season liberally with salt & ground pepper. Slice the mushrooms and place in a bowl, grate garlic and chop rosemary and add to the mushrooms.
Turn on your Blackstone Griddle to high and pre-heat the griddle for 5-10 minutes. Squirt a little oil over the surface and add the steaks. Do not move for 5 minutes.
Flip steaks and cook for 5 minutes on the other side. Add an aluminum foil pan over the steaks like a lid to help cook. After another 5 minutes put steaks on their sides to sear on the sides. Continue to cook, flipping steaks every few minutes and covering with pan. To get to medium it takes about 20 minutes.
When the steaks have been cooking for 15 minutes add the butter, let melt and then add mushrooms, garlic and rosemary and toss in the butter. Cook turning for a few minutes until soft.
Use a meat thermometer to make sure the internal temperature of the the steak is 140 for medium.
Remove steak from griddle and put mushrooms on top. Let rest for 5-10 minutes before slicing!
Recommended Products
As an Amazon Associate and member of other affiliate programs, I earn a small commission if you purchase something I recommend. I would never recommend products I don't love and use!
Nutrition Information:
Yield:

2
Serving Size:

1
Amount Per Serving:
Calories:

1433
Total Fat:

105g
Saturated Fat:

46g
Trans Fat:

1g
Unsaturated Fat:

55g
Cholesterol:

384mg
Sodium:

648mg
Carbohydrates:

8g
Fiber:

3g
Sugar:

3g
Protein:

116g
I can't wait to see you enjoying these delicious steaks! When you make this recipe leave a comment or tag me on instagram @handmadeintheheartland or facebook !