Thanksgiving has come and gone and you have several containers full of shredded turkey in your fridge! In an effort not to let it go to waste this list of over 45 amazing and unique turkey recipes are here to help you solve the problem of what to do with leftover turkey!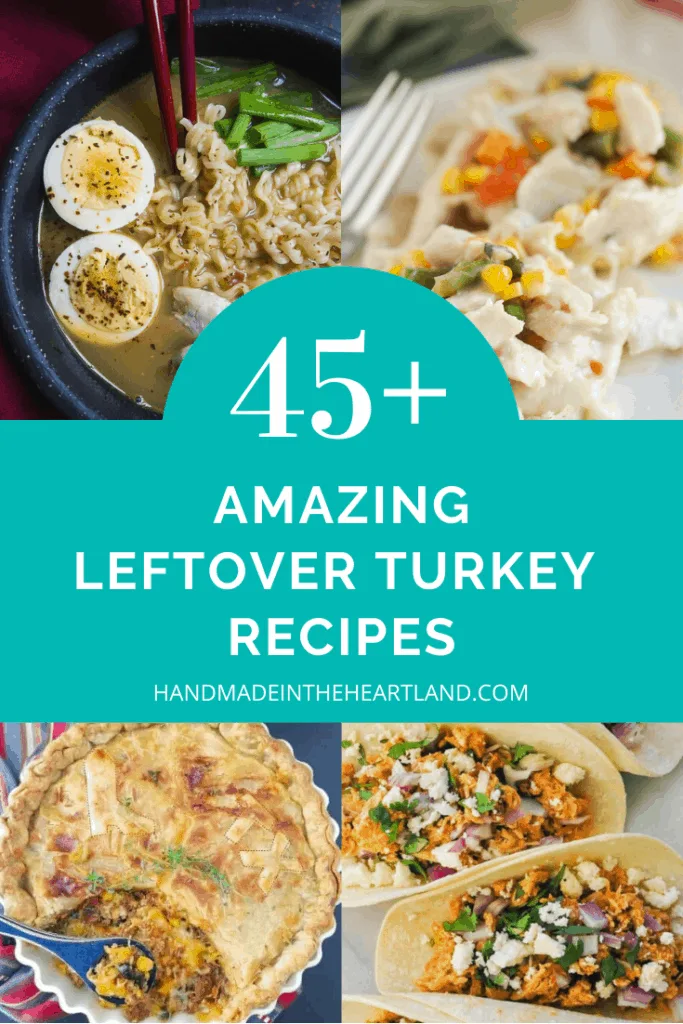 This comprehensive list of really great leftover turkey recipes has a few recipes you would expect: turkey pot pie and turkey soups but there are so many amazingly creative uses too. Would you ever think to make egg rolls or ramen? What about air fryer turkey burgers or croquettes? This list gives you great answers to the question: What to make with leftover turkey?!
How to store leftover turkey?
First things first. How do you store leftover turkey so it tastes the best when you go to make one of these delicious recipes?
Remove the turkey meat from the bones. It's best to do this soon after the meal. Carve the rest of the turkey and either slice or shred all the meat. Carving the turkey when it's warm is so much easier than if you try and do it the next day after it has sat in the fridge. If you plan on saving the bones for stock keep them in a separate container from the meat.
Store in an airtight container. Freezer bags, glass or plastic containers are all great options as long as they can be air tight. If you are going to freeze the meat choose a plastic option instead of glass.
How long does turkey stay good in the fridge?
You can keep turkey in the fridge for 3-4 days. Any longer and you'll want to make sure it smells, looks, and feels good before eating it. If you're not going to make any of the recipes below in the 3-4 days after you cook the turkey you can freeze it! Or keep some in the fridge and freeze the rest.
How long does turkey stay good in the freezer?
You can enjoy your Thanksgiving turkey for 3 months in the freezer! This is such a great option if you'd rather not eat turkey constantly for the following week or if you more leftovers than you could possibly eat.
If you have a food saver or other type of vacuum sealer you can use that or just try and get all the air out of a freezer bag before you put the meat in the freezer. Just make sure the container you choose is air tight to prevent freezer burn.
If you are feeling super motivated you could even prep some of the recipes below and freeze the entire meal. However I think freezing just the meat and then pulling it out a few weeks or a month later and whipping up a new recipe is a great solution for Thanksgiving turkey leftovers!
Leftover Turkey Recipes
Over 45 recipes to use all that leftover Thanksgiving turkey!