This easy turkey a la king is going to be your new favorite recipe to make with leftover turkey. It's also an easy weeknight dinner when made with deli turkey. I've got all the tips for how to make the best turkey a la king.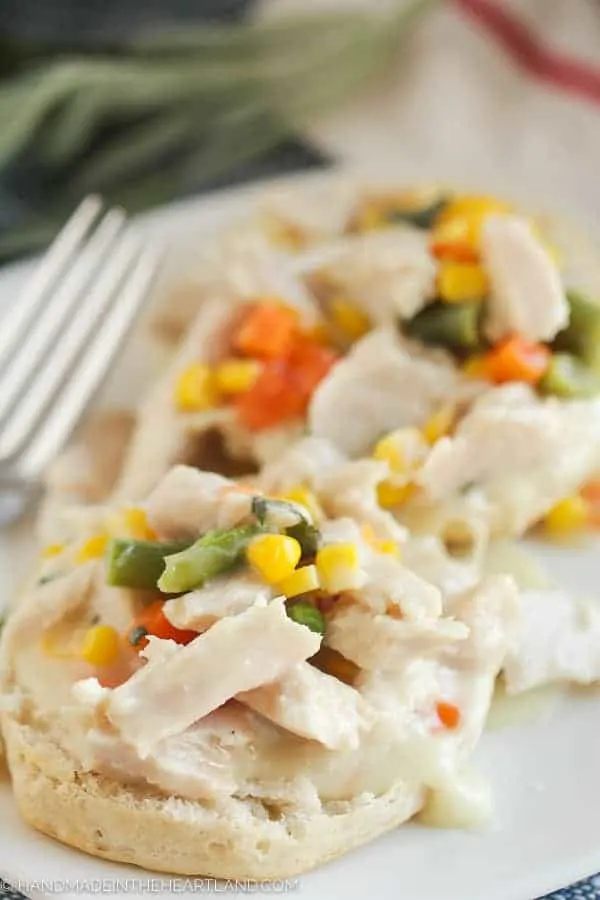 I knew this recipe was going to be a winner but it was confirmed to me by my friend Melissa. I dropped a container with the filling and a pie crust off to her a few days ago, she has a new baby. She texted me the day after her family ate it and asked for the recipe, that's my cue to put it on the blog!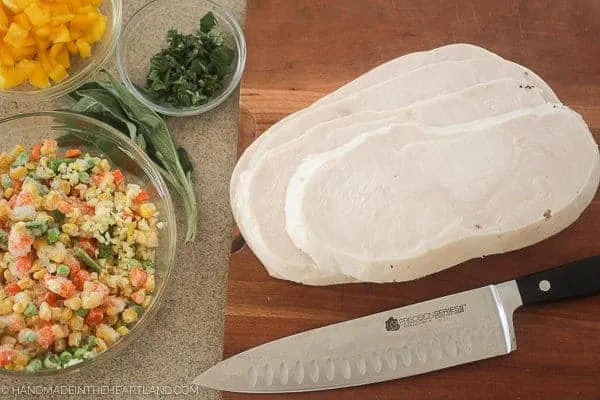 Do you have to use leftover Thanksgiving turkey to make Turkey A La King?
This recipe is perfect for leftover turkey from Thanksgiving however it's January and I'm not about to cook up a whole bird and honestly I didn't really want to cook a turkey breast either so I used a shortcut. I was worried it wouldn't work and I was pleasantly surprised. I went to the deli counter at my grocery store and picked a deli turkey and asked them to cut me thick slices- 5/8″ thick to be exact. When I got it home I shredded/tore it into pieces to mimic a cut up Thanksgiving turkey. Guys! It totally worked!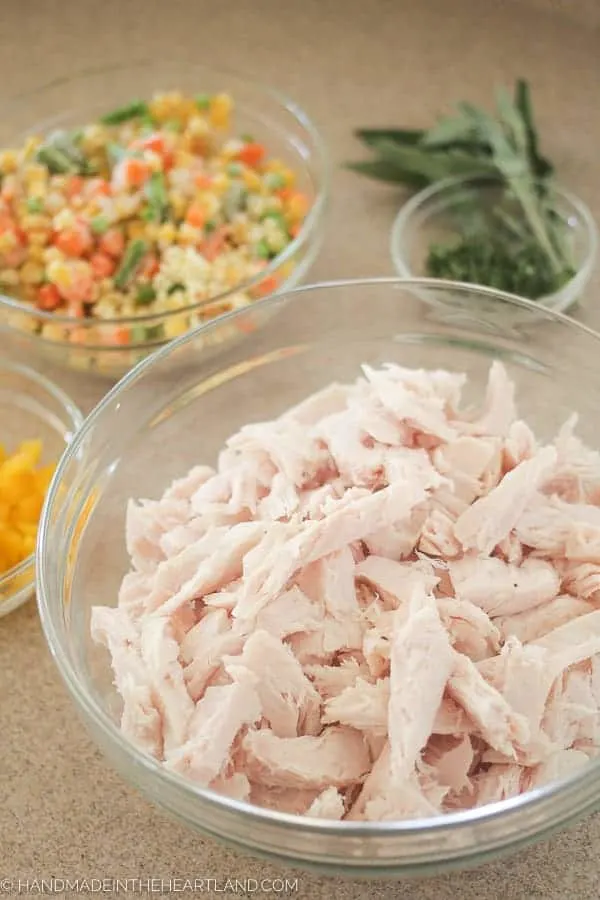 Make it shortcut Chicken a la King:
The other option for a shortcut for this meal is using a rotisserie chicken, oh my goodness how I love the ease of picking up a rotisserie chicken and shredding it up in all of 5 minutes.
If you need some other ideas for a rotisserie chicken I highly recommend my Chicken Wonton Salad and White Chicken Chili– both are made so much easier with already cooked chicken! I digress…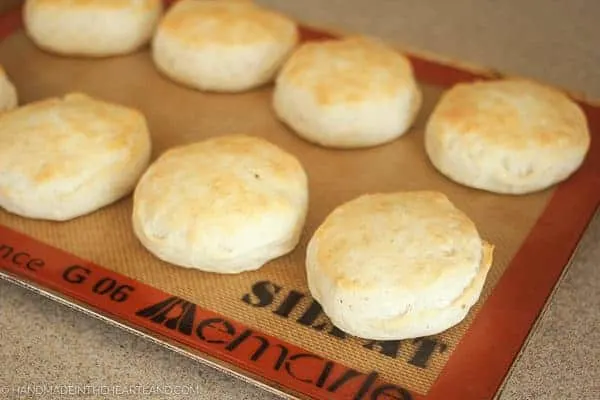 What is Turkey a La King?
Chicken a la king or Turkey ala king consists of a creamy thick gravy like sauce that includes chicken or turkey and vegetables such as carrots, peas pimentos and mushrooms. Traditionally it is served over toast. Does turkey a la king have noodles? You can easily turn this dish into a pasta dish and serve it with egg noodles instead of toast or biscuits.
Swanson, and I'm sure other brands, makes a canned chicken a la king. Home made is always better than the can. 🙂 This recipe is very similar to chicken pot pie with slight differences. Leftover turkey is great for both recipes.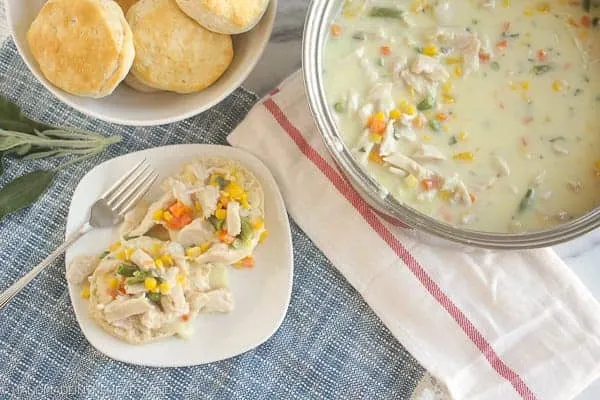 There are a lot of things I like to make from scratch like whole wheat bread and tortillas, but for some reason I haven't mastered biscuits yet. Thus I purchase the refrigerated can that pops and makes me jump every. single. time. Alternatively you could serve turkey a la king over thick Texas toast instead of biscuits.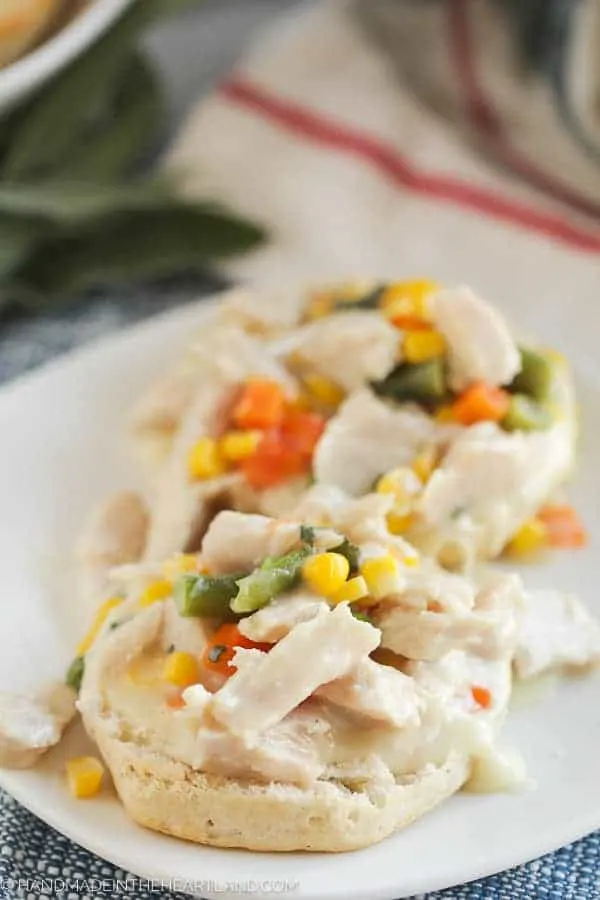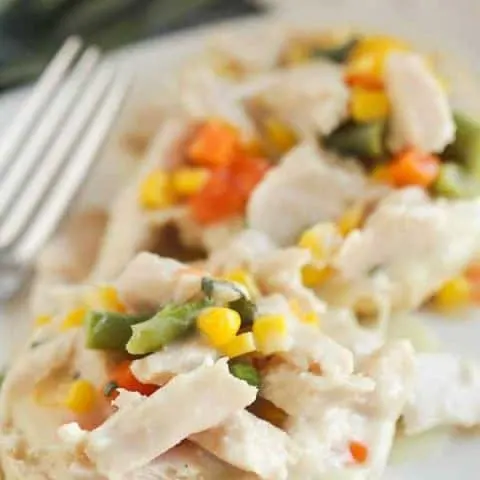 Turkey A La King
This easy turkey a la king recipe is so versatile. Traditionally turkey a la king is really chicken ala king and placed over toast, pasta or rice. I love this version served over a nice thick, flaky biscuit. yum. You can also put it into a pie crust and it's a turkey pot pie. I told you, so versatile!
Ingredients
1 package biscuit dough
2 lbs shredded turkey (leftover Thanksgiving turkey works great!)
6 tablespoons butter, divided
1/2 cup white wine
1 tablespoon of chopped sage
1/2 cup flour
2 cups chicken broth
1 cup heavy cream
3 cloves garlic, minced
1 12oz bag frozen vegetables with carrots, peas, corn & green beans
1/4 cup fresh bell pepper, diced
Instructions
Cook biscuits according to package instructions
In a large skillet melt butter over medium-high heat. Add turkey, wine and a pinch of sage. Stir the turkey occasionally until it's browned, about 5 minutes. Remove from skillet and set aside in a bowl.
Put the skillet back over medium heat and add butter until melted. Mix in flour with a whisk until it is combined into a paste- this is called a roux. Add in the chicken broth and heavy cream and whisk until the roux is thoroughly mixed into the liquid. Stir until starts to thicken, about 5-8 minutes.
Add in the vegetables, turkey, sage and a splash of white wine, stir to combine. Put a lid on your pot and let simmer for 10-15 minutes. Check it occasionally to stir and make sure the heat isn't too hot where it would be burning the bottom. You want a nice slow bubble to create thickening but not a boil to burn.
To serve cut the biscuits in half and spoon the mixture over the biscuits.
Recommended Products
As an Amazon Associate and member of other affiliate programs, I earn a small commission if you purchase something I recommend. I would never recommend products I don't love and use!
Nutrition Information:
Yield:

6
Serving Size:

1
Amount Per Serving:
Calories:

697
Total Fat:

38g
Saturated Fat:

20g
Trans Fat:

1g
Unsaturated Fat:

15g
Cholesterol:

242mg
Sodium:

684mg
Carbohydrates:

34g
Fiber:

6g
Sugar:

8g
Protein:

51g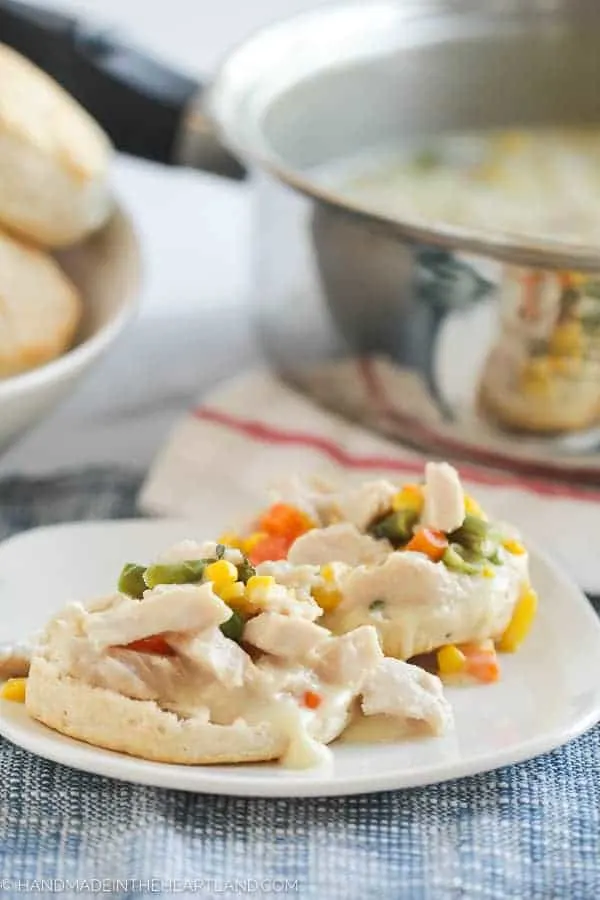 If you make this recipe I'd love to hear how you like it! Tag me on instagram @handmadeintheheartland or facebook ! Happy cooking friends!