A delicious fall salad recipe with roasted butternut squash, pecans, dried cranberries, goat cheese and caramelized onions finished off with a delicious maple dijon dressing.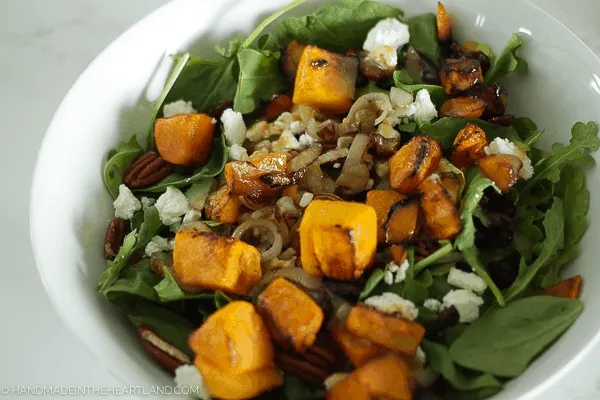 Ingredients for roasted butternut squash salad with maple dijon dressing:
This butternut squash salad tastes great, it's substantial enough to eat for dinner and when you look at the ingredients it's clear that this butternut squash salad is full of healthy nutrients!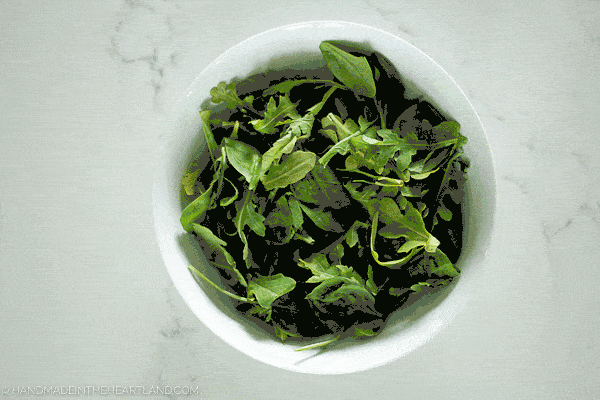 Butternut Squash– The sweet nutty taste of this fall squash is close to pumpkin and tastes like fall. I'm a huge fan of this veggie! Use a fresh squash or find a bag of frozen squash in the freezer section to save some time. In just 1 cup of butternut squash you get more than 100% of the daily requirement of Vitamin A and 40% of Vitamin C! It's also full of beta-carotene and alpha-carotene.
You can try my butternut squash risotto, butternut squash, bacon and brown butter pizza, or my favorite Thanksgiving stuffing with butternut squash.


Spinach & Arugula- These greens are perfect for this heavy salad. Whenever you roast a vegetable for a salad you want to make sure that the greens of the salad will hold up and not wilt with the warmth from the veggie. I love the peppery taste of arugula and crispness of baby spinach.
We all know that spinach is healthy but have you looked up lately all the benefits of it? I tend to forget that it's full of calcium, iron, magnesium, potassium, Vitamin A and Folate. SO many great health benefits to eating spinach. You'll find the same benefits with Arugula too.


Dried Cranberries- These little bits of flavor add a little sour sweetness and compliment the flavor of the butternut squash. I always have a bag of dried cranberries in my pantry and throw them into all my fall salads.


Pecans- This salad would be delicious with candied pecans (I mean what isn't better with candied pecans) but I opted for the healthier side and used plain pecans. These nuts are also packed with good for you nutrients and add to this super food fall salad!


Goat Cheese- Goat cheese is a soft cheese that usually comes in a 4oz log style. It crumbles great when you use a knife to cut it and the creaminess pairs great in this salad. I usually buy the goat cheese with honey already in it, but plain is great too!


Onions- For this recipe you'll cook some sweet onions until they caramelize. I love caramelized onions. I've used them on many a recipe- they just add such delicious depth of flavor! Here are a few of my favorite caramelized onion recipes:
–Mushroom, Caramelized Onion & Tomato Bruschetta
–French Onion & Apple Crostini
–Caramelized Onion & Bacon Quiche


Maple Dijon Dressing- This creamy tangy and sweet salad dressing hits all the perfect fall flavor notes! Dijon, mustard, garlic, balsamic and a little bit of cream make this a favorite salad dressing in my home and the perfect topping for roasted butternut squash salad.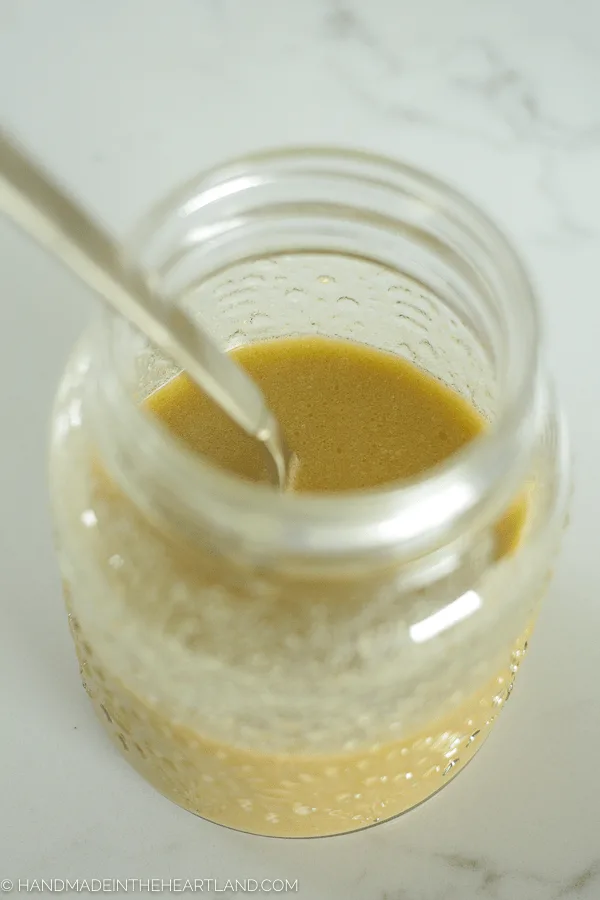 How to roast butternut squash:
Roasting squash is simple and brings out the natural sweetness of the butternut squash. I like to roast the squash until it's soft with a fork. To get to that consistency it needs to be cut into 1″ cubes and roasted in a 400 degree oven for 25-30 minutes. Tossing with olive oil and salt and pepper help give it great flavor.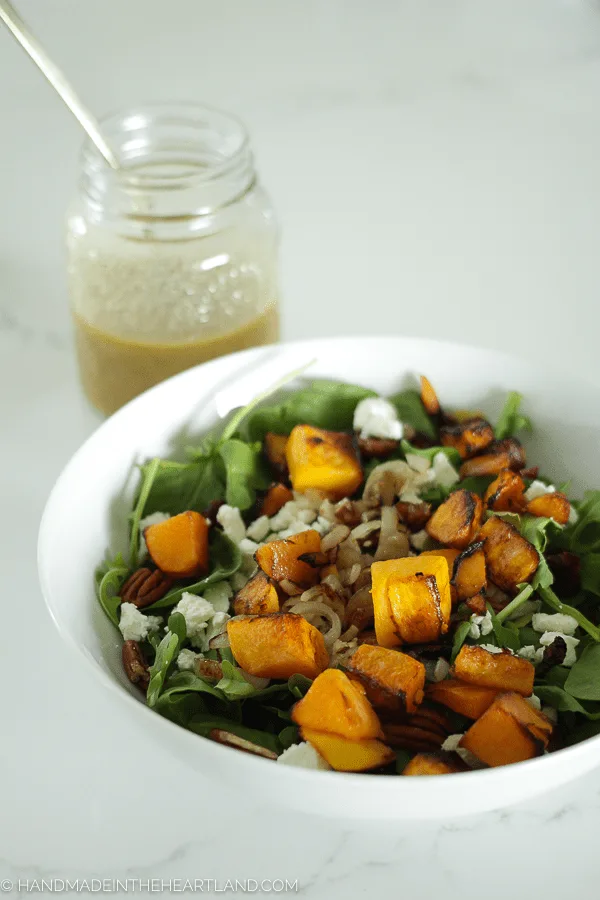 Have you ever had a salad with warm roasted veggies in it? I had not until a few years ago, it always sounded strange to me to cook a butternut squash and put it into a salad. Trust me on this one, it's delicious! It also feels more substantial and worthy of main course status instead of a salad I'll eat and be hungry 2 hours later.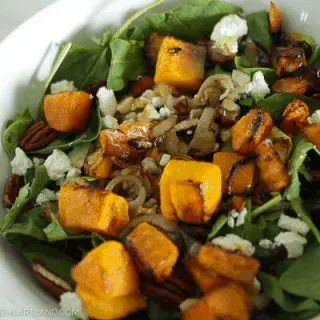 Roasted Butternut Squash Salad with Maple Dijon Dressing
A delicious fall salad with roasted butternut squash, pecans, dried cranberries, goat cheese and caramelized onions finished off with a delicious maple dijon dressing.
Ingredients
Salad
4-5 cups Arugula & Baby Spinach
1/3 cup dried cranberries
1/2 cup pecans
2 oz goat cheese
2 small onions
1 small butternut squash
2 tablespoons olive oil, divided
Maple Dijon Dresing
1/2 cup olive oil
1 garlic clove, grated
2 tablespoons balsamic vinegar
2 tablespoons Dijon mustard
2 tablespoons pure maple syrup
2 tablespoons heavy cream
Instructions
Roast Squash. Preheat the oven to 400. Peel, de-seed and chop the butternut squash into small chunks. Toss with a little bit of olive oil and salt and pepper, place on a prepared baking sheet and roast for 25-30 minutes. Remove from oven and let cool for a few minutes, however the squash will be served warm in the salad.
Cook Onions. Slice the onions. Preheat a medium size skillet to medium heat and add a tablespoon of olive oil. Cook the onions, stirring occasionally for 10-15 minutes. If they look dry add a little more oil to the pan. The goal is for them to turn a golden brown and caramelize. Remove from heat and let cool.
Make Dressing. In a jar or bowl grate one garlic clove. Add the rest of the ingredients and whisk until combined.
Assemble Salad. In a large salad bowl put the greens, pecans, cranberries, goat cheese, warm onions, and warm butternut squash. Lightly toss everything with about half of the dressing. Serve!
Notes
-To add more protein serve with grilled chicken.
-Use frozen butternut squash if you'd rather not peel and cut!
Recommended Products
As an Amazon Associate and member of other affiliate programs, I earn a small commission if you purchase something I recommend. I would never recommend products I don't love and use!
Nutrition Information:
Yield:

6
Serving Size:

1
Amount Per Serving:
Calories:

394
Total Fat:

33g
Saturated Fat:

6g
Trans Fat:

0g
Unsaturated Fat:

26g
Cholesterol:

10mg
Sodium:

207mg
Carbohydrates:

23g
Fiber:

4g
Sugar:

15g
Protein:

5g
When you make this salad be sure to tell me about it! I love to hear your experience with recipes on the blog! Leave a comment or tag me on instagram @handmadeintheheartland or facebook !