This recipe for Blackstone griddle chicken fajitas is a quick, easy and delicious meal to cook outside. Full of colorful veggies and marinated chicken this recipe is a healthy camping meal that can be prepped ahead of time.
This post contains affiliate links which means I earn a small commission if you purchase something that I recommend.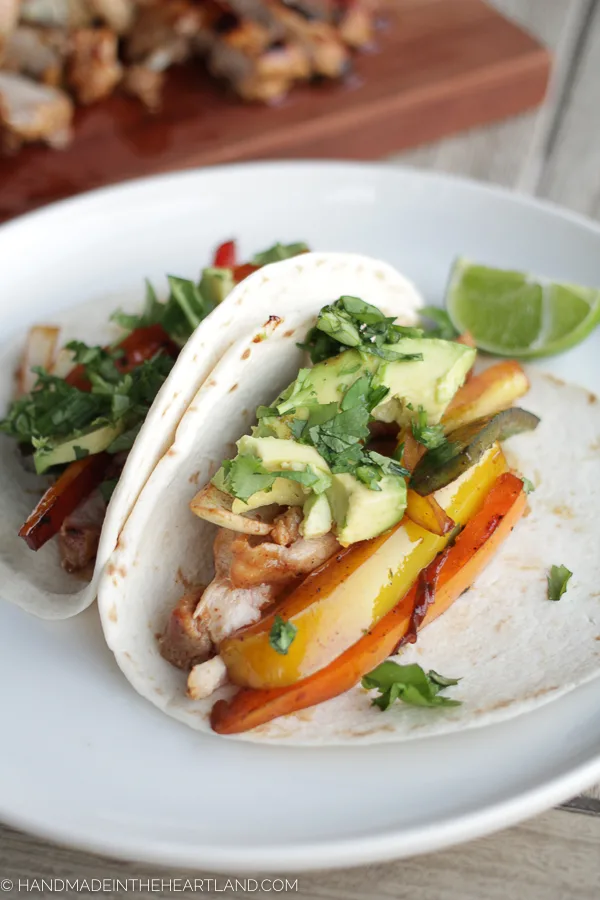 Cooking chicken fajitas on a Blackstone griddle is easy and a great way to feed a crowd. You can easily double this recipe for 8 people and even a 17″ griddle will be able to hold a doubled recipe.
If you're curious about the griddle check out my 17″ Blackstone Griddle Review where I go over all the pros and cons to this appliance.
---
Ingredients: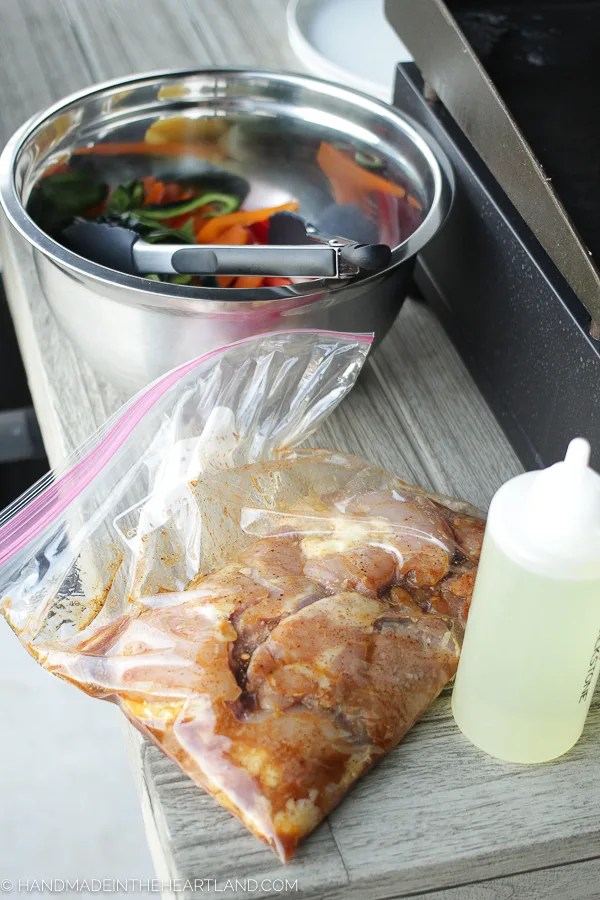 What makes a fajita a fajita? Did you know that Fajitas are a tex-mex creation. The standard for fajitas is that the meat and onions and peppers are cut into strips, grilled and served nice and hot! Here are the ingredients you'll need for these chicken fajitas.
Marinade ingredients– lime juice, honey, olive oil, grated garlic cloves, salt, cumin & chili powder. This combination is just so good!
Chicken Thighs–
Bell Peppers, Poblano Peppers & Onions– I love to throw in poblano peppers to add some variety. If you like spicy foods feel free to add a few hot peppers.
For serving– tortillas, avocados and cilantro. If you'd like feel free to add some cheese, queso or salsa! That's the beauty of Mexican food, it's a build your own style dinner.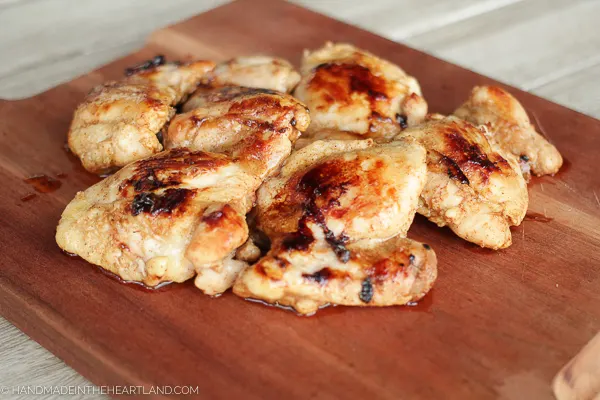 ---
How to prep chicken fajitas for camping
If you're taking your Blackstone griddle on the road you might want to do a few meal prep steps before you leave to make cooking at the campsite quick and easy. I would recommend these two prep steps:
Make the marinade and put the chicken with the marinade in a gallon size bag.
Slice all the onions and peppers and place them in a air tight container.
---
How to make Blackstone Griddle Chicken Fajitas
Step 1:
Make the marinade. I created a sweet honey lime marinade that makes the chicken thighs delicious! You can marinade the chicken overnight or just 30 minutes before cooking. Although I recommend at least a few hours to get the best flavor.
Step 2:
Preheat the griddle and then cook the chicken. The chicken should sizzle when placed on the griddle. You'll want to squirt a little bit of oil onto the cooktop before you add the chicken. Let the chicken cook for 5 minutes before turning to get a nice brown crust.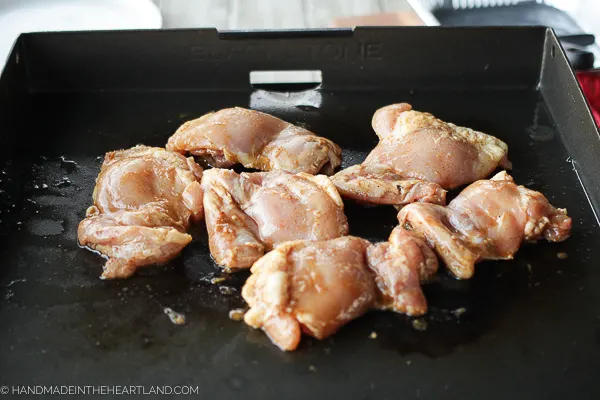 Step 3:
Turn the chicken thighs and then place a disposable aluminum pan on top of them to hold the heat in while cooking. Get your meat thermometer out to check for doneness. Chicken is done when the internal temperature is 165. If you don't have a meat thermometer get one! I use my thermopro almost daily!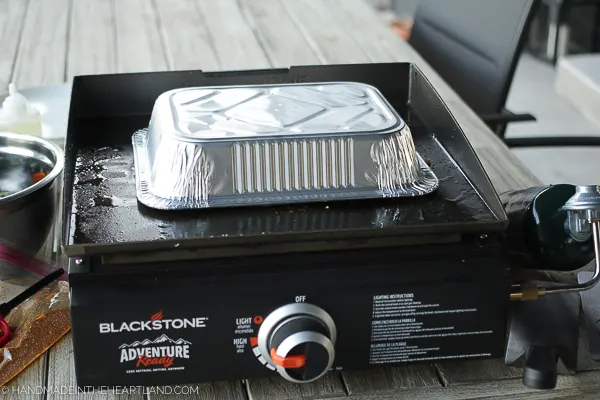 Step 4:
Cook the veggies! The amount of time you cook the peppers and onions is up to you. I like to use the same disposable aluminum pan and cover the veggies for 5 minute increments to get them to cook a little faster.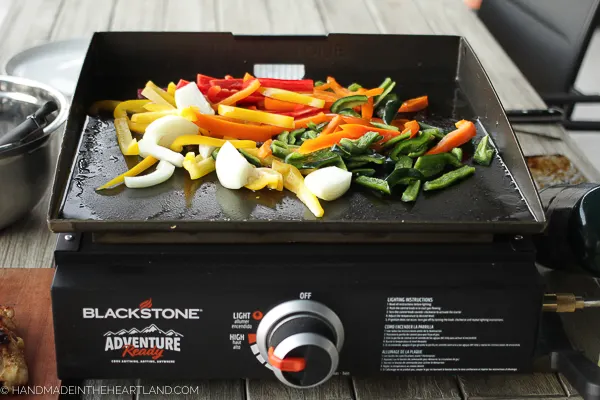 It is helpful to squirt a little bit of water on the peppers and onions after they've been cooking for a few minutes to help speed the process. I like my vegetables soft with a little bit of crispness still there. It took me 15 minutes to get to the doneness in the photo below.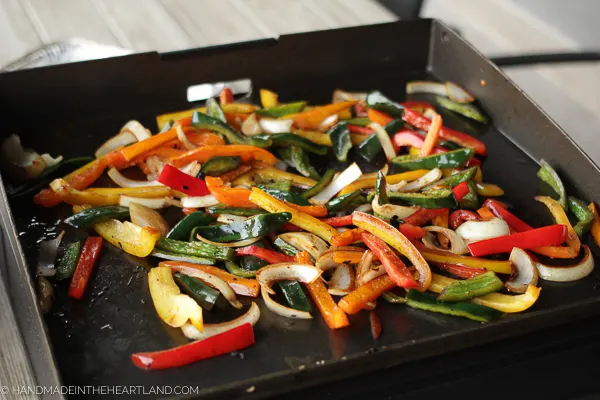 Step 5:
Assemble and serve! Our family likes flour tortillas, avocados and cilantro but assemble your fajitas anyway you like! Add some salsa, sour cream or guacamole, use corn tortillas or even throw the tortillas on the griddle. The best meal is where everyone can choose what they put on their own plate, fajitas are perfect for that!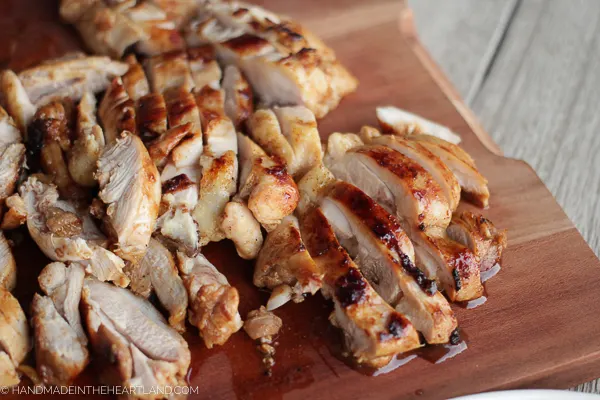 Looking for more Blackstone griddle recipes? Try my Blackstone griddle ribeye steak & mushrooms, it's so good!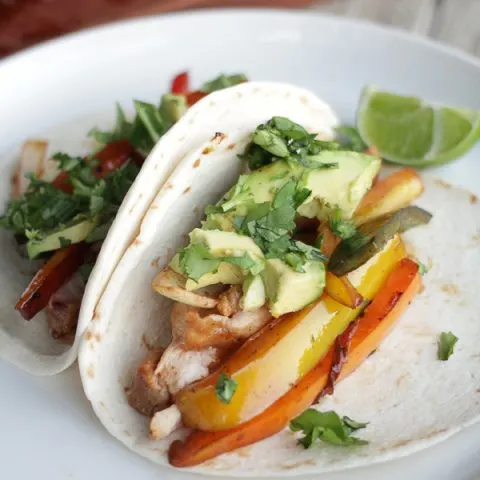 Blackstone Griddle Chicken Fajitas
Blackstone griddle chicken fajitas are a perfect dinner to make outside and enjoy with friends and family. This recipe is easy and delicious!
Ingredients
2lbs Chicken Thighs
2-3 Tablespoons Lime Juice
2 Tablespoons Olive Oil
2 Tablespoons Honey
2 Garlic Cloves, grated
1 Teaspoon Salt
1 1/2 Teaspoons Cumin
1/2 Teaspoon Chili Powder
3 Large Bell Peppers, sliced
2 Poblano Peppers, sliced
1 Onion, sliced
For Serving
12 Flour Tortillas
3 Avocados
1 Bunch Cilantro, chopped
lime wedges
Instructions
In a small bowl combine ingredients for marinade: lime juice, honey, olive oil, grated garlic cloves, salt, cumin & chili powder. Mix well. Place chicken thighs in a ziplock bag and pour marinade over them. Seal the bag and move the marinade around so it looks even distributed in the bag. Let marinade for at least 30 minutes, up to 24 hours.
Preheat the Blackstone Griddle for 10 minutes on high. Squirt a little bit of cooking oil (I use vegetable oil) over the griddle and place the chicken thighs on it. You should hear a sizzle. If the meat does not sizzle it's not hot enough. Let cook for 5-7 minutes without moving. This lets a nice brown crisp crust form.
Turn the chicken thighs and place an aluminum foil disposable pan on top of the chicken. Cook for 10 or so minutes. The internal temperature of the chicken thighs should be 165 to be done. If they aren't done flip again and cook 5 minutes longer.
Remove the chicken thighs and set aside. I like to put them in an aluminum foil pan with lid to keep them warm.
Squirt a little bit more oil on the griddle surface and then add the sliced peppers and onion. Toss in oil and then cover with the aluminum pan and cook for 5 minutes. Remove the pan and toss, squirt some water on the veggies and scrape up some of the drippings from the chicken on the cooktop and mix with veggies. Continue to cook the veggies in 5 minute increments under the pan until they are to your desired softness.
Serve the chicken fajitas in flour tortillas with the chicken, veggies, sliced avocados and chopped cilantro. Enjoy!
Notes
You can make the chicken marinade and slice the veggies ahead of time! If you are camping slice the veggies and prep the chicken with marinade at home before you leave, then all you have to do is pull them out and get cooking!
Recommended Products
As an Amazon Associate and member of other affiliate programs, I earn a small commission if you purchase something I recommend. I would never recommend products I don't love and use!
Nutrition Information:
Yield:

4
Serving Size:

1
Amount Per Serving:
Calories:

1347
Total Fat:

71g
Saturated Fat:

16g
Trans Fat:

0g
Unsaturated Fat:

52g
Cholesterol:

290mg
Sodium:

1656mg
Carbohydrates:

115g
Fiber:

17g
Sugar:

14g
Protein:

71g