This Caprese waffle iron panini is the perfect lunch to enjoy all summer while fresh tomatoes are at their peak! This post is sponsored by my friends at Sprouts, all opinions are mine!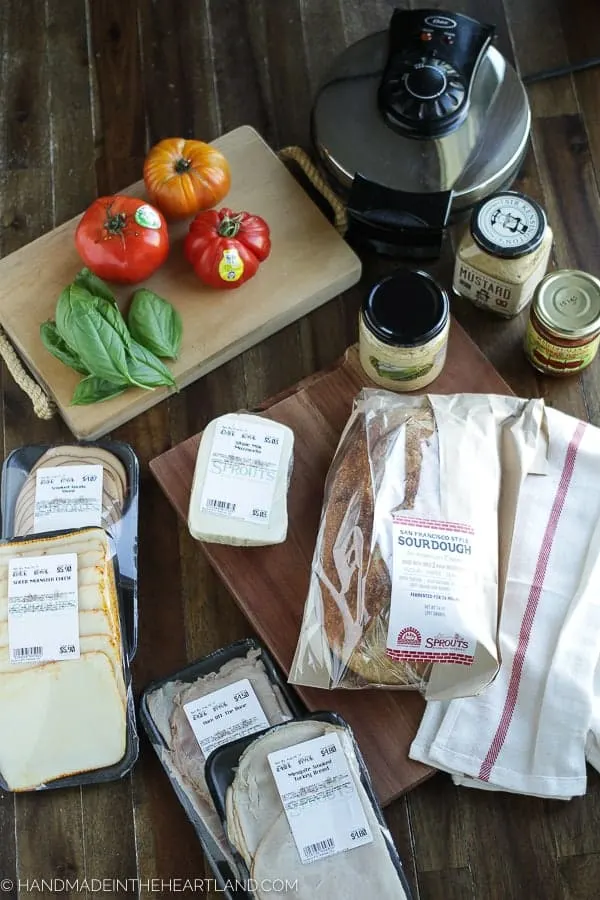 I don't remember who told me to use my waffle iron as a panini press- it was probably one of those "new uses for old things" in Real Simple- but it's freaking genius. Guys, the last thing I need in my house is another kitchen appliance! Making something you already own do double duty is totally the answer, now I just need to figure out what to do with the mandoline I haven't used because I'm afraid of cutting off my fingers. ????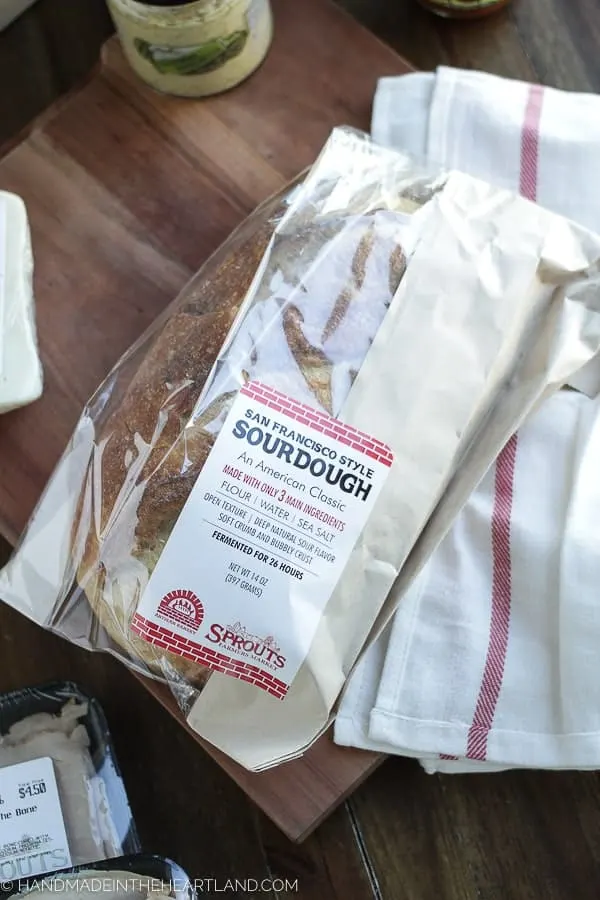 So paninis. Warm melted cheese, flavorful condiments and a hearty bread are all indicators of a really good panini. In my opinion the condiments might even be more important than the meat and cheese. I take that back, nothing is more important than cheese. But seriously, smearing something really flavorful on your bread makes all the difference!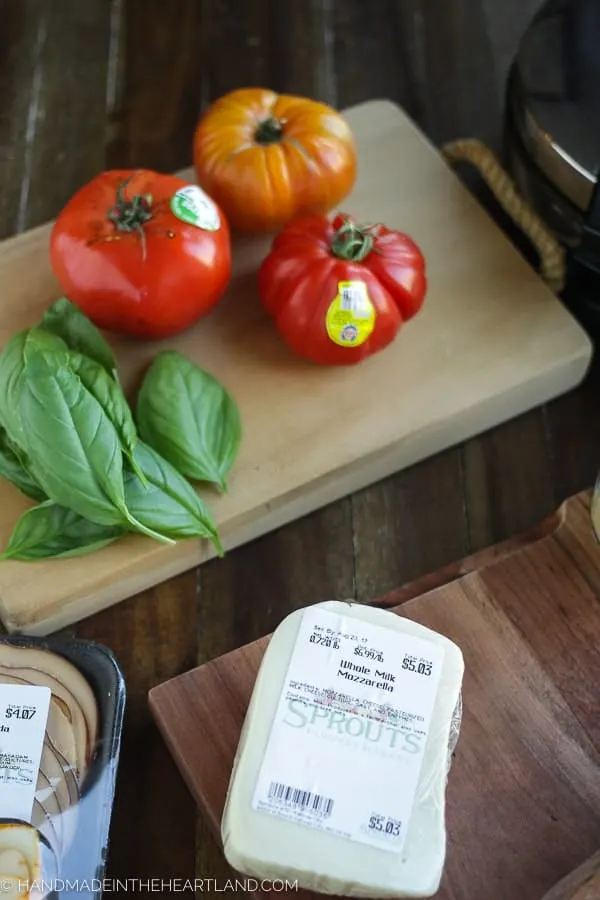 There are a million combination possibilities for paninis but today I'm sharing one perfect for the end of summer bounty of fresh tomatoes. A Caprese panini. You must have farm fresh tomatoes, if they came for your garden even better! Sprouts has some beautiful heirlooms that I used and they were delicious! The Sprouts whole milk mozzarella pictured above was perfect! It melted like a dream and tasted ahhhmazing.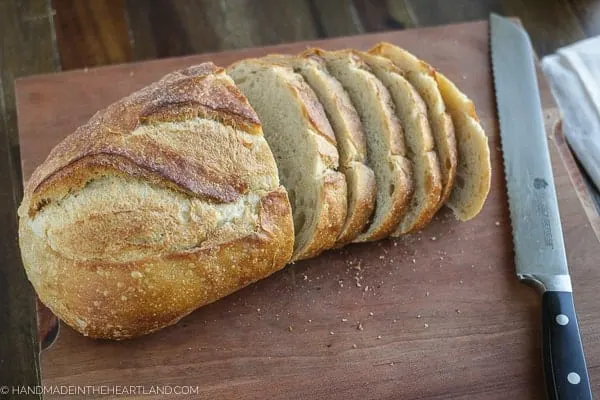 I used Sprouts sourdough loaf because of it's thick chewy texture, I also really enjoy the taste of sourdough bread. As I was browsing through the condiment aisle in Sprouts I noticed this sun-dried tomato tapenade and I'm so glad I grabbed it! I'm a huge fan of sun-dried tomatoes and this spread adds a flavor punch to this sandwich!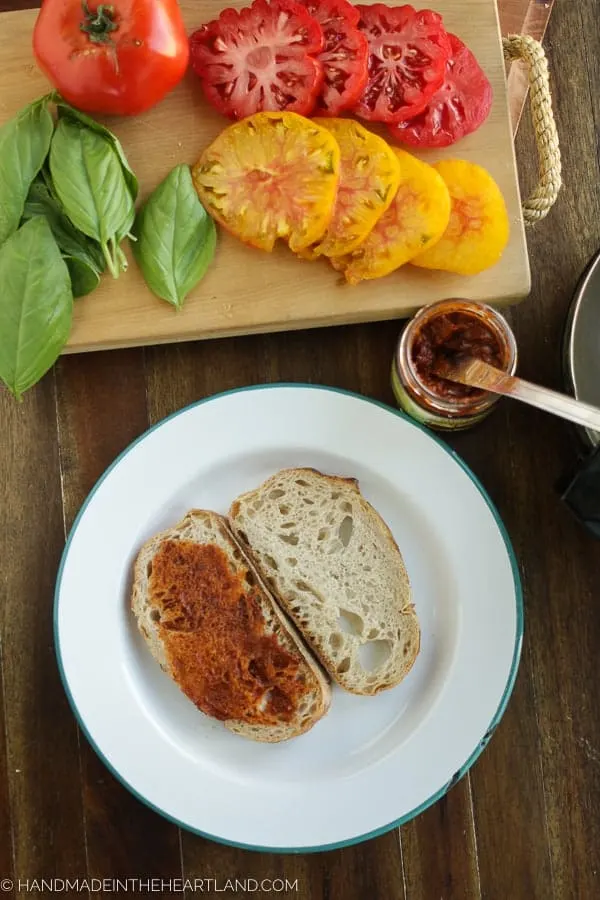 What's Caprese with out it?!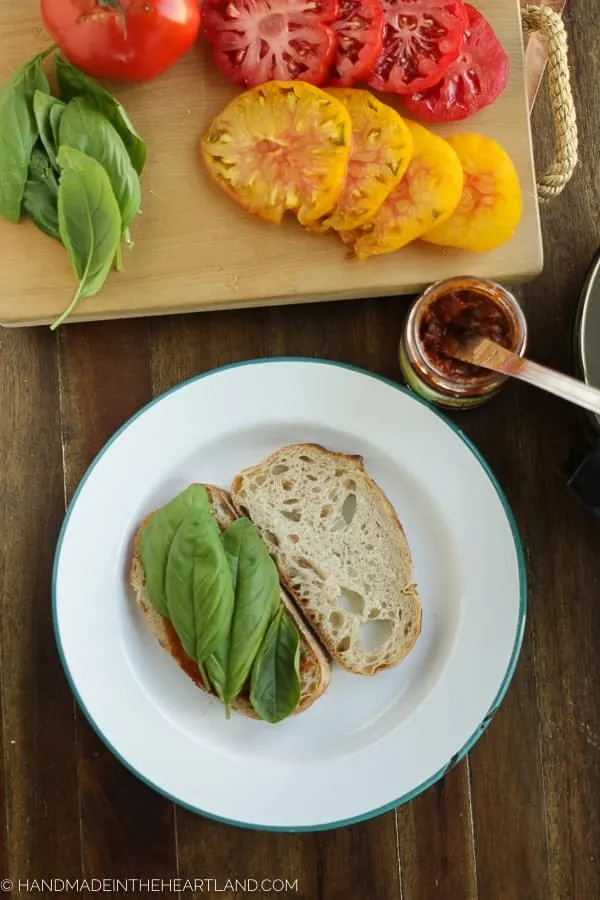 You can't beat the flavor of fresh tomatoes in the summer!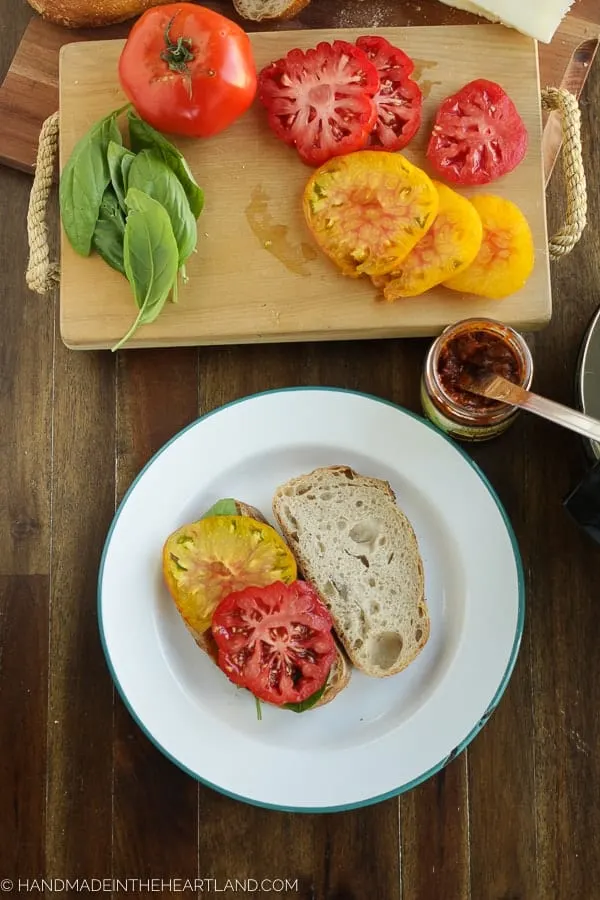 A big slice of fresh mozzarella completes the sandwich!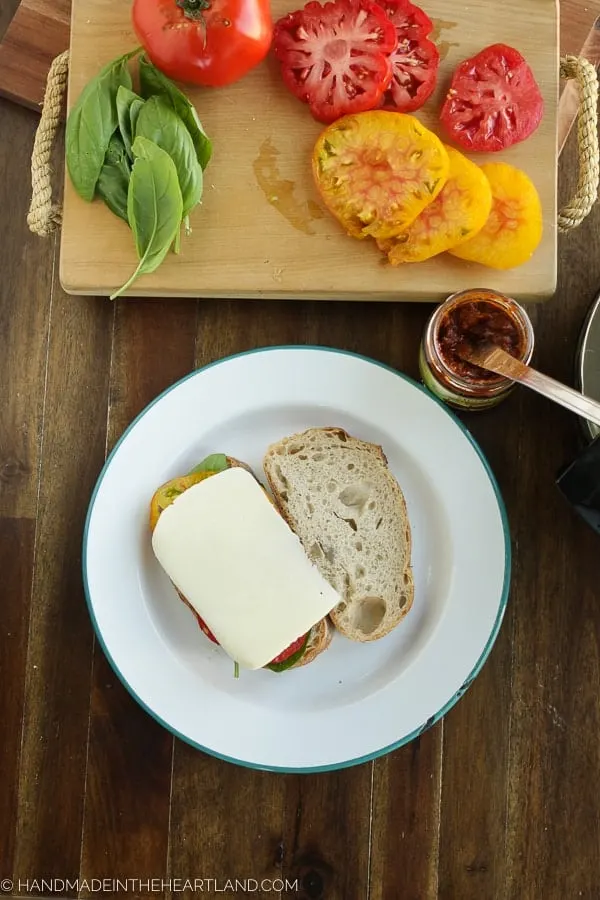 Now I'm not going to say that using a waffle press for a thick sandwich is flawless. Your top slice of bread will definitely slide a little to the front of the sandwich when you press the top of the waffle iron down. It's not going to be 100% perfect, remember you are using a waffle iron here. But guys, it gets the job done!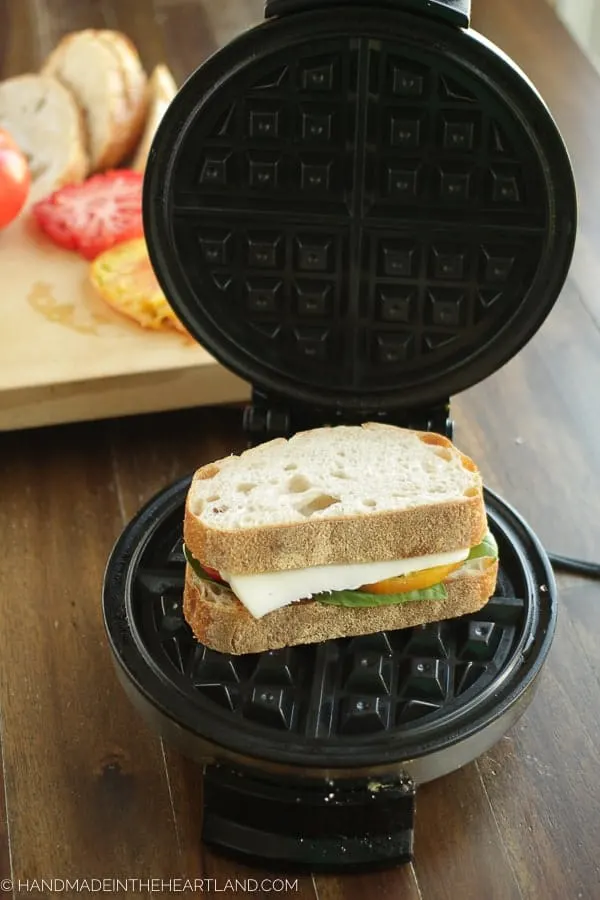 You're going to want to press that top down firmly on the sandwich smooshing it as hard as you can. Leave it there for a maybe 3-4 minutes, you should start to hear cheese sizzle.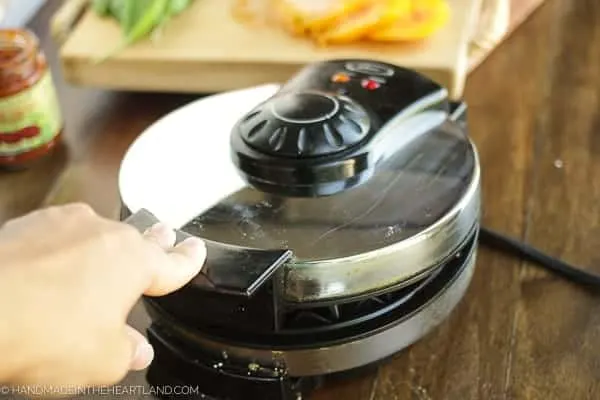 And… that's when you know you've done something right! The best indicator if it's "done" is if your cheese is melted. Pull it off your waffle iron and enjoy it nice and warm!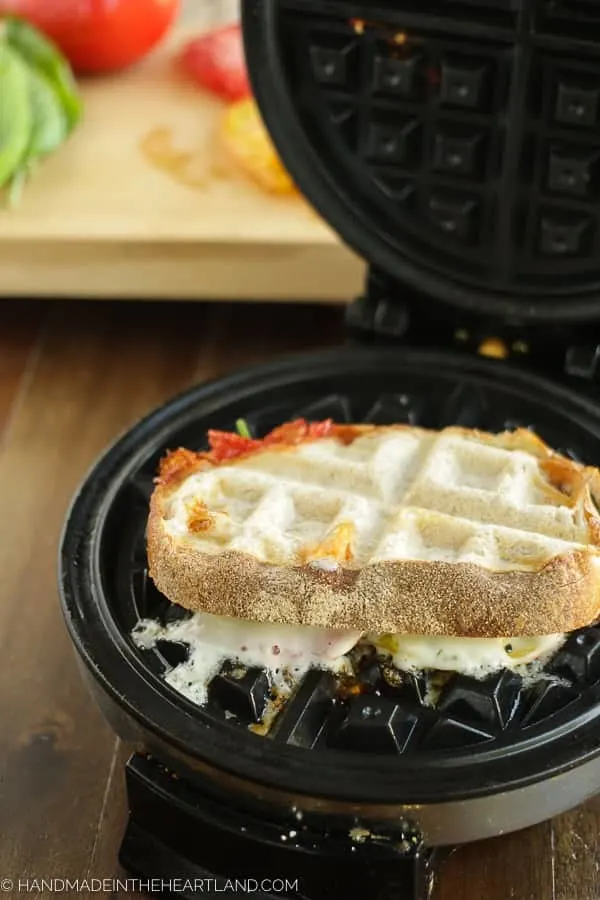 I do recommend using a non-stick cooking spray on the waffle iron before you put your sandwich in it just in case your bread wants to stick.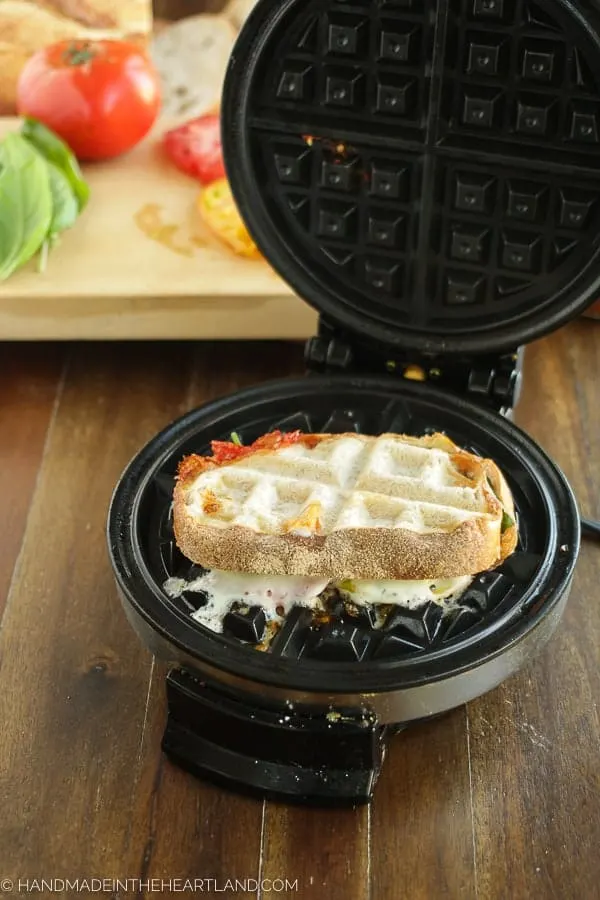 If you make these let me know! It makes me so happy to hear when you make recipes from the blog! I'd love to hear in the comments or tag me on Instagram (@handmadeintheheartland) or Facebook! There are endless combinations to try so please give me some more ideas!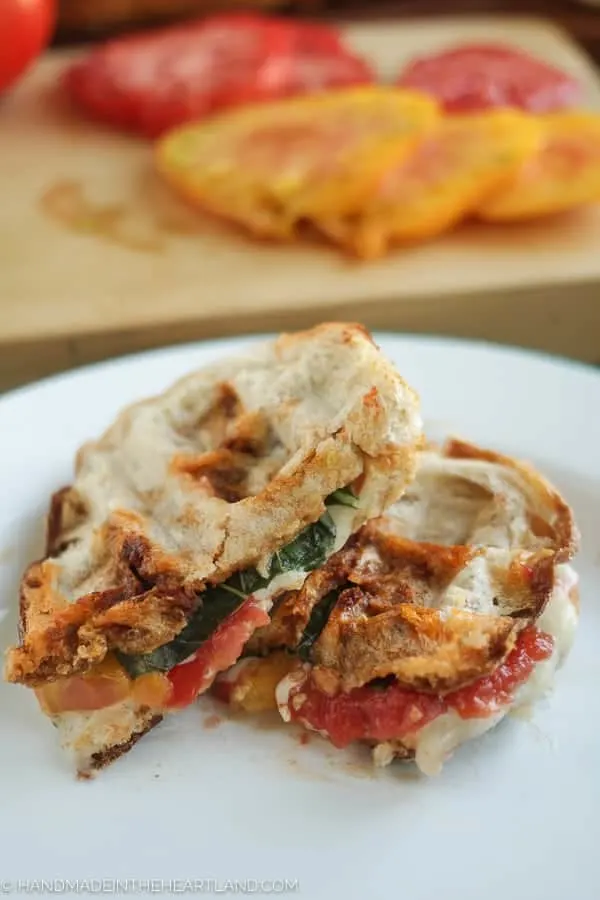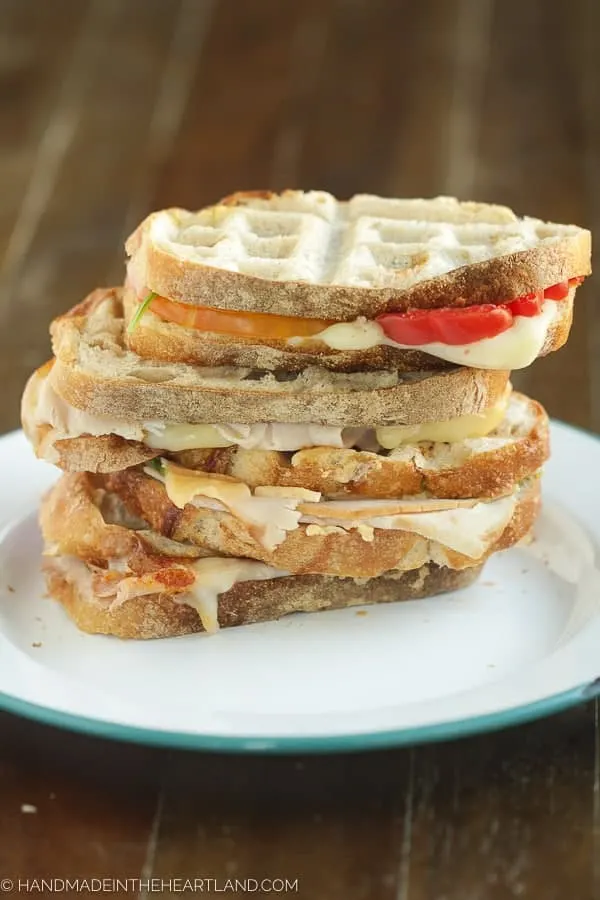 This caprese waffle iron panini is the perfect lunch or dinner to enjoy all summer while fresh tomatoes are at their peak!
Ingredients:
2 slices Sprouts sourdough bread
1 thick slice of Sprouts whole milk mozzarella
1 tablespoon Sun-dried tomato tapenade
3-4 large basil leaves
2-3 slices of fresh heirloom tomato
Cooking spray
Instructions:
Preheat a waffle iron.
Slice the sourdough loaf. Spread sun-dried tomato tapenade on slice of bread, layer with basil leaves, tomatoes and then cheese and the other slice of bread.
Spray the preheated waffle iron and then place the sandwich inside. Close the lid, you may need to press down firmly to squish the sandwich. Let cook for 3-4 minutes, or until the cheese is melted. You will hear the waffle iron sizzle with juices from the tomatoes or cheese spilling over. That's ok!
Remove the sandwich from the waffle iron and enjoy warm!