This recipe for chicken wonton salad is a delicious asian inspired meal, a perfect side for sweet thai udon noodles or a great lunch dish.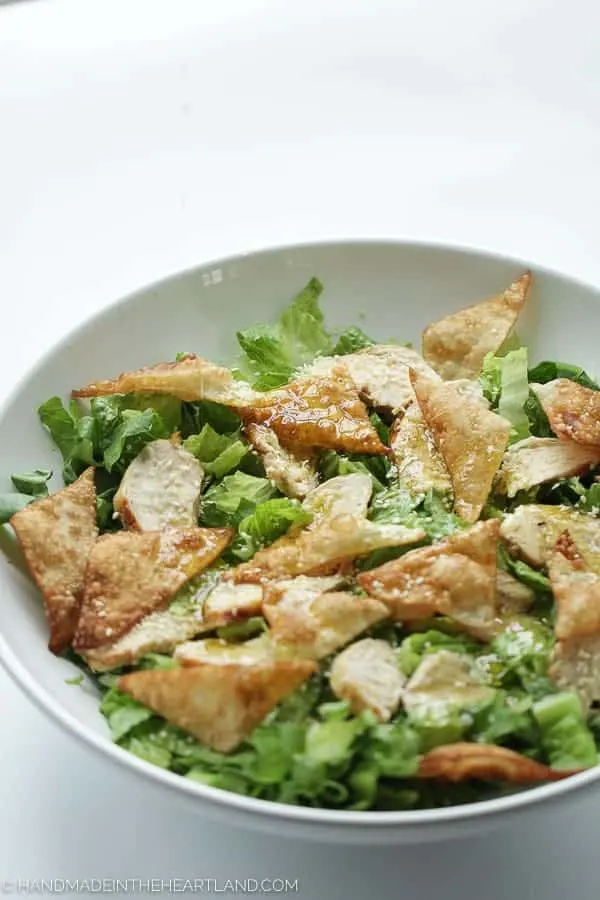 Salad, it's one of those things that I just don't get excited to make. Can someone please tell me how after eating for 15 minutes, not matter what salad I'm eating, it looks like I haven't even made a dent?! There are very few salads I get excited about and this just happens to be one of them. I have to give credit to my best friend Lindsay, it's her recipe, and just like my favorite fall off the bone ribs this one won't disappoint!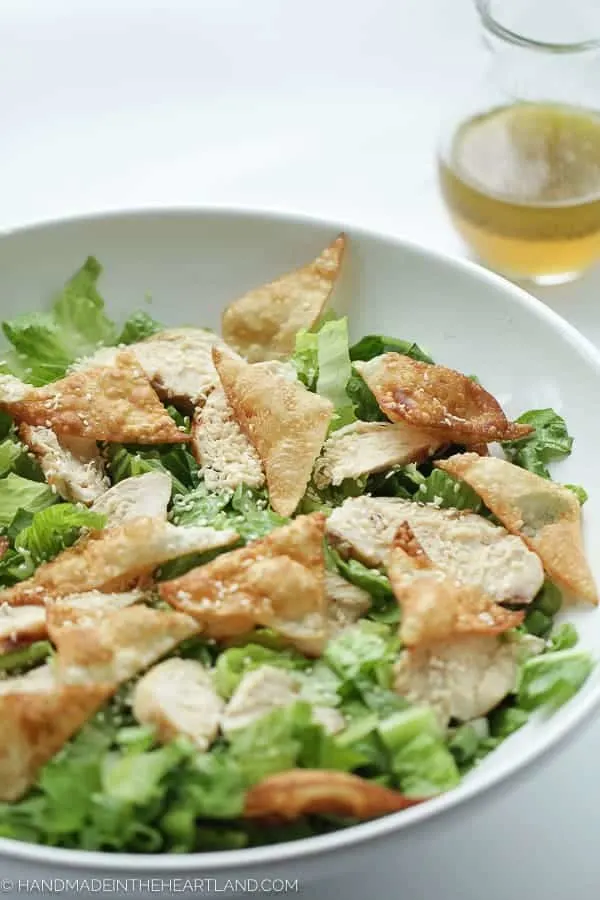 It's kind of amazing how delicious this dressing is with only a few very basic ingredients. Paired with the fried wonton wrappers and some chicken breasts this salad is the perfect light dinner you've been craving. Seriously! Leave out the chicken and whip it up as a side salad when you are serving another asian influenced dish, because I totally make side salads for my family…. ha! Maybe one day…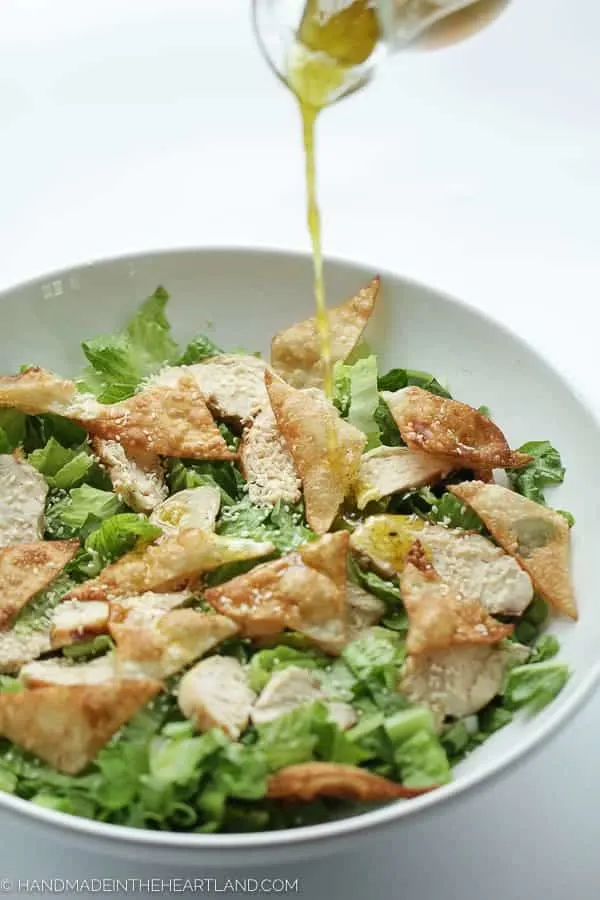 How to fry wonton wrappers
The trickiest part of this recipe is frying the wonton wrappers. First of all I found them in the refrigerated section at my grocery store. At Walmart they are close to the refrigerated produce. The first step is to cut them in half diagonally to make triangles.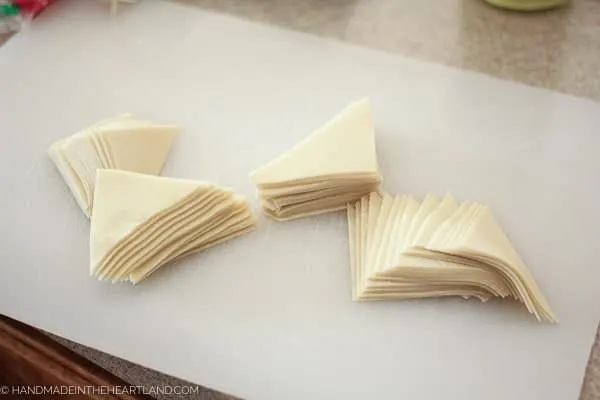 Next, heat vegetable oil to medium-high heat in a medium sized skillet. I find it easiest to fry when the oil is about 1/4-1/2 inch deep. You want the oil to be hot enough that when you place a wonton skin in the oil it immediately starts to sizzle.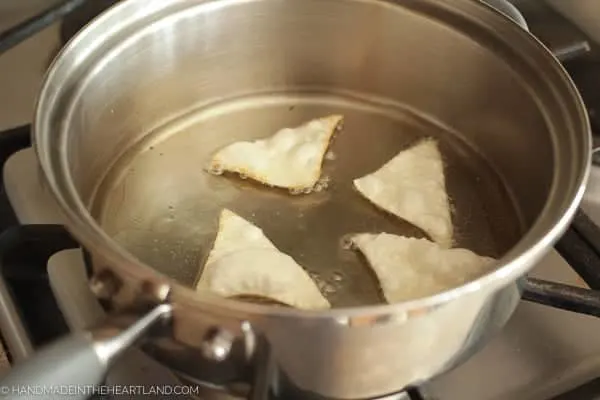 Last, you will flip them after they have been cooking for 3-5 seconds. You want them to be golden brown but not dark brown. If they get too dark they will taste burnt. Test 1 out first before you put 4 or 5 in the skillet at the same time. When you take them out lay them on a paper towel lined plate to cool off and dry. The paper towel should soak up any excess oil.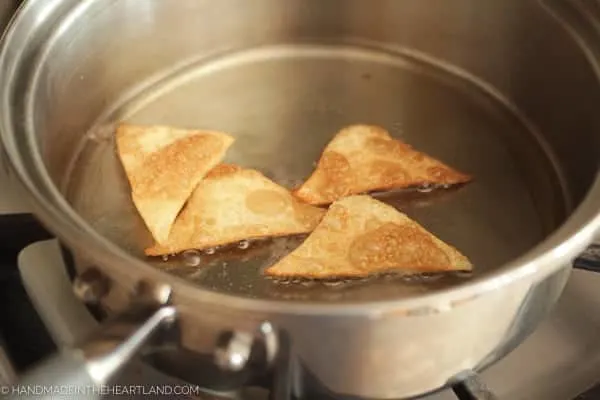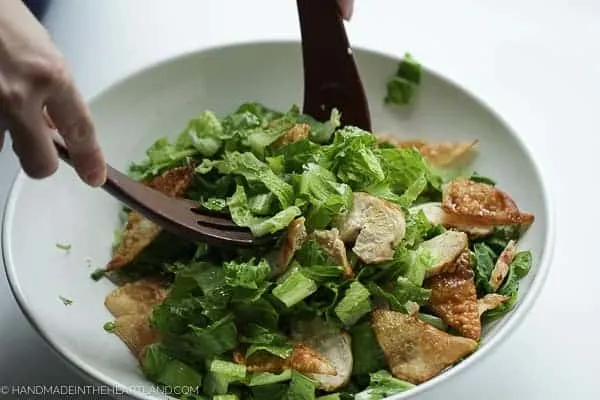 If you make this recipe I'd love to hear how you like it! Tag me on instagram @handmadeintheheartland, facebook or leave a comment! Happy cooking friends!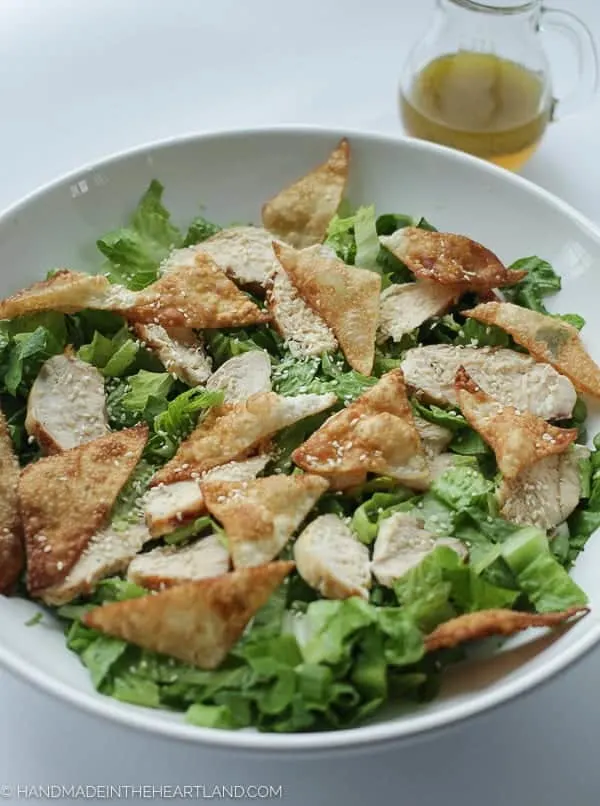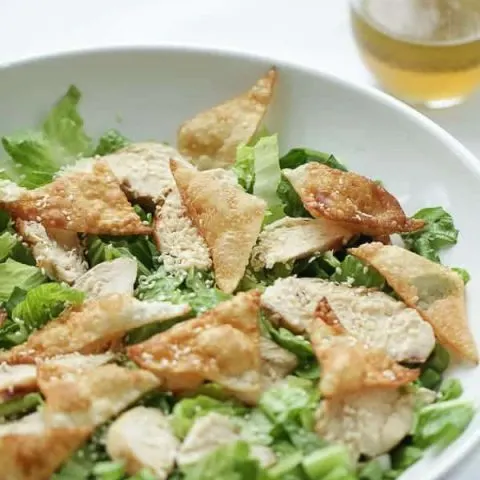 Chicken Wonton Salad
This chicken wonton salad is a light dinner or perfect lunch. The dressing adds a delicious asian flavor that you are sure to love!
Ingredients
2-4 cooked chicken breasts
1/2 pkg. wonton wrappers
vegetable oil
1 head romaine lettuce, chopped
4 green onions, chopped
2 tbsp toasted sesame seeds
Dressing Ingredients
2 tbsp sugar
1 tsp salt
1/2 tsp pepper
1/4 cup olive oil
3 tbsp rice vinegar
Instructions
Cook 2-4 chicken breasts. I like to grill or bake mine. Slice the chicken breasts and set aside.
Cut the wonton wrappers in half diagonally so they are shaped like triangles.
Fry the wontons. Use a medium skillet and heat enough vegetable oil to coat the bottom and fill so the oil is about 1/4 inch deep. Heat the oil to medium-high. The trick is to be hot enough so that as soon as the wrapper falls in it starts to sizzle and cook. Flip it after a few seconds 3-5 and it should be golden brown. You down want it too dark or it will taste burnt. Fry 15-20 triangles and set on a paper towel to cool and dry.
Mix together the sugar, salt & pepper, olive oil and rice vinegar for your dressing.
Toss all ingredients together and enjoy!
Recommended Products
As an Amazon Associate and member of other affiliate programs, I earn a small commission if you purchase something I recommend. I would never recommend products I don't love and use!
Nutrition Information:
Yield:

6
Serving Size:

1
Amount Per Serving:
Calories:

288
Total Fat:

16g
Saturated Fat:

2g
Trans Fat:

0g
Unsaturated Fat:

12g
Cholesterol:

68mg
Sodium:

461mg
Carbohydrates:

10g
Fiber:

3g
Sugar:

6g
Protein:

27g