With this list of 40 FREE boy Valentine cards you're sure to find a card that your kiddo will love. From sports to gaming and jokes to emojis, this list has something for even the most Valentine averse boy.
This post contains affiliate links which means I make a small commission if you purchase something I reccomend.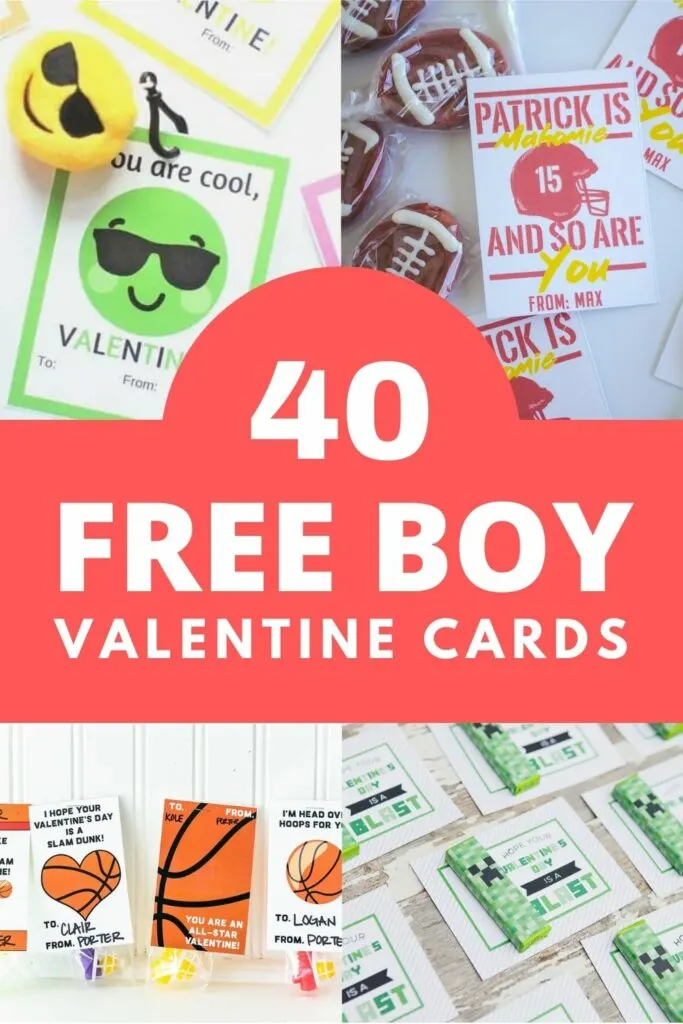 If you have an elementary age boy, specifically in grades 3-5 you know the struggle of Valentine's day. My 9 year old want's nothing to do with anything that has to do with love, so coming up with a Valentine card to give out is always a struggle.
I put this list together of 40 FREE Valentines cards that boys will love. And there's no reason girls wouldn't love these as well! All the cards on the list are free printables that you can download and print at home.
Tips for printing Valentine cards at home
Use card stock. Thick paper makes all the difference. I love this 110lb pack from Walmart. Or this cardstock on Amazon.
Get a good color printer. If you are looking for a printer I'm still in love with my Canon Pixma, Read my Canon Pixma Review
OR print at a print shop. If you don't have a good color printer and don't feel like investing you can easily send any of the files you download to your local print shop like office depot or staples.
Use a paper slicer. Cutting is SO much easier with a paper slicer. Check out this Fiskars Paper Slicer.
Other supplies you might want for Valentine Cards
Free Valentine Cards for Boys
Trying to find valentine cards your elementary age boy will like is quite the task! This list has 40 FREE printable valentines are all great for older boys who still have to take Valentines to school.