Grilled bacon wrapped shrimp skewers are the perfect recipe for a summer dinner with friends and family. You can prep these skewers in advance to save you time! This post is sponsored by Smithfield, the recipe and all opinions are honestly my own!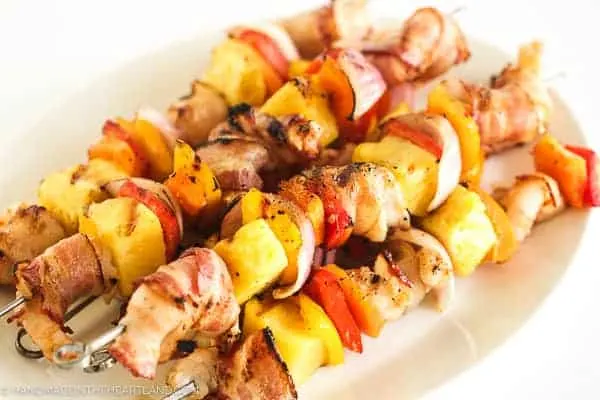 It's summer! You know what that means, it's super hot here in Missouri and we are using our grill as much as we can. I get a little sick of the same old hamburger and hot dog routine and so I've started coming up with other recipes to grill. These Grilled Bacon Wrapped Shrimp Skewers are delicious, flavorful and a crowd pleaser! How could they not be with bacon wrapped shrimp?!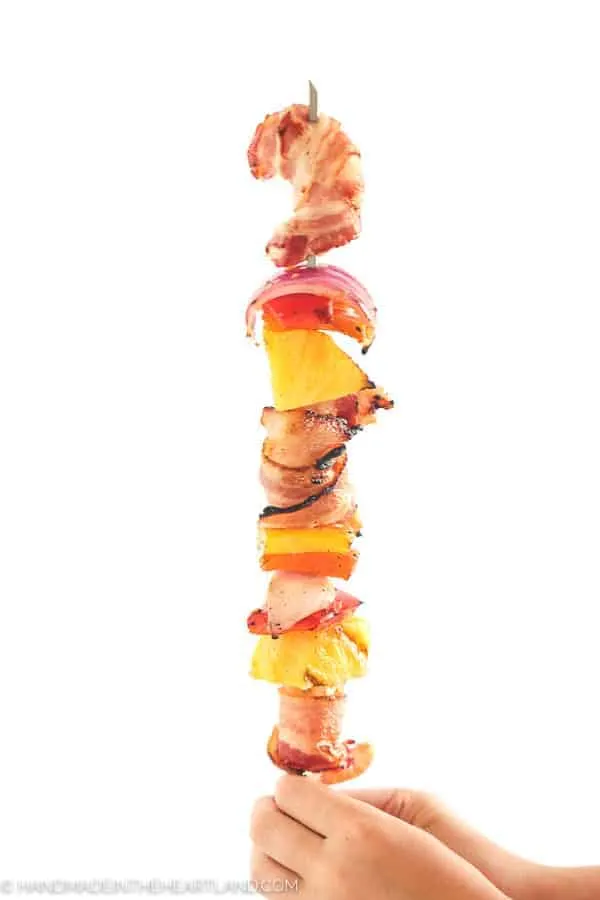 HOW TO MAKE GRILLED BACON WRAPPED SHRIMP SKEWERS:
I made a delicious coconut, honey and lime marinade that adds so much delicious flavor to the veggies, shrimp and bacon. You'll want to marinade all the ingredients at least 4-5 hours in advance. You could easily do it the night before and let them sit for 12-15 hours. It may take you a few minutes earlier in the day to prep this dish, but I promise this is a recipe you'll want to share.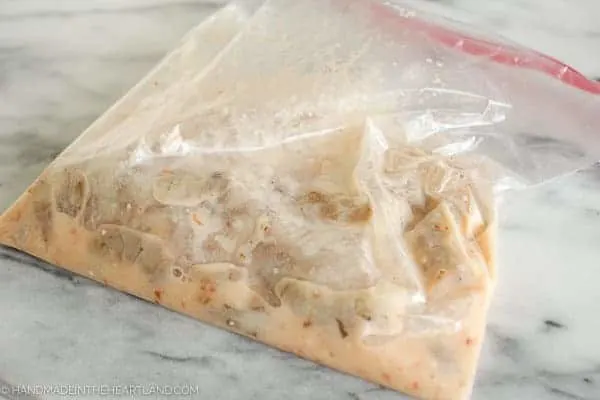 Shrimp cooks a lot quicker than most items you put on your grill so it's important that you cook your Smithfield Hometown Original Bacon until it is almost done before you wrap the shrimp and skewer them. I like to cook my bacon in the oven on aluminum foil, it's SO much easier to clean up than cooking bacon on the stove. To get them right around done, but not crispy I cooked them at 350 degrees for 15 minutes.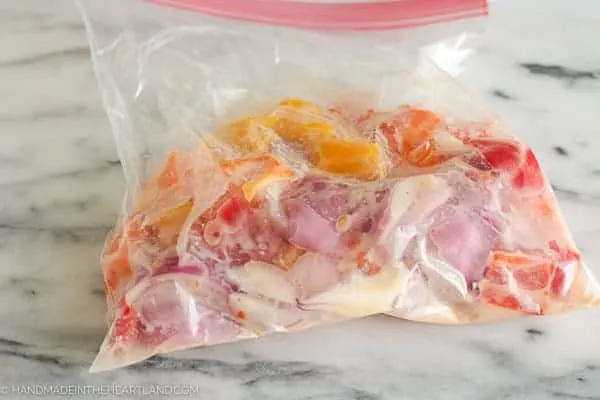 For these skewers I used bell peppers and red onions for my vegetables. Use whatever veggies sound good to you! I love the color and sweet, crunchy flavor that the bell peppers add and, however you could add any veggies that you like. The one thing that cannot be missed is the pineapple. I cut up one entire pineapple and used about 1/2 of it, those big, sweet, juicy chunks of pineapple make this entire skewer so tropical and wonderful!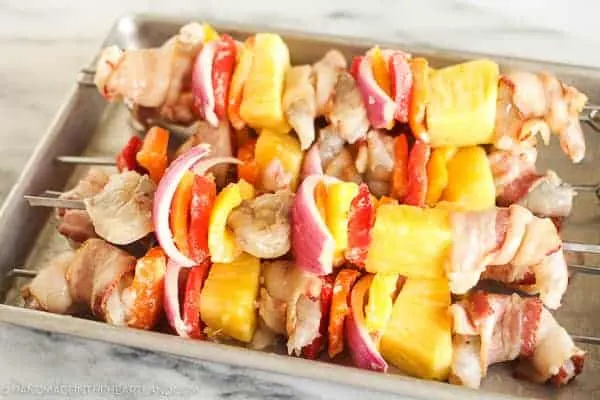 This recipe would not be the same, however, without The Smithfield Hometown Original Bacon. Bacon is a major crowd pleaser around here and even though it can be enjoyed perfectly on its own or as part of a morning side dish, we love it incorporated into this fun recipe! Check out the video for a step by step visual on how to make these skewers:
Smithfield's bacon is known for being smoked and cured to perfection and is available in a wide variety of flavors and cuts, like Cherrywood, Thick Cut and of course the classic Hometown Original used for our Grilled Bacon Wrapped Shrimp Skewers.
WHAT TO DO AT A LARGE BBQ
Often times when we have large gatherings with friends and family we like to play some type of games. The kids often end up coming up with their own games to play but they are always thrilled when the adults join in and we can play together. My kids love when we get involved, I'm sure yours do too. We are hosting a large group of friends for the 4th of July and I've been planning a large group relay race that everyone can be involved in. It works like this:
HOW TO PLAY A LARGE GROUP OUTDOOR RELAY RACE: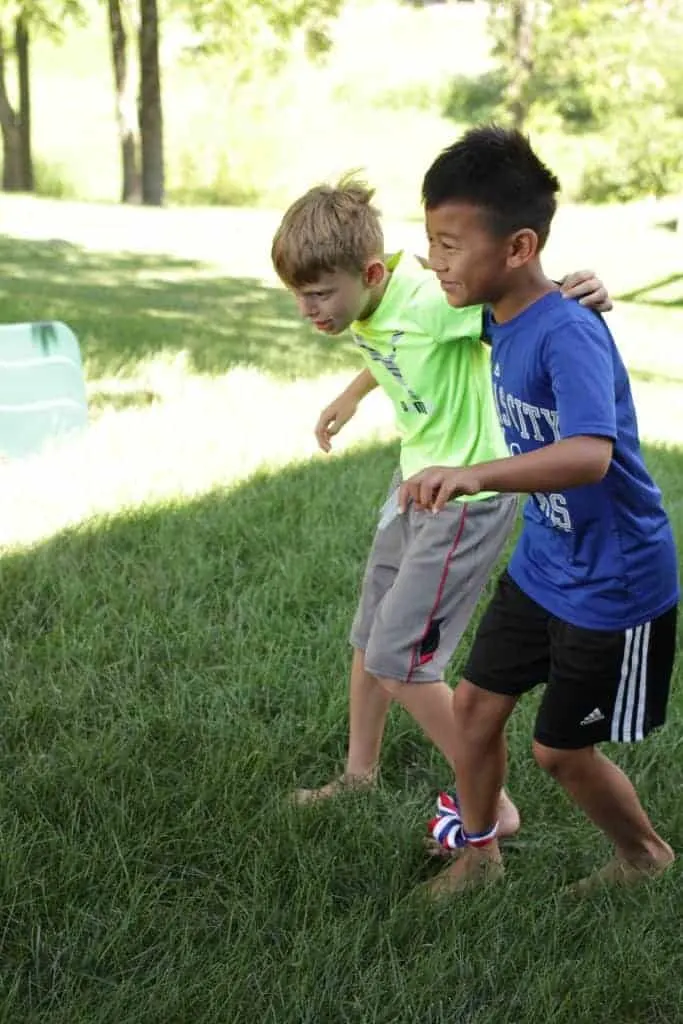 Divide your group up into 4-6 teams.
Set up cones on either end of your yard or field where the race will be held. Set up supplies at each end for each team to complete the different legs of the relay.
Relay legs include:
1. Carry an egg on a spoon.
2. Toss a water balloon into a bucket without breaking. Fill the bucket halfway with water. (You'll want to have multiple extra balloons for each team.)
3. Three legged race. You'll need a long piece of fabric to tie legs together.
4. Balance a plastic cup on head.
5. Balloon Pop. Run to the opposite side, sit on a balloon until it pops.
5. Ping Pong Shake. For this activity, you'll need to prepare large empty tissue boxes ahead of time. Cut the back side of the boxes to make two slits approximately 4 to 5 inches apart. Slide belts through the slits in each box, fill the boxes with table tennis balls, strap the belts around the participant's waists, and challenge them to shake the balls out of the box, the opening where the tissues comes out will be where they come out from.
6. Car Wash Relay. Finish off with the entire team having to pass a sponge filled with water over their heads and empty it into an empty bucket. The first team to fill the bucket with water wins. It helps to draw a line on the inside of the buckets of where the "full" line is.
This relay incorporates all your favorite field day games into one big relay. Compete by grouping the teams together in fun ways- for example, kids vs. adults or each family together competing against each other. What are your favorite field day games, can you think of any other legs to this relay that would be fun? I'd love to hear in the comments!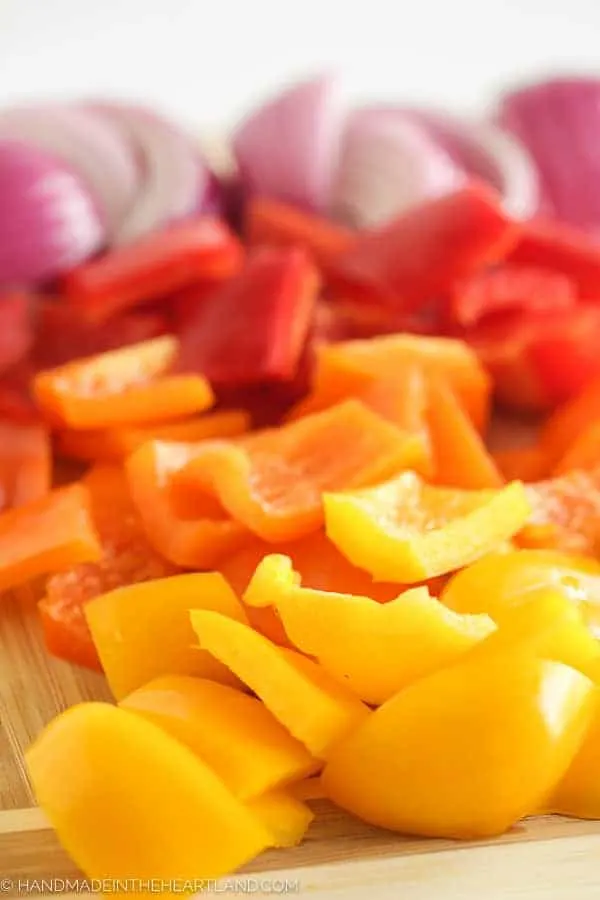 I can't wait to hear how much you love these grilled bacon wrapped shrimp skewers! Be sure to share with me in the comments of this post or tag me on facebook or instagram!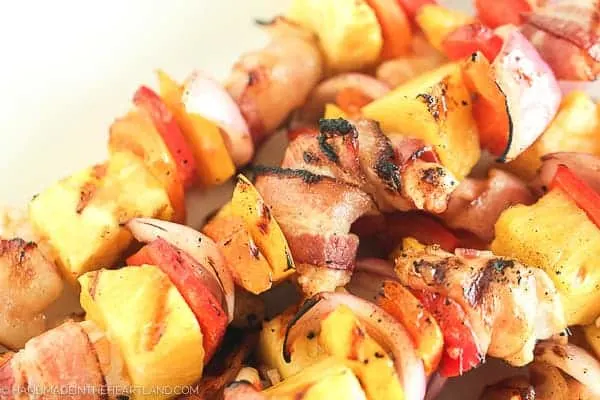 This is a sponsored post written by me on behalf of Smithfield.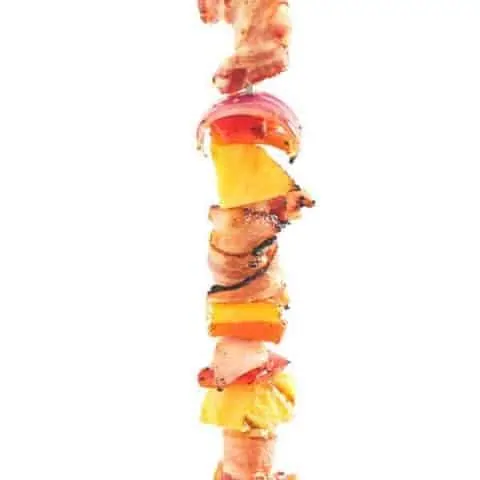 Grilled Bacon Wrapped Shrimp Skewers
Grilled bacon wrapped shrimp skewers are the perfect recipe for a summer dinner with friends and family. You can prep these skewers in advance to save you time!
Ingredients
1 package Hometown Original Smithfield Bacon
1 lb large raw shrimp, peeled and deveined
1 pineapple, cored and cut up into large chunks
2-3 bell peppers, chopped into large pieces
1/2 red onion, cut into large pieces
3/4 cup canned coconut milk
1/2 cup sweet Thai chili sauce
2 limes, juiced
2 tablespoons honey
1 tablespoon fresh grated ginger
Instructions
Make the marinade by mixing all ingredients together. Divide the marinade into 2 gallon size ziplock bags and place the shrimp in one bag and the cut up vegetables in the other. Seal bags and let marinade for 4-6 hours or overnight.

Cook 1 package of Smithfield Hometown Original Bacon in the oven at 350 for 15 minutes, it should be done but still flexible, not crispy.

Remove the shrimp and veggies from marinade into a strainer to remove excess marinade.

Wrap the bacon around the shrimp and then place it on a skewer, layer on your skewer bacon wrapped shrimp, veggies, chunk of pineapple and then repeat. I could fit 3 layers on my 12" skewers. It helps the shrimp and bacon to stay on the skewer if you put the skewer through the shrimp in two places- squeeze the shrimp into a U shape and put the skewer through both ends.

Preheat your grill to 400 degrees. Place the skewers on the grill and close the lid. Let cook for 3-4 minutes and then turn each skewer to the other side. Let cook for 3-4 minutes. Make sure that your shrimp have turned pink. Remove and enjoy hot! There might be some flames due to the grease from the bacon, keep a spray bottle with water close by in case you need to spray down any flames.
Recommended Products
As an Amazon Associate and member of other affiliate programs, I earn a small commission if you purchase something I recommend. I would never recommend products I don't love and use!