Superfood Peanut Butter Chocolate Energy Bites
These superfood peanut butter chocolate energy bites are the perfect way to curb hunger and add a healthy snack into your day. Made with Amazing Grass® Green Superfood® you can be sure you're getting extra greens, fruits and veggies with every delicious snack bite! This post is sponsored by Amazing Grass® Green Superfood® at Sam's Club, and all opinions are honestly mine.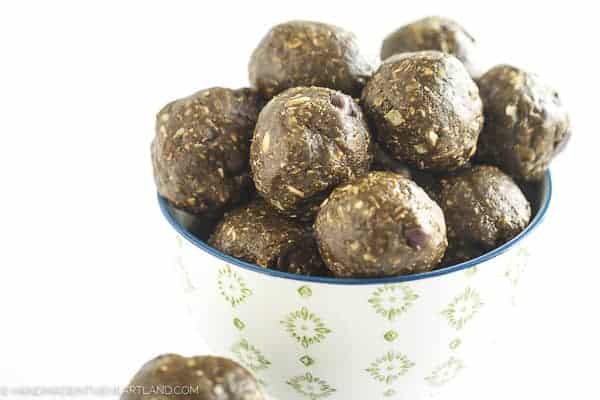 I am always looking for more ways to add nutrients into mine and my family's diet. Knowing that one small scoop of Amazing Grass contains 2 full servings of fruits & veggies has me wanting to incorporate it into many recipes as possible.  I picked up Amazing Grass at Sam's Club in the vitamin area and the container has 45 servings in it!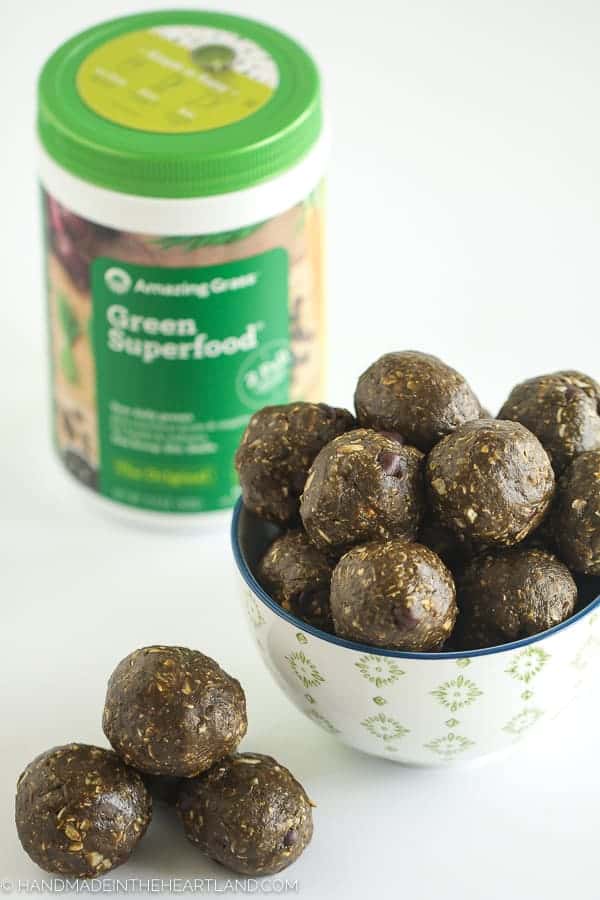 Between May 10 – June 4, Sam's Club is offering a $4.00 savings on every tub of Amazing Grass Green Superfood Original in store and online.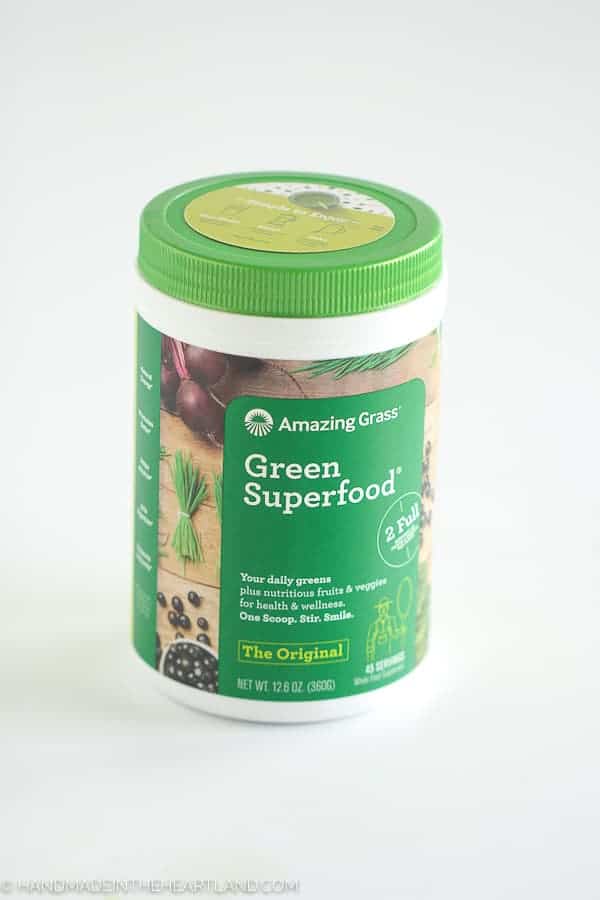 The Amazing Grass serving suggestion is to mix it into water, juice or smoothies. I tested it out in just plain water to see how strong the taste was because let's be honest, my kids are not going to eat anything if they take a bite and it tastes gross to them. I'm so happy to report that Amazing Grass has a mild taste, even when mixed with just water. There is definitely a green after taste when just mixed with water but, it's so minimal with juice or in a smoothie that my kids don't notice a difference.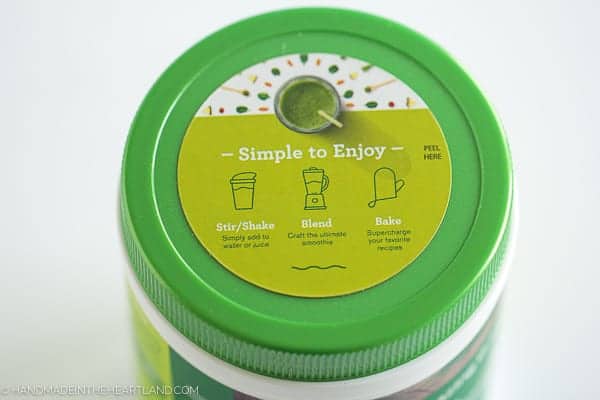 A great way to easily enjoy Amazing Grass is to add it to recipes like these energy bites. Guys, these energy bites are so good. You know that I'm a huge fan of peanut butter and chocolate so of course I'm going to love these. This recipe is super simple to mix up and make your own. Try almond butter or cashew butter instead of peanut butter, skip the cocoa powder or add in some dried cranberries. The possibilities are endless which Pinterest attests to.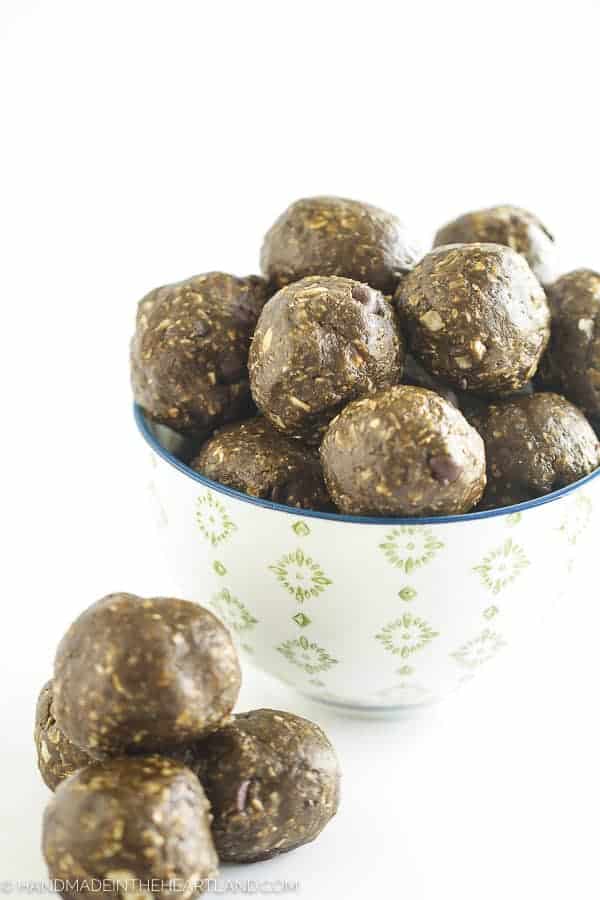 Adding Amazing Grass to any combination gives these bites a ton of added nutrients! Win-win!
Amazing Grass is super easy to use. I'm going to be adding it to pancakes, waffles, muffins, smoothies and anything else I can think of that won't be too disturbed by being colored green. 🙂 I figure I'll just tell my kids they are the HULK pancakes. ha! I love that it's packed with organic greens, wholesome fruits and veggies, plus nutrient-dense superfoods. My kids are always lacking in veggie intake!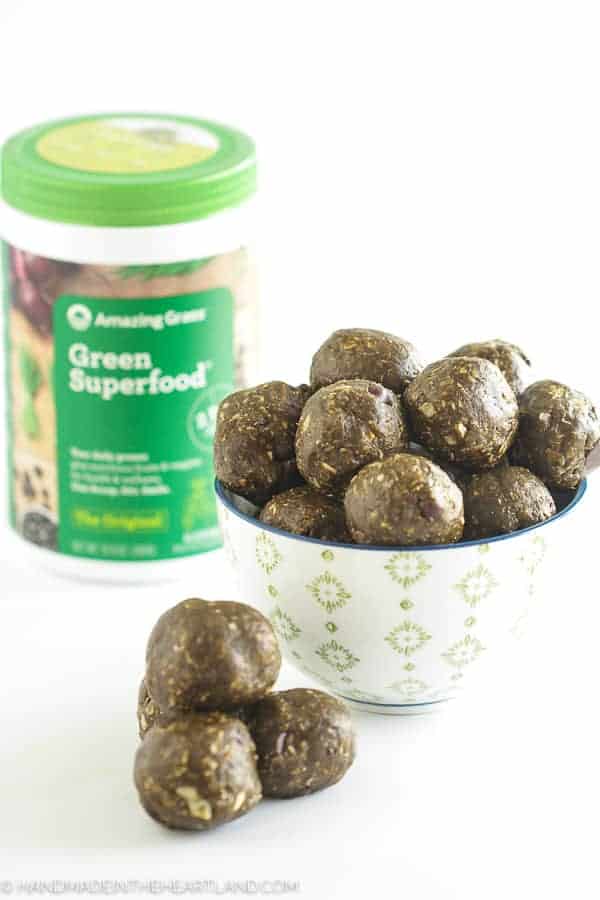 These superfood peanut butter chocolate energy bites are simple and quick to make. Dump everything in your mixer and then form them into balls and pop in the fridge. When I make them again I'll make sure to pick up some mini chocolate chips, I think they would be better for distributing throughout the ball.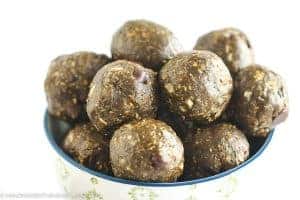 Print
Superfood Peanut Butter Chocolate Energy Bites
Yield 20 bites
Ingredients
3 cups oats

3 scoops

Amazing Grass

1 cup coconut flakes

1 tablespoon cocoa powder

1 tablespoon ground flax seed

1 tablespoon vanilla extract

1 cup natural peanut butter

3/4 cup of honey or agave

1/2 cup chocolate chips (mini chocolate chips would be perfect)
Instructions
Add all the ingredients into the bowl of a stand mixer and mix with the paddle attachment until everything is combined.

Spoon out and form into balls, mine were slightly bigger than what I would make for cookies, so like 1 1/2

″ diameter.

It should make about 20-25 at this size.

Keep in an air tight container in your fridge.
Courses Snack
When you make these be sure to tell me about it! I love to hear your experience with recipes on the blog! Leave a comment or tag me on instagram @handmadeintheheartland or facebook ! 
This post is sponsored by Amazing Grass and all opinions are honestly mine. This is a sponsored post written by me on behalf of Amazing Grass® Green Superfood® Original.
I love how easy energy bites are to make, a few years ago when I was nursing my 3rd baby I made Fenugreek Lactation Bites that helped increase my milk supply. Be sure to check that recipe out and share with any of your nursing mama friends. 🙂
Creative Inspiration in your inbox!
Subscribe to get holiday ideas, delicious recipes and fun crafts sent directly to your inbox every Thursday!