These pulled pork tacos with cilantro lime aioli are perfect for dinner any night and ideal to make for a celebratory Cinco de Mayo!
This post contains affiliate links. An affiliate link means that I make a percentage of the sale if you click over and buy the item I recommend with no extra charge to you.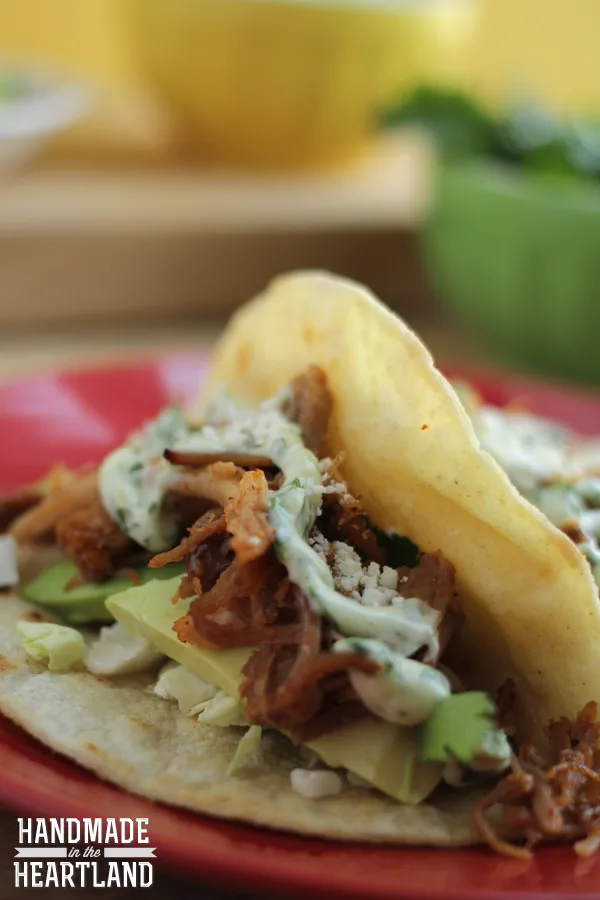 I love a good taco and I know I'm not alone! Taco Tuesday, anyone? Cinco de Mayo is right around the corner and you'll need to whip up something festive for your family and friends. Give this easy pulled pork taco recipe a try, you won't regret it!
Is Carnitas the same as pulled pork?
No, not all pulled pork is consider carnitas. Both carnitas and pulled pork are made by cooking a pork shoulder slowly until soft, tender and easy to shred. However carnitas are then roasted in an oven after shredding to create crispy edges. This extra step does create a tasty product and it's easy to do this for these tacos, but not necessary.
For these tacos I use my favorite slow cooker pulled pork recipe, I have instructions for how to make the pulled pork in a slow cooker or instant pot. In that post I also give you a lot of information on which cut of pork is best for pulled pork, how long to cook it, and how to make the best tasting full of flavor pulled pork!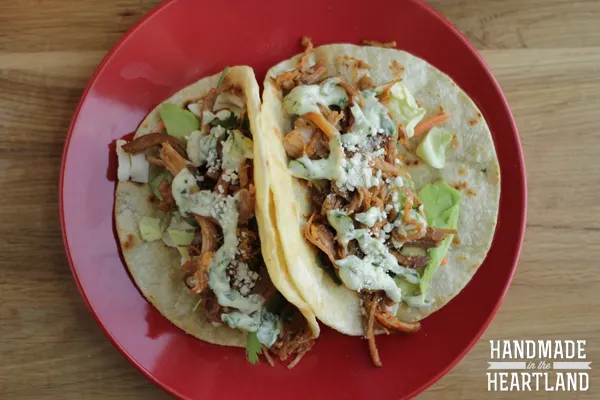 Isn't pulled pork so versatile? I love a great pulled pork sandwich but this is the perfect "leftover" meal a few days after you eat BBQ sandwiches. It feels like a new meal but the item that takes the longest is already prepared!
My recipe for pulled pork makes about 5 cups of pulled pork, for our family of six that's usually enough to make two meals. When I'm ready to make tacos all I have to do is heat up the pulled pork, warm up some tortillas, whip up the cilantro lime aioli, cut up a few avocados and bam! dinner on the table! I love when I can make a really good meal out of leftovers!
What is Cilantro Lime Aioli?
Aioli is basically just a fancy version of mayo. Typically you'll see garlic aioli on sandwiches or served with sweet potato fries. I decided to do a Mexican take on aioli for a taco topping. Mixed with lime zest, lime juice and cilantro your simple store bought mayo becomes a flavorful cilantro lime taco sauce!
Honestly, the cilantro lime aioli throws these tacos into the "I want more" category, literally so good! We often have bbq sauce on our pork and the aioli plays well with bbq flavors. It's all delicious 🙂
How long will aioli last?
If you don't use all the cilantro lime aioli with your tacos you can save it in the fridge in an airtight container for 3-5 days.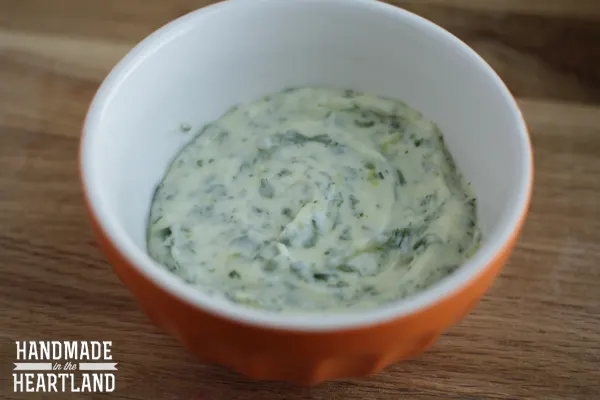 What to serve with pulled pork tacos?
If you are serving these for a fun party or gathering and not just for weeknight dinner you might want to have some sides to serve. I love to serve this with my favorite Mexican corn salad, you can eat it on the side or in the taco, yum! Here are some other ideas for sides:
Black Beans
Mexican Rice
Refried Beans
Chips & Guacamole
Mexican Chopped Salad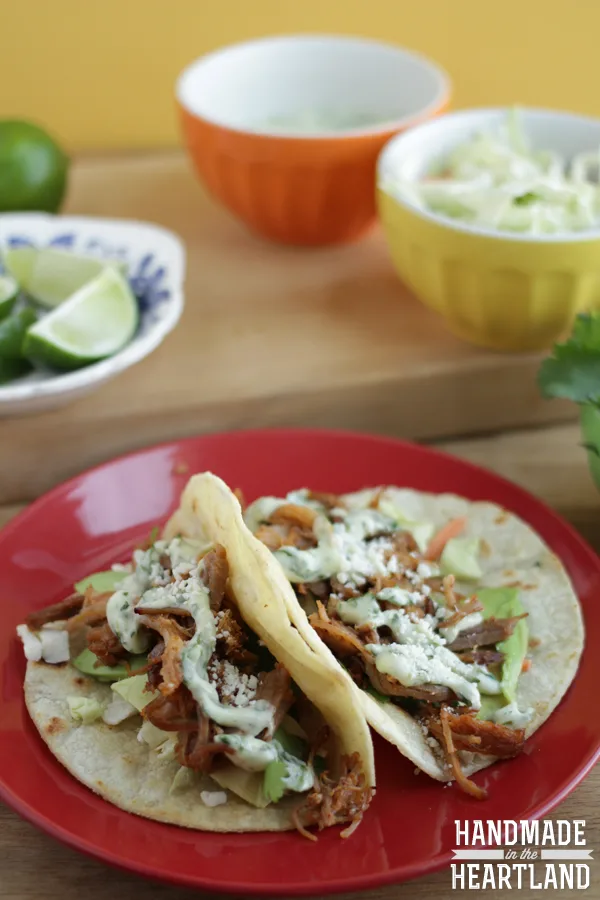 How to make pulled pork tacos
Tacos might be one of the easiest meals to put on the table, and good news: most kids love them! There are a few simple steps to make these tacos super delicious:
Warm up store bought tortillas. I have made homemade tortillas and if you're in the mood google a recipe and go for it! However if you're using a bag of store bought tortillas heat them up on the stove for a minute or two each and you'll get a nice slightly crispy and warm taco.
Make a sauce. You might be thinking of skipping the sauce, don't! It only takes a few minutes and it's so worth it. promise!
Top it off. There are so many options for delicious pulled pork taco toppings. I recommend avocado, shredded lettuce, cilantro & Cotija cheese. You could swap out the cheese for regular shredded taco style cheese, use melty queso or go the extra mile and make your avocados into guacamole!
Making this for a party? This is such an easy party food, you can create a make your own taco bar by placing all the ingredients in small dishes & bowls and leaving the meat in the crock-pot. Everyone can serve themselves!
Can you save tacos for later?
If you don't eat up all these tacos you can save the ingredients for later in separate containers. Pulled pork is good in the fridge for 3-4 days or in the freezer for 4-6 months. The cilantro lime aioli will last for 3-5 days in the fridge. But let's be honest, this recipe will probably disappear. 😉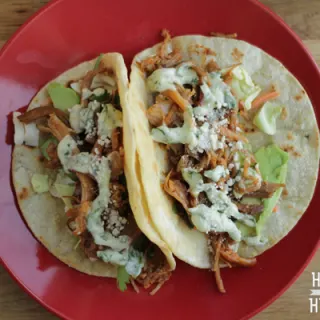 Pulled Pork Tacos with Cilantro Lime Aioli
These pulled pork tacos are easy to throw together with slow-cooked pork, the cilantro lime aioli is a delicious topping!
Ingredients
1 package small corn tortillas
2-3 Avocados
1 bunch cilantro
2-3 Limes
1/2 cup Mayo
1 cup Cotija cheese
Instructions
To make the aioli place 2 tablespoons of cilantro, zest of 1 lime, juice of 1/2 a lime and 1/2 cup of mayo in a food processor or blender. Or chop the cilantro and mix all ingredients together.
I like to crisp up the tortillas a little bit, to do so heat a saute pan over medium heat, spray with cooking spray then place the tortillas on the pan- cook each side for a few minutes, until lightly browned in spots.
To make the taco place slices of avocado and shredded lettuce on the taco, pile high with pulled pork and then top with a little bit of Cotija cheese, aioli and extra cilantro and lime juice if desired. Enjoy!
Recommended Products
As an Amazon Associate and member of other affiliate programs, I earn a small commission if you purchase something I recommend. I would never recommend products I don't love and use!
Nutrition Information:
Yield:

8
Serving Size:

1
Amount Per Serving:
Calories:

545
Total Fat:

33g
Saturated Fat:

8g
Trans Fat:

0g
Unsaturated Fat:

23g
Cholesterol:

75mg
Sodium:

1343mg
Carbohydrates:

40g
Fiber:

8g
Sugar:

25g
Protein:

26g