This recipe for crockpot pulled pork is easy to make in the crock pot or the instant pot! It's a great recipe for a crowd and it's sure to become a staple dish in your house as it has in mine!
This post contains affiliate links which means I earn a small commission if you purchase something that I recommend.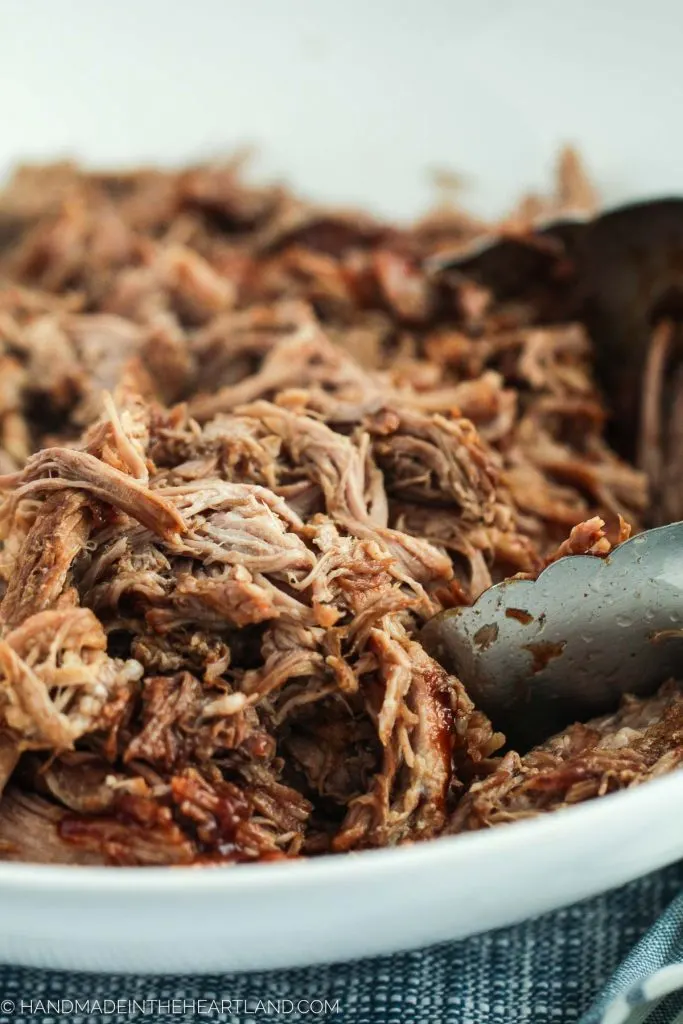 I love a good pulled pork sandwich and lately I've realized how versatile pulled pork is. I'm super excited to show you two ways to use this recipe, in this post I show you how to make the traditional Kansas City style bbq pulled pork sandwich. Click over to get the recipe for pulled pork tacos with cilantro lime aioli, they are ahhmazing!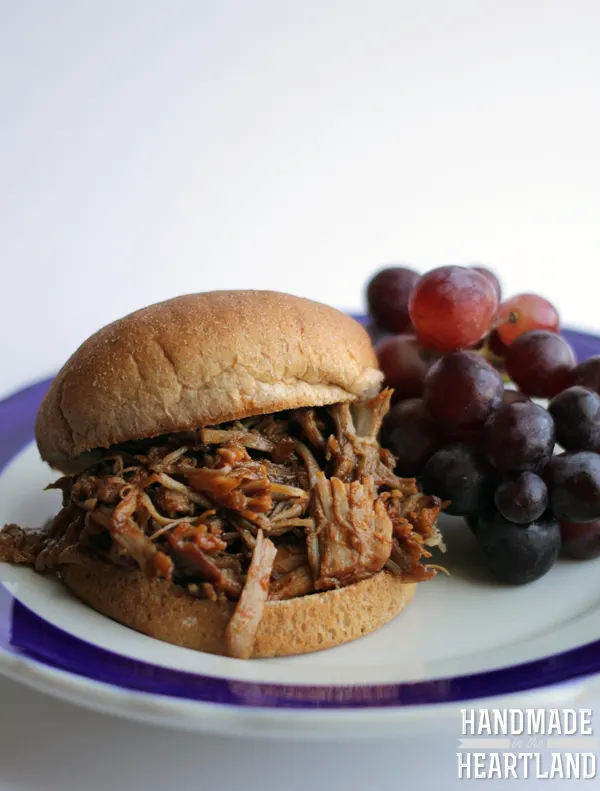 EXPERT TIP: One of the tricks to infusing flavor into the pork roast is to cut little slits into the roast and then stick garlic slivers into it.
This recipe makes a ton so its great for family gatherings or just to have a lot of leftovers. Enjoy!
Does pulled pork in the slow cooker need liquid?
No. When making pulled pork in the slow cooker I add a small amount of extra liquid for flavor but it's not a necessity. Because there is a good amount of fat and water in pork shoulder roasts you don't have to add extra liquid when making pulled pork. I add 1/4 cup of Worcestershire sauce for added flavor, but technically you could put it in without any liquid and it would still cook just fine.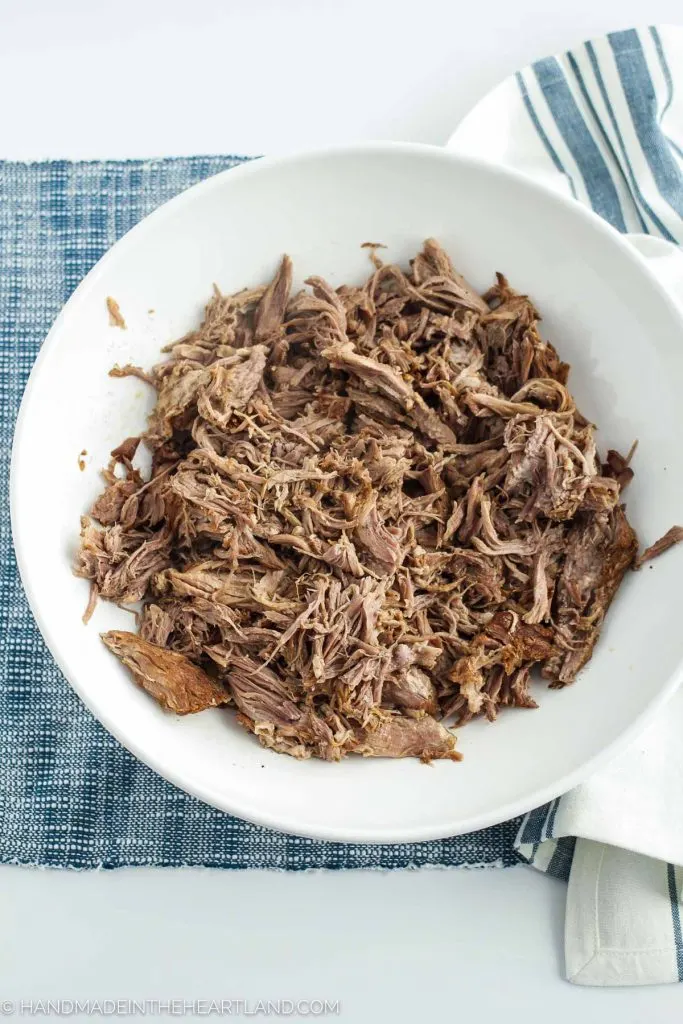 Can you put raw pork in a slow cooker?
Yes! For this recipe we will place a pork shoulder or "butt" roast in the slow cooker raw for 5-6 hours on low or 3-4 hours on high. A slow cooker on low temperature is usually around 190 degrees, which means it's hot enough to cook food without it being contaminated.
What is the best cut of meat for pulled pork?
Pulled pork or shredded pork is typically made with a "Boston butt roast" which is from the shoulder of the animal. The pork shoulder has the ideal amount of fat and connective tissues that creates tender and juicy pulled pork. You can use bone-in or boneless to make pulled pork.
You can use any of these cuts of pork to make pulled pork:
Shoulder Roast
Boston Butt Roast
Blade Roast
Picnic Roast
Pork Tenderloin
Pork Sirloin Roast
Top Loin Roast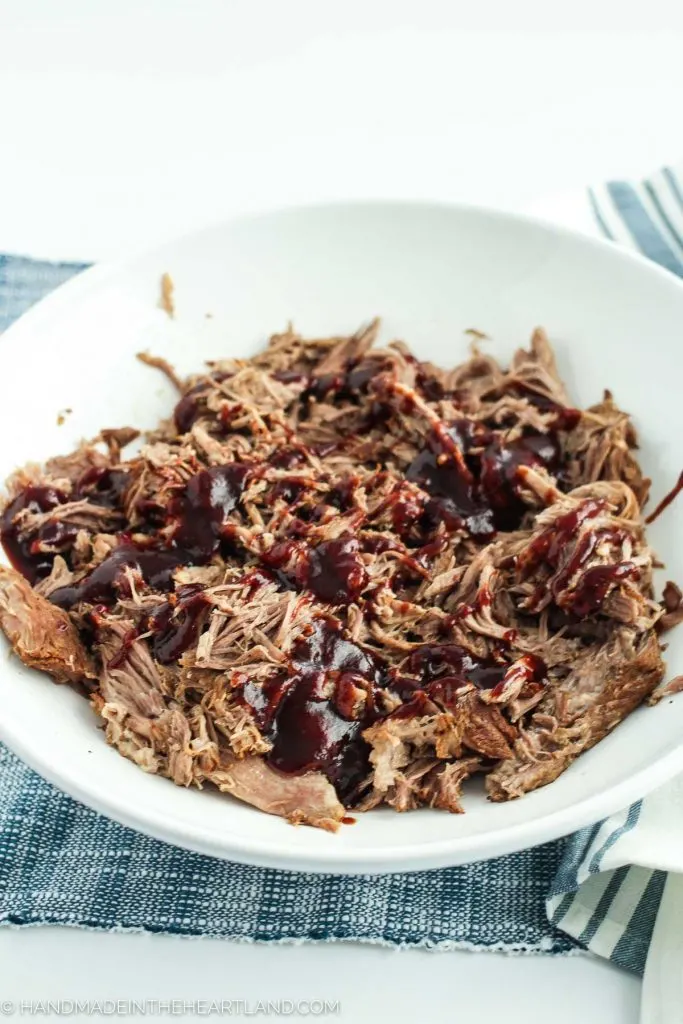 Ingredients for Kansas City Style BBQ Pulled Pork
Living in Kansas City for 12 years taught us that we love our bbq. This recipe is delicious and a great method for minimal work bbq, however if you want true KC bbq you'll need to smoke your pork. You'll need these ingredients to make this recipe:
Pork Roast- As mentioned above you can use almost any pork roast. Traditional shoulder cuts like a Boston butt, picnic roast, or blade roast are the best. We use a 4lb roast for this recipe
Worcestershire Sauce- This tangy sweet sauce infuses the pork with extra flavor as it cooks.
Garlic Cloves- A key ingredient in this pulled pork recipe. I use a method where you cut slits into the roast and stuff the slivers of garlic into the roast. Hello flavor!
Brown Sugar- I like a sweet bbq pulled pork and so the rub we make in this recipe is a base of brown sugar. yum!
Paprika- Another flavor infuser paprika that makes this pork the best! If you have smoked paprika on hand use it instead!
Salt & Pepper- To finish off the rub you'll add salt and pepper, use a good quality kosher or sea salt for the best results.
BBQ Sauce- We are kind of bbq sauce connoisseurs and have 5 different bbq sauces in our fridge, it's inevitable when you live in Kansas City. I love locally made sauces, however my favorite national brand sauce is the KC Masterpiece Kansas City Classic sauce. I'm not a fan of any of their other sauces, but this one got it right. Sweet Baby Ray's honey bbq is a close second in our house.
How to make Pulled Pork
It is easy to make pulled pork at home in your Crockpot or Instant Pot. To make the perfect pulled pork that has delicious flavor and pulls easily you'll want to follow a few steps.
Season the pork roast with a rub. In this recipe you'll make your own rub with brown sugar, paprika and salt and pepper. It's simple but effective at making delicious crockpot pulled pork.
Add garlic slivers into the pork roast by cutting slits.
Cook for the right amount of time for your roast and your cooking device. In this recipe I give you instructions on how long to cook a 4lb pork roast in an instant pot and a slow cooker. You can under or overcook pork roasts, read about that below.
You can make pulled pork in a slow cooker, instant pot, oven or smoker. This recipe has instructions for the slow cooker and instant pot.
I love my instant pot! It's been so fun converting slow cooker recipes into Instant Pot versions. I love being able to cook something in 2 hours versus 6-8 and getting the same results! It's amazing! Check it out HERE.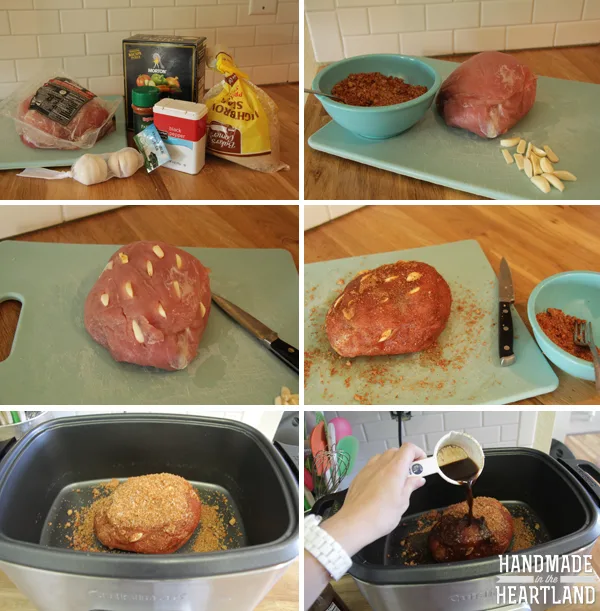 How long to cook bbq pulled pork?
How long you cook your pork roast to make pulled pork fully depends on the weight of your roast and the device you are using to cook with.
Pork is only safe to eat once it's reached an internal temperature of 145°, for medium doneness a temperature of 160° should be reached. To pull easily pork needs to reach an internal temperature of 195° to 205°.
A good meat thermometer is a lifesaver. I LOVE my Thermopro from Amazon.
| | | | |
| --- | --- | --- | --- |
| lbs of Roast | Instant Pot | Crockpot Low | Crockpot High |
| 4lb-6lb | 120 mins | 5-6 hours | 3-4 hours |
| 6lb-8lb | 140 | 5.5-6.5 hours | 3.5-4.5 hours |
The above chart is a guesstimate for cooking pulled pork, the true test is the temperature. If you don't have a meat thermometer you will know that it's done when you stick a fork in it and it pulls apart easily.
However, don't be fooled, sometimes the top layer will be ready to pull and then when you try to tear apart more toward the center it's still tough. I hate when this happens! Which again goes back to the thermometer, if you test the temperature you'll know for a fact if it's ready or not.
If it's not ready try cooking for a little bit longer- in the crockpot give it 30 more minutes, in the Instant pot try another 10.
Can you overcook pulled pork?
Yes. Pork goes through these phases: tough-tender-tough. Although, you would really have to cook it for a very long time for it to go back to the over cooked tough stage. One of the main problems when over cooked is that the fat breaks down and then evaporates leaving dry meat. Meat can also become mushy or have a grainy texture if over cooked.
Can you pull pork after it's cooled?
No. It's very difficult to pull pork when it's has been in the fridge. If you don't have time to pull it when it's done cooking my best suggestion is to wrap it in foil, place it in the fridge and then when you're ready to pull it slowly warm it up in the oven at 200° for 30 minutes to an hour.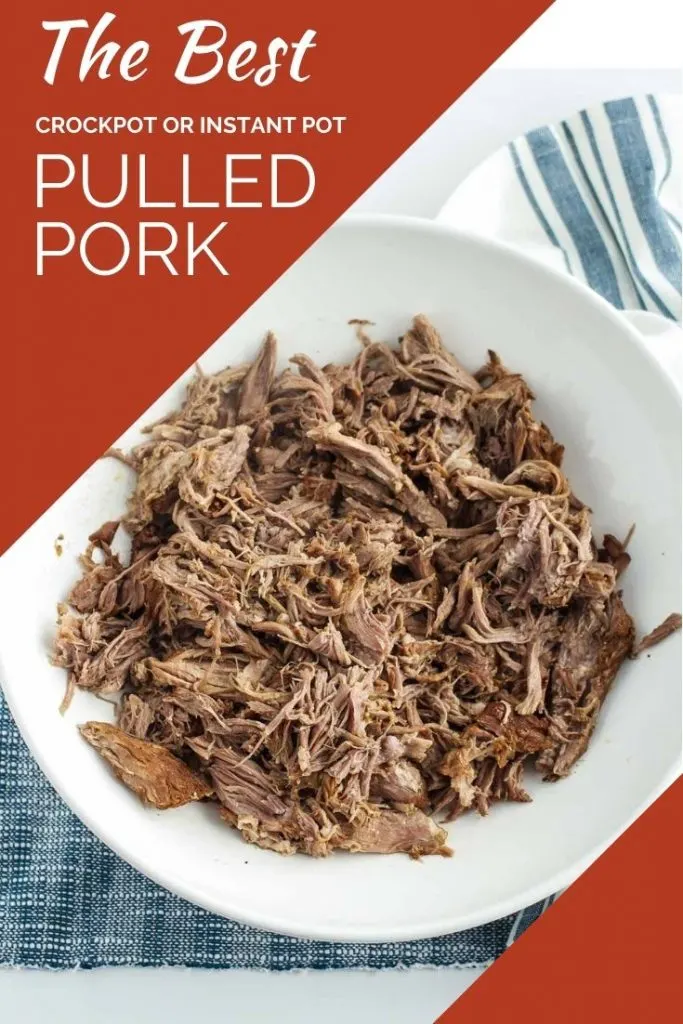 Can you freeze pulled pork?
Yes! If you're not cooking for a crowd you might have more meat than you can eat in a week after cooking this recipe. The best way to freeze pulled pork is to first shred it and then put a portion in an air tight container like a ziplock bag or plastic food storage container. Don't put sauce on it, save the sauce for when you take it out of the freezer. Frozen pulled pork will be good for up to 4-6 months, per the USDA
Pulled pork will last for 3-4 days in the refrigerator per the USDA, but I'm here to tell you that I've eaten it out of my fridge 6-7 days after cooking. What can I say, I live on the edge. 😉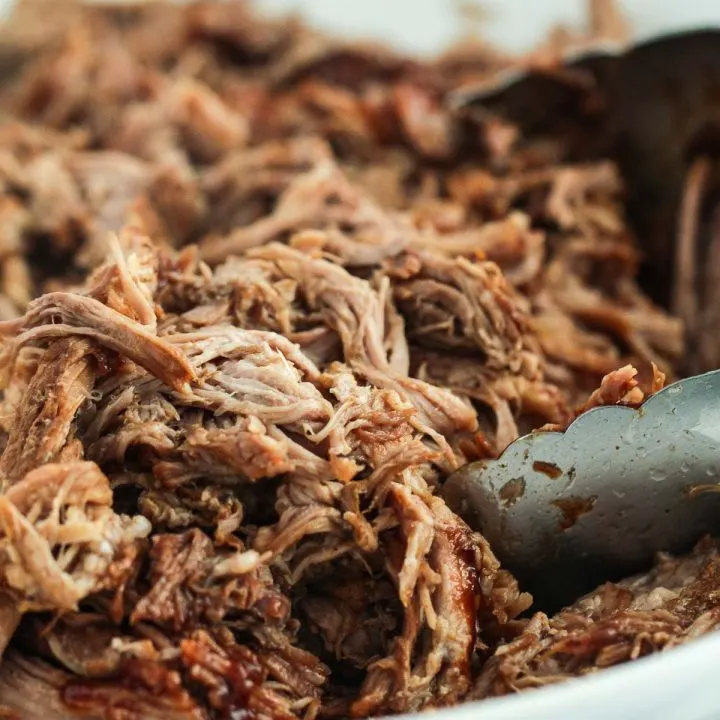 The Best Crockpot Pulled Pork
Yield:
5 cups pulled pork
Total Time:
4 hours
20 minutes
This easy recipe for pulled pork made in the crock pot/slow cooker or the instant pot is sure to become a family favorite!
Ingredients
4lb Shoulder Pork Roast
1/4 cup Worcestershire Sauce
4 large cloves Garlic
2 teaspoons Paprika
1/3 cup Brown Sugar
2 teaspoons Coarse Kosher Salt
1/2 teaspoon Black Pepper
1 cup your favorite BBQ Sauce
Instructions
Make the rub by combining paprika, brown sugar, salt and pepper; mix with a fork. Set aside.
Slice garlic into 8-10 slivers. Cut slits in pork roast and insert garlic slivers. Pat rub mixture on pork roast. Place the roast in the crockpot or instant pot. Pour Worcestershire sauce over pork roast.
Slow Cooker: Cook on low for 5-6 hours or high for 3-4.
Instant Pot: Cook at high pressure for 120 minutes.
After cooking time check the doneness with a meat thermometer, it should be between 195°-205° to pull easily. If it's not done enough try extending the cooking time for 30 minutes in a slow cooker and 10 minutes in a pressure cooker.
If you use a bone in roast remove it and any fat that may remain. With 2 forks shred the pork. Add BBQ sauce and stir. Pile pork onto your bun or rolls, add coleslaw if you like for some crunch and additional flavor. Enjoy!
Recommended Products
As an Amazon Associate and member of other affiliate programs, I earn a small commission if you purchase something I recommend. I would never recommend products I don't love and use!
Nutrition Information:
Yield:

10
Serving Size:

1
Amount Per Serving:
Calories:

592
Total Fat:

36g
Saturated Fat:

13g
Trans Fat:

0g
Unsaturated Fat:

19g
Cholesterol:

166mg
Sodium:

870mg
Carbohydrates:

19g
Fiber:

1g
Sugar:

16g
Protein:

45g
What to eat with pulled pork?
Crockpot Pulled pork is probably the most versatile cooked meat to have in your fridge. In this recipe I recommend slathering it in a good bbq sauce and eating it on a hamburger bun. Chances are you will have leftover pork in your fridge so here are some of my favorite recipes to use up leftover pulled pork.
Pulled Pork Recipes
Here are some of my favorite recipes to use up leftover pulled pork!
This burger is no joke the best burger my husband has ever eaten. If you haven't added pulled pork to a burger you haven't lived. 😉
A Thai take on pulled pork, these quesadillas are a perfect lunch.
TACOS. Everyone loves a taco!
I hope you enjoy this crockpot pulled pork as much as I do! It's a staple recipe in our house. When you make this recipe let me know! I love to see when you make projects from the blog. Leave a comment or tag me on instagram @handmadeintheheartland or facebook !
If you're coming over from google stories, thanks for joining us!