There are hundreds of recipes for Christmas cookies out on the internet but nothing will ever be as good as these soft and chewy frosted sour cream sugar cookies.
This recipe is simple, doesn't require you to roll out the dough and it's the chewy-iest, softest most delicious cookie you'll eat this holiday season, promise!
This post is sponsored by my friends at AE Dairy, I only use the best ingredients and the AE sour cream makes these cookies extra moist and delectable.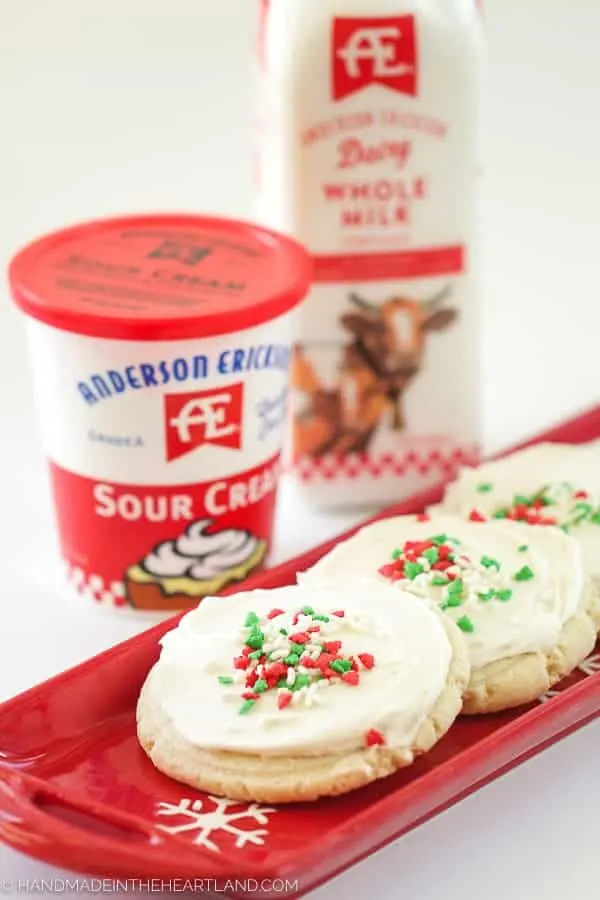 Skip the cookie cutters
Don't get me wrong, my kids love to pick out the cookie cutters for cut-out sugar cookies, but I'm just not always in the mood to roll out all the dough and cut them out one by one. This recipe makes the entire process for cookies easier by skipping the roll out step. I also find the cookies to be softer and a little less dense when they don't have extra flour added from rolling them out.
So instead of rolling these cookies out with a rolling pin I roll them into cookie dough balls and then press them down with the back of a small bowl. It's a quick hack that lets you skip the rolling pin process! Check out the video below to see how it's done!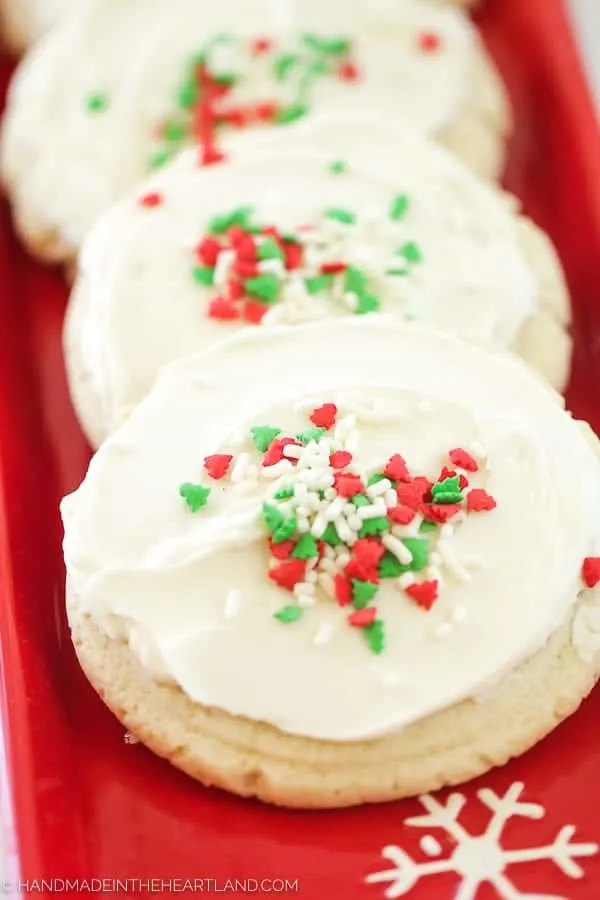 Ingredients:
Flour, Baking Powder & Salt– Your standard dry ingredients used in this recipe.
Vanilla- A good traditional pure vanilla extract flavors these cookies to taste like a classic sugar cookie.
Sour Cream- Sour cream is one of the main reasons these cookies are moist and soft.
White Granulated Sugar- they key to sweetness in baked goods 🙂
Butter- Butter adds richness to the taste of cookies.
Shortening- shortening creates a softness and chewiness in cookies that truly helps the texture stay soft for longer. Because it doesn't do a lot for flavor we use a mix of butter and shortening.
What ingredient makes cookies more moist?
In these soft sugars cookies we use 2 ingredients that create a moist and chewy cookie. Sour cream and shortening. The other key to making perfectly soft cookies is not to over-bake them!
Sour cream is the secret weapon of the baking world and these cookies are no exception. You're going to love these cookies friends, I can't wait to hear what you think after you've baked them!
Pro-Tip: Don't over-bake sugar cookies! Cookies harden the longer they are sitting out and if they are too hard when they come out of the oven they will only get harder! This recipe calls for baking 8-10 minutes and these cookies are extra large. This means the cookie will look "set" in the middle but still look quite light in color.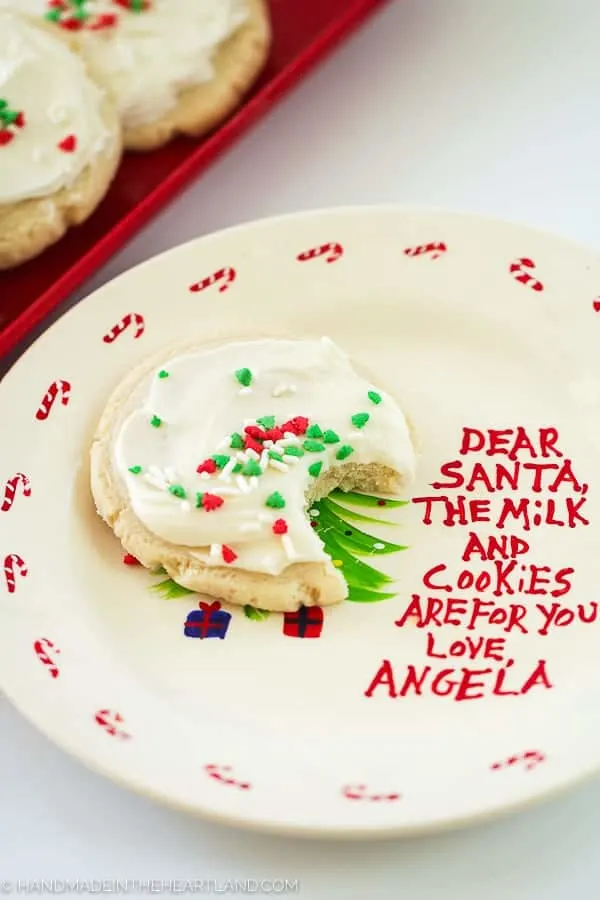 How big to make sugar cookies?
The cookies pictured are extra large, like bigger than the palm of your hand. When I roll them out they are the size of a golf ball. Of course you can make smaller cookies with this recipe but I love delivering these really big cookies to our friends and neighbors. It's also less dough balls for me to make. 🙂
How do you add flavor to sugar cookies?
These cookies are a traditional vanilla sugar cookie with a vanilla and almond frosting. The frosting takes on a wedding cake flavor, however the almond is balanced with equal amounts of vanilla so it's not overpowering.
You can easily change the flavor of sugar cookies. My favorite way to go about that is changing the extract flavors in the frosting. You can also change the extract in the cookies but I prefer to keep my cookie a traditional vanilla sugar cookie.
Variations for flavor ideas:
Coconut Lime- Replace the almond & vanilla extracts in the frosting for coconut extract and add the zest of 1 lime.
Lemon- Replace the almond & vanilla extracts in the frosting for lemon & vanilla extract and add the zest of 1 lemon.
Cinnamon & Maple- Add a teaspoon of cinnamon to the cookie dough and replace the almond extract in the frosting with maple extract
Salted Caramel- Replace the almond extract with caramel, drizzle a little bit of caramel on top of the frosting and sprinkle with a tiny bit of crushed salt like Maldon sea salt.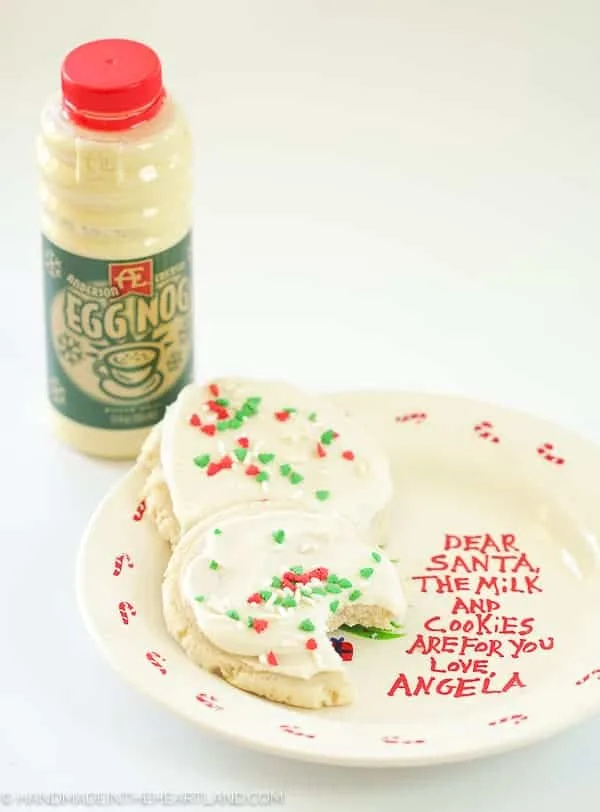 Did I mention that these are the perfect cookies for Santa? 😉 Leave him some frosted sour cream sugar cookies and some AE Egg Nog and you're guaranteed to be on the nice list!
What are your favorite Christmas cookies? If you make these cookies please share it with me!! It thrills me to hear from you and see what you've made! Leave a comment or tag me on Instagram (@handmadeintheheartland) or facebook!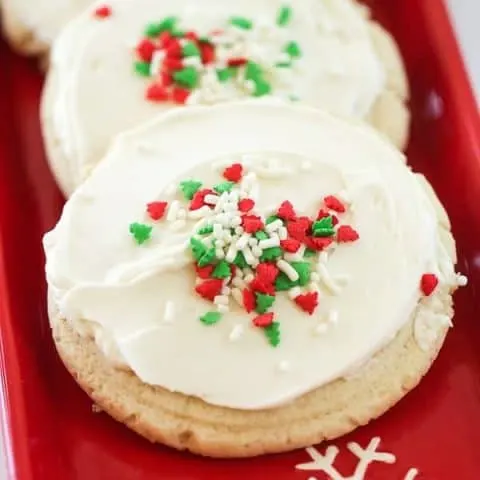 Frosted Sour Cream Cookies
This recipe for frosted sour cream sugar cookies is sure to be your family's new favorite Christmas cookie!
Ingredients
1/2 cup butter, softened
1/2 cup shortening
1 1/2 cups sugar
1 cup Sour Cream
1 tsp vanilla
1 tsp baking powder
1 tsp salt
3 1/2 cups flour
Frosting Ingredeints
1/2 cup butter, softened
1/4 cup milk
1 tsp almond extract
1 tsp vanilla extract
4 cups powdered sugar
Instructions
Preheat the oven to 350. In the bowl of a stand mix or with a hand mixer cream the butter, shortening and sugar together until combined.
Add the vanilla, baking powder and mix until incorporated. Add the sour cream and half of the flour. Mix until combined and then add the rest of the flour and mix until all the ingredients are completely incorporated. The dough should be sticky but thick and easy to roll into a ball in your hands.
Roll the dough out into golf ball size balls and place on a prepared baking sheet, this recipe should make 16-17 large cookies. Space them several inches apart. Take the bottom of a large cup or regular size bowl (I've found the back of a children's Ikea bowl works perfectly) dip it in a little flour and press the dough ball down until it's about 1/2" thick.
Bake for 8-10 minutes, depending on your altitude and the size of cookies.
Make the Frosting
Mix the room temperature butter with an electric mixer until light and whipped, a minute or two. Add in the extracts, milk & half of the powdered sugar.
Mix until combined, you may want to pulse the mixer at first several times so that the powdered sugar doesn't go flying out of the mixer bowl.
Add the rest of the powdered sugar and mix until you get a nice and smooth frosting consistency. If you want it more runny add a teaspoon of milk and mix. If you would like the frosting to be stiffer add in powdered sugar by the tablespoon and mix after each addition until the desired consistency is reached.
Recommended Products
As an Amazon Associate and member of other affiliate programs, I earn a small commission if you purchase something I recommend. I would never recommend products I don't love and use!
Nutrition Information:
Yield:

18
Serving Size:

1
Amount Per Serving:
Calories:

419
Total Fat:

19g
Saturated Fat:

10g
Trans Fat:

1g
Unsaturated Fat:

7g
Cholesterol:

38mg
Sodium:

244mg
Carbohydrates:

61g
Fiber:

1g
Sugar:

41g
Protein:

3g
I love Christmas cookies! Be sure to check out my other delicious cookie recipes!
Peanut Butter Reindeer Cookies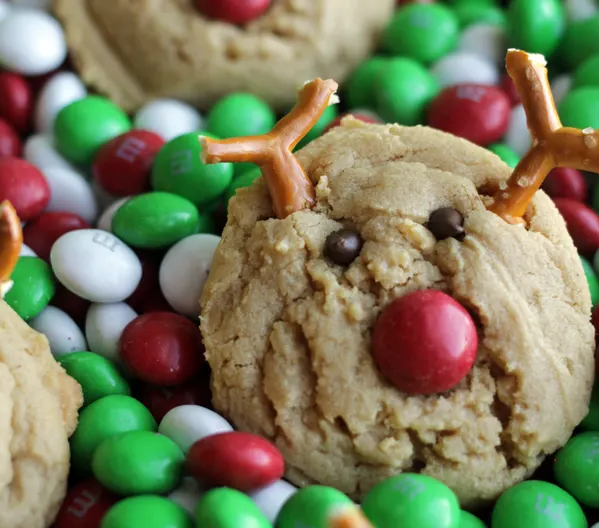 Chocolate Peppermint Pudding Cookies