This strawberry shortcake cake recipe is an easy, simple and fresh dessert to eat all spring and summer. Layered with shortcake, strawberries and fresh whipped cream it's a delicious and light traditional strawberry shortcake. I love my new Thyme & Table kitchen tools that I used while making this recipe. This post is sponsored by Thyme & Table.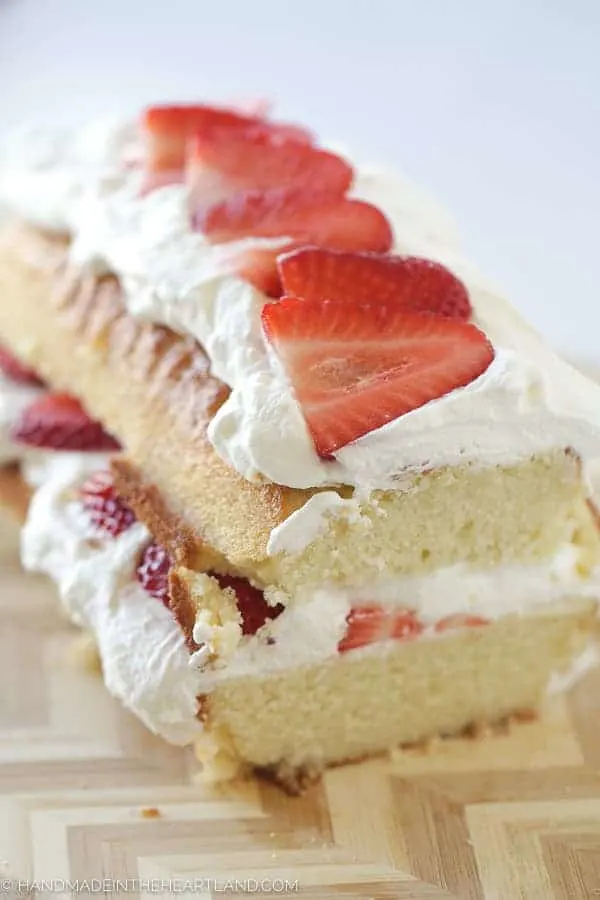 Before making this recipe I did some research into shortcakes. If you're like me and you grew up eating strawberry shortcake in the summer on those little disc like cakes that are packaged and sold next to the strawberries in the produce department you're probably a little confused when it comes to what strawberry shortcake actually is.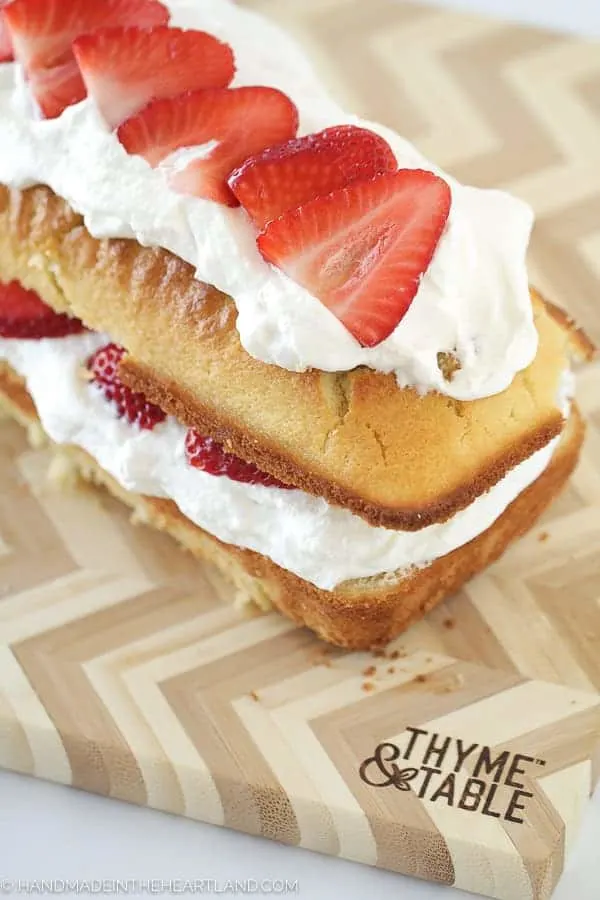 That little disc cake is actually a sponge cake and a shortcake recipe is traditionally more dense with a crumbly texture. This recipe nails it with a traditional shortcake, not a biscuit but not a sponge cake and not overly sweet. It's the perfect dessert for spring and summer!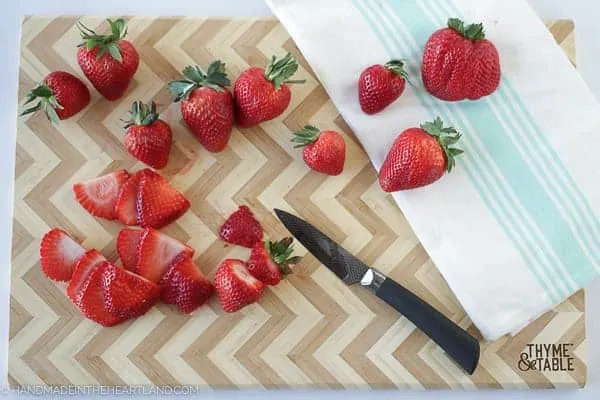 Strawberry season is a favorite in our house. My daughter June eats strawberries for lunch every. single. day. So I'm always happy when they come down in price! We also have a family tradition of going out to a strawberry field and picking our own every spring. It's so fun. If you love strawberries like we do you would also love my fresh strawberry cupcakes and my strawberry yogurt muffins. We are big strawberries fans around here! 🙂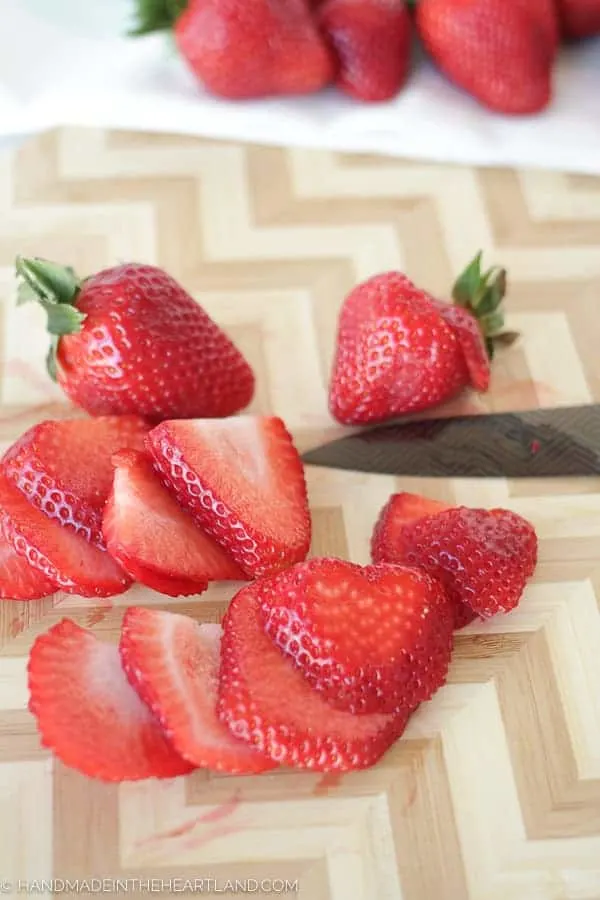 For this strawberry shortcake cake recipe you'll want to slice your strawberries thin lengthwise like the photo above. How cute is my new Thyme & Table cutting board and knife? I'm totally in love with these trendy kitchen gadgets! They are available at Walmart and I'm pretty sure I'm going to need to go buy the copper measuring cups I didn't receive in my package, they are ahhhhmazing!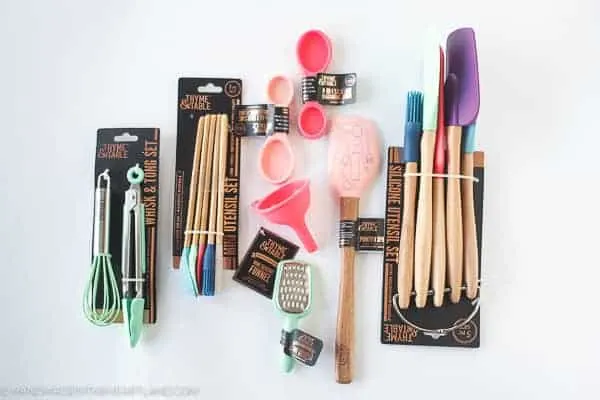 I love all the brightly colored silicone tools and gadgets! I was really in need of some new spatulas and love the set that I was sent! Also the mini spatula set is awesome, I can't tell you how many times I reach for mini spatulas.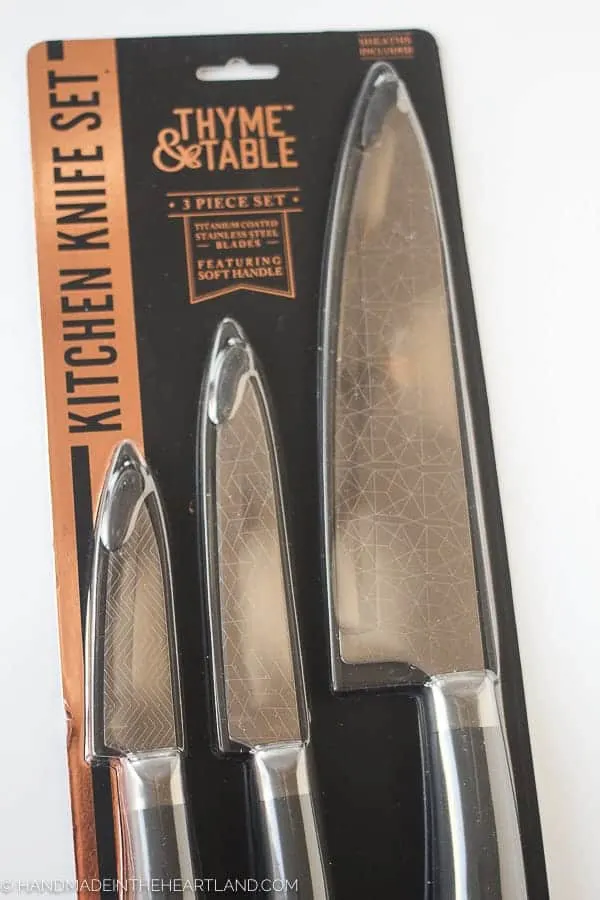 These Thyme & Table knives are super light, they come with sleeves for the blades so they can store safely and I'm loving the geometric designs on the stainless steel blades! So cool!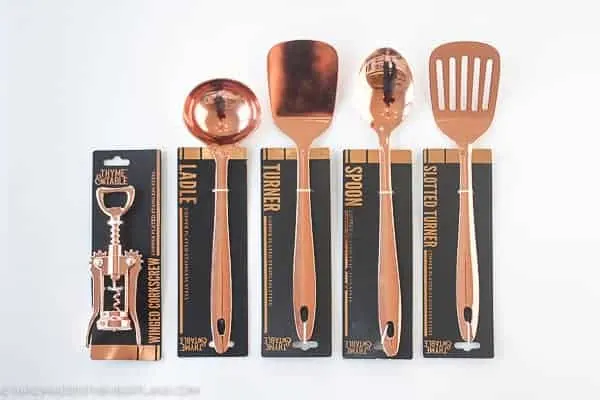 How gorgeous are these copper serving utensils, and can you believe they are at Walmart! Love them! Ok Let's get on with making this delicious strawberry shortcake cake!
Tips for making strawberry shortcake cake
Like most cake recipes you cream the butter and sugar together. Then add the eggs and vanilla. I add the salt & baking powder before I add in the flour to make sure it's evenly distributed through the wet ingredients.
For this recipe I like to mix in half of the flour, then the milk and then the rest of the flour. I switched my kitchen aid mixer attachment to the whisk for the last little bit of mixing to make sure all the lumps of flour were broken up and incorporated.
I used a glass loaf pan for this recipe. It makes a pretty presentation without having to make a huge cake. If you're more interested in making a large layer cake in round pans double this recipe. Make sure you grease the pan well.
You'll want to bake the cake for 45-50 minutes or until a toothpick comes out clean from the center. If you opted to double the recipe and place them in 8″ round pans then you'll only need to bake for 20-25 minutes.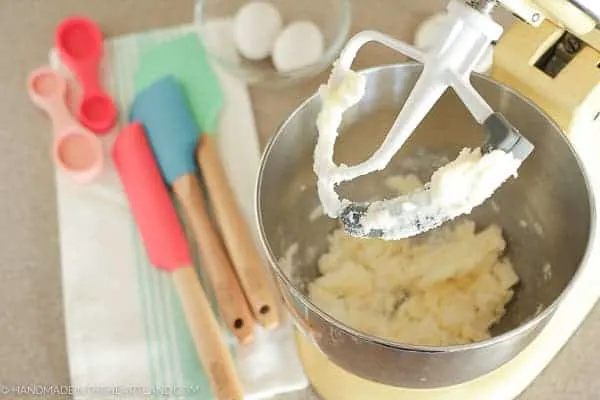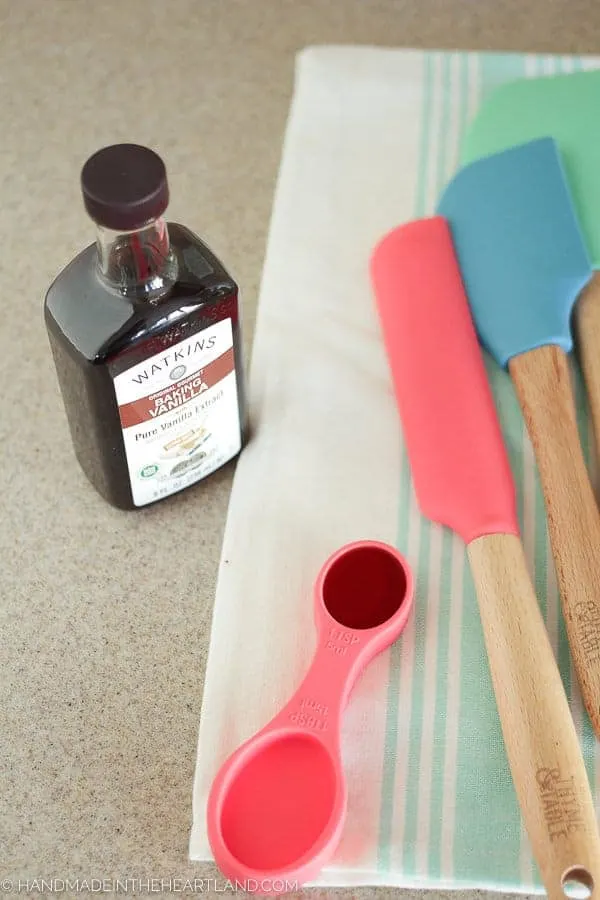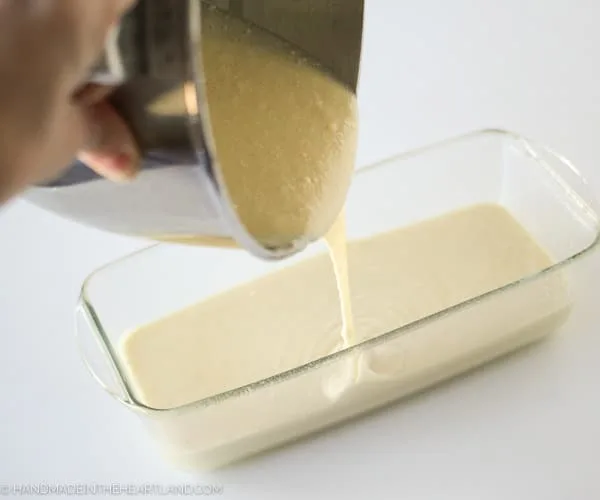 How to layer the strawberry shortcake cake
Once your cake is cooled and removed from the pan slice it lengthwise. Use a serrated knife (a bread knife) to cut through the cake. Be careful and go slow, because the cake is crumbly it can be a bit tricky to slice, just go slow and cut through the center.
Spread a thick layer of whipped cream on the bottom cake then place strawberries on top of the whipped cream.
Carefully place the top of the cake on top of the strawberries and dollop the rest of your whipped cream on top of the cake with a few strawberries to top it off.



I can't wait to see you enjoying this strawberry shortcake cake! When you make this recipe I'd love to hear how you like it! Leave a comment or tag me on instagram @handmadeintheheartland or facebook ! Happy baking friends!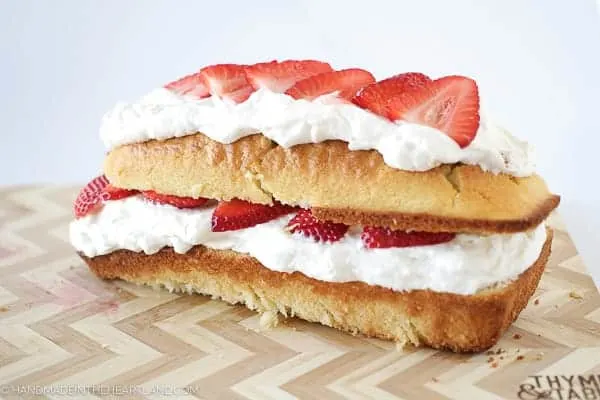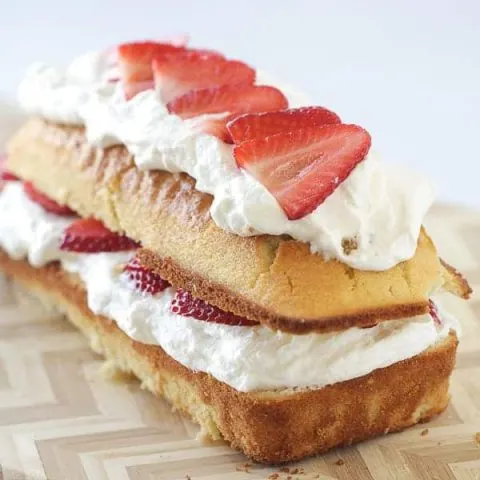 Strawberry Shortcake Cake
Total Time:
1 hour
15 minutes
This strawberry shortcake cake recipe is an easy, simple and fresh dessert to eat all spring and summer. Layered with shortcake, strawberries and fresh whipped cream it's a delicious and light traditional strawberry shortcake.
Ingredients
1 stick unsalted butter, softened
1 cup sugar
1 1/2 cups cake flour (or all purpose)
1/2 tablespoon baking powder
1/4 teaspoon salt
3/4 cup milk
2 eggs
1 tsp vanilla
8-10 strawberries, sliced thinly
1 cup heavy whipping cream
2 tablespoons powdered sugar
1/2 teaspoon vanilla
Instructions
Preheat the oven to 350. In the bowl of a stand mixer cream the butter and sugar until well incorporated and fluffy. Mix in the eggs. Add salt, baking powder and vanilla and mix until combined.
Alternate adding the flour in two parts and milk. Mix until lumps are gone and batter is smooth.
Pour batter into a buttered/sprayed loaf pan. Bake at 350 for 45-50 minutes. The middle should be set and not wiggly.
While the cake is baking slice the strawberries and make the whipped cream. In the stand mixer with the whisk attachment beat the heavy whipping cream, powdered sugar and vanilla on high until stiff peaks form. Set in the fridge.
Remove the cake from the oven and let cool completely.
Remove the cake from the pan and slice in half lengthwise. Spread a thick layer of whipped cream on the bottom cake piece, then place a layer of strawberries on top of the whipped cream. Place the top layer of cake back on top to sandwich the strawberries and whipped cream and then top with a few dollops of whipped cream and strawberries.
If you aren't serving immediately place in fridge.
Notes
This cake is not overly sweet, if you're wanting a sweet cake add 1/2 cup of sugar.
Recommended Products
As an Amazon Associate and member of other affiliate programs, I earn a small commission if you purchase something I recommend. I would never recommend products I don't love and use!
Nutrition Information:
Yield:

12
Serving Size:

1
Amount Per Serving:
Calories:

293
Total Fat:

16g
Saturated Fat:

10g
Trans Fat:

0g
Unsaturated Fat:

5g
Cholesterol:

75mg
Sodium:

132mg
Carbohydrates:

34g
Fiber:

1g
Sugar:

19g
Protein:

4g