There is nothing quite like fresh, warm homemade bread. This photo recipe tutorial for how to make whole wheat bread will have you pulling out your mixer and whipping up a loaf of bread in no time! This post contains affiliate links which means if you purchase something I recommend I make a small percentage of the sale.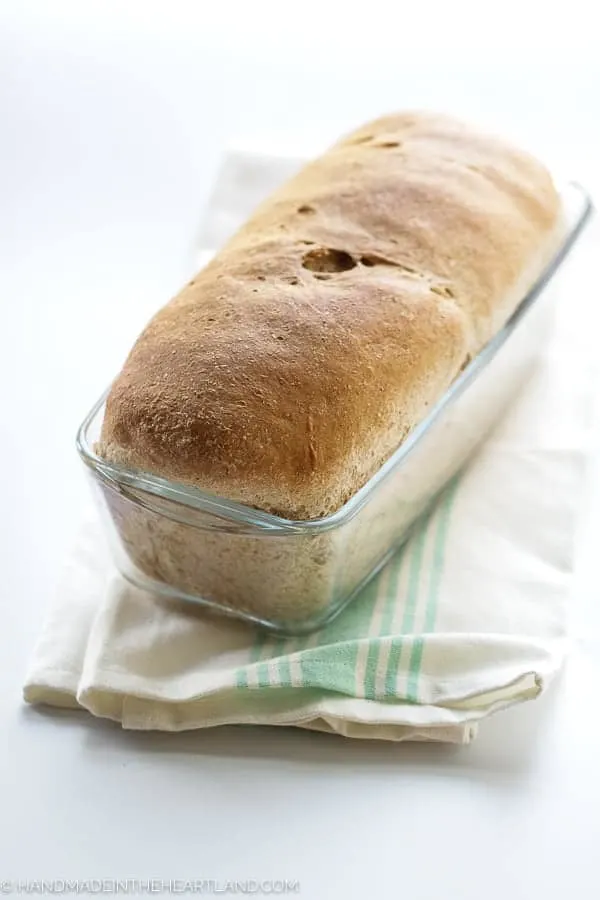 Baking bread used to seem like a mystery to me. There are so many reasons I never attempted making bread- do you need a special bread machine? Don't I have to stand at the counter kneading dough for hours? Is it really that much better? Doesn't it take all day? So. Many. Questions. Several years ago when we first moved to Kansas City some of our friends made bread every Sunday and it was delicious. So that question was immediately answered, yes it is so much better than store bought.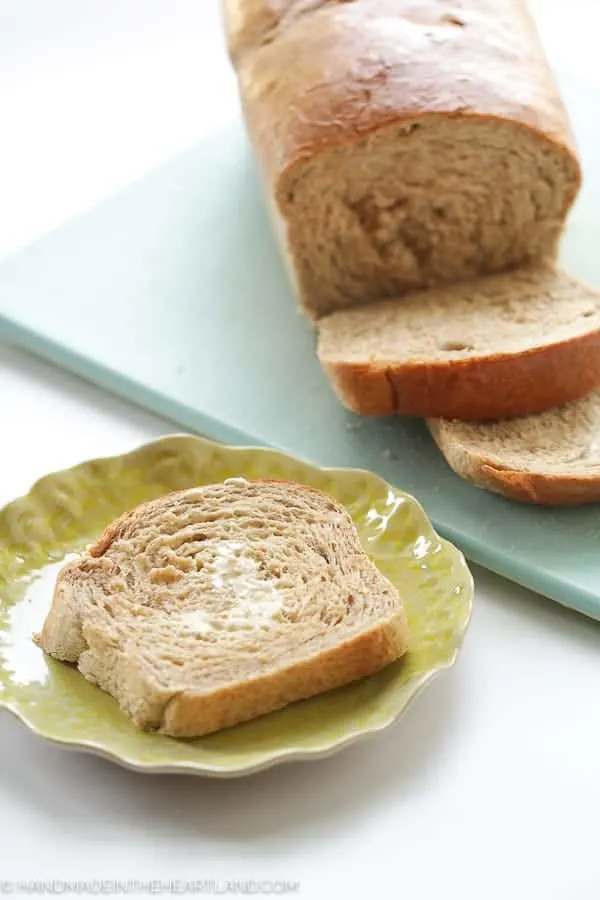 You really can't compare a thick slice of warm out of the oven bread smothered with butter and honey to anything you can buy in the grocery store. It. Is. So. Good. My mouth is actually watering as I type this! ha! And guess what? It's not even that complicated. As long as you have a stand mixer and a glass loaf pan and a few basic ingredients you can make bread so much easier than you might think!
How to make homemade whole wheat bread: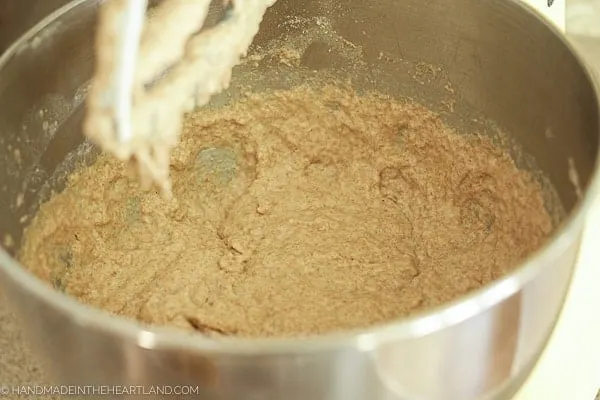 Mix your ingredients. I usually start with the paddle attachment on my kitchen aid and then when the dough comes together I switch to the dough hook. I find the hook perfect for kneading! For this whole wheat bread I like to use 50/50 whole wheat flour to all-purpose, if you use 100% whole wheat the bread is super dense and I prefer mine to be a little lighter.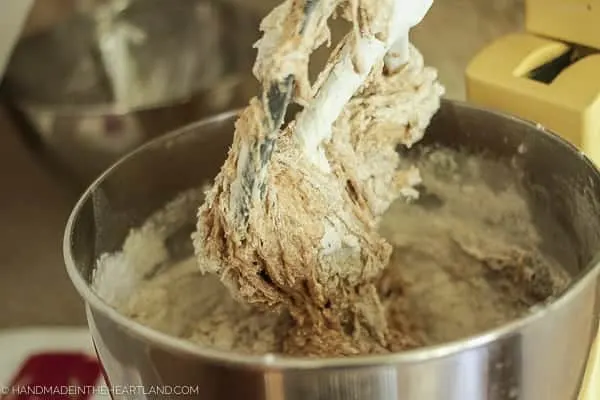 You can see how it starts to come together in the picture below. You'll knead it on medium speed with the hook for around 5 minutes. The dough will be come smooth and springy!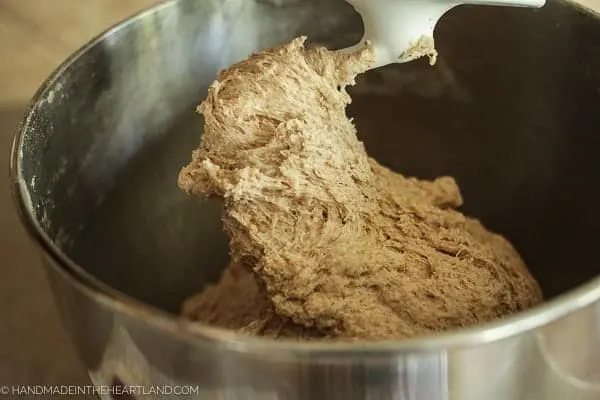 After it's been kneaded place it in a bowl that has been sprayed with cooking spray or greased with butter or shortening. I like to cover mine with my cute mixing bowl covers, so easy to make and they come in handy all the time! After the dough has doubled in size take it out of the bowl and put on a lightly floured work surface.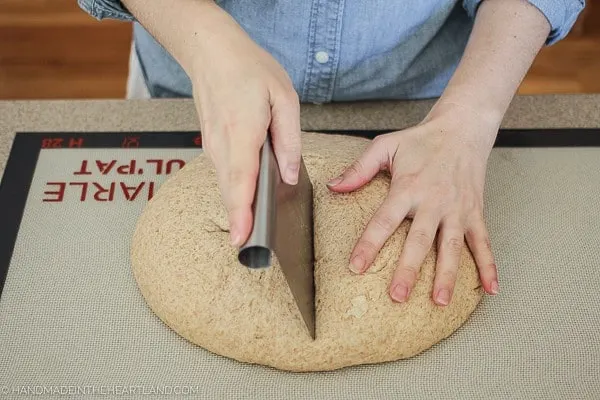 Divide it in two. I love my metal scraper for this and other kitchen tasks!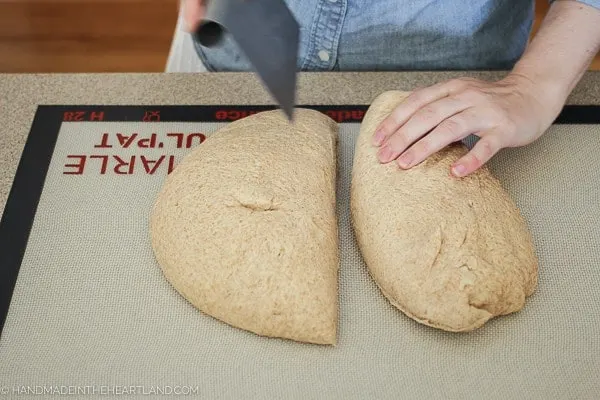 Roll each half out into a rectangle with a rolling pin.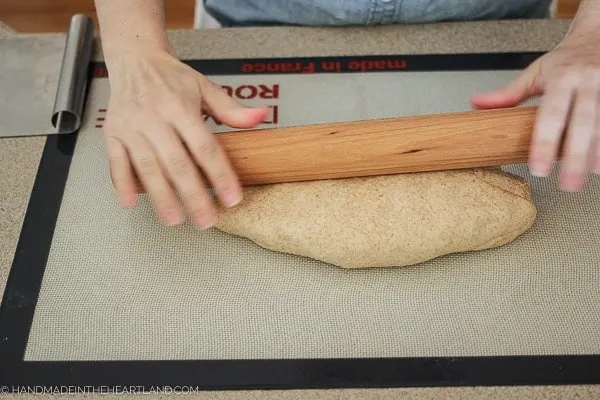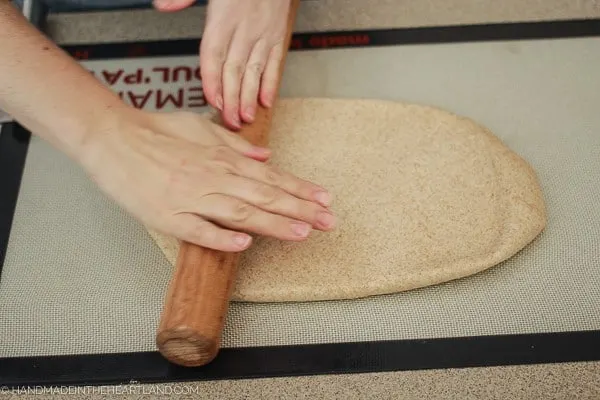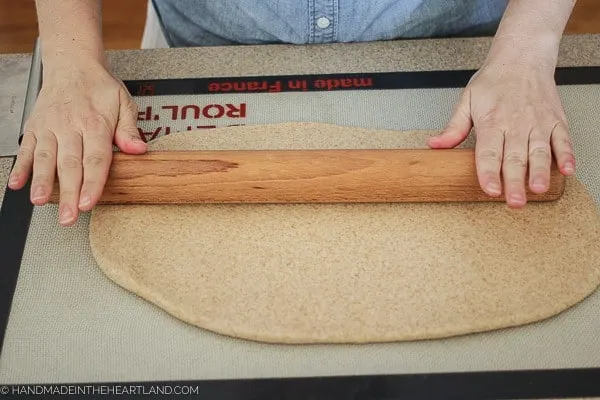 Then gently roll the dough into a loaf, pinching in the corners after each turn.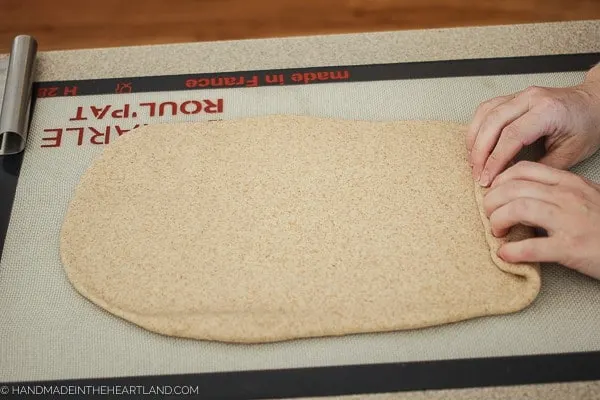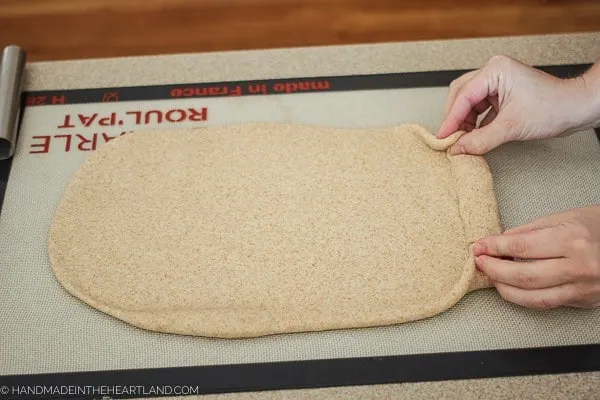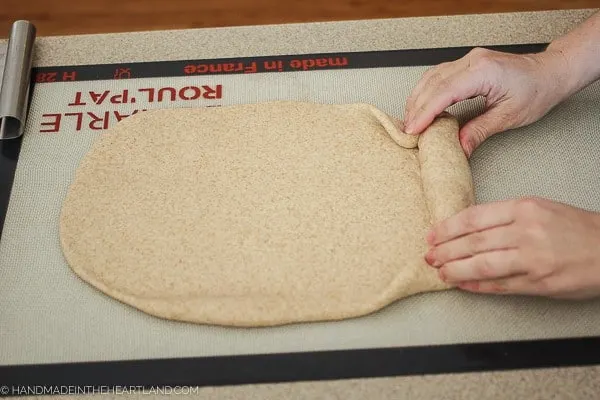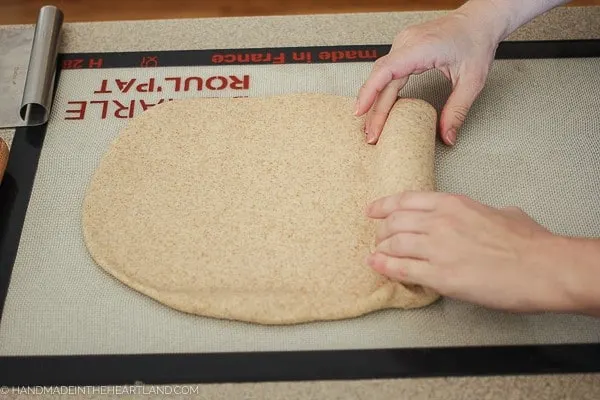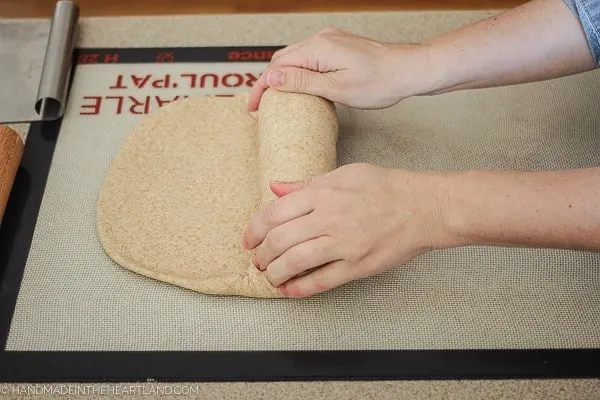 When you come to the end pinch the tail into the loaf and put that side down into the greased loaf pan.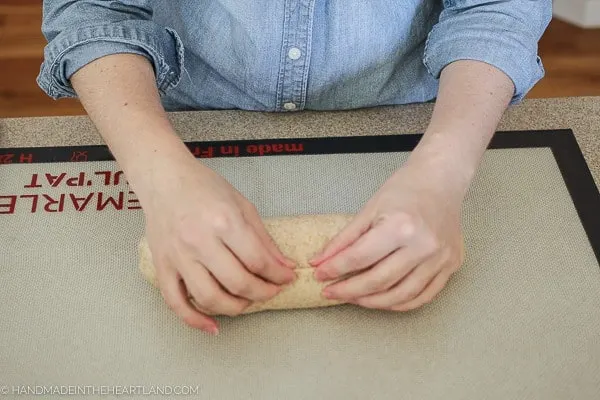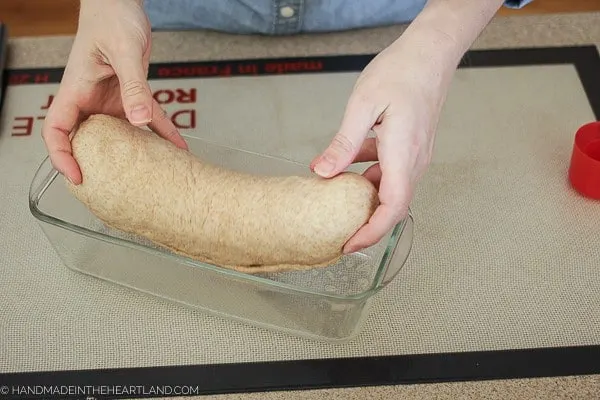 Cover loosely with plastic wrap and let rise for and hour or until doubled in size.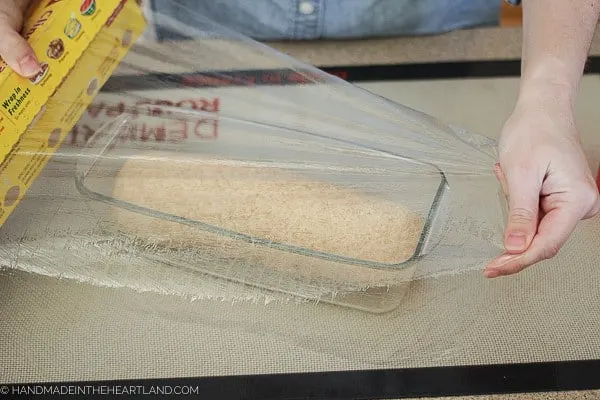 It should look like the picture below before you pop it in the oven.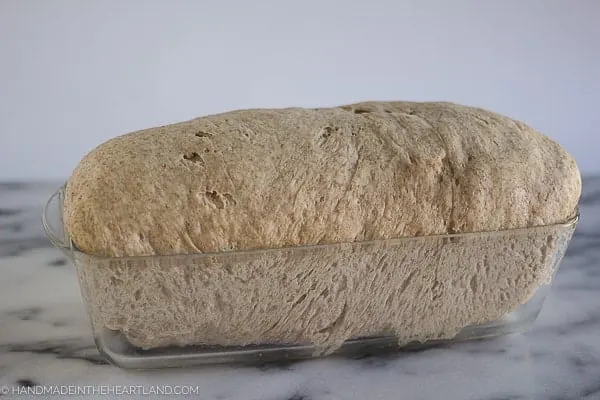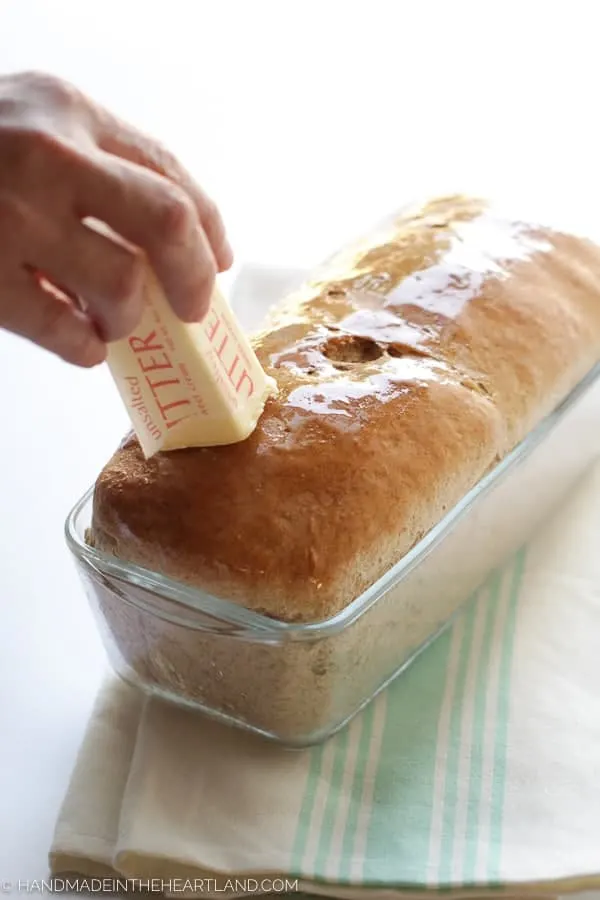 I like to smother that baby with butter right when it comes out of the oven…. mmmm….. What is your favorite way to enjoy fresh baked bread? If you make this whole wheat bread recipe please share it with me!! It thrills me to hear from you and see what you've made! Leave a comment or tag me on Instagram (@handmadeintheheartland) or facebook!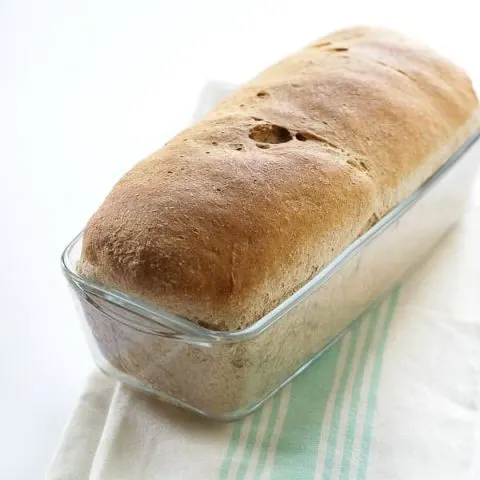 Whole Wheat Bread
Total Time:
2 hours
50 minutes
This is a great all purpose sandwich bread recipe. It's 100 times better than store bought bread and can be made in an afternoon.
Ingredients
3 cups whole wheat flour
1/3 cup honey
1/4 shortening
1 tablespoon salt
4 1/2 tsp. quick active dry yeast
2 1/4 cups very warm water
3-4 cups all purpose flour
cooking spray
Instructions
In the bowl of a stand mixer with the paddle attachment combine wheat flour, honey, shortening, salt and yeast. Add warm water and beat on low speed for 1 minute. Scrape the sides of the bowl with a spatula as needed. Change the paddle out for the dough hook.
Continue beating on medium speed, stop to add in the all purpose flour 1 cup at a time. Continue to knead with the dough hook until the dough is smooth and springy, about 5 minutes.
Spray a large bowl with cooking spray and place dough ball into the greased bowl. Cover with mixing bowl cover, towel or plastic wrap and set in a warm place to rise. It should double in size in about 40-60 minutes. Dough is ready when an indentation remains when touched.
Grease the bottom and sides of 2 loaf pans with cooking spray.
Gently push fist into dough to deflate. Divide the dough in half. On a lightly floured surface flatten each half with your hands or a rolling pin into a rectangle that is around 18x9". Roll dough up tightly, beginning at the 9" side. Press with thumbs to seal after each turn. Pinch edge of dough into roll to seal. Place seam side down into pan. Cover loosely with plastic wrap and let rise in a warm place another hour or until doubled in size.
Heat oven to 350 and bake for 30-35 minutes, or until loaves are deep golden brown and sound hollow when tapped. Remove loaves from pans and let cool on a wire rack. Brush loaves with butter, and let cool for a few minutes before cutting and serving! For easiest cutting use a serrated knife.
Recommended Products
As an Amazon Associate and member of other affiliate programs, I earn a small commission if you purchase something I recommend. I would never recommend products I don't love and use!
Nutrition Information:
Yield:

24
Serving Size:

1
Amount Per Serving:
Calories:

296
Total Fat:

1g
Saturated Fat:

0g
Trans Fat:

0g
Unsaturated Fat:

1g
Cholesterol:

0mg
Sodium:

267mg
Carbohydrates:

63g
Fiber:

4g
Sugar:

4g
Protein:

9g