If you're wondering what to put on your Christmas list or what to buy for your friend, mom or sister this women's gift guide has some ideas to get your shopping started!
This post contains affiliate links which means I make a small commission if you purchase something I reccomend.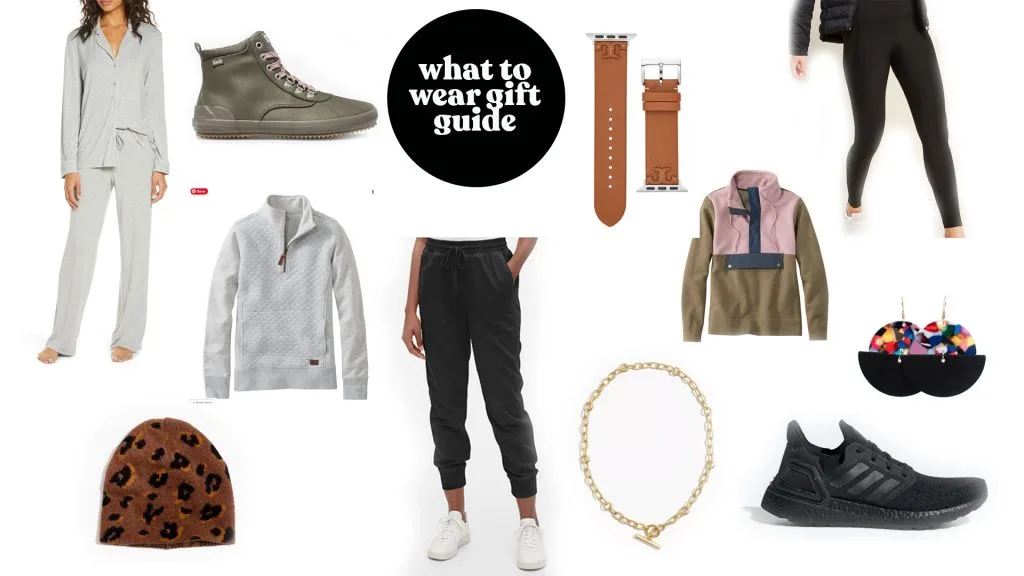 This gift guide is a mix of items that I own and items that are on my personal wish list this year! I'm all about classic pieces that are fashionable now but won't seem too trendy a year from now. I'm a stay at home/ work at home mom so most of my clothing tends to be a sporty athleisure style.
I hope this gift guide gives you some great ideas for your holiday shopping this year!
What to Wear Gift Guide
Gift ideas for the women in your life! These fun clothing and accessories are all classic pieces that won't go out of style next season.
These pajamas are super soft and so luxurious! The perfect gift for being cozy at home.
This is on my wish list! I need a new strap for my apple watch and I love this one!
I just love this color block sweatshirt, and I love LLBean!
This beanie is the perfect topper to your cute winter outfit
I've been eyeing these boots for a while, I love that they are waterproof. Several color options that are classic, I'm in love with the olive.
This sweatshirt is sure to be a new favorite that I'm going to wear all winter long
I have a friend who has this sweatshirt and it always looks so cute with leggings!
I have these joggers and I wear them every single week. I have the green olive and want the black too!
Everyone's always raving about the lululemon leggings, I'm going to be honest and tell you I haven't splurged on them because I'm so in love with these Old Navy leggings at a fraction of the price! I love them!
Such great athletic shoes and the color options are endless. I am kind of in love with this black on black.
Photo Credit: Nickel & Suede
My favorite lightweight leather earring are Nickel & Suede and these specifically with the acrylic multi color top piece are just gorgeous. I wear these all the time!
gold chains are all the rage and I love this gold toggle necklace from Madewell
Shopping for men is always the hardest part of my holiday shopping, you too? Check out my Men's Gift Guide for some great ideas for all the brothers, husbands, dads and uncles on your list!
If you're coming over from google stories, thanks for stopping by! 🙂