The easiest holiday dessert you'll make this year, this homemade eggnog ice cream recipe is delicious!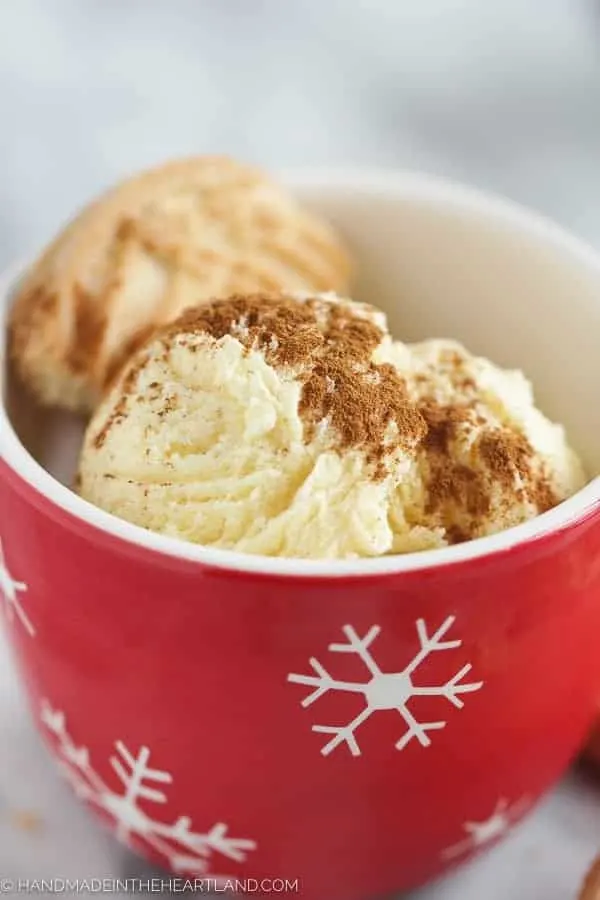 You know I love AE Egg Nog, my husband loves AE Egg Nog and I'm guessing once you've tried it you're going to be a loyal fan as well. We call it liquid gold in our house and over the past several years I've made some delicious holiday recipes using it. My egg nog cinnamon bread is a reader favorite and the egg nog cheesecake is to die for!
This eggnog french toast casserole (which is basically bread pudding) is the perfect Christmas breakfast and if you're doing holiday baking don't forget about my caramel egg nog cookies! Lest you think I have run out of ideas of what delicious recipe to create using my favorite holiday drink I bring you egg nog ice cream! Guys, it's literally 1 ingredient. AE Egg Nog.
I love Eggnog so much I created a list of over 70 eggnog recipes that use eggnog as an ingredient or are recipes for how to make eggnog from scratch.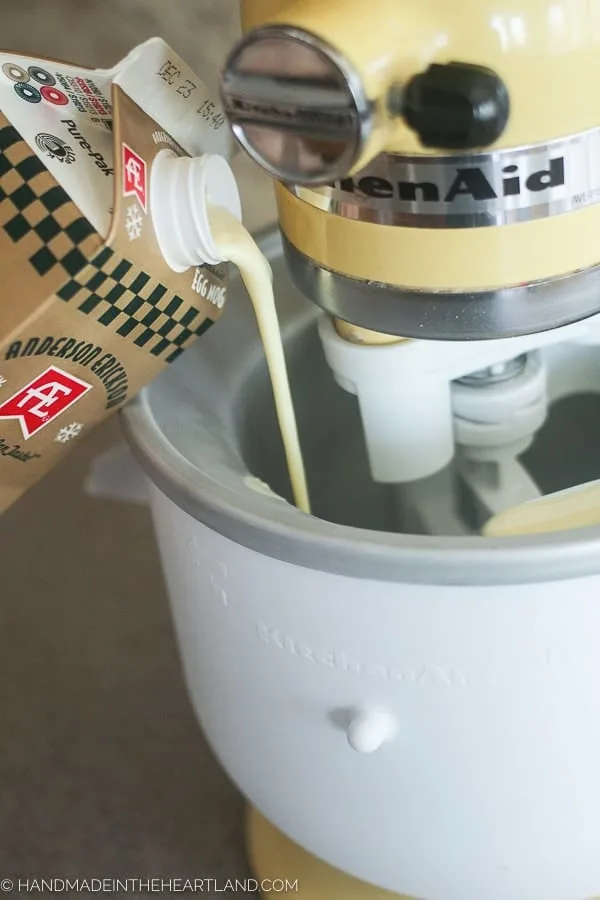 What is Eggnog?
Eggnog is a thick, rich, sweet dairy based drink made with milk, cream, sugar, whipped egg whites, egg yolks, cinnamon and nutmeg. It is sold and served during the holiday season usually the end of October through New Year's Day.
Eggnog is traditionally served chilled, can be purchased at your local grocery store or made at home.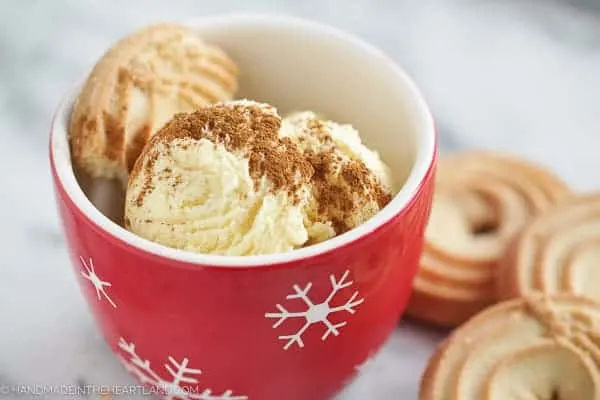 How to make Eggnog Ice Cream
What's really awesome about eggnog is you don't need any extra ingredients to make eggnog ice cream. Good, fresh, real eggnog is a ready made ice cream base!
Have you ever made homemade ice cream? Most ice cream bases call for eggs, milk, cream and sugar. All of those ingredients are in AE Eggnog! AE Dairy's cream has a higher fat content than most other brands. This means ice cream made with AE Dairy eggnog comes out rich and silky smooth.
If AE dairy is not accessible to you check the ingredients on the containers of eggnog at your grocery store. Make sure you choose an eggnog that includes these ingredients on the label: milk, cream, sugar and egg yolks. This will ensure a successful ice cream!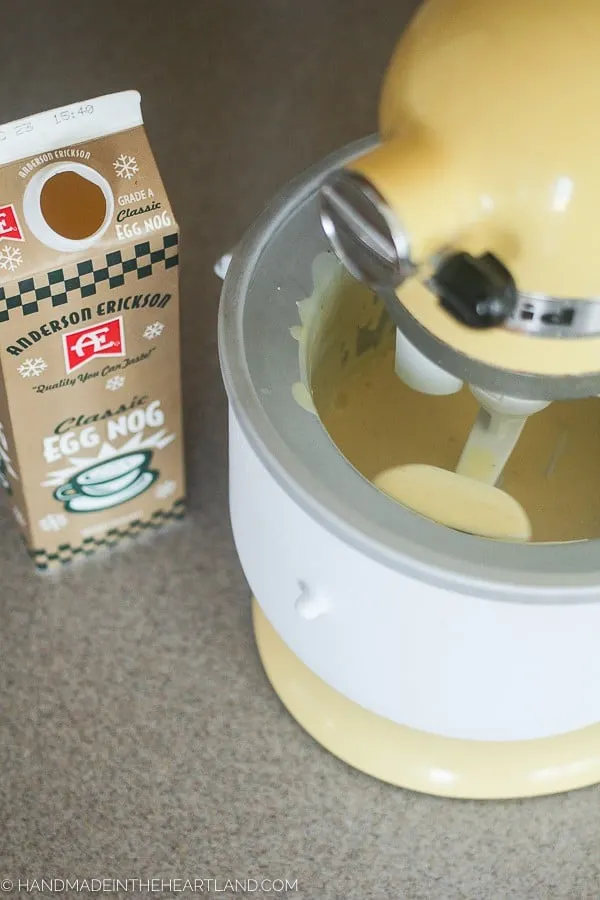 So get ready for this really difficult "recipe". Get yourself a bottle of liquid gold, I mean AE Classic Egg Nog and put it in your ice cream maker.
As the ice cream was mixing I thought to myself "I think I'll throw in some butter cookie chunks" channeling my inner Ben & Jerry. If you enjoy chunks of goodness in your ice cream I highly recommend adding some roughly chopped butter cookies in with the egg nog.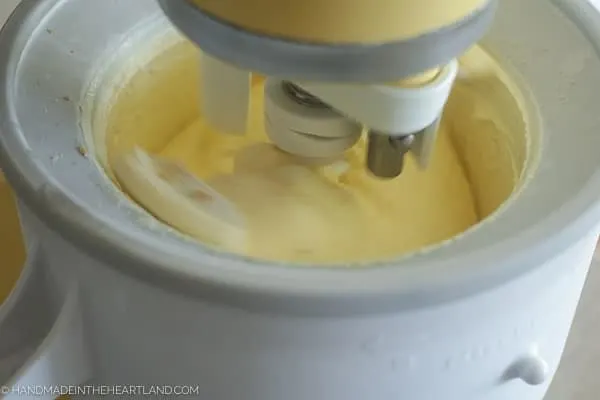 How to make eggnog into ice cream
To make this ice cream I used my KitchenAid mixer ice cream maker attachment. I love condensing kitchen appliances, especially ones that aren't used often, so this ice cream maker attachment is totally my jam. It has worked perfectly the 5 times I've used it over the last 5 years… 😉
I let the ice cream process for about 30 minutes. It was nice and thick and creamy but still wasn't quite as hard as I normally like my ice cream.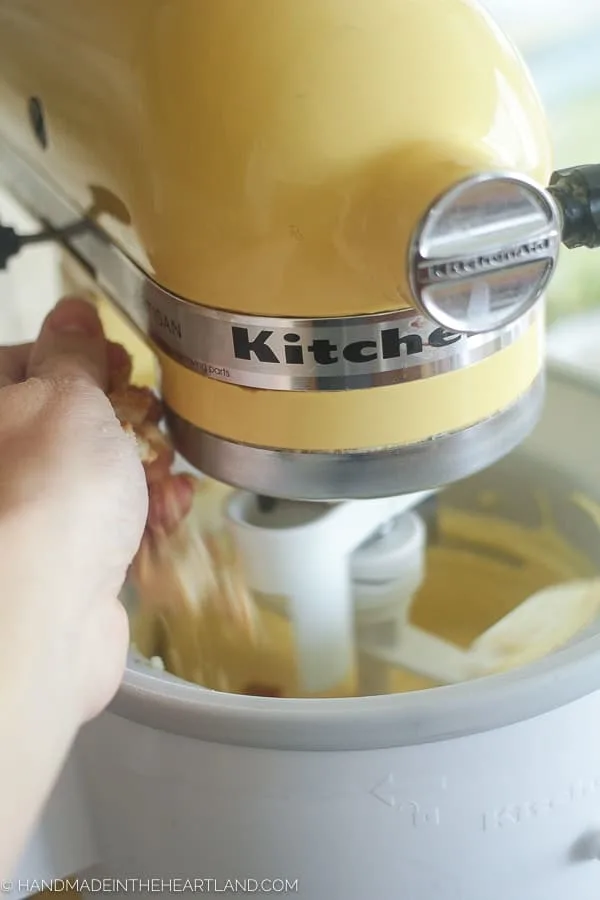 After the ice cream processed I divided it between two plastic storage containers and placed them in the freezer. After a few hours it hardened and became the consistency of ice cream you would buy from the store.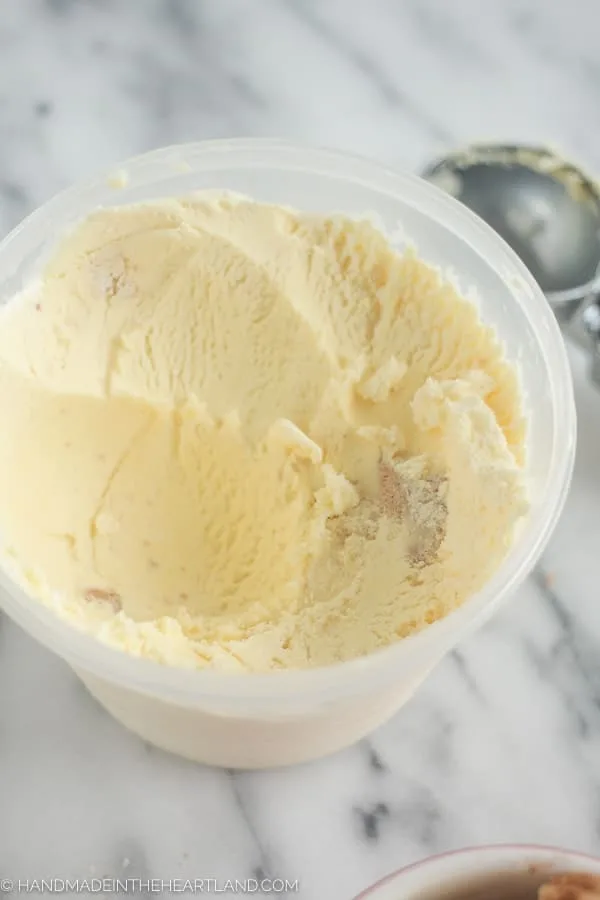 Friends, I cannot wait to hear how much you love making egg nog ice cream!
Let me know when you do!! If you make this please share it with me! I love to see when you make recipes from the blog, it really makes me SO happy! Share it with me in the comments or tag me on Instagram (@handmadeintheheartland) or facebook!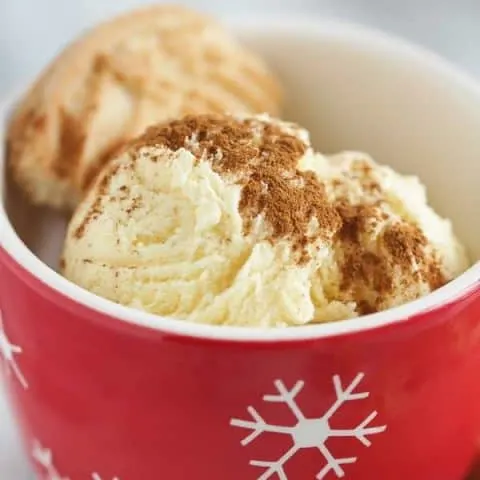 Eggnog Ice Cream
With all the flavors of Christmas this eggnog ice cream is so easy to make!
Ingredients
1 quart AE Classic Egg Nog
Optional- 1 cup roughly chopped butter cookies
Instructions
Pour 1 quart of EggNog into your ice cream maker. Check your specific appliance to determine if 1 quart of liquid will fit, make sure to not over flow. Ice cream expands during processing.
Let ice cream process for 30 minutes. If desire add in cookie chunks after it has been processing for 15 minutes.
Remove from maker with a spatula and put in an air tight container, store in the freezer for 2-4 hours for a harder consistency.
Scoop out and enjoy with a sprinkle of cinnamon, if you wish.
Recommended Products
As an Amazon Associate and member of other affiliate programs, I earn a small commission if you purchase something I recommend. I would never recommend products I don't love and use!
Nutrition Information:
Yield:

8
Serving Size:

1
Amount Per Serving:
Calories:

252
Total Fat:

11g
Saturated Fat:

7g
Trans Fat:

0g
Unsaturated Fat:

4g
Cholesterol:

110mg
Sodium:

153mg
Carbohydrates:

31g
Fiber:

0g
Sugar:

16g
Protein:

8g