Make this chicken apple & caramelized onion pizza to bring fall flavors in full force to homemade pizza night!
This recipe includes affiliate links which means I make a small commission if you purchase something I recommend.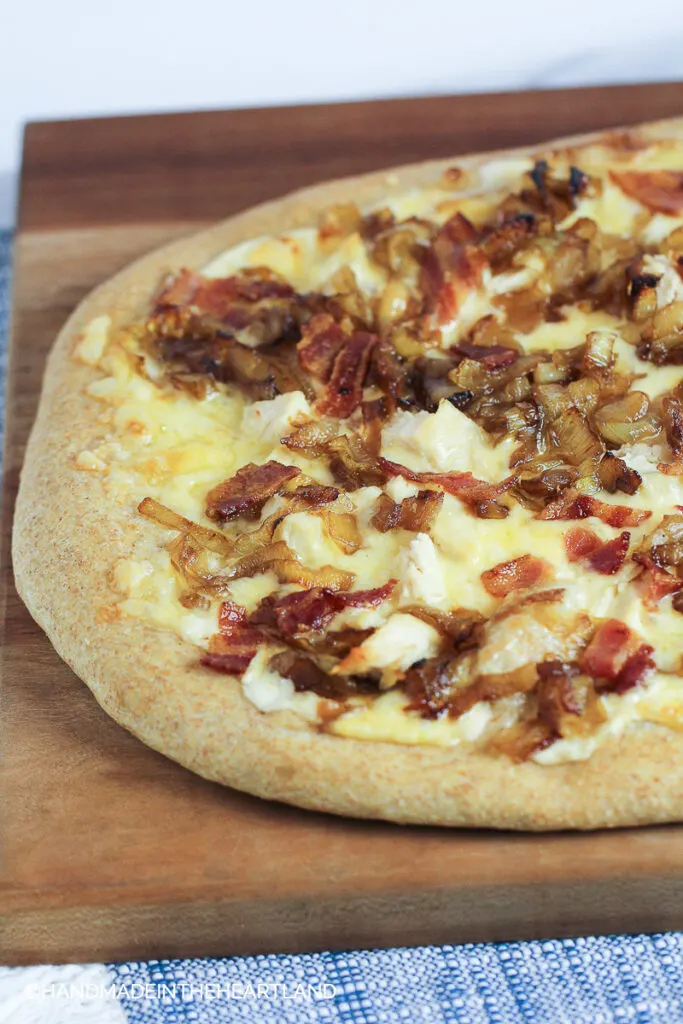 This pizza is screaming with fall flavor. Apples, onions, chicken, bacon and Alfredo sauce all pair together so well. Really the star of this pizza is caramelized onions, they are packed with sweet delicious flavor. You're going to love this non-traditional homemade pizza.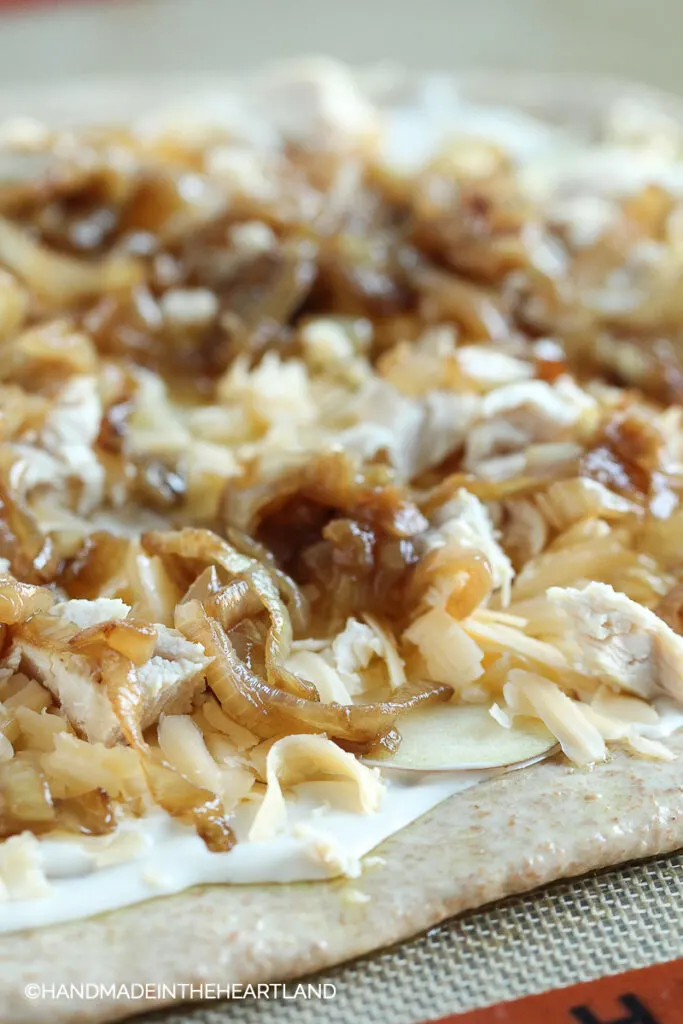 Ingredients: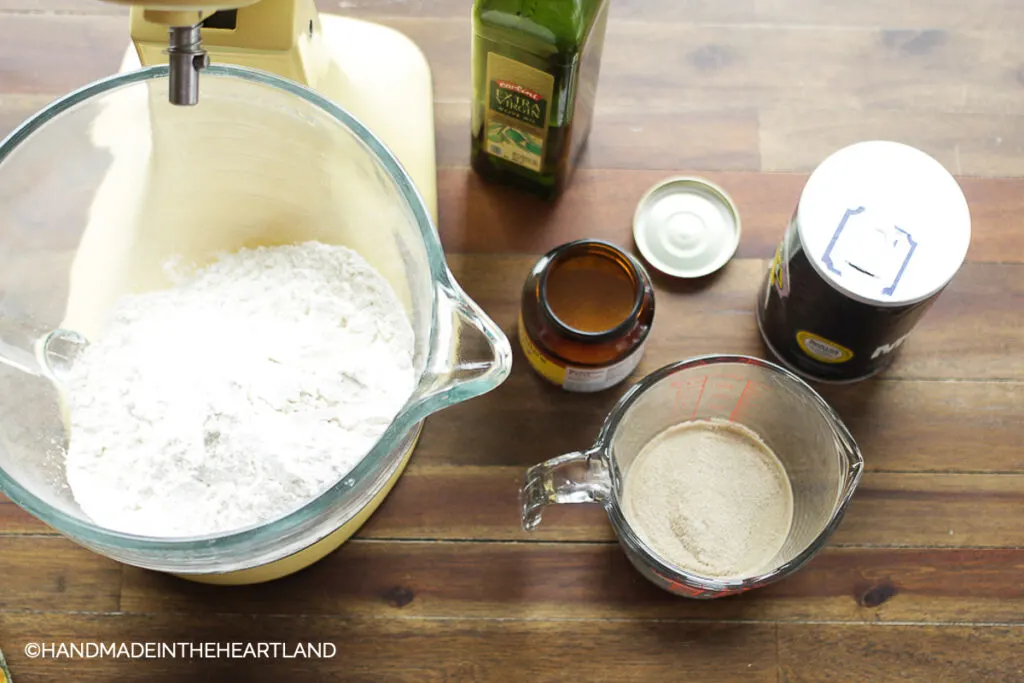 Ingredients for Pizza Dough
My homemade pizza dough recipe is so simple and only calls for a few ingredients. If you want more guidance make sure to ready my post How to Make Pizza Dough, it has everything you need to know! Pizza dough is a lean dough that's low in fat and sugar to produce a crispy on the outside crust. We add a little olive oil for flavor.
Water
Active Dry Yeast
Flour- I like to use bread flour, all-purpose works but bread flour produces a little bit better results. If you'd like to make a whole wheat flour just use 1/2 whole wheat and 1/2 bread flour.
Salt
Olive Oil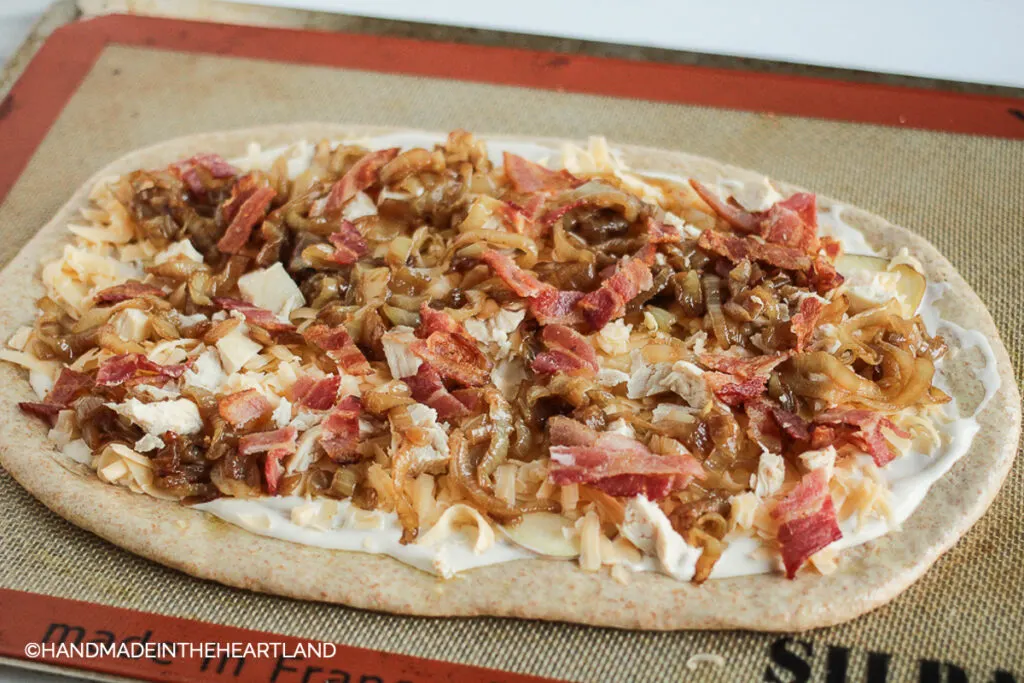 Ingredients for Chicken Bacon Apple & Caramelized Onion Pizza
Olive Oil- Brushing the edges of the crust with olive oil helps the crust to be crispy but not too hard.
Alfredo Sauce- I use a jarred Alfredo sauce as the base for this yummy pizza. It's a nice departure from traditional red sauce.
Bacon- Bacon makes everything taste better! Pre-cook the bacon and have it sliced into small pieces ready to sprinkle over the pizza.
Chicken- You'll need pre-cooked chicken for this pizza, I like using this recipe for baked chicken breasts. Or if you want to save some time just pick apart a rotisserie chicken.
Apple- Adding thinly sliced apples to this pizza adds a hint of sweet and a little bit of crunch. Use any variety you like, I typically go for fuji or honey crisp.
Gouda & Havarti Cheese- Top the pizza with generous amounts of delicious shredded cheese. I love the combination of smoked gouda and apples and onions. Both of these cheese melt really well.
Caramelized Onions- Oh how I love caramelized onions. You'll want to pre-make these and they can even be made several days in advance. Check out the video below to see how I make them.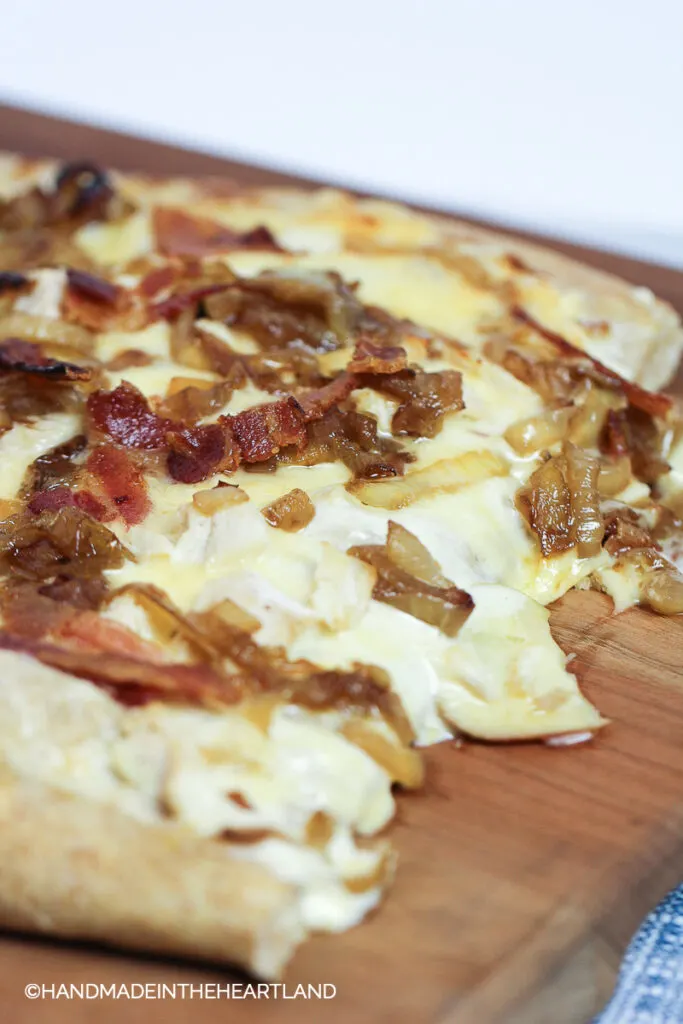 ---
I love to make pizza! I've made several unique pizza recipes to help make family pizza night more delicious and get you more excited about making homemade pizza! Make sure to read my posts with lots of tips for making homemade pizza and how to make pizza for a crowd.
If you would like to get all 5 pizza recipes and the instructions for making pizza dough in a downloadable e-cookbook you can purchase my "How to Make Pizza at Home" ebook Here!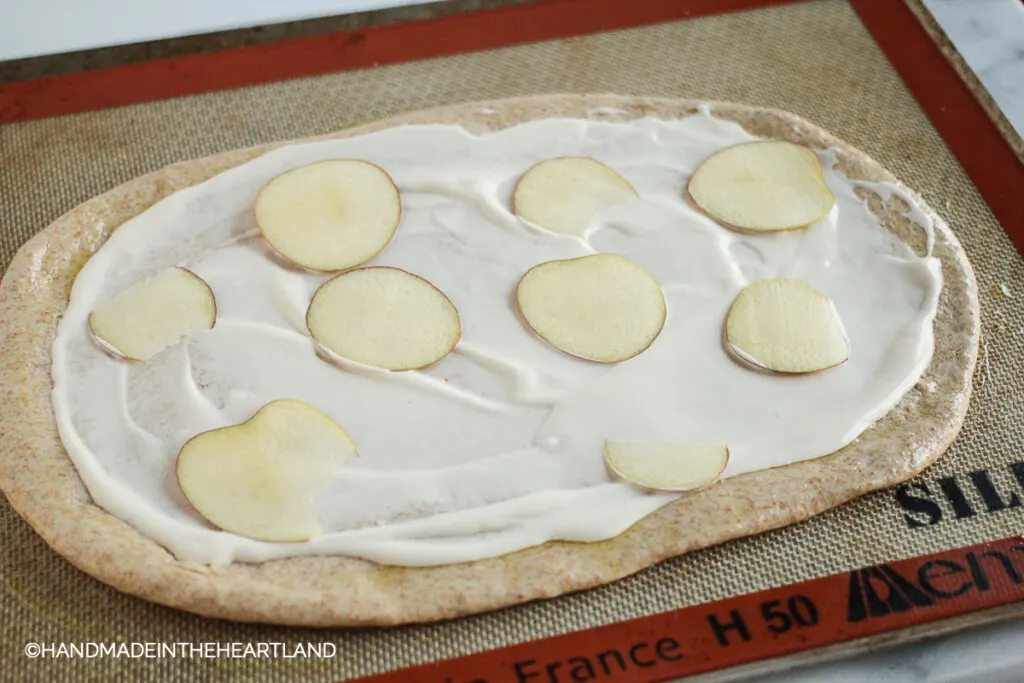 Tools for making homemade pizza
I don't use a lot of fancy pizza making supplies that are used only for pizza. I don't need extra stuff in my kitchen! So I prefer tools that are used for a variety of cooking needs. These are my tried and true cooking tools that I love to use for pizza making and more!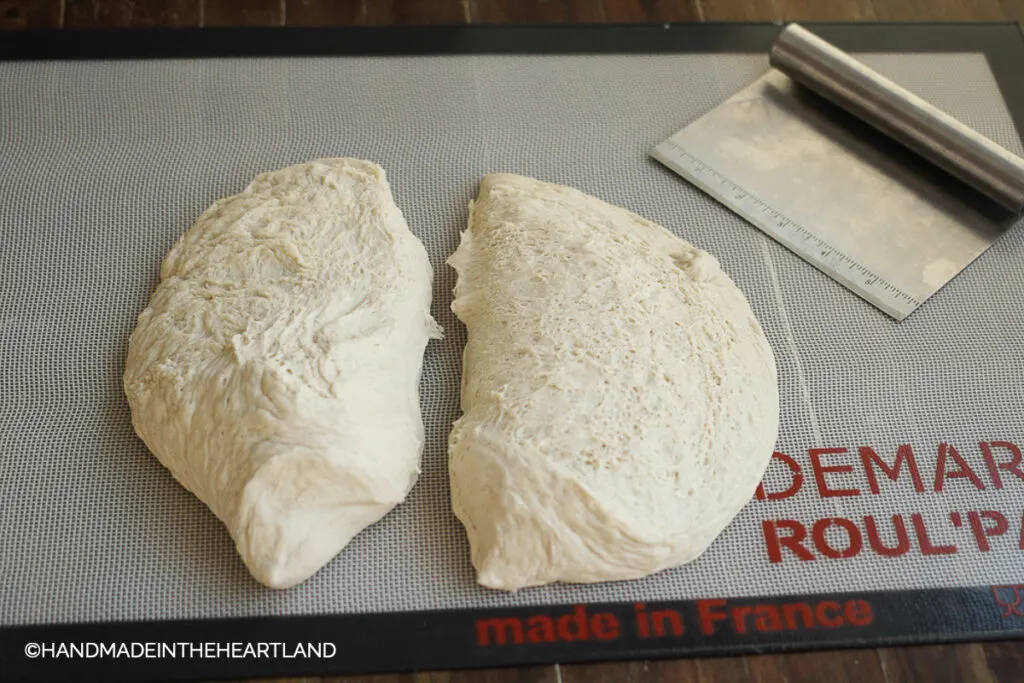 Time Saving Tip:
Pre-make the Dough. If you're not at home during the day make your dough the night before, let it rise and then put the ready to roll out down in the fridge wrapped in plastic wrap. Make sure to let the dough come to room temperature for 30-ish minutes before you roll it out.
---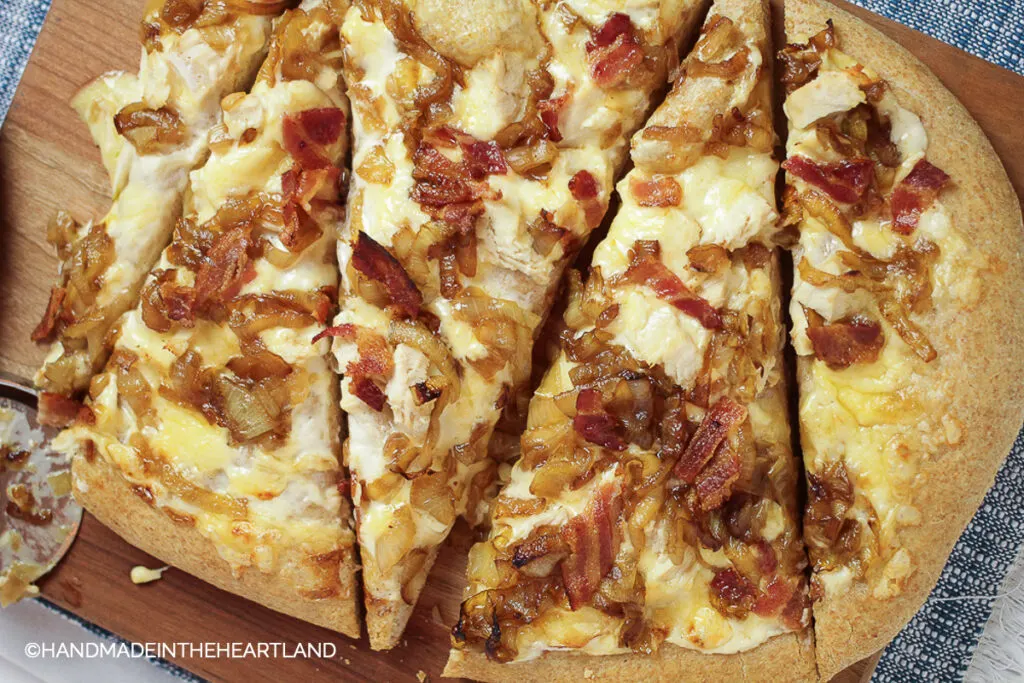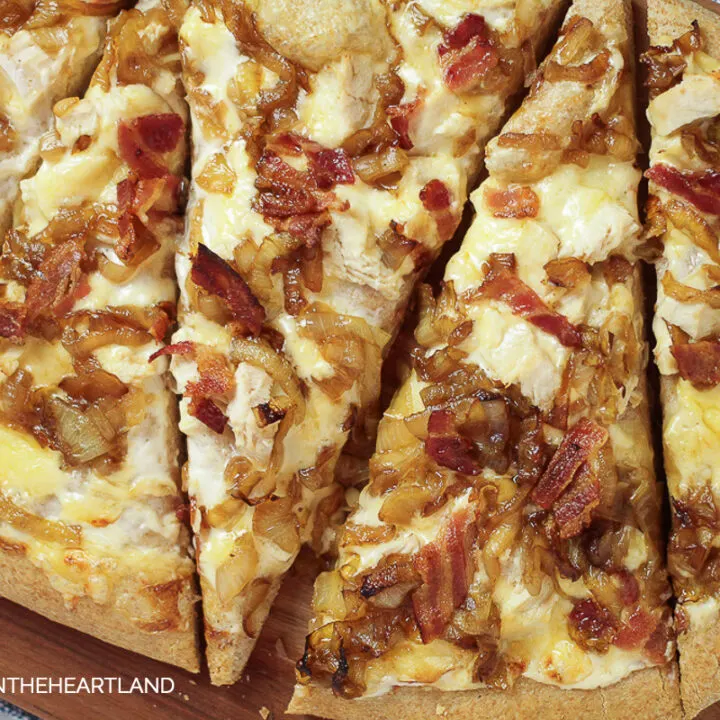 Chicken Apple & Caramelized Onion Pizza
Total Time:
2 hours
42 minutes
Make this chicken bacon apple & caramelized onion pizza to bring fall flavors in full force to homemade pizza night!
Ingredients
Pizza Dough
1⁄2 cup warm water

2 1⁄4 tsp. yeast
, 1 package
4 cups (22 oz.) bread flour, plus more for dusting

1 1⁄2 tsp. salt

1 1⁄4 cup water, at room temperature

2 tbsp. extra-virgin olive oil
Pizza
1 tablespoon olive oil

1/2 cup cooked chicken breast diced, or shredded chicken form a rotisserie chicken

1 cup Alfredo sauce, a jar of store bought works perfect

1 Apple (I like fuji)

1/2 cup gouda, shredded
1/2 cup havarti, shredded
1/2 cup caramelized onions
2-3 slices cooked diced bacon
Instructions
Measure 1/2 cup of warm water into a 2-cup liquid measuring cup. Sprinkle the yeast over the top and set aside for 5 minutes, it should start to foam.
In the bowl of a stand mixer mix the bread flour and salt, give it a quick stir to combine.
Pour 1 1/4 cup of room temperature water into the measuring cup with the yeast-water mixture. With the mixer on low speed and with the bread hook attachment, pour in the yeast-water mixture as well as the olive oil. Mix until a cohesive dough is formed.
Knead on low speed until smooth and elastic, about 5 minutes.
Transfer to a lightly oiled bowl, turning once to coat. Cover with plastic wrap and let rise until doubled in size, 2 hours.
Make Caramelized Onions: Cut the onions in half and then in slices. Heat a large skillet (that has a lid) over medium heat with 2 tablespoons of olive oil, add the onions. Coat the onions in the oil and then cover. Cook for 10 minute increments and then lift the lid to stir and check on them. After about 15-20 minutes reduce the heat to low. It takes about 45-50 minutes to get them good and brown and caramelized.
After 2 hours press down the dough to deflate it. Transfer the dough to a lightly floured work surface or a Roul'pat. Divide the dough into two equal pieces. Form each piece of dough into a smooth, round ball. Let the dough relax for at least 10 minutes but no longer than 30 minutes.
Preheat the oven to 450.
Roll out the dough. Place on Silpat. Brush edges of the crust with olive oil.
Spread a layer of alfredo sauce evenly on the pizza. Slice the apple in thin rounds or slices no more than 1/8" thick. Place them evenly on the pizza. Sprinkle the cheeses over the entire pizza. After cheese layer add onions, chicken and bacon.
Bake for 10-12 minutes. Until crust is golden brown. While first pizza is baking roll out second dough ball to make the second pizza. When pizzas are done cooking let cool for 5 minutes. Slide off Silpat onto a cutting board, slice and serve.
Notes
If you'd like to make whole wheat pizza dough do 1/2 whole wheat flour and 1/2 bread flour.
Recommended Products
As an Amazon Associate and member of other affiliate programs, I earn a small commission if you purchase something I recommend. I would never recommend products I don't love and use!
Nutrition Information:
Yield:

16
Serving Size:

1
Amount Per Serving:
Calories:

222
Total Fat:

7g
Saturated Fat:

2g
Trans Fat:

0g
Unsaturated Fat:

4g
Cholesterol:

35mg
Sodium:

341mg
Carbohydrates:

24g
Fiber:

1g
Sugar:

0g
Protein:

14g
If you would like to get all 5 pizza recipes and the instructions for making pizza dough in a downloadable e-cookbook you can purchase my "How to Make Pizza at Home" ebook Here!
Pizza Recipes
All our favorite pizza recipes! Get excited about homemade pizza night!