This homemade pizza recipe is a standard in our house! We eat pizza every Friday and this customizable recipe gives you all the tips and tricks to make perfect pizza at home!
This post contains affiliate links which means I earn a small commission if you purchase something I reccomend.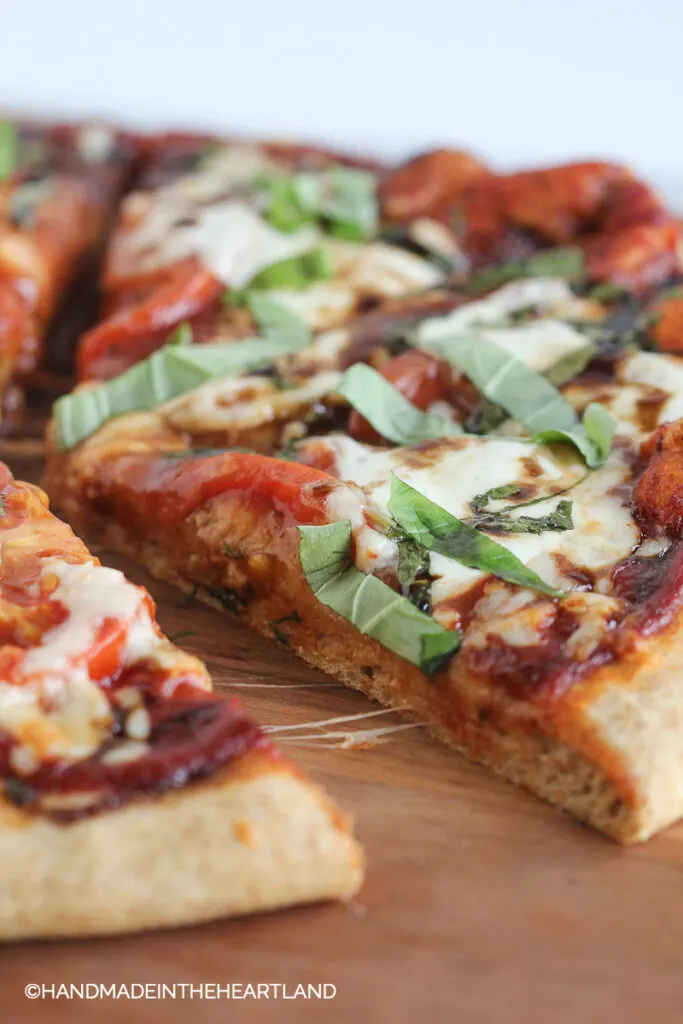 Friday night is pizza night in our house and my kids know it! I don't know about you, but I'm tired of the same old pepperoni pizza routine. There is so much you can do with pizza beyond pepperoni and sausage. (That being said, that combination is still made weekly at our house.)
How to make really great pizza at home
After weeks of making pepperoni pizzas I started experimenting with toppings that made my mouth water. Caramelized onions, sun-dried tomatoes, fresh herbs and different cheese varieties turned pizza night into something I look forward to.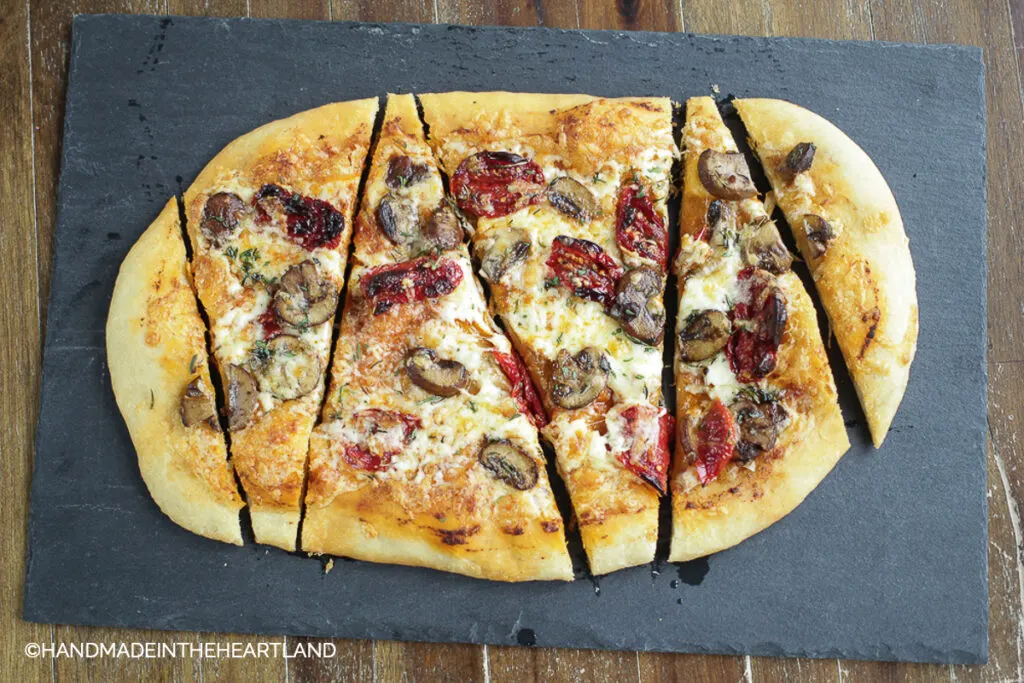 What sets apart really great homemade pizza?
In my opinion these two points totally separate a really great homemade pizza from one that's just "meh".
Make the pizza dough from scratch. Fresh pizza dough is the foundation for great pizza. It's a lot easier than you might think, it just takes a bit of time. Do me a favor and never buy those pre-made packaged dough circles in the grocery store aisle next to the pizza sauce. Just say no. 😉 Get all my tips for making the best pizza dough at home.
Get creative with toppings. I've got several recipes listed below to try that use ingredients you might not think about like apple and caramelized onions or chicken, bacon & ranch. For more inspiration google search "great pizza combinations" or look at a unique local pizza shop's menu.
Bake at a high temperature. I recommend baking at 450° which produces a crispy on the outside but soft and chewy on the inside crust.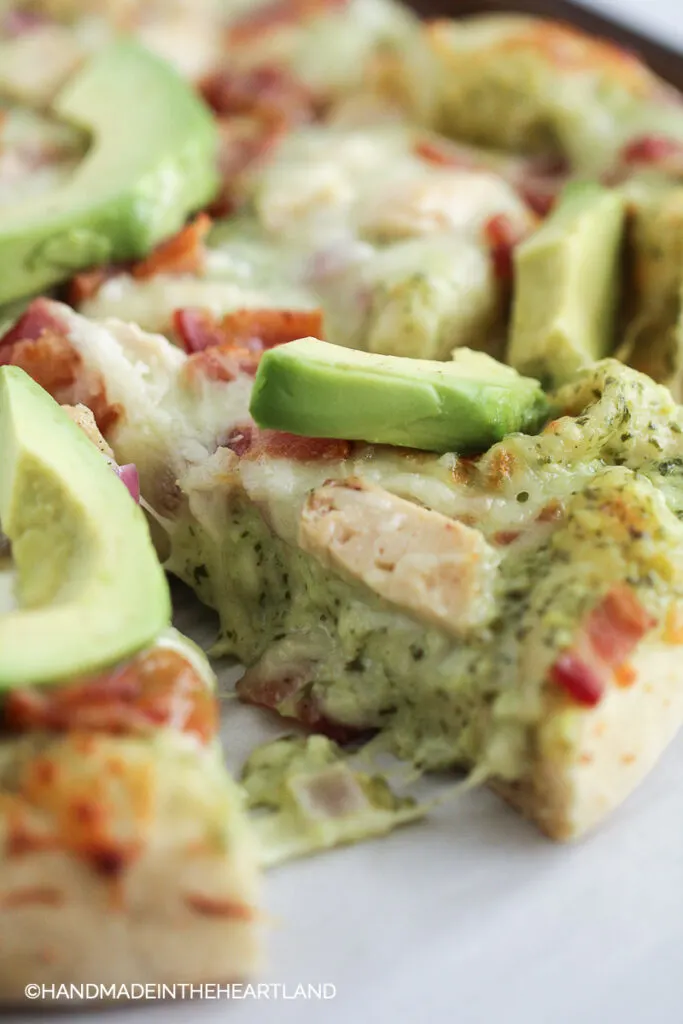 My favorite homemade pizzas
I hope that these recipes will spark your imagination to create new pizza combinations that will make family pizza night more delicious. Here are my favorite pizza recipes:
If you would like to get all 5 pizza recipes and the instructions for making pizza dough in a downloadable e-cookbook you can purchase my "How to Make Pizza at Home" ebook Here!
Why make homemade pizza?
Homemade pizza is a fun family cooking experience! Everyone loves it and it's cheap! Pizza is customizable so everyone can choose their own toppings, a dinner that no one complains about? Sign me up!
Making pizza together as a family each week makes me happy. It makes my kids happy and I hope those memories will stick with them long after the pizza is eaten.
What temperature do you bake homemade pizza at?
450° for 10-12 minutes produces fantastic results. I have cooked pizza at multiple different temperatures for different lengths of time and for the home cook with a traditional oven this temp/time combo works every time.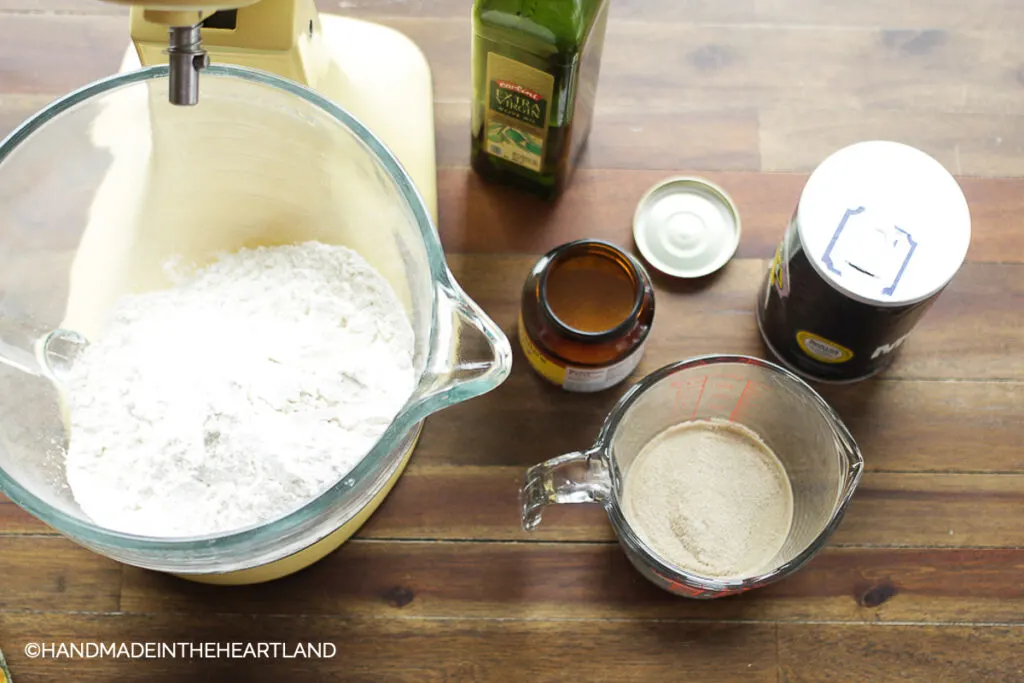 Ingredients:
Ingredients for Pizza Dough
My homemade pizza dough recipe is so simple and only calls for a few ingredients. If you want more guidance make sure to ready my post How to Make Pizza Dough, it has everything you need to know! Pizza dough is a lean dough that's low in fat and sugar to produce a crispy on the outside crust. We add a little olive oil for flavor.
Water
Active Dry Yeast
Bread Flour- you don't have to use bread flour, all-purpose works but bread flour produces a little bit better results.
Salt
Olive Oil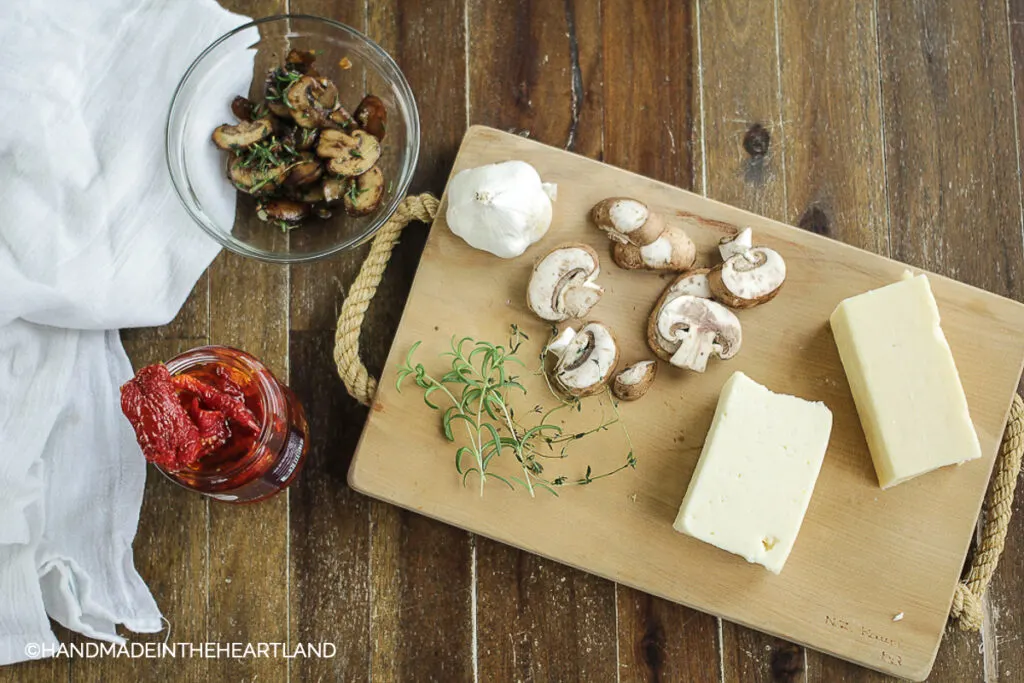 Ingredients for Pizza
The beauty of pizza is how few ingredients you actually need. The amounts are so small even for a large pizza!
Olive Oil- Brushing the edges of the crust with olive oil helps the crust to be crispy but not too hard.
Sauce- I typically use store-bought pizza sauce and in some of my recipes I use jarred Alfredo sauce or ranch dressing!
Toppings- SO many possible combinations and ideas to make delicious pizza. Some of my favorite are a meat lovers combo with sausage, pepperoni and bacon to a more sophisticated combo of garlic, rosemary, mushrooms and sun-dried tomatoes.
Cheese- All pizzas need cheese. Although shredded mozzarella is the gold standard of pizza making I recommend trying different varieties like white cheddar, fontina and gouda that also melt well.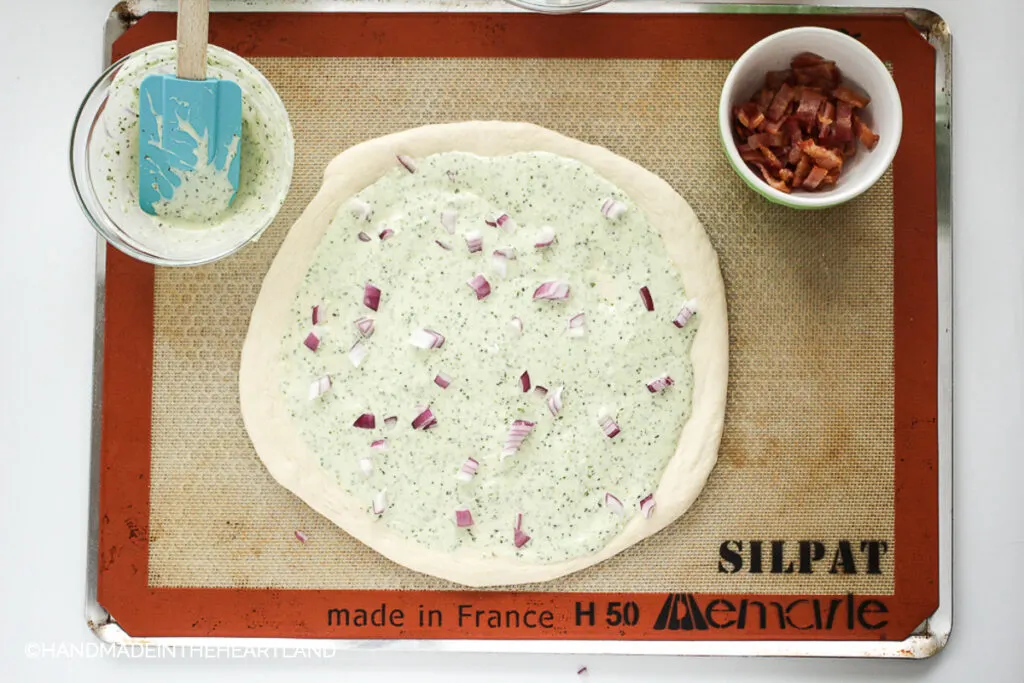 How to cook homemade pizza
My pizza recipes use a simple method of cooking at the high temperature of 450° on a Silpat lined perforated baking sheet for 10-12 minutes. I've found this method to produce crispy on the outside but chewy on the inside crust and melty cheese and hot toppings.
I like this method because it doesn't require any special equipment that is used only for pizza making and it's pretty mess free. The only downside to baking on a Silpat is that I have to slide the pizza off onto a cutting board once it comes out of the oven. However, Silpat's are non-stick so the pizza always slides off easily.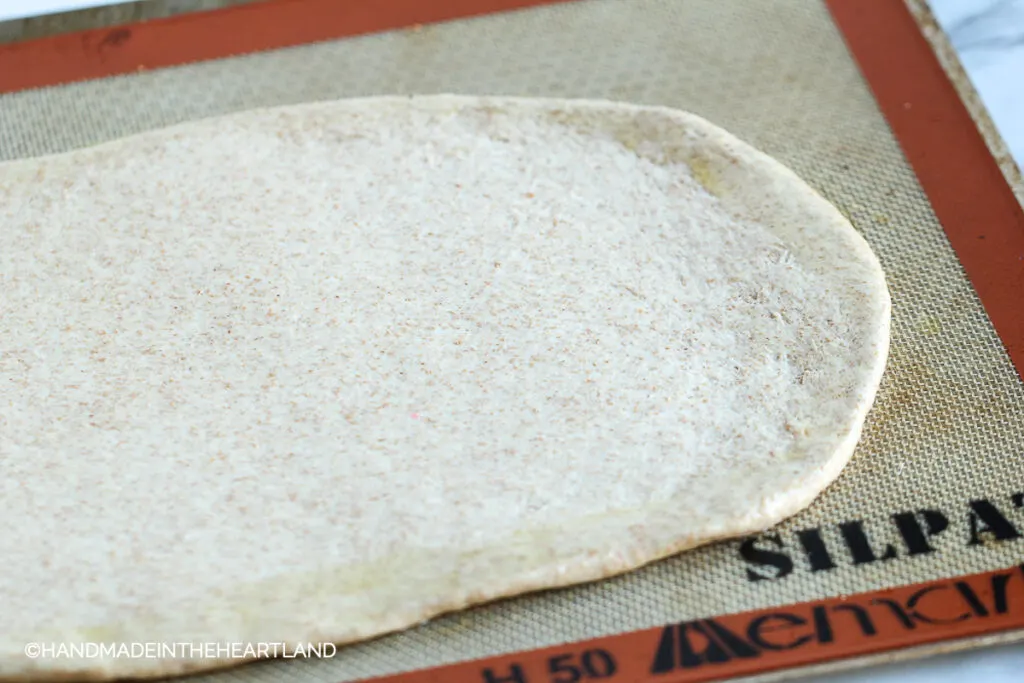 Silpat lined pan vs. Pizza stone
There are several methods out there of cooking homemade pizza. I have tried many of them including the method where you preheat the oven with a pizza stone in it and then slide your raw pizza onto the hot stone with a pizza peel.
I did this for a year or so and I just got really sick of the mess from the cornmeal when I slid the pizza off the peel and my pizza stone broke when it was dropped one day!
It's also super tricky to slide that pizza off the peel and I've had pizzas stick to the peel because I didn't put enough cornmeal on the bottom and fall off in the transfer because I didn't slide it just right.
We also really didn't love the texture of all the cornmeal on the bottom of the pizza crust when we ate it, but if you didn't put enough cornmeal you risk the pizza sticking and not sliding off the peel. Alas it's a complicated process.
After my pizza stone broke I started making pizza on my Silpat with a perforated baking sheet and realized that the crust was just as good as the crust had been on the pizza stone!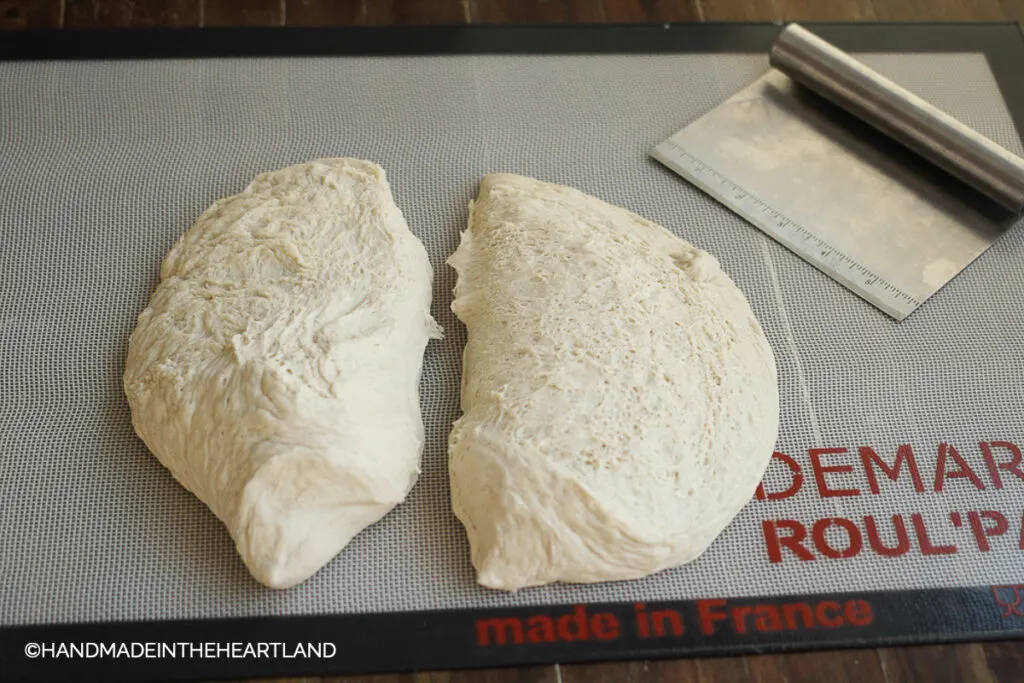 Tools for making pizza at home
As mentioned above I don't use a lot of fancy pizza making supplies that are used only for pizza. I don't need extra stuff in my kitchen! So I prefer tools that are used for a variety of cooking needs. These are my tried and true cooking tools that I love to use for pizza making and more!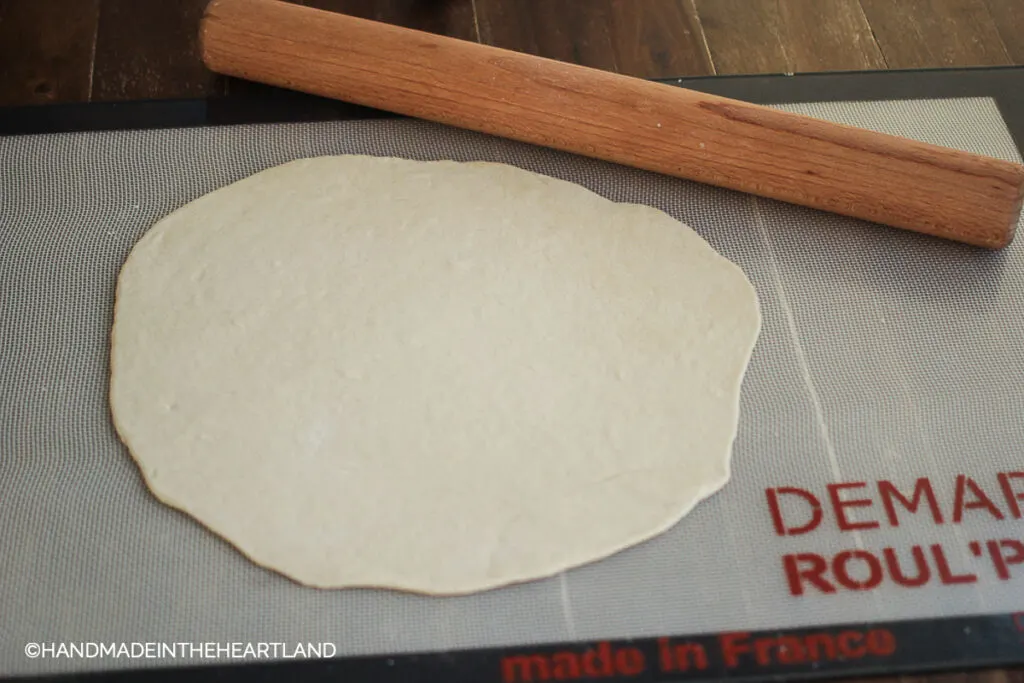 Time Saving Tips for Homemade Pizza
Pre-make the Dough. If you're not at home during the day make your dough the night before, let it rise and then put the ready to roll out down in the fridge wrapped in plastic wrap. Make sure to let the dough come to room temperature for 30-ish minutes before you roll it out.
Grab a Rotisserie Chicken. A rotisserie chicken is kind of like the miracle answer to all my dinner questions. It's perfect for a pizza topping! Pick apart a chicken and use a little bit of it for pizzas, then use it for enchiladas, tacos, or chicken salad the next day.
I'll be the first to admit that homemade pizza takes time. We don't always have that time and I don't want you to get the idea that I never order delivery. Trust me, I do.
---
I find the Fridays that I spend time in the afternoon prepping for pizza night by making the dough and cooking up some caramelized onions I start looking forward to dinner. I find joy in the simple task of cooking. Something about mixing up that dough and letting it rise is so satisfying!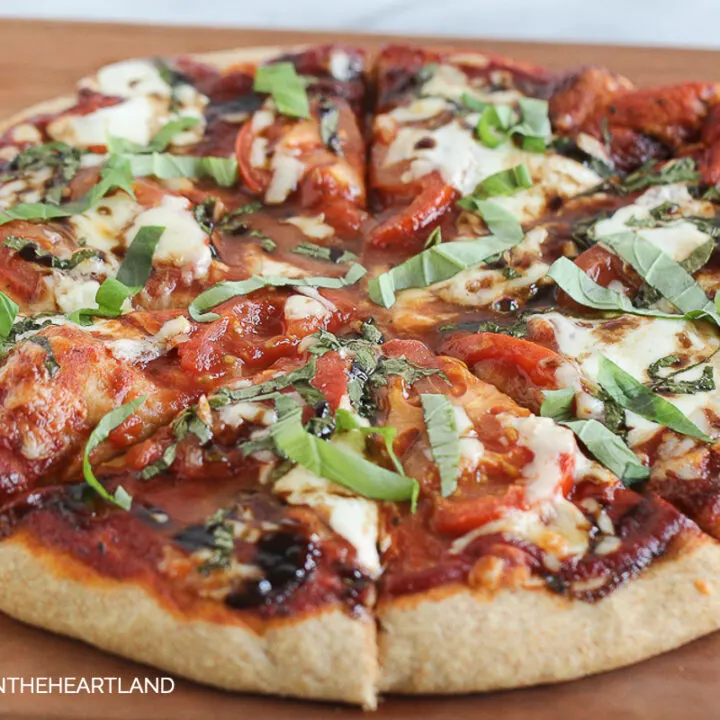 Homemade Pizza
Total Time:
2 hours
42 minutes
This homemade pizza recipe is fully customizable and gives you all the tips and tricks to make perfect pizza at home from crust to toppings!
Ingredients
Pizza Dough
1⁄2 cup warm water

2 1⁄4 tsp. yeast
, 1 package
4 cups (22 oz.) bread flour, plus more for dusting

1 1⁄2 tsp. salt

1 1⁄4 cup water, at room temperature

2 tbsp. extra-virgin olive oil
Pizza
1 tablespoon olive oil

1 cup pizza sauce
1 cup shredded cheese
Toppings of your choice
Instructions
Measure 1/2 cup of warm water into a 2-cup liquid measuring cup. Sprinkle the yeast over the top and set aside for 5 minutes, it should start to foam.
In the bowl of a stand mixer mix the bread flour and salt, give it a quick stir to combine.
Pour 1 1/4 cup of room temperature water into the measuring cup with the yeast-water mixture. With the mixer on low speed and with the bread hook attachment, pour in the yeast-water mixture as well as the olive oil. Mix until a cohesive dough is formed.
Knead on low speed until smooth and elastic, about 5 minutes.
Transfer to a lightly oiled bowl, turning once to coat. Cover with plastic wrap and let rise until doubled in size, 2 hours.
Press down the dough to deflate it. Transfer the dough to a lightly floured work surface or a Roul'pat. Divide the dough into two equal pieces. Form each piece of dough into a smooth, round ball. Let the dough relax for at least 10 minutes but no longer than 30 minutes.
Preheat the oven to 450°
Roll out the dough out and then transfer it to your baking surface, a Silpat lined pan or pizza pan. Brush the outer edge lightly with olive oil.
Brush edges of the crust with olive oil.
Spread the pizza sauce of your choice over the dough. Layer toppings and then top with cheese.
Bake for 10-12 minutes until crust is golden brown. While the first pizza is cooking prepare the second and bake when the first one comes out of the oven. Let pizzas cool for 5 minutes, slide off Silpat onto a cutting board and slice and serve.
Recommended Products
As an Amazon Associate and member of other affiliate programs, I earn a small commission if you purchase something I recommend. I would never recommend products I don't love and use!
Nutrition Information:
Yield:

16
Serving Size:

1
Amount Per Serving:
Calories:

175
Total Fat:

5g
Saturated Fat:

2g
Trans Fat:

0g
Unsaturated Fat:

3g
Cholesterol:

7mg
Sodium:

321mg
Carbohydrates:

26g
Fiber:

1g
Sugar:

1g
Protein:

5g
If you would like to get all 5 pizza recipes and the instructions for making pizza dough in a downloadable e-cookbook you can purchase my "How to Make Pizza at Home" ebook Here!
Pizza Recipes
All our favorite pizza recipes! Get excited about homemade pizza night!