Pizza is a great and inexpensive option for feeding a crowd and if you're up for making a bunch of pizza's you can totally feed a large group with homemade pizza instead of spending a ton ordering delivery.
This post contains affiliate links which means I make a small commission if you purchase something I recommend.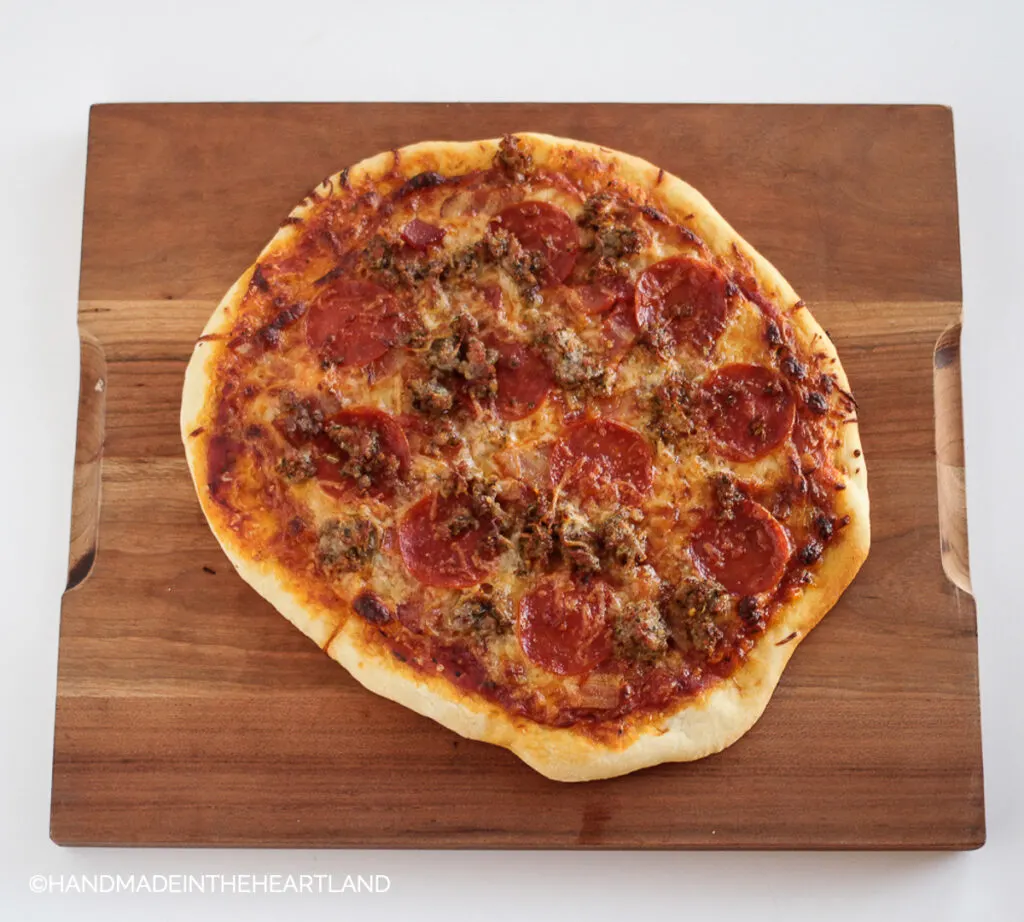 I've made pizza for groups of 10-20 and it's totally do-able with 1 oven. The pizzas will just be done at different times but my guess is your pizza gathering is a casual occasion (as mine have been) where guests don't mind having a piece or two and then waiting for the next pizza to come out of the oven.
Tips for making pizza for a large group:
Determine how many pizza's you'll need and plan ingredients and dough accordingly.
My pizza dough recipe makes 2 medium-largish pizzas (depending on how thick you want the dough) with 8 pieces. I usually estimate that adults will want to eat 2 pieces each, kids 1-2 depending on age. Recently I made 4 pizzas for 8 kids and 4 adults and had leftovers.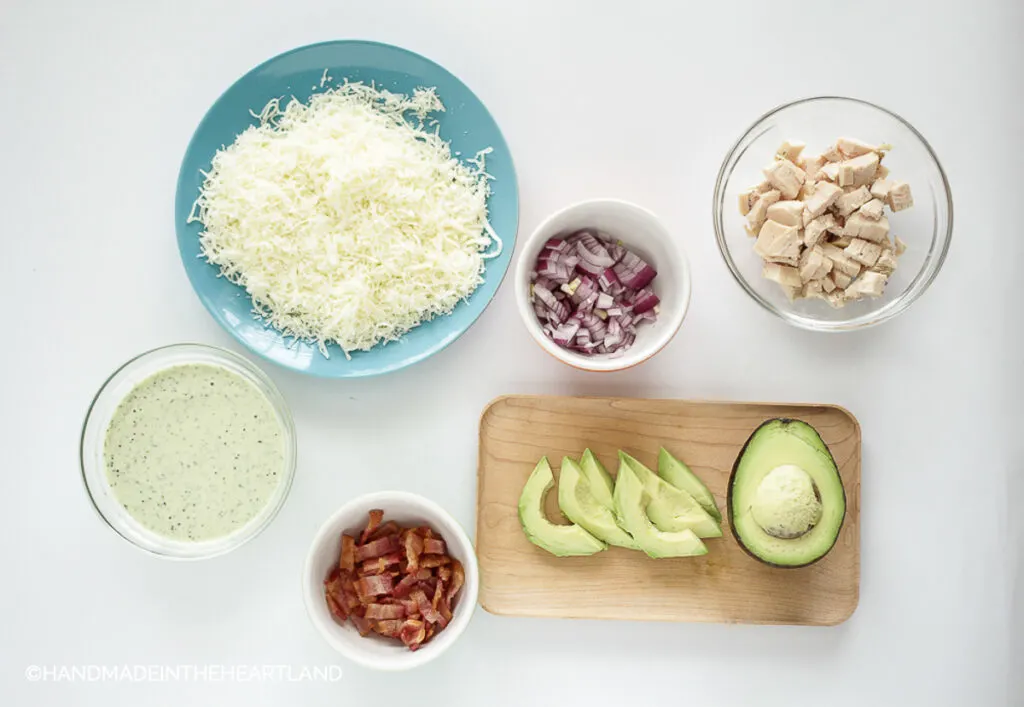 Decide what types of pizzas you'll make.
I like to make several types of pizza when I'm cooking for a group. Usually a traditional pepperoni and then 2 other combos like chicken, bacon ranch and bbq chicken. I like to make a list of what ingredients I need for each and what I'll need to prep before pizza making time.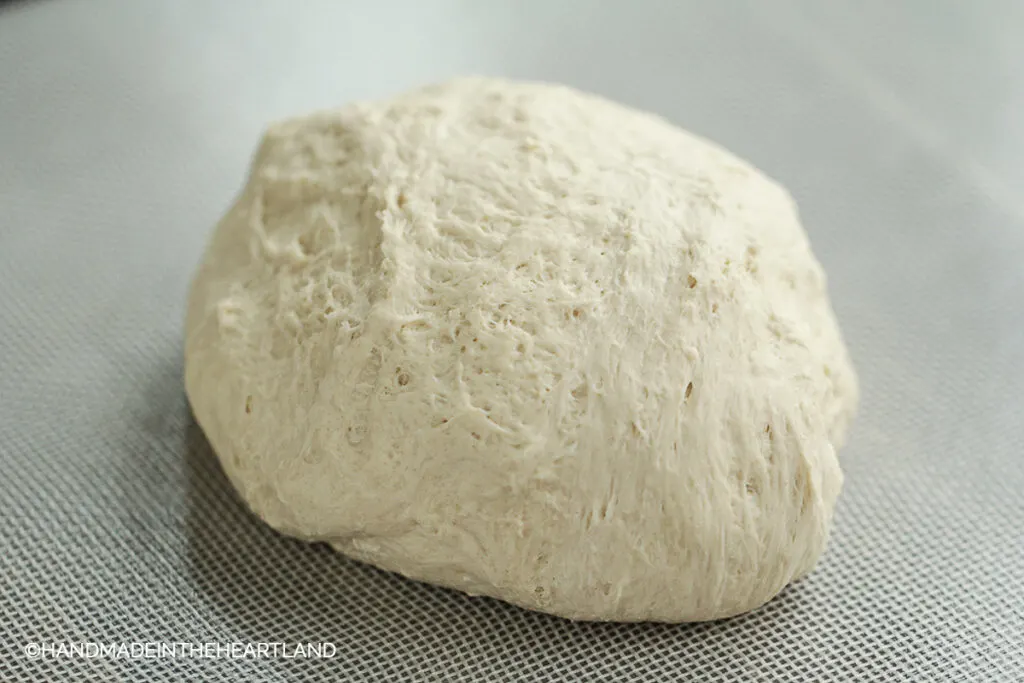 Make the dough 2-3 hours before the event to let rise.
I've made a double recipe in a stand mixer but no larger. Let's say you wanted to make 6 pizzas you could make a double batch of dough, set in a bowl to rise and then make another single batch of dough right after. They might be 20 minutes apart in rising but should work just fine.
Prepare topping ingredients.
Pre-cook bacon, sausage or chicken, or pick a rotisserie if you're using chicken. Cut up onions, make caramelized onions or shred any blocks of cheese.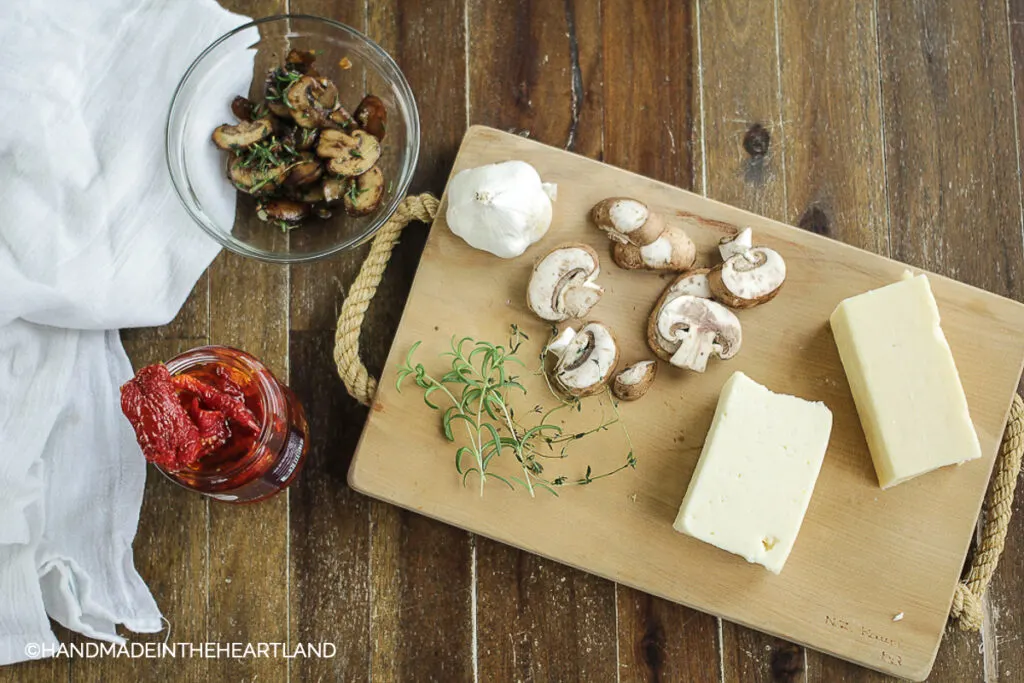 Create a pizza making station or two so people can help.
If your gathering is casual and fun everyone will want to help making the pizzas. You could diving the pizza dough into even smaller pies to have individual pizzas (which will take longer on the baking side) or just ask for friends to help with specific pizzas. You can have one person rolling out dough and then passing to another person to top it, while the first person then rolls out another- assembly line style.
Have a rotation plan for the oven.
Since you'll want to put one pizza in as soon as another one comes out make sure you have multiple pizza pans ready to bake on. I also put the traditional pepperoni pizza in first so it's ready for kids and anyone who's super hunger. You can put 2 pizzas in the oven at once which helps get pizzas into peoples mouths faster!
OR Completely pre-make the pizzas.
This is an idea that I haven't actually tried yet but as I'm writing this post this idea came to me. I'll be sure to try it soon and report back. It would be totally possible to pre-make pizzas for a crowd Papa Murphy's style and put them in the fridge so all the prep is done before and you only have to bake them.
You would need to purchase disposable pizza pans if you are making more pizzas than you have pans for. You'll also need to take the pizzas out of the fridge 60 minutes before baking so the dough is at room temperature and ready to rise in the oven.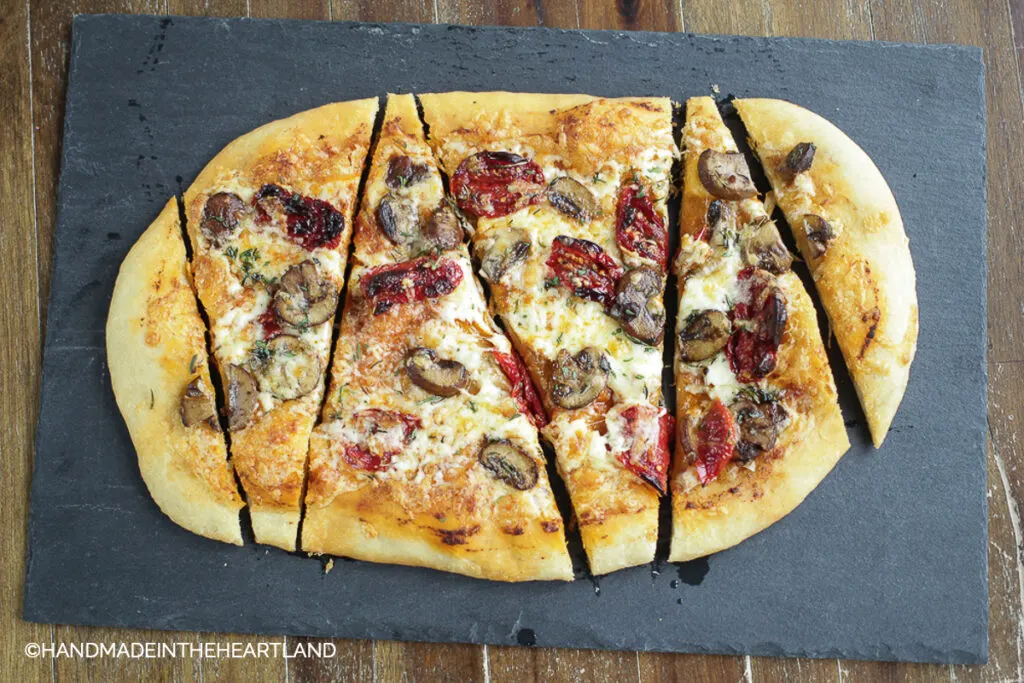 My Favorite Pizza Recipes
We all have a friend who is totally sick of pizza. Make them love pizza again with one of these delicious and unique recipes. Get all my tips for great pizza in my posts: Homemade Pizza and How to Make Pizza Dough.
If you would like to get all 5 pizza recipes and the instructions for making pizza dough in a downloadable e-cookbook you can purchase my "How to Make Pizza at Home" ebook Here!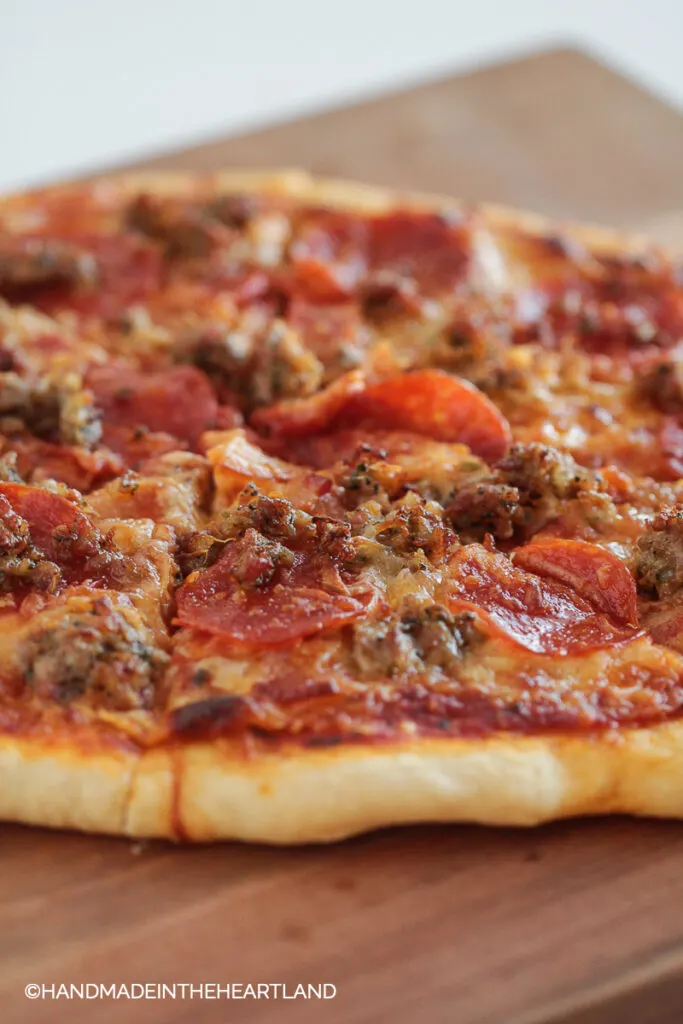 Pro's & Con's of homemade pizza for a crowd
Pro's:
It's Cheap. It's super inexpensive to feed a large crowd! You use surprisingly small amounts of toppings, for instance 1 chicken breast shredded will easily cover 2 pizzas.
It's fun! You can totally include your guests in the fun pizza making process.
It's customizable. Pizza can be easily customized to different diets and preferences. You can even allow guests to make their own.
Con's:
Cooking after guests have arrived. The downside in cooking pizza for a crowd is that pizza is best eaten right after it comes out of the oven so it's difficult to make in advance and keep tasting fresh. With that in mind know that you'll be in the kitchen cooking during your party, just get some of your guests to help!
If you use these tips and make pizza for a crowd please let me know! It thrills me to hear from you and see what you've made! Leave a comment or tag me on Instagram (@handmadeintheheartland) or facebook!
If you would like to get all 5 pizza recipes and the instructions for making pizza dough in a downloadable e-cookbook you can purchase my "How to Make Pizza at Home" ebook Here!
Pizza Recipes
All our favorite pizza recipes! Get excited about homemade pizza night!