This spring succulent wreath is an easy and quick craft that will spruce up your front door for spring!
This post has been sponsored by JOANNs. All thoughts and opinions are my own. This post contains affiliate links.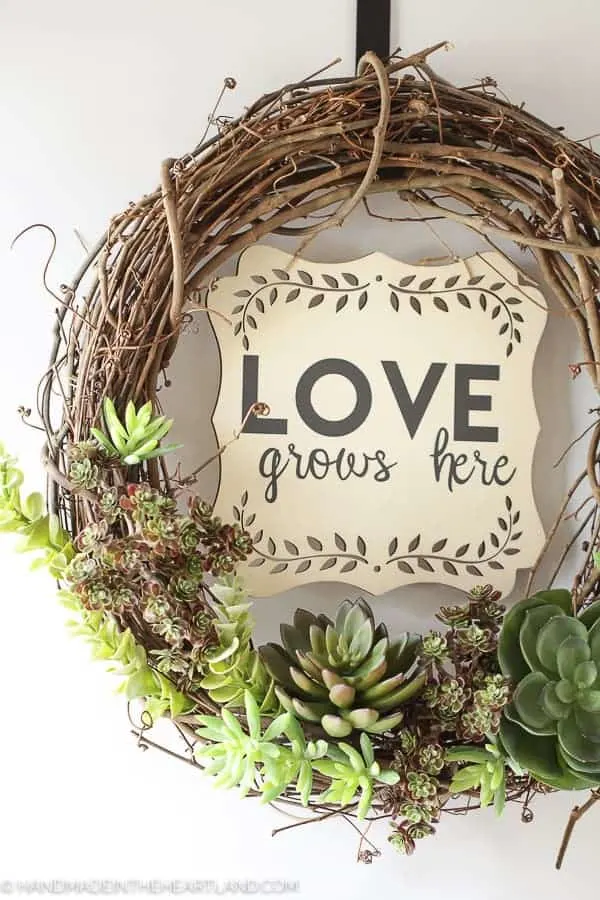 You guys! I'm completely obsessed with this succulent wreath! It might be the easiest thing you make this spring! I love that it really is an all occasion wreath that can stay on your front door year round.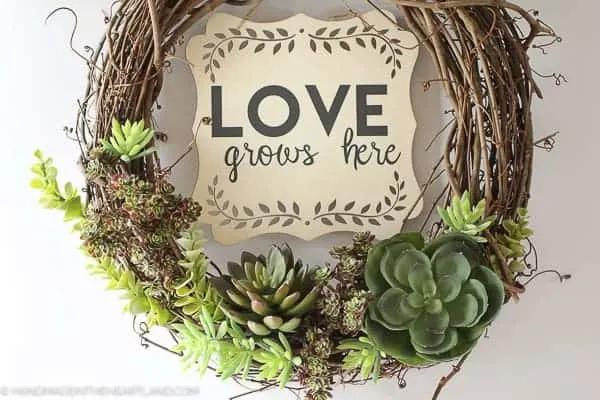 I knew I wanted a new wreath for my front door and I went with the idea to purchase silk tulips. As I walked around the floral section I found these faux succulents and fell in love!
Supplies & Tools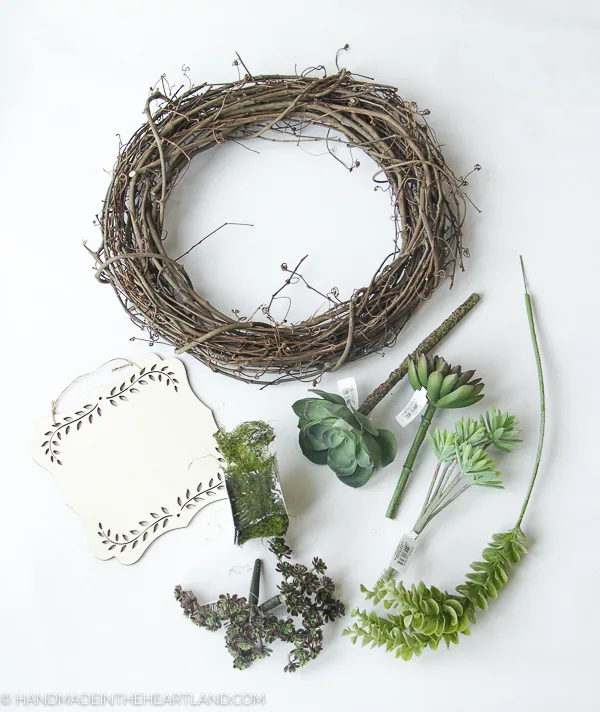 18" Grapevine wreath– I love the way the grapevine wreath naturally "grabs" the stems as you stick them in. I didn't even have to hot glue it together because the succulent stems were secure enough in the grapevine wreath to stay put.
Faux succulent stems– I totally fell in love with these stems at JoAnn's
Laser cut wood sign– This cute little wood sign added a nice place to put lettering for my front door wreath.
Gray adhesive vinyl– I used gray adhesive vinyl for the lettering on the wood sign.
Vinyl transfer tape– If you are using vinyl lettering having transfer tape is a must!
Cricut Explore Air– My favorite crafting tool! For this project I used it to cut the vinyl lettering
Hot glue gun & glue– As mentioned above I didn't actually use hot glue because the stems stayed put without it, and I like the idea of being able to change out the wreath. However if you want a more permanent wreath glue the stems to the wreath!
Wire cutters– You'll need wire cutters to cut the stems down.
This wreath is super versatile. Because I didn't hot glue the succulents down I can re-use this wreath form when I grow tired of the succulents or want to change it up for holidays! Even the center wood sign is made with vinyl lettering that can be removed and updated.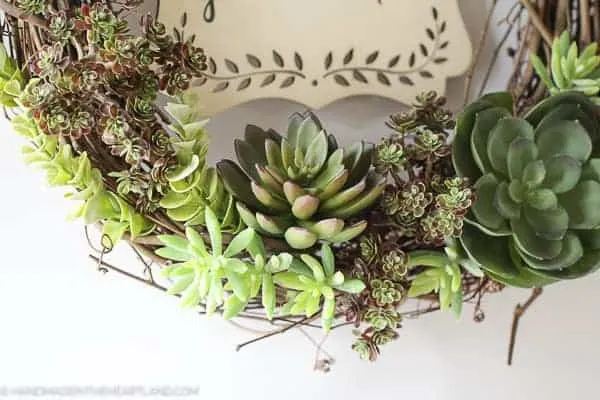 Hey crafty lady, since you're loving this spring succulent wreath you'll definitely want to check out these other fun craft projects: DIY Ceramic Tile Coasters with Vinyl Lettering, How to Make Polymer Clay Earrings, and How to Cut Paper Peony's with Cricut.
Vinyl Lettering on Wreaths
Adding vinyl lettering to wreaths can be a great way to add sentiment for those who visit your home to see. I also had originally thought I would just put a simple "welcome" on the wood sign but as I created the wreath I felt like I wanted something a little bit different.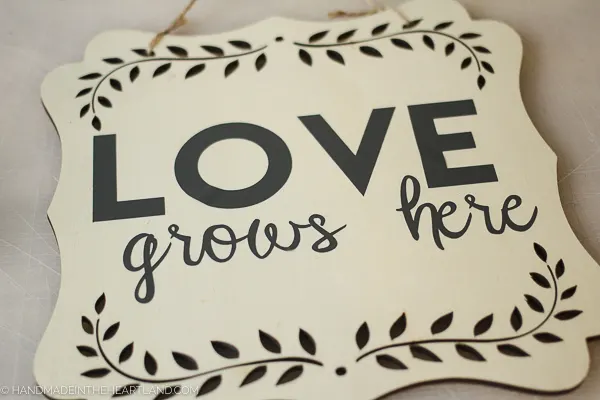 I thought "Love grows here" was an appropriate saying for spring and for our home. Would you put this phrase on your front door? Or would you prefer a more simple "welcome"?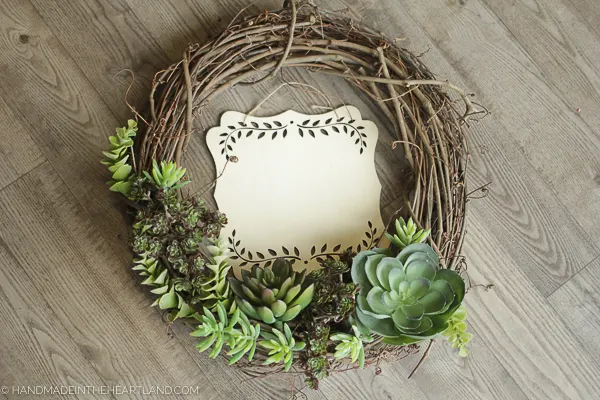 To add vinyl lettering to a wreath all you need is a piece of wood or board that can sit in the middle of the wreath. Using a cutting machine like the Cricut you can cut anything you'd like it to say!
As I was making this wreath I shared little snippits on Instagram stories and asked for advice if I should paint the wood sign. I opted to leave it natural because it goes so beautifully with the grapevine wreath and succulents. I'm super happy with the result of this everyday wreath. You might also like my decoupaged Book Page Easter Egg Wreath!
If you make this Spring Succulent Wreath please let me know! It thrills me to hear from you and see what you've made! Leave a comment or tag me on Instagram (@handmadeintheheartland) or facebook!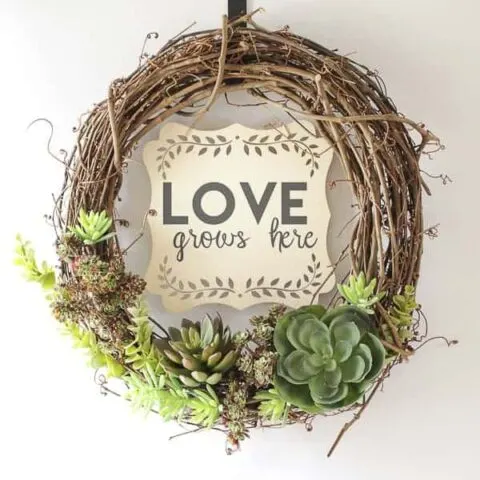 Spring Succulent Wreath
This spring succulent wreath is an easy and quick craft that will spruce up your front door for spring!
Materials
Instructions
Cut succulent stems down to 2-3" from the head of the succulent. You will need to use wire cutters.
Arrange the wreath as you wish by sticking the succulent stems into the grapevine wreath. Secure each stem with hot glue if desired. Due to the nature of the grapevine wreath you can often stick the stem into the wreath and it will stay secure.
Using a cutting machine, like the Cricut Explore Air, design and cut a vinyl quote to the size of the wood sign. The sample quote is cut to 4" x 7" and was applied to the wood sign using transfer tape.
Using string or twine tie the wood sign to the back of the grapevine wreath.
Hang and enjoy your beautiful wreath!
Recommended Products
As an Amazon Associate and member of other affiliate programs, I earn a small commission if you purchase something I recommend. I would never recommend products I don't love and use!