This recipe for Salty Carmelitas is a delicious bar cookie recipe with caramel, chocolate and oats topped with a little bit of sea salt. It's a favorite in our house and will be in yours too!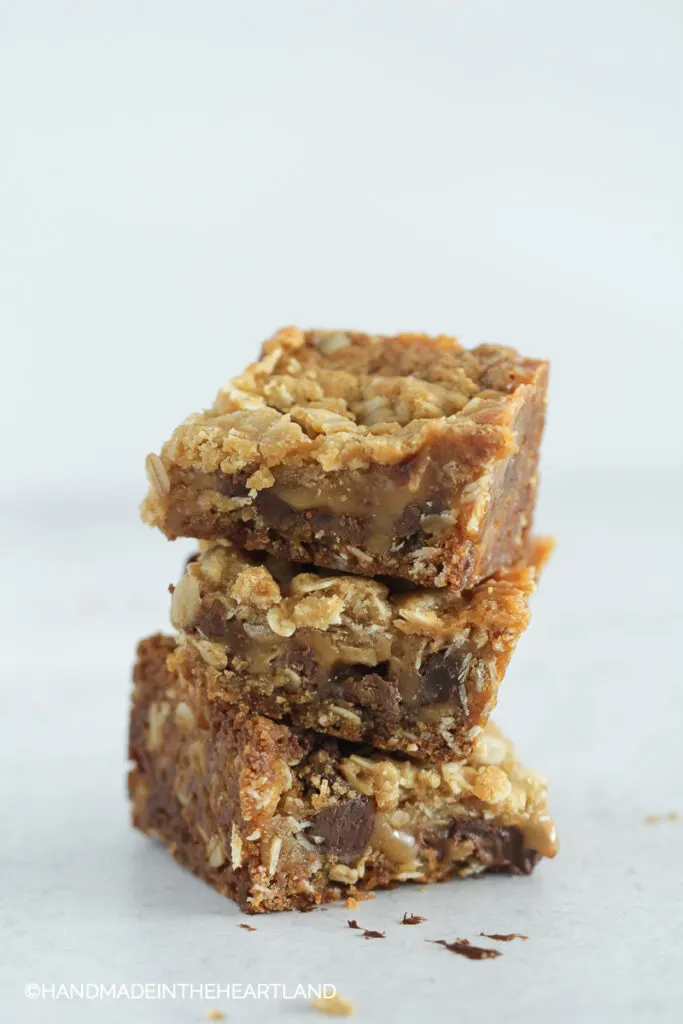 I really shouldn't be sharing this recipe with you. Be warned, if you make it once you will make it again, and again, and again. You will soon be finding random excuses to make it like "a treat to enjoy while watching the bachlorette…"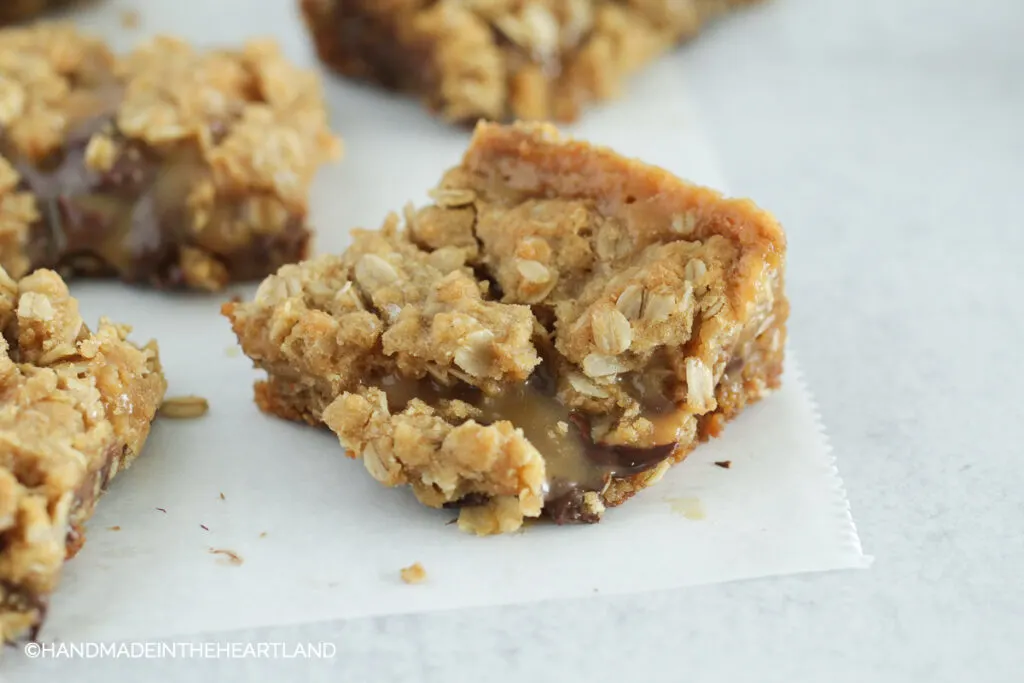 I'm not sure why this recipe isn't as popular and as standard as a chocolate chip cookie. It's. so. good. They are my husband's favorite dessert, my dad's most requested treat for me to make and every time I make them for any friends everyone has to have the recipe.
What are Salty Carmelitas?
Carmelitas are a cookie bar that has an oatmeal cookie base with a gooey caramel and chocolate center. Carmelitas are traditionally cooled after baking in the refrigerator and then sliced into bars. However, served warm out of the oven with vanilla ice cream they are more of a chocolate caramel cobbler.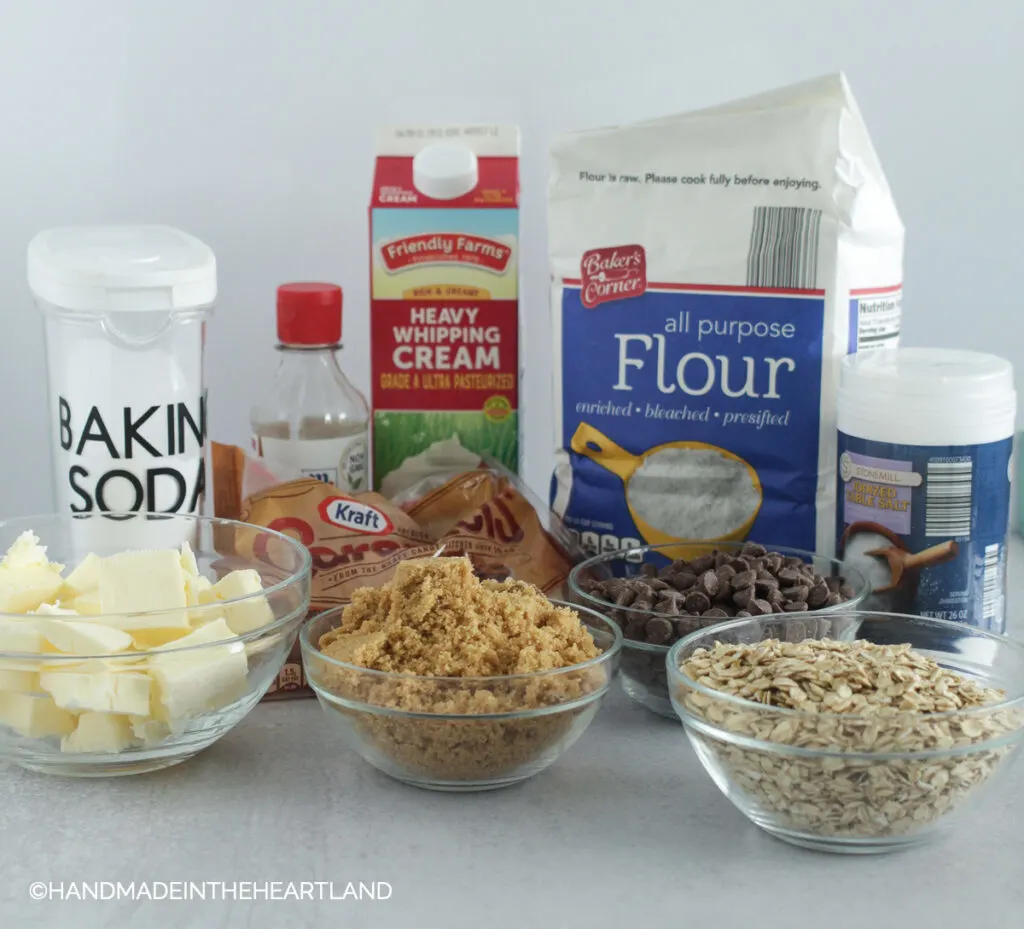 Ingredients
The ingredients for these cookies are pretty standard baking ingredients you'll have in your pantry with the exception of caramels.
Flour- all-purpose is great for the recipe.
Old fashioned rolled oats- Oats shine in this recipe. I love oatmeal cookies and this bar is like a mix between a chocolate chip cookie and oatmeal cookie with an addition of caramel. So good.
Light-brown sugar- The only sugar you need is brown sugar, we use it instead of white for added depth of flavor.
Baking soda & Salt- The leavening agents, only small amounts but vitally important for making salty carmelitas.
Butter- You can use salted or unsalted I don't think it makes a huge difference in this recipe since we add extra salt on top.
Vanilla- Good quality pure vanilla makes a difference!
Chocolate chips- I recommend using a mix of dark and milk chocolate chips in this recipe. You of course could use only one type, or what you have on hand, I just like the variety.
Coarse sea salt- A must in this recipe is a coarse sea salt that you can sprinkle on the top. It adds SO. MUCH. I really really really love Maldon Sea Salt. Get some, you'll thank me later.
Candy caramels & Cream- The middle of these bars has a gooey chocolate caramel center and that is created with a caramel sauce. The recipe has you melt hard caramel candies and whipping cream to create a thick caramel sauce. I have a great homemade caramel sauce recipe that I tried using however it was too runny for these bars so I stick with the store bought caramel method.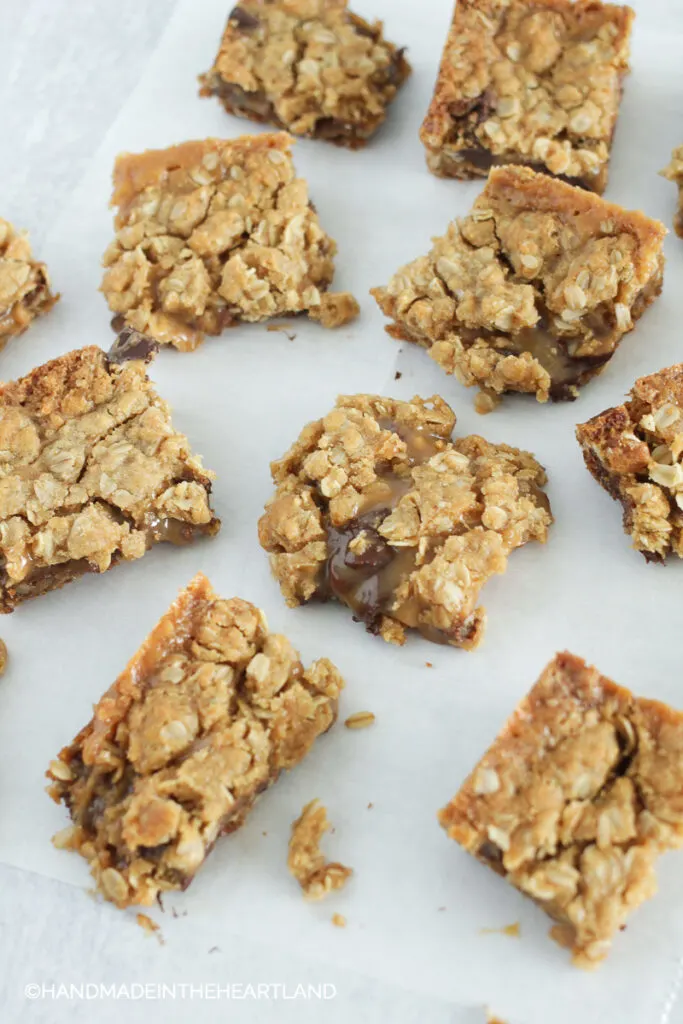 Do you love caramel? I love these other delicious caramel recipes and I think you will too! Try my Chocolate and Caramel Cream Parfaits, Salted Caramel French Toast, Caramel Apple Pie, Creme Caramel Bread Pudding with Bourbon Sauce and Salted Caramel Mini Cheesecakes.
How to make Carmelitas
Carmelitas are super easy to make, they are even easier than cookies because you don't have to roll out each one! It's a dump it all in the ingredients in a pan and bake! There is a 2 step baking process as I'll detail below, but it's easy, I promise!
Step 1:
Mix Ingredients together. I use a stand mixer to make the entire process easier. You could also use a hand mixer or put your biceps to work and mix by hand. First you'll mix the dry ingredients.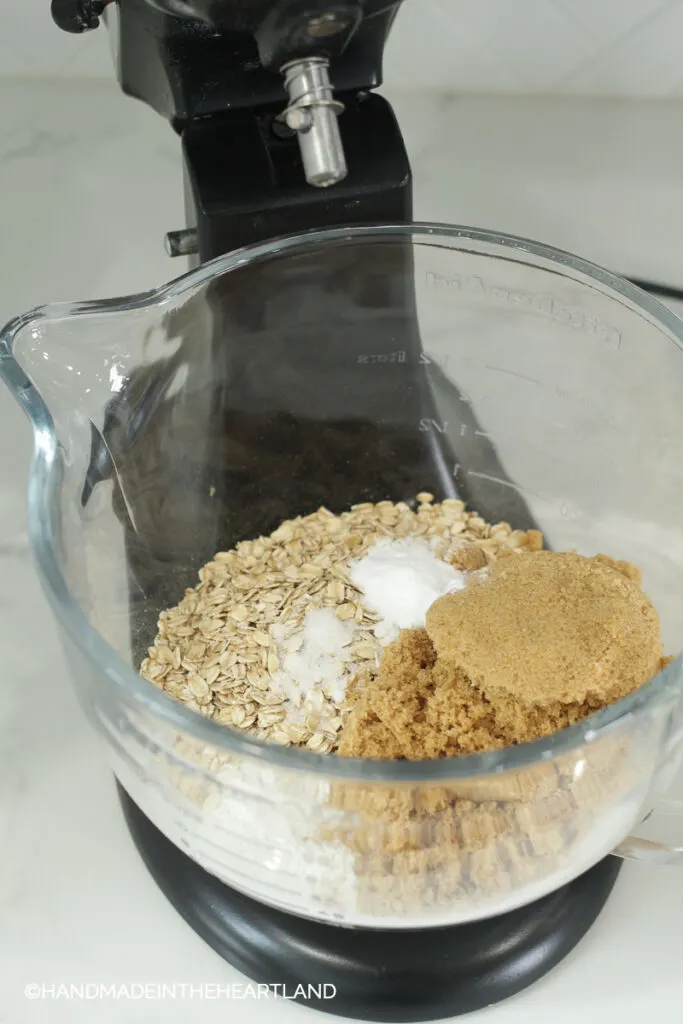 Next you'll add the wet ingredients to create this "crumble" batter.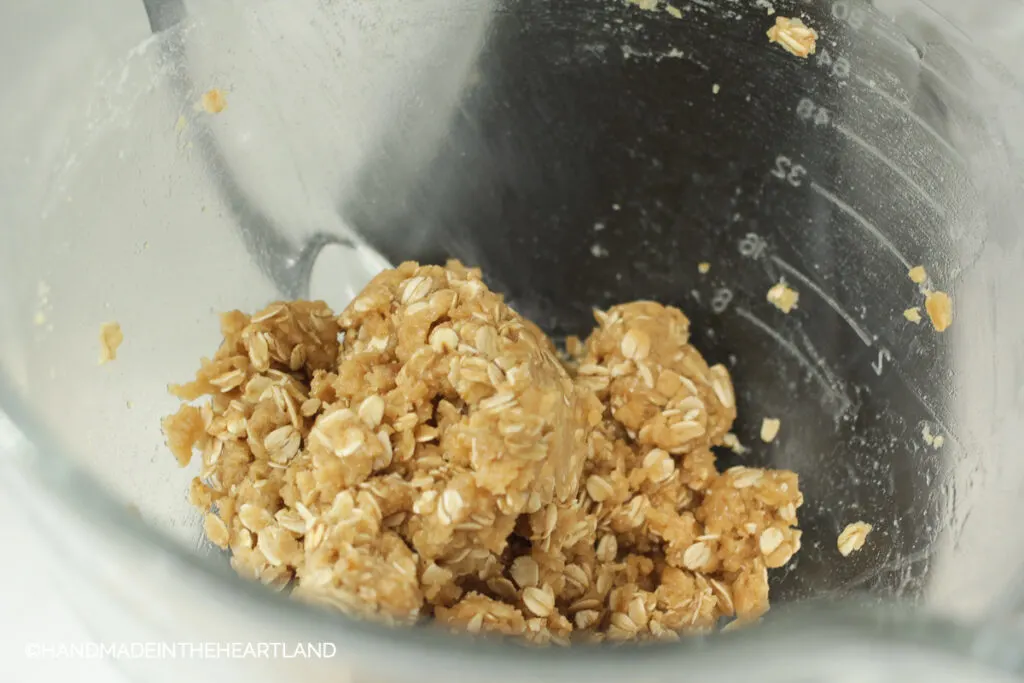 Step 2:
Press dough into base of pan. You'll use a little more than half the dough to press into the pan for the bottom crust. I usually dump all the dough into the pan and then scoop out about 2 1/2 cups to reserve for the top. Press down compactly and try to keep it as even as possible.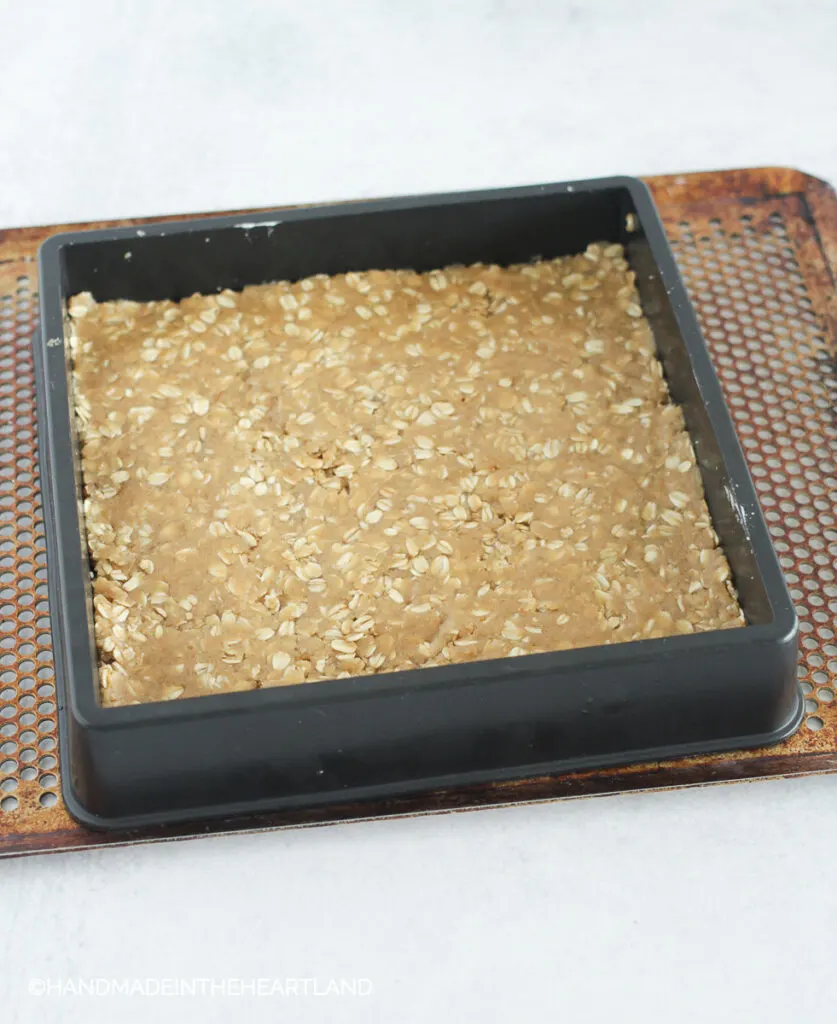 Step 3:
Pre-bake the crust. In my experience you only want the crust/bottom layer to get slightly golden, if it over cooks here then it will be too crispy/almost burned in the end. When it comes out of the oven it should be puffy and slightly golden.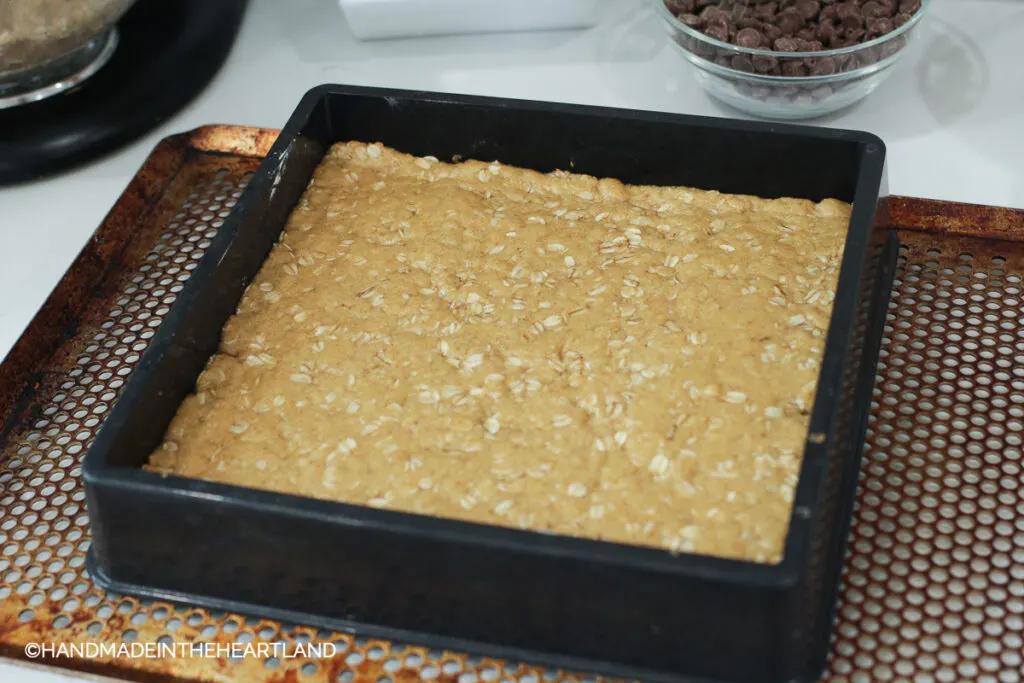 Step 4:
Make the caramel sauce. While the crust is pre-baking make the caramel sauce by microwaving the candy caramels with heavy whipping cream. Make sure to only microwave in 30 seconds increments stirring in between.
It usually takes about 3-4 periods in the microwave to get nice and soft to mix with the cream and come together. The sauce might have some small chunks in it, that's is fine.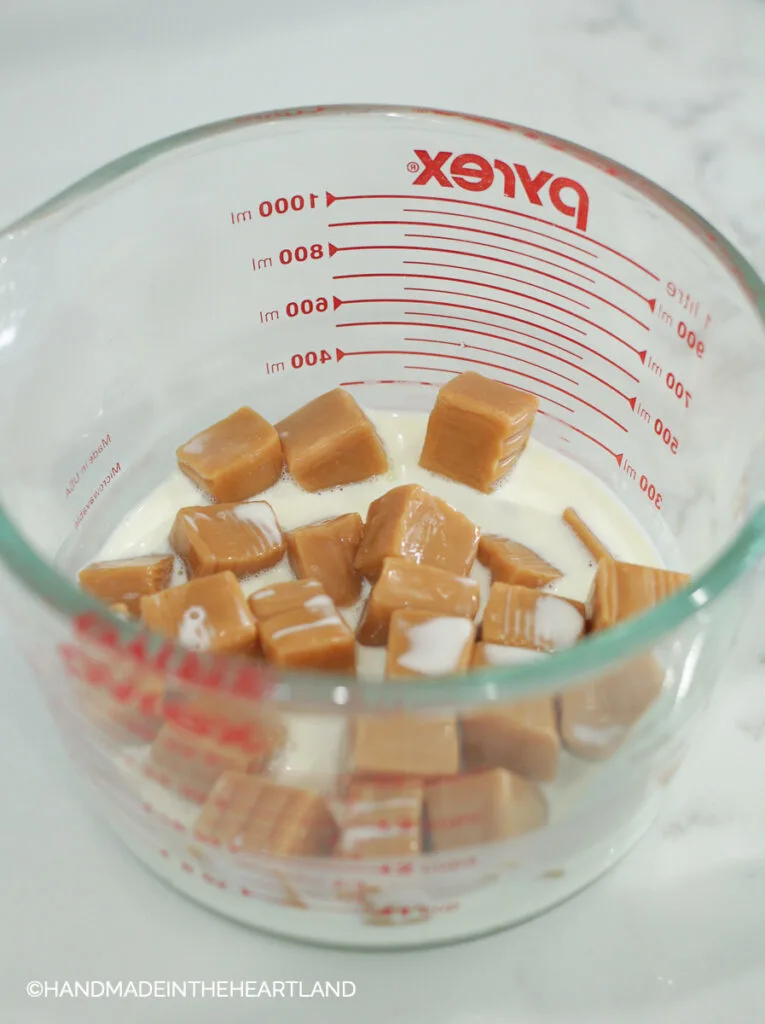 Time saving tip: You can use caramel sauce purchased at the store. It still might remain a little on the gooey-ier side even after refrigerated. However, if I'm in a rush I'll totally grab a caramel sauce from the grocery store to use, I find them with the ice cream toppings.
Step 5:
Layer the chocolate chips, caramel sauce & topping. First sprinkle the chocolate chips in an even layer, then pour the caramel sauce over that. I like to use an offset spatula to spread the caramel sauce evenly. The chocolate chips will melt, that is ok. sprinkle a little pinch or two of sea salt over the caramel sauce.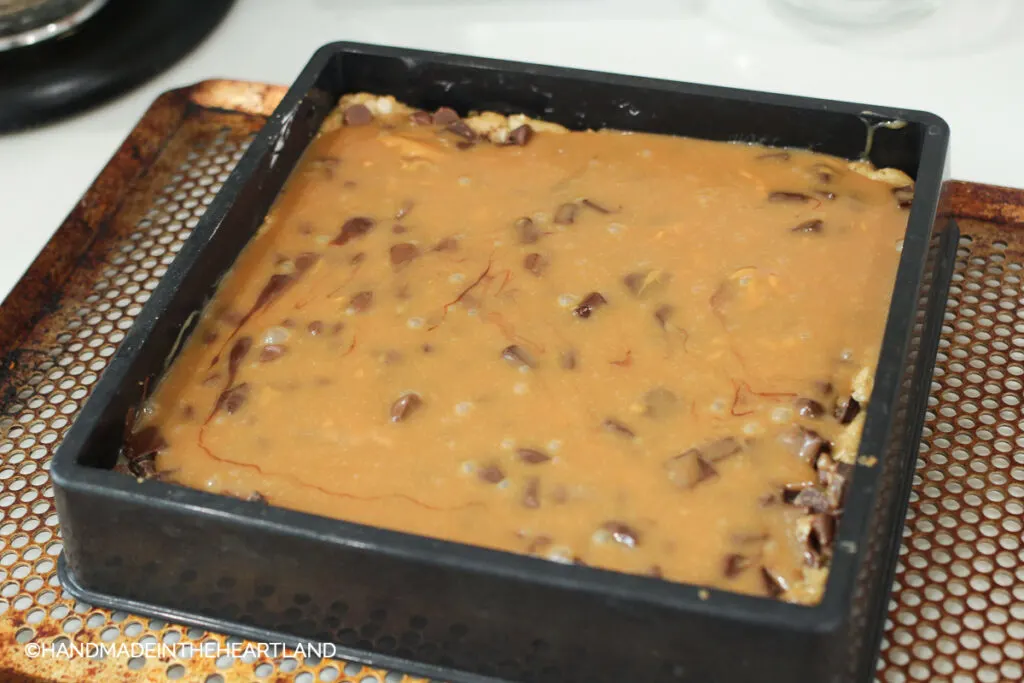 Next, add the final crumble topping. I like to break up the rest of the oat mixture in my hands as I sprinkle it on top that way its not too clumpy.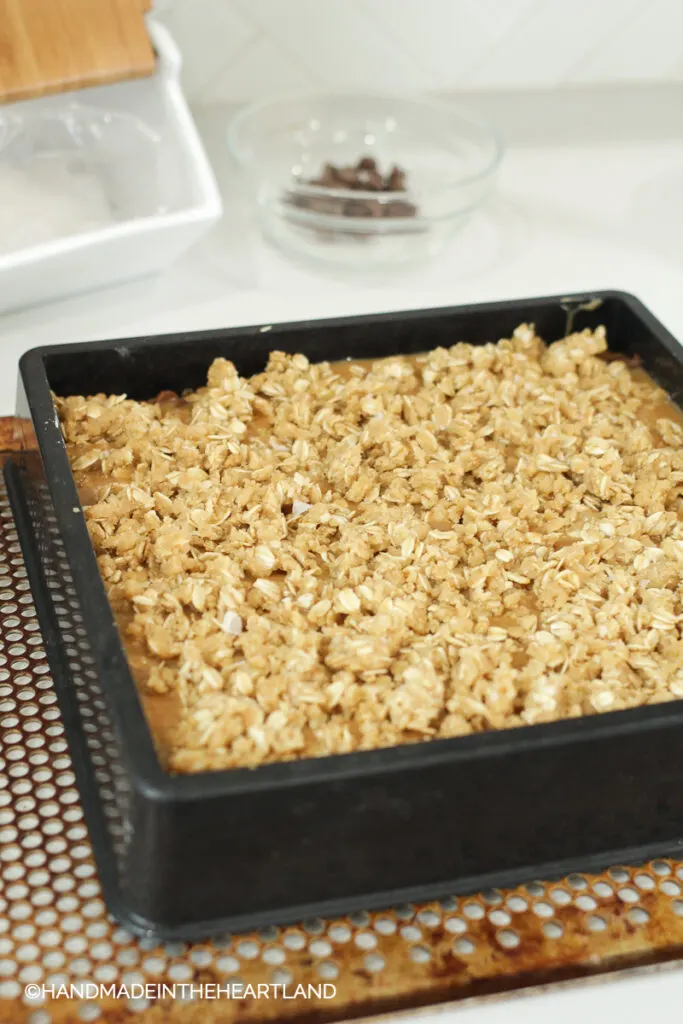 Step 6:
Bake. Pop it in the oven for the final bake. When the Salty Carmelitas come out of the oven the top should be a golden brown color. Let it cool to room temperature for 20 minutes and then put it in the fridge to fully cool.
You can enjoy them warm after about 20 minutes of cooling at room temperature (you just won't have clean cut squares and the caramel will be really runny) but go ahead dig your spoon in there and take a bite, because honestly who can wait 2 hours?!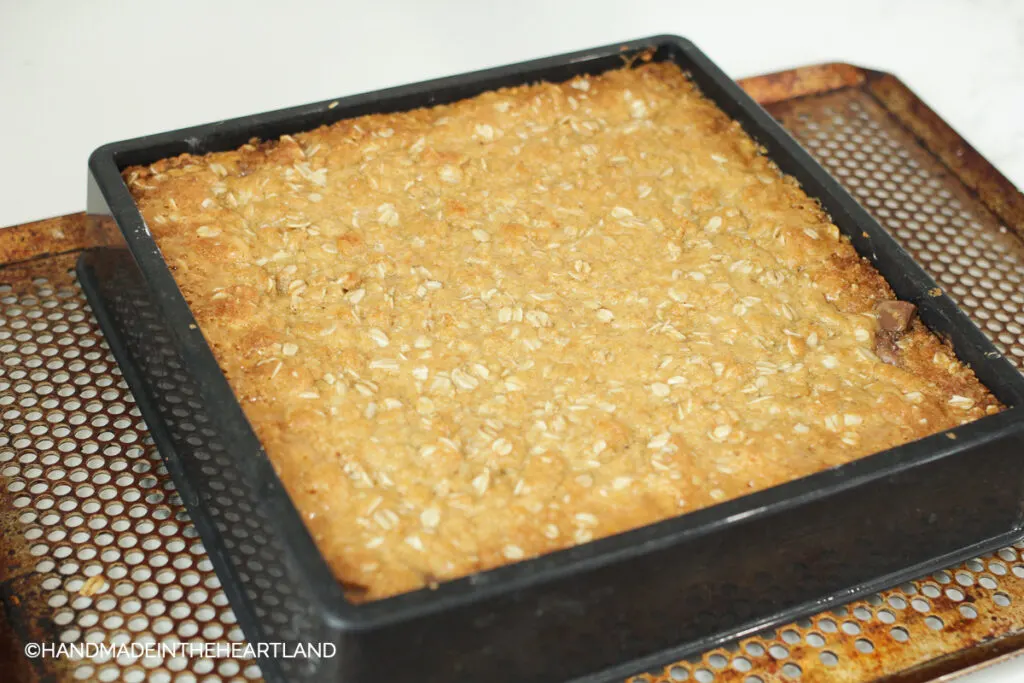 I also think these would make a delicious "cobbler" served warm out of the oven with vanilla ice cream. Let's just call it chocolate caramel cobbler. 🙂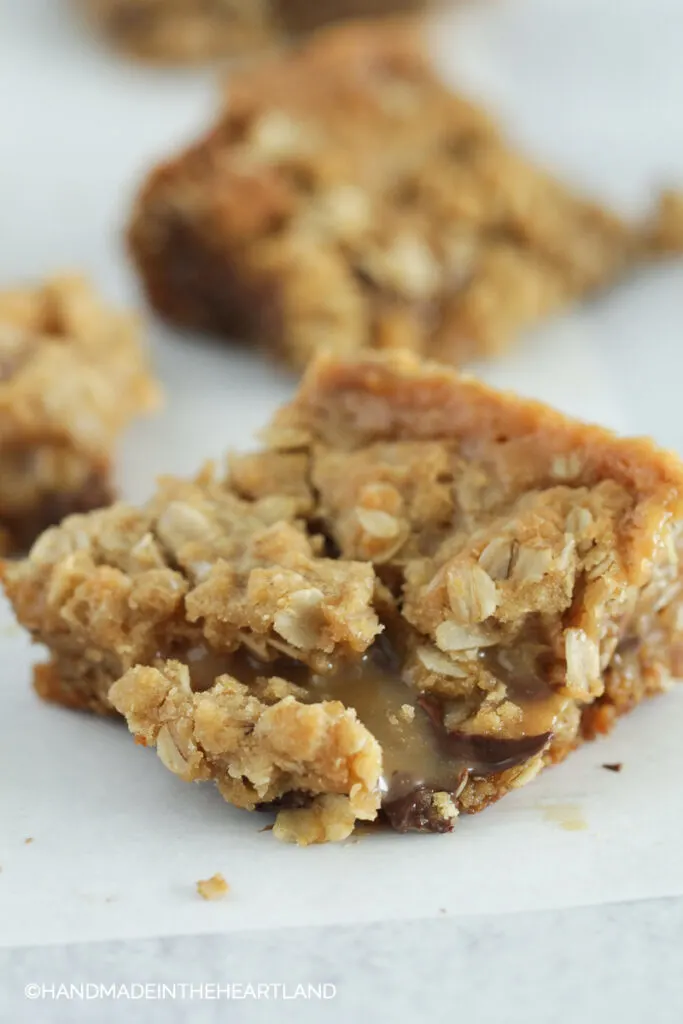 When you make these be sure to share how much you love them with me! It thrills me to hear from you! Leave a comment or tag me on instagram (@handmadeintheheartland) or facebook!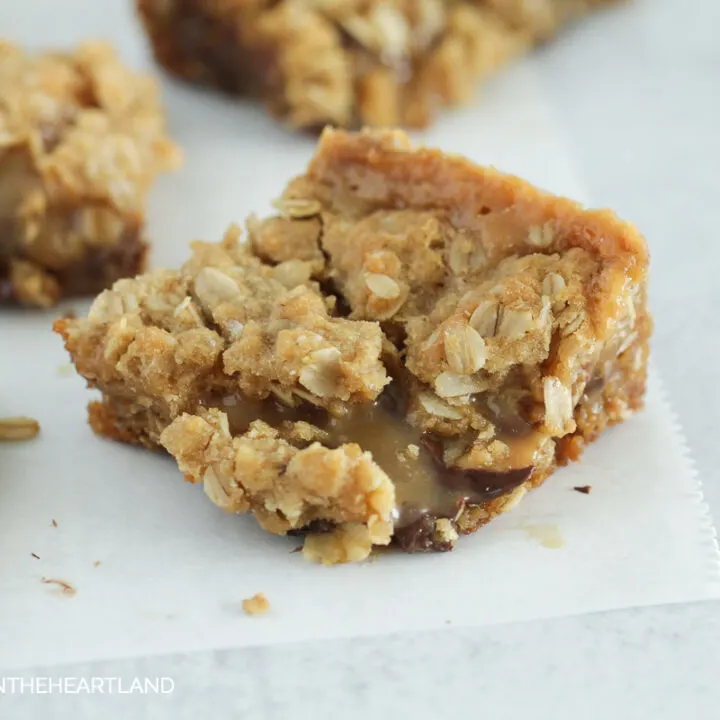 Salty Carmelitas
Additional Time:
2 minutes
This recipe for Salty Carmelitas is a delicious bar cookie recipe with caramel, chocolate and oats topped with a little bit of sea salt. It's a favorite in our house and will be in yours too!
Ingredients
2 cups flour
2 cups old fashioned rolled oats
1 1/2 cups packed light-brown sugar
2 tsp baking soda
1/2 tsp table salt
20 tablespoons salted butter, melted
2 tsp vanilla
3/4 cup of milk chocolate chips
3/4 cup of dark chocolate chips
coarse sea salt
1 11 oz. bag of candy caramels
1/2 cup heaving whipping cream
Instructions
Preheat oven to 350.
In the bowl of a stand mixer mix together dry ingredients: flour, rolled oats, light-brown sugar, baking soda and table salt.
Place butter in a microwave safe bowl and heat butter in microwave until melted. Stir vanilla extract into melted butter then pour mixture over dry ingredients.
Mix all ingredients together until combined.
Press half of the oat mixture evenly into the bottom of a buttered 9x9 baking dish (I use a silicone BonCook 9x9) and bake in preheated oven for 8-10 minutes.
While the crust is baking make the caramel sauce. Pour cream over caramels in a microwave safe bowl, microwave mixture in 30 second intervals, stirring well after each interval until melted and smooth (alternately you can combine the two ingredients in a saucepan and melt over low heat), set aside
Remove the bottom layer from the oven and sprinkle the chocolate chips in an even layer over baked cookie crust, then pour caramel mixture evenly over chocolate chip layer. Sprinkle 1/4 tsp coarse sea salt evenly over caramel layer, then sprinkle top evenly with remaining oat mixture.
Bake in preheated oven 16 - 18 minutes until lightly golden. Remove from oven, sprinkle top evenly with an 1/8 tsp coarse sea salt (or to taste) and allow to cool for 20 minutes at room temperature. Transfer to refrigerator to chill until cool enough to cut into clean squares, about 2 hours.
Recommended Products
As an Amazon Associate and member of other affiliate programs, I earn a small commission if you purchase something I recommend. I would never recommend products I don't love and use!
Nutrition Information:
Yield:

16
Serving Size:

1
Amount Per Serving:
Calories:

479
Total Fat:

23g
Saturated Fat:

14g
Trans Fat:

1g
Unsaturated Fat:

7g
Cholesterol:

49mg
Sodium:

405mg
Carbohydrates:

65g
Fiber:

2g
Sugar:

38g
Protein:

4g
Caramel Desserts
This collection of dessert recipes all include caramel!