This peanut butter chocolate chip banana bread recipe is easy to make and makes a moist and delicious sweet loaf.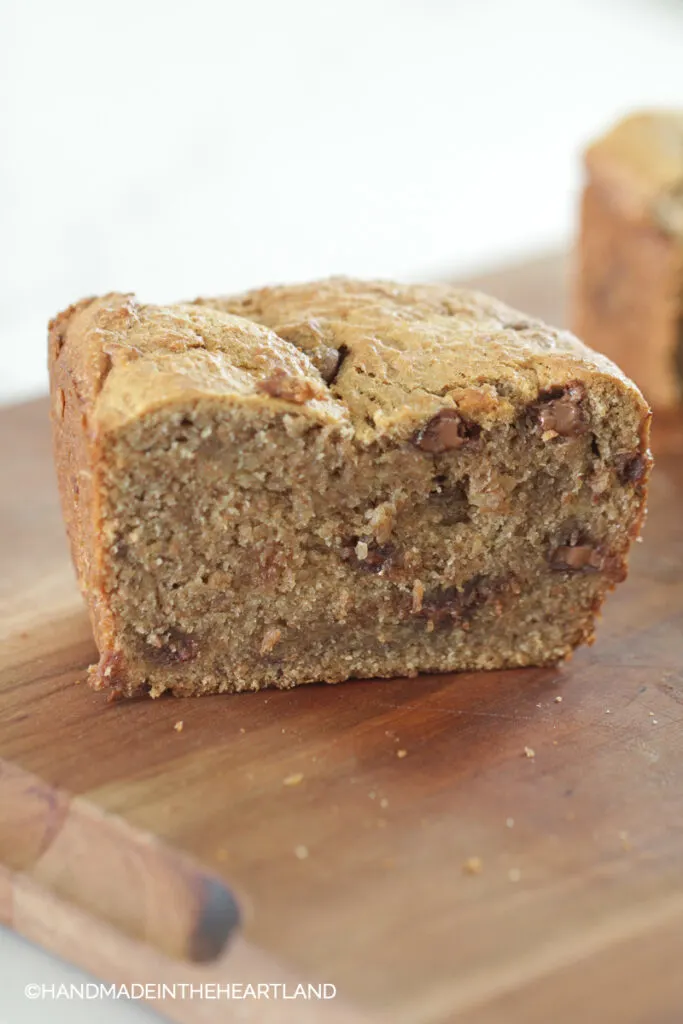 Even though my kids eat a lot of bananas it seems like there are always a few that get over ripe before we get to eat them, so I always have about 2-3 black bananas in my fridge.
Matt really loves his mom's banana bread recipe which he thinks is the best, of course. I however like to play around, if you can add peanut butter and chocolate to something, why not?!
Ingredients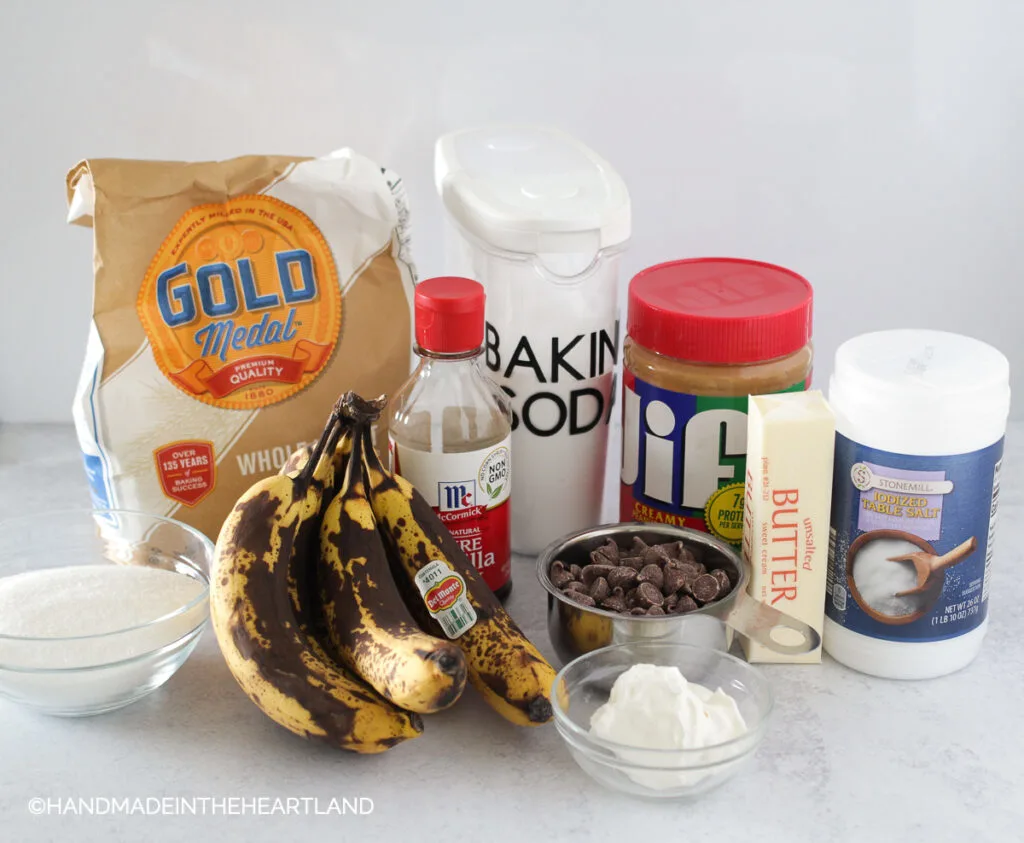 This banana bread is a dense sweet bread, very similar to traditional recipes but with the addition of peanut butter and chocolate chips. You're going to love this delicious spin on banana bread!
Butter- Make sure it's at room temperature so it creams nicely.
Sugar- White sugar works just fine in this recipe.
Mashed bananas– The darker the banana the sweeter the bread is.
Creamy peanut butter- Use a traditional peanut butter like Jif, natural ones will not work well in this recipe.
Baking soda & Salt- the leavening agents, small amounts but so important!
Vanilla- Essential in baking, vanilla adds a hint of flavor.
Whole wheat flour or all purpose- You can use either flour in this recipe, I just use what I have on hand.
Sour cream- You'll only use a small amount but this secret weapon makes sure this banana bread is super moist.
Chocolate chips- I love milk chocolate chips, but any you have on hand will work!
What Makes Banana Bread Moist?
This recipe for banana bread calls for sour cream and 2 cups of mashed bananas. The combination of these two ingredients will ensure super moist banana bread.
How to make Peanut Butter Chocolate Chip Banana Bread
Step 1:
Cream butter & sugar. Make sure the butter is room temperature, if it's not stick it in the microwave for 10-15 seconds. Slice up the stick of butter and then put it in your mixer bowl and add sugar. Mix with the paddle attachment for a few minutes until it's fully combined.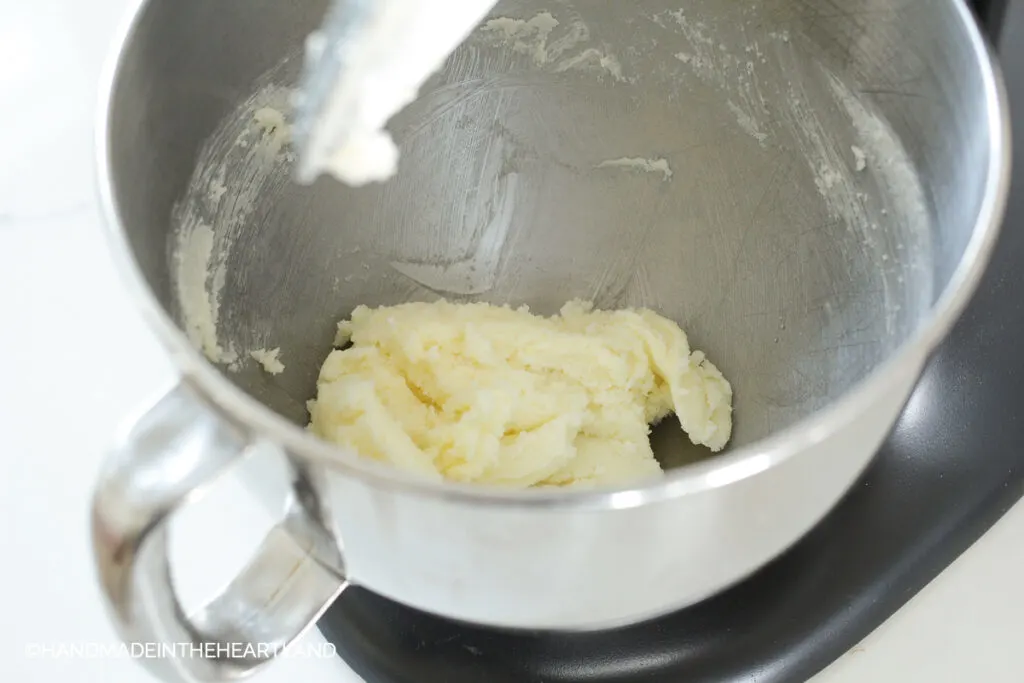 Step 2:
Add peanut butter, bananas, baking soda, salt & vanilla. Mix these ingredients into the creamed butter & sugar until everything is well combined. TIP: check the expiration date on your baking soda, often times this essential leavening agent can expire and be less effective!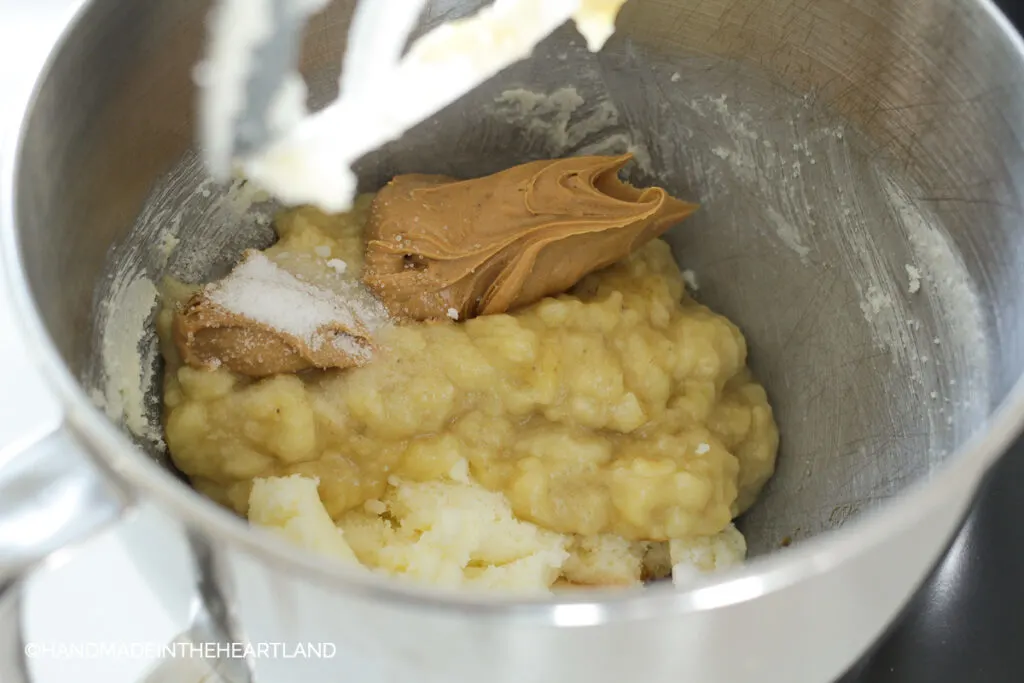 Step 3:
Add flour & sour cream. Mix in the flour and sour cream until the batter comes together and is completely combined.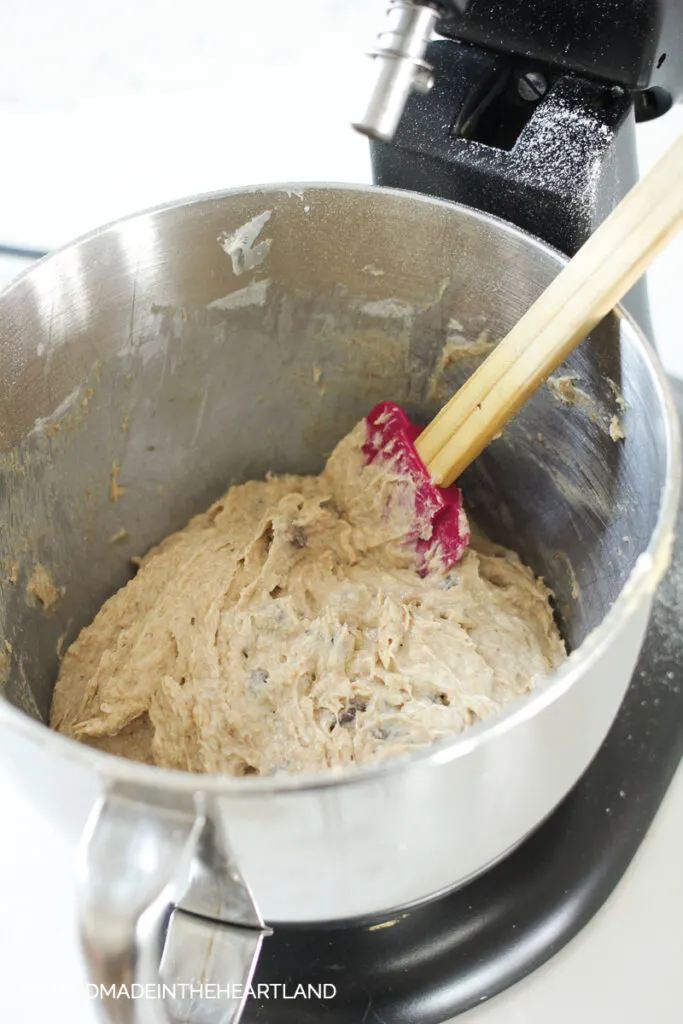 Step 4:
Add the chocolate chips. You could totally add 1/2 cup of nuts along with the chocolate chips if you're a pecan banana bread type of girl. 🙂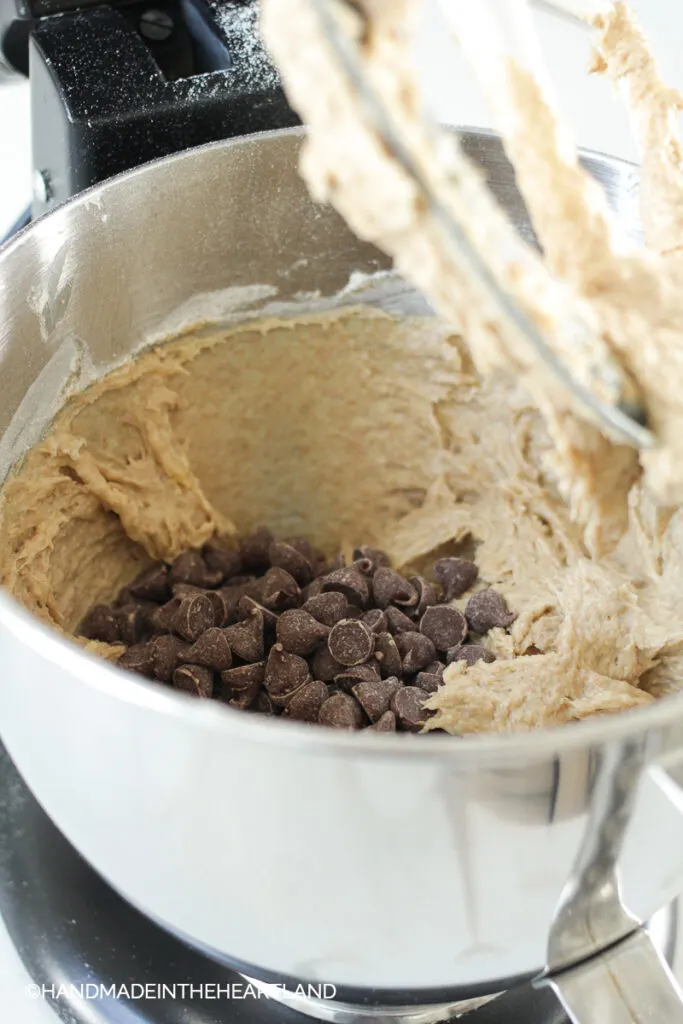 Step 5:
Put into loaf pan & bake. Make sure your pan is greased, I use a cooking spray like Pam and check the middle with a toothpick before you take it out of the oven. If the toothpick comes out with batter on it stick it back in for another 5 minutes.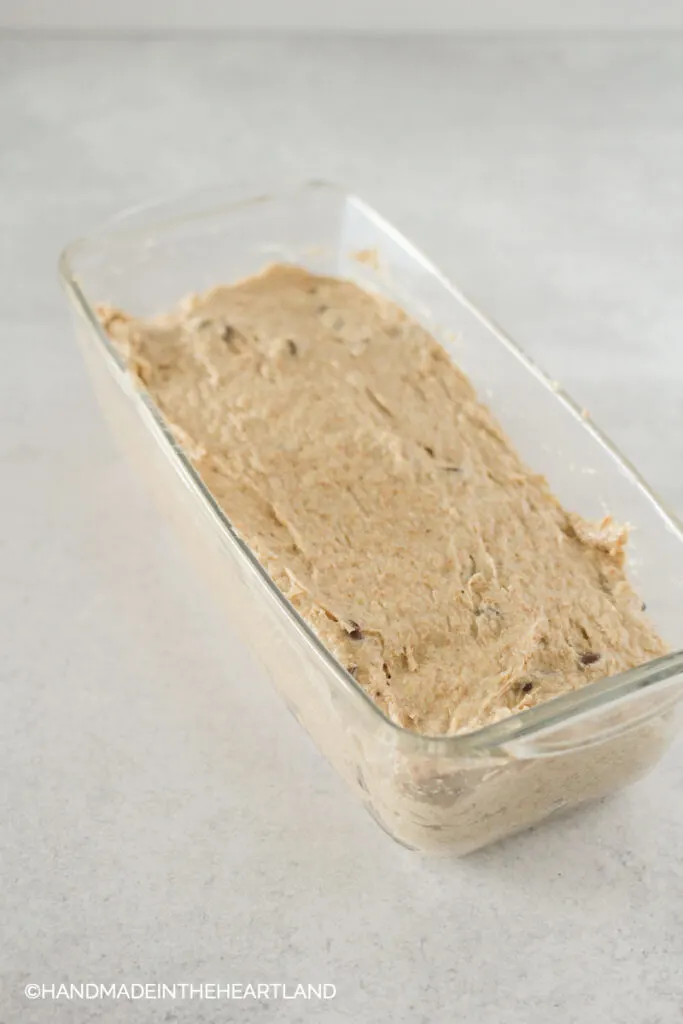 Step 6:
Remove oven, let cool, slice & serve. Let the loaf cool for 10 minutes before you take it out of the pan. I usually slide a knife around the edges of the pan to make sure the sides of the loaf are not sticking to the pan before I dump it out onto a cutting board. Slice it up and serve it warm. yum!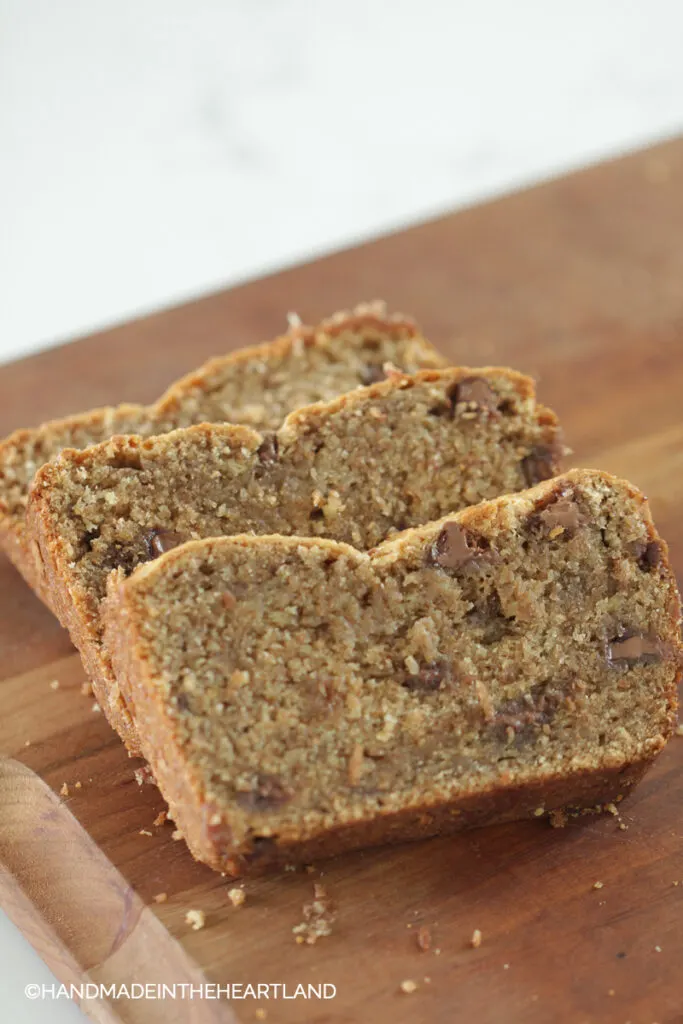 Looking for more banana recipes? Check out my chocolate banana cupcakes with peanut butter icing, traditional whole wheat banana bread, dairy free banana flax muffins, Banana Custard Yogurt Parfaits, Mini Banana Cream Pies, and Banana Spring Rolls with Caramel Sauce.
How to keep banana bread from sinking in the middle?
Don't under-bake! The biggest contributor to a sunken middle is under-baking. Banana bread is especially hard to tell if it's done by sight because it naturally turns brown before it's actually baked through.
Use the toothpick test and stick a toothpick into the center of the loaf or muffins and if it comes out with batter on it put it back in for another 5 minutes.
Don't over-mix. Over mixing banana bread dough can add extra air to the dough which can contribute to a sinking middle.
I can't tell you how many times I've undercooked banana bread loaves and muffins and had gooey centers and sunken middles. It's SO frustrating!
Can I freeze peanut butter chocolate chip banana bread?
Yes! Quick sweet breads like this one freeze well! For best results wrap the bread in plastic wrap unsliced and then put it in a ziplock freezer bag. It will last in the freezer for 2-3 months.
When you make these be sure to share how much you love them with me! It thrills me to hear from you! Leave a comment or tag me on instagram (@handmadeintheheartland) or facebook!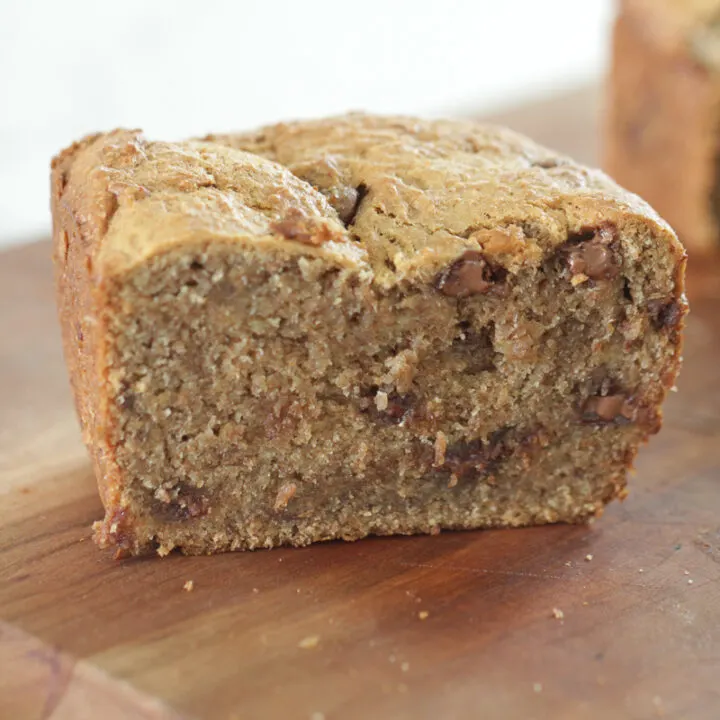 Peanut Butter Chocolate Chip Banana Bread
Cook Time:
1 hour
5 minutes
Total Time:
1 hour
15 minutes
This peanut butter chocolate chip banana bread recipe is easy to make and makes a moist and delicious sweet loaf.
Ingredients
1 stick of butter, room temperature
1 cup sugar
2 cups mashed bananas (around 4-5)
1/3 cup creamy peanut butter
1 tsp baking soda
1/2 tsp salt
1 tsp vanilla
2 cups whole wheat flour or all-purpose
1/4 cup sour cream
1 cup chocolate chips
Instructions
Preheat oven to 350.
First cream together your butter and sugar. Next add the bananas, peanut butter, soda, salt, and vanilla. Mix until combined.
Then add the flour in 2 parts alternating with the sour cream. Last add the chocolate chips.
Place into your loaf pan and bake for 65 minutes or until a toothpick comes out clean. If you are using regular size muffins for this recipe bake for 30 minutes. The toothpick rule still applies! Enjoy!
Recommended Products
As an Amazon Associate and member of other affiliate programs, I earn a small commission if you purchase something I recommend. I would never recommend products I don't love and use!
Nutrition Information:
Yield:

9
Serving Size:

1
Amount Per Serving:
Calories:

474
Total Fat:

23g
Saturated Fat:

12g
Trans Fat:

0g
Unsaturated Fat:

9g
Cholesterol:

31mg
Sodium:

400mg
Carbohydrates:

68g
Fiber:

6g
Sugar:

40g
Protein:

7g