This healthy recipe for sweet potato breakfast hash is a protein filled, gluten free, low carb, whole 30 approved, paleo meal that will keep you fueled all day.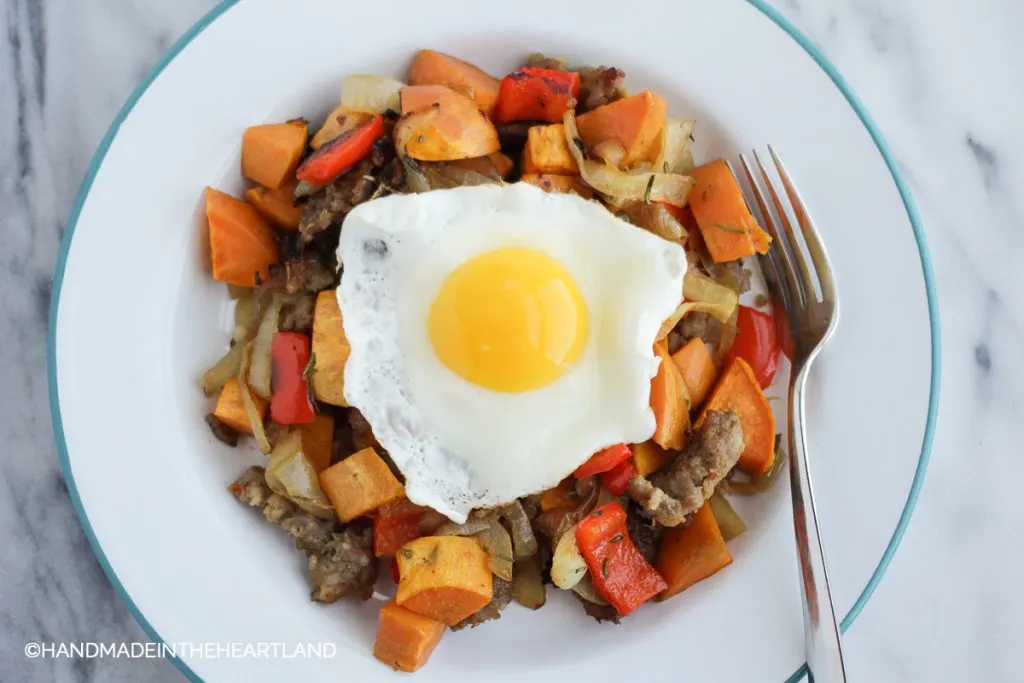 A couple a weeks ago after pouring myself another bowl of cereal at 7am I decided I was going to quit the carb/sugar loading at breakfast and start eating better to start off the day. My problem is that I'm not in a cooking mood in the morning.
I don't have any of those awesome excuses like I have to get kids on a bus at some ungodly hour or I'm rushed to head off to work, nope a lot of days I'm in my sweats or PJ's until 10am (the joy of having toddlers), I just don't have the motivation to chop an onion or stand at the stove. How do you break yourself of that?
Maybe get really excited about a delicious looking recipe and then the motivation will show up?!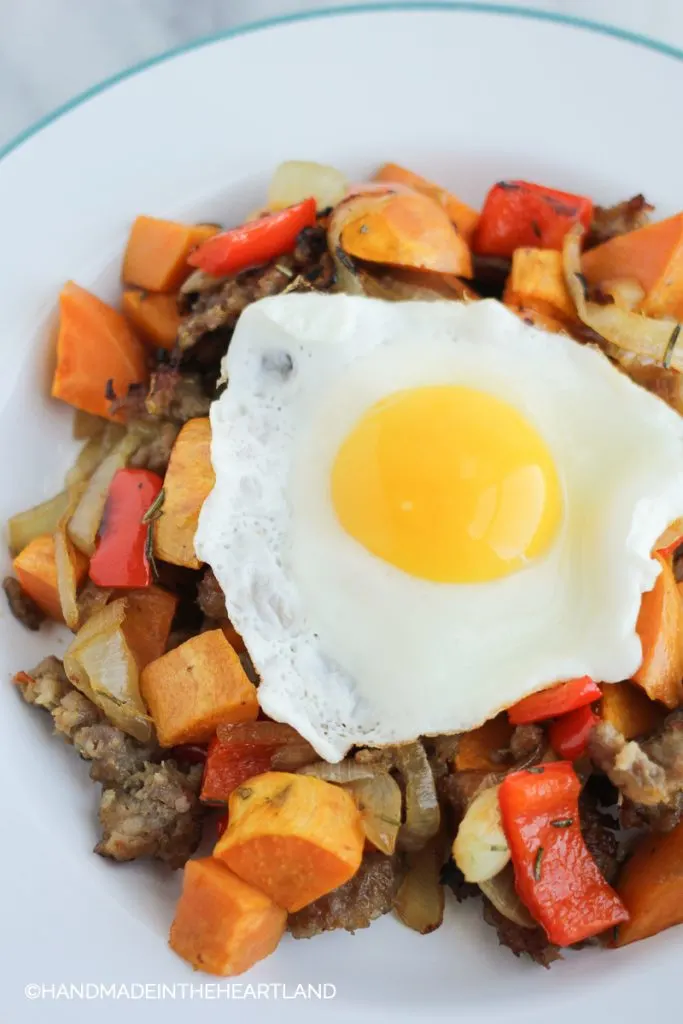 If you're looking for more great protein filled healthy breakfast recipes check out my Mushroom & Sun-dried Tomato Egg Bites, Chiles Rellenos Egg Cups, and Breakfast Tacos
Ingredients:
This recipe is chock full of good for you whole food ingredients. It fits a variety of different healthy eating diets like: gluten free, low-carb, whole 30 and paleo.
Sweet Potatoes- In this recipe we swap out regular potatoes for sweet potatoes. These healthy spuds are full of fiber, vitamins and minerals. A great source of Vitamin A, C, & B6 as well as Manganese and Potassium. You can read more about the nutrients in Sweet Potatoes on healthline.
Bell Peppers- Use any colors you have on hand. Did you know that 1 red bell pepper has over 150% of our daily recommended amount of Vitamin C! Another powerfully healthful food bell peppers contain vitamins C, B6, K1, E , A as well as Potassium and Folate. Read more about bell pepper nutrition here.
Onions- Another ingredient that's full of great nutrients and adds so much flavor. Onions contain Vitamins C, B9, B6 and Potassium.
Olive Oil- Good quality olive oil is rich in healthy monounsaturated fat as well as antioxidants and boasts anti-inflammatory properties. A staple the kitchen for a reason!
Italian Sausage- Made with lots of Italian spice this dish has loads of flavor thanks to the protein packed pork sausage.
Fresh Rosemary, Salt & Pepper– I love the addition of a little bit of fresh rosemary. If you don't have any feel free to leave it out but I think it adds a lot of flavor! Italian sausage already has a lot of spice in it so this hash will still be flavorful without it.
Eggs– This recipe is easy to make with or without eggs. The eggs are added at the end and I prefer a runny yolk to milk the yolk into my hash, it creates a rich delicious sauce! Feel free to leave the eggs out, scramble, poach or cook anyway you like your eggs and place them on top!
Are sweet potatoes good for breakfast?
Absolutely! Starting the day off with an appetite filling and nutrient dense breakfast is a great way to start your day! Adding protein by way of sausage and eggs like in this recipe will keep you fueled all day long!
What about the skins?
Are sweet potato skins edible? Do you need to wash them? Do you have to peel them? It comes down to a matter of preference because YES sweet potato skins are edible and full of fiber and nutrients that you miss out on if you toss them.
If you keep the skins on you'll need to wash the potatoes well, scrubbing with a dish brush. The skin does leave a thicker crust on the potatoes so most people peel them off with a vegetable peeler. As I said it's totally a matter of preference but for and added nutrient boost wash your spuds well and leave them on.
How to cook Sweet Potato Breakfast Hash:
This recipe has a few parts. I'm not going to say it's super quick but I will say it's 100% worth the effort!
The first step is to pre-cook the onions and sausage in a skillet on the stove.
Next you will add the rest of the chopped ingredients, toss in olive oil and let roast. I've always wondered how restaurants get sausage to have a crispy outside, whenever I cook mine on the stove it never gets that because of all the grease in the pan with it. Well I figured it out- you roast it in the oven after you cook it. I'm telling you the satisfying crunch on the outside of that juicy bite of meaty sausage is delicious.
When this delicious sweet potato hash comes out of the oven you'll scoop it onto plates and top with a egg if you desire and voila! You're ready to enjoy.
This dish is perfect for serving to a large group if you're having family in town or house guests. Impress them with your morning charm and whip this up. Everyone will be grateful to get such a healthy and filling breakfast! My dad and family were just in town and everyone loved this.
This recipe serves 4 generous portions, double it for more people.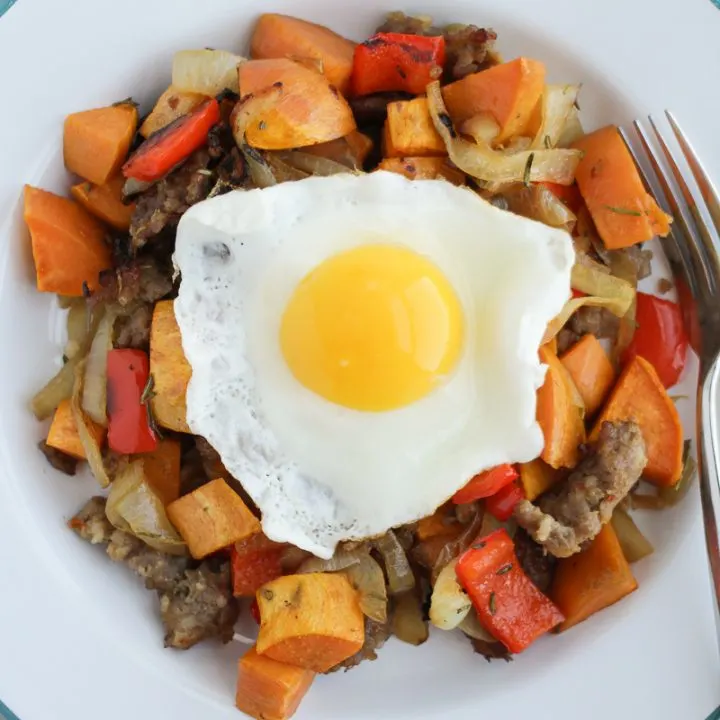 Sweet Potato Breakfast Hash
This delicious, easy and healthy breakfast hash is made with sweet potatoes, bell peppers, onions and sausage with a fried egg on top. It's easy to make and tastes delicious! This recipe is gluten free, paleo, whole 30 approved and low carb!
Ingredients
1 large red bell pepper
2 medium sweet potatoes
1 large onion
1 tablespoon olive oil
3 Italian sausages
1 tablespoon fresh rosemary
4 eggs
S&P
Instructions
Preheat your oven to 425. Place a Silpat or parchment paper on a baking sheet and set aside.
Over medium heat in a small saute pan cook the onion with a tablespoon of olive oil. You might want to reduce the heat to low if the onions start to burn. Cook the onions for 10-15 minutes until they look brown and caramelized.
Cook the sausage. Take the casings off and place into a saute pan over medium heat. Chop up with a wooden spoon so it looks like ground meat. You want it to cook all the way through.
While the onions and sausage are cooking peel and chop your sweet potatoes into nice cubes, also chop the bell pepper and put it all into a bowl. Toss with a tablespoon of olive oil and the chopped fresh rosemary and set aside.
Once the onions and sausage are cooked toss them into the bowl with the sweet potatoes and add a little salt & pepper.
Dump the sweet potato mixture onto your Silpat lined baking sheet and roast in the oven for 30 minutes.
When its done take it out and plate it up, add a fried egg on top for good measure. 🙂 I love the runny yolk with the hash, it's pretty darn delicious. Enjoy!
Recommended Products
As an Amazon Associate and member of other affiliate programs, I earn a small commission if you purchase something I recommend. I would never recommend products I don't love and use!
Nutrition Information:
Yield:

4
Serving Size:

1
Amount Per Serving:
Calories:

369
Total Fat:

24g
Saturated Fat:

8g
Trans Fat:

0g
Unsaturated Fat:

17g
Cholesterol:

218mg
Sodium:

511mg
Carbohydrates:

20g
Fiber:

3g
Sugar:

8g
Protein:

19g
If you're popping over from google stories, thanks for coming!