This monochromatic lucky shamrock canvas art is so fun to make! This easy Cricut project can be made in an hour or less!
This post contains affiliate links which means I make a small commission if you purchase something I recommend.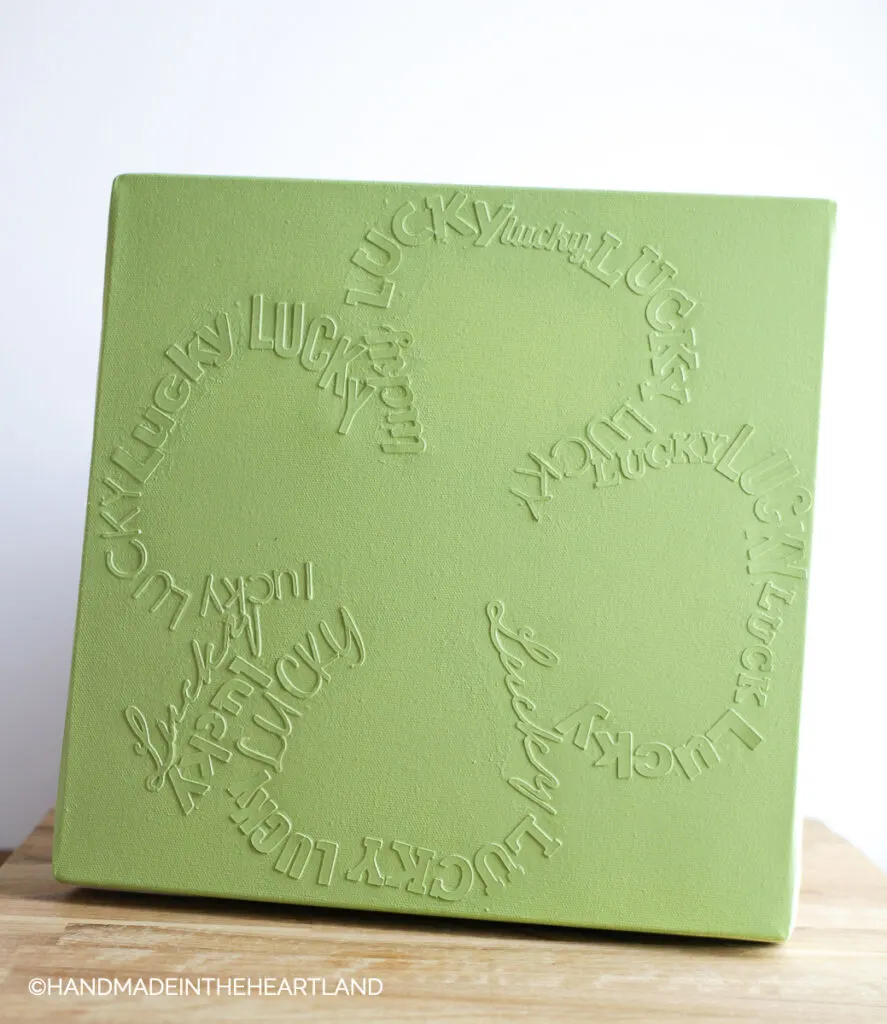 Supplies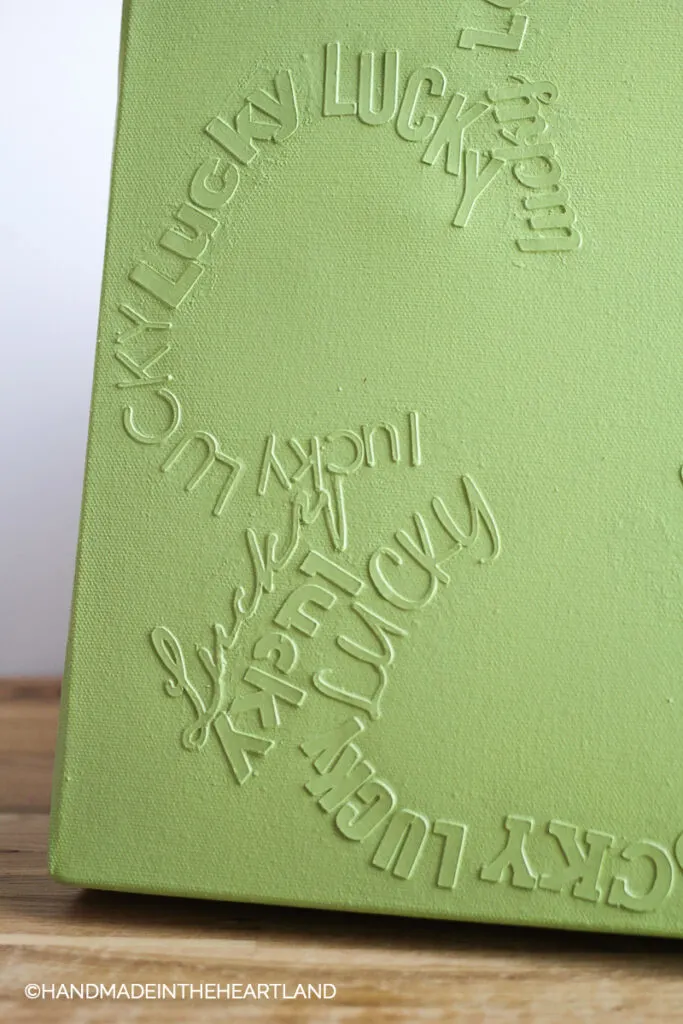 How to make Monochromatic canvas letter art
To help decorate my home for St. Patrick's day I came up with this cute lucky shamrock canvas art, its a monochromatic piece of art with raised chipboard lettering. It's simple to make with the Cricut Maker.
Step 1:
Cut out a large 4 leaf clover and the word lucky in different fonts in chipboard. I've provided the 4 leaf clover and lucky text in two SVG files for you for free. If you'd prefer to use your own fonts go ahead and select different fonts in Design Space and type the word "lucky". If you don't have a cutting machine you can easily purchase chipboard letters at the craft store.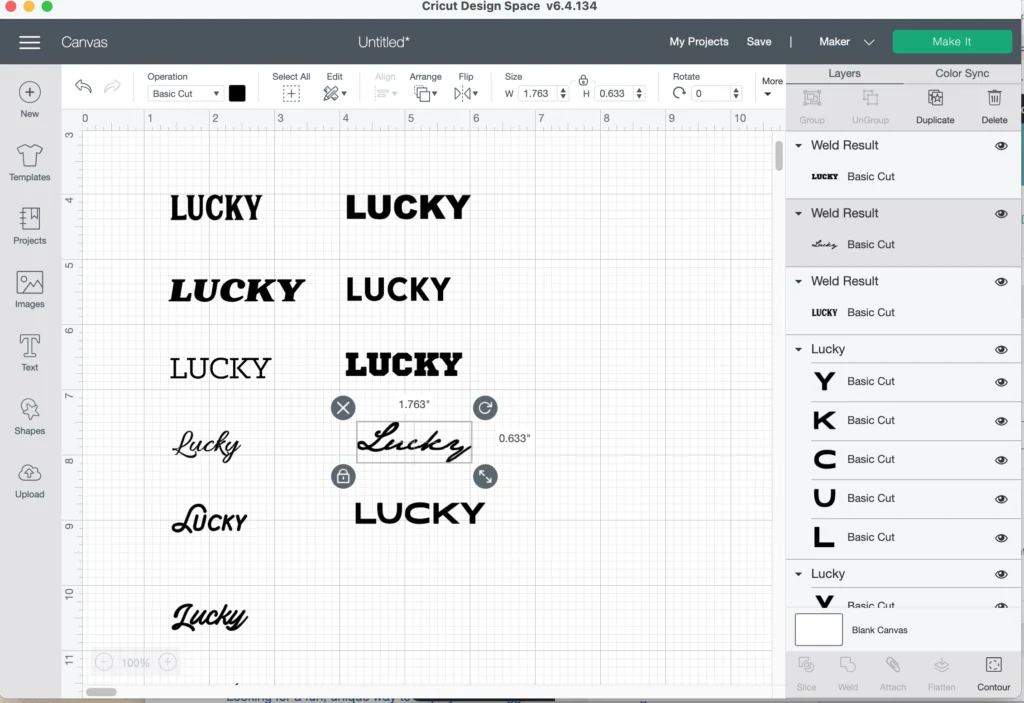 Step 2:
Trace the shamrock shape onto the canvas. Lay your Shamrock template on the canvas and trace around it with a pencil, lightly. The pencil mark will disappear after you paint the canvas if it's not too dark.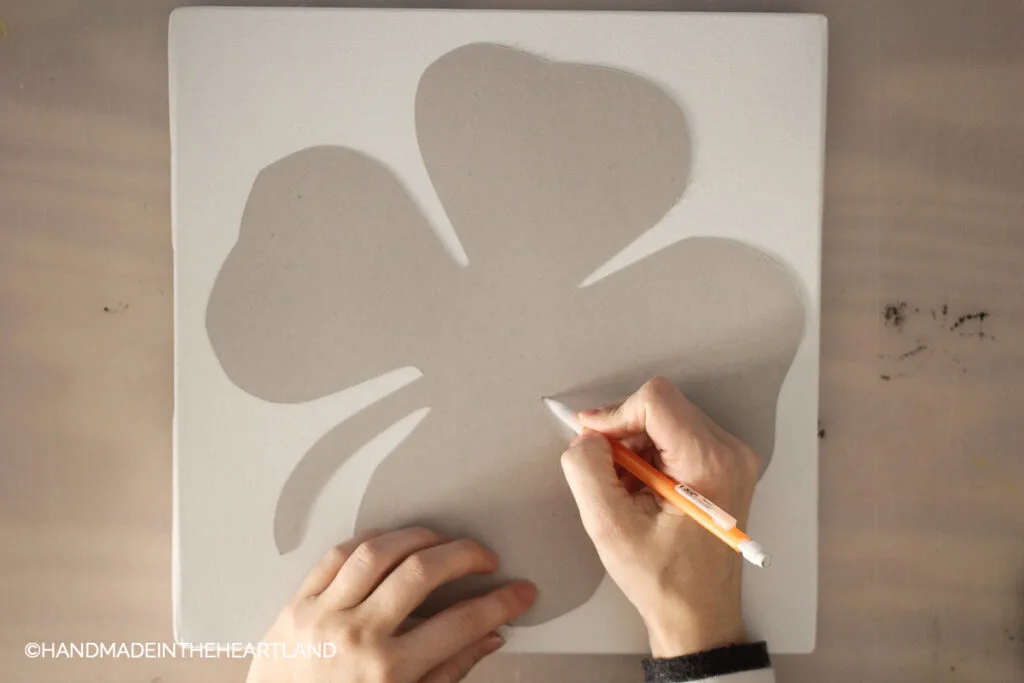 Step 3:
Lay out the words and glue them down. I used smaller letters for the areas where the leaves met because you have two lines coming together and larger letters will not fit.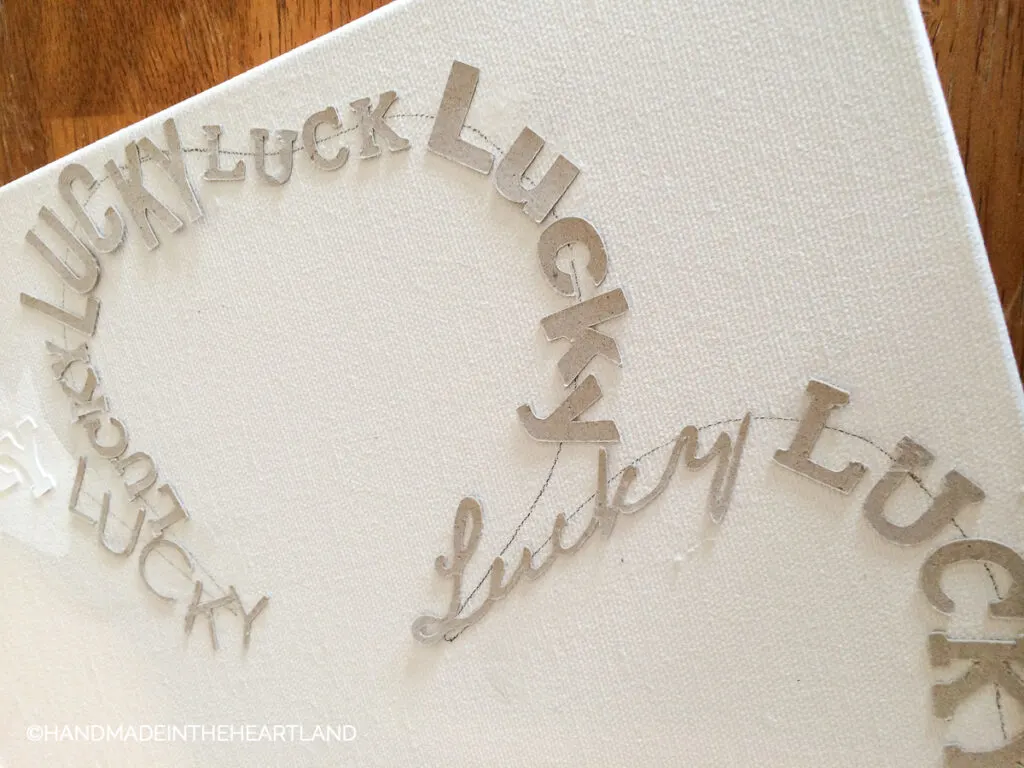 Step 4:
Paint the canvas. First paint the letters white. Don't skip this step! The first time I made a piece of art like this I didn't pre-paint the letters and when I spray painted it they were darker than the canvas, so I didn't get the desired monochromatic look.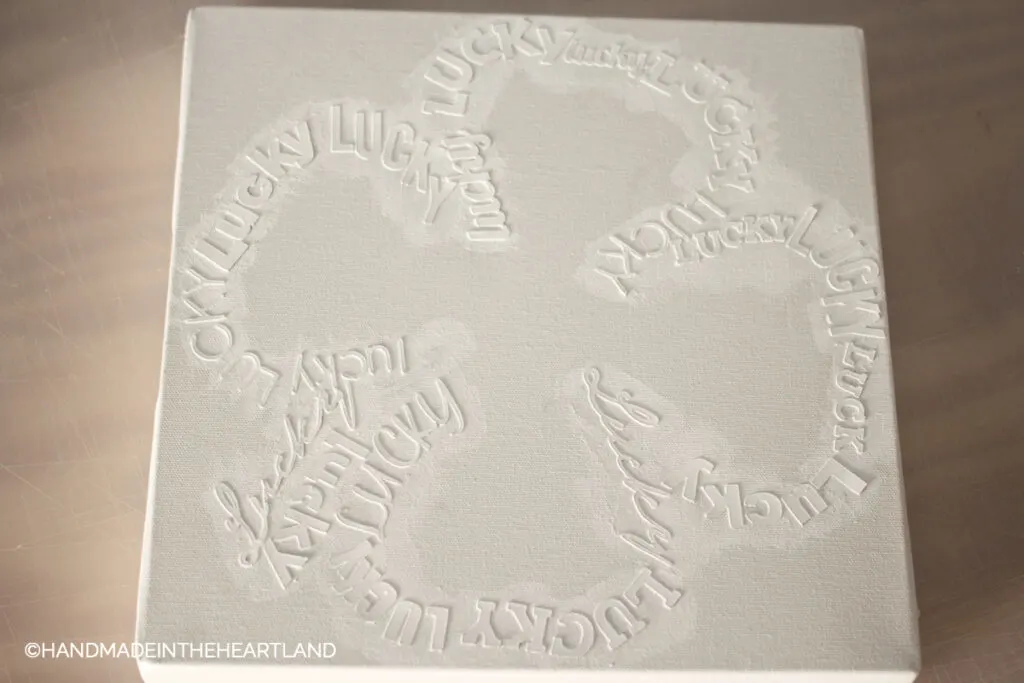 Once the white paint is dry spray the entire canvas with a light coat of spray paint in the color of your choice. I used green apple by Rustoleum in a satin finish. You can also use a craft paint and paint brush if you prefer.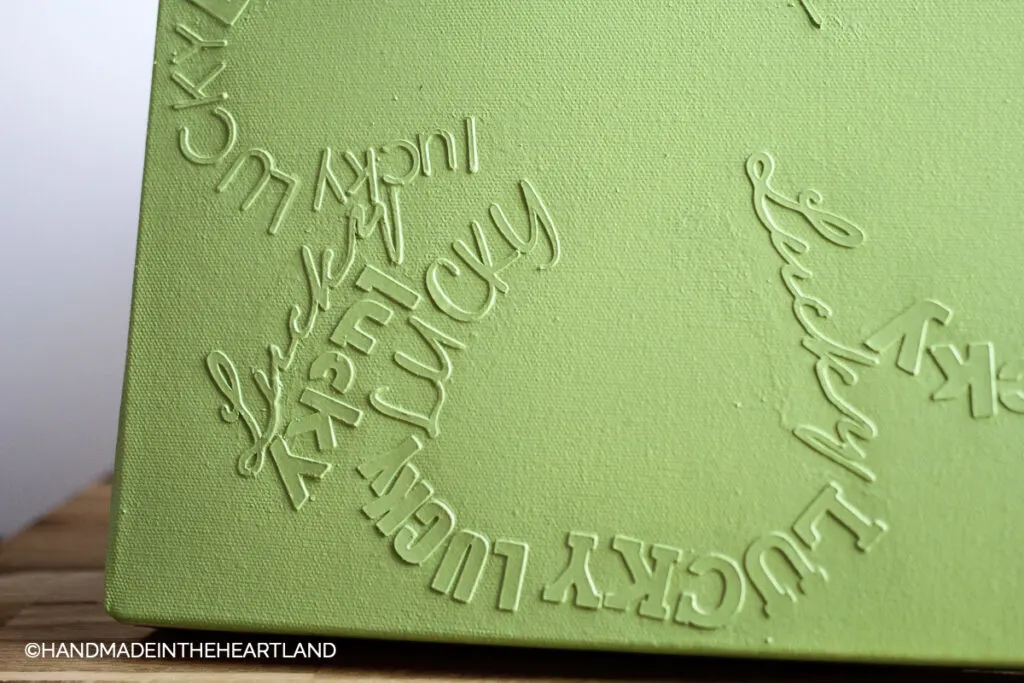 Voila! Now you have a fun piece of art to display in your home during March!
If you're looking for more St.Patrick's Day ideas check out my list of St. Patrick's Day Recipes, Kids Activities for St.Patrick's Day, St.Patrick's Day Crafts, St. Patrick's Day Outfit Ideas and St.Patrick's Day Free Printables
Can I make this project if I don't have a Cricut?
Yes! You'll want to print out a large shamrock shape out of card stock or thick paper and trace it onto the canvas. For the lucky words just head to the craft store and look for chipboard letters. Look for a variety of different fonts, but stick to around the same sizes.
Tips for cutting chipboard on the Cricut Maker
Use a strong grip mat. (the purple one)
Push the chipboard down super well, if you have a brayer roll it over the chipboard several times.
Use painters tape or masking tape to tape the edges of the chipboard down.
Make sure you push the white roller guides on the Cricut to the side so they don't make marks on the chipboard. You can push them all the way to the right.
Use the knife blade.
If you've got extra chipboard to use check out my Cricut chipboard yarn wrapped letters for your next project!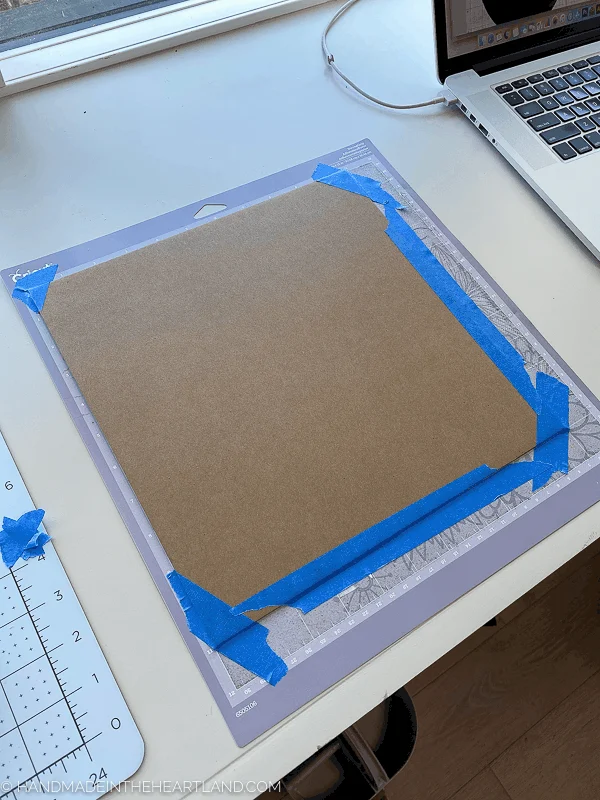 Can I cut chipboard with a Cricut Explore?
It depends on how thick the chipboard is. Cricut brand chipboard is made for use with only the Maker. However you can get thinner chipboard or super thick card stock/ poster board at the craft store that a Cricut Explore should be able to handle. Try using 321 cut pressure and doing a multi-cut 2x's. Check this cutting guide for more info.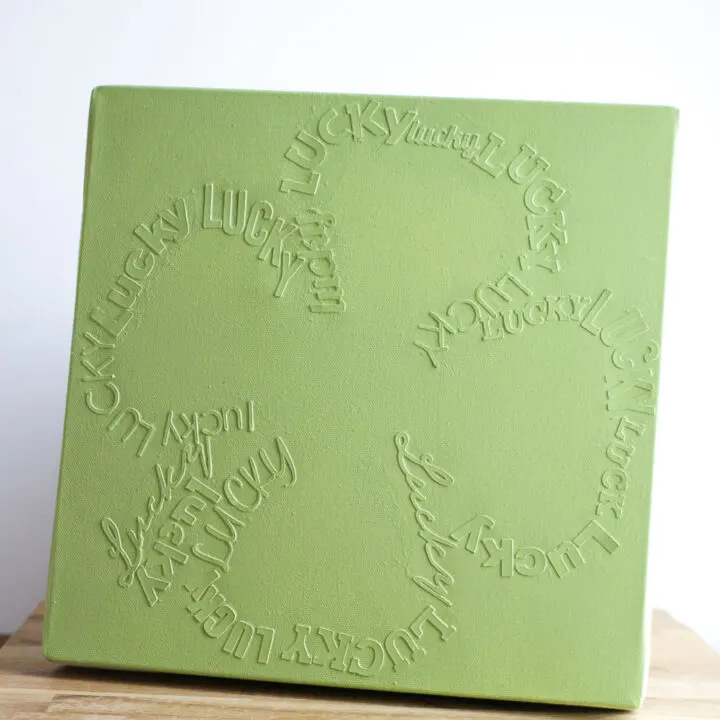 Lucky Canvas Art
St. Patrick's Day Ideas
Looking for more St. Patrick's Day ideas? Here's a few that will be sure to make your March 17th a little more festive.