This recipe for pistachio pudding from scratch is so good you'll never use a box mix again!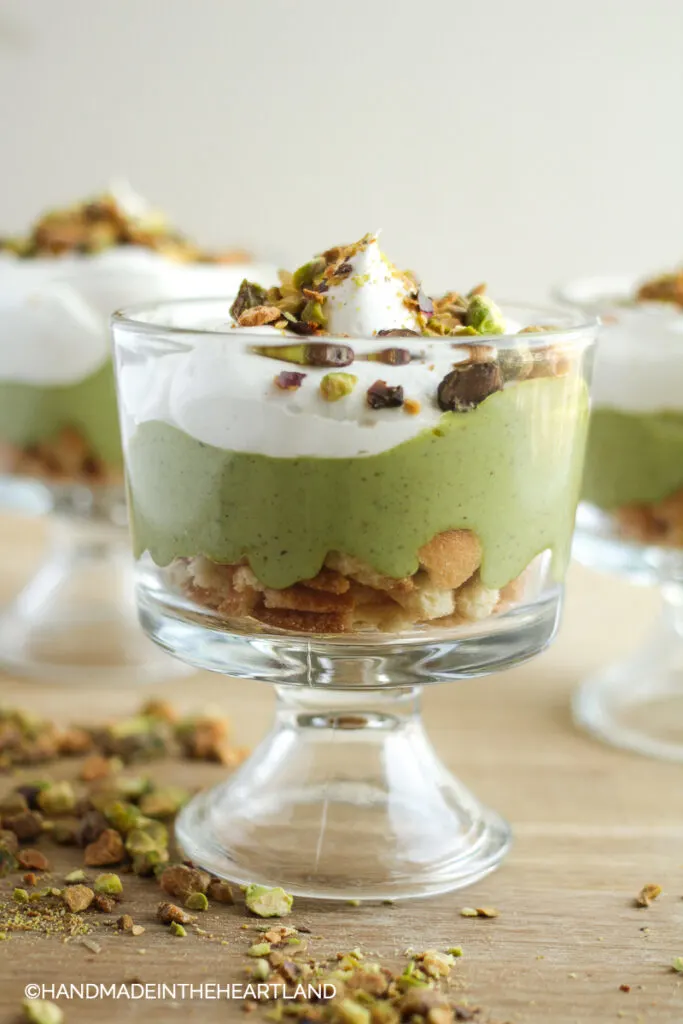 St. Patricks day is right around the corner and I wanted to give you all a dessert to celebrate the occasion with. I kept thinking about different ingredients that are green and finally settled on pistachios.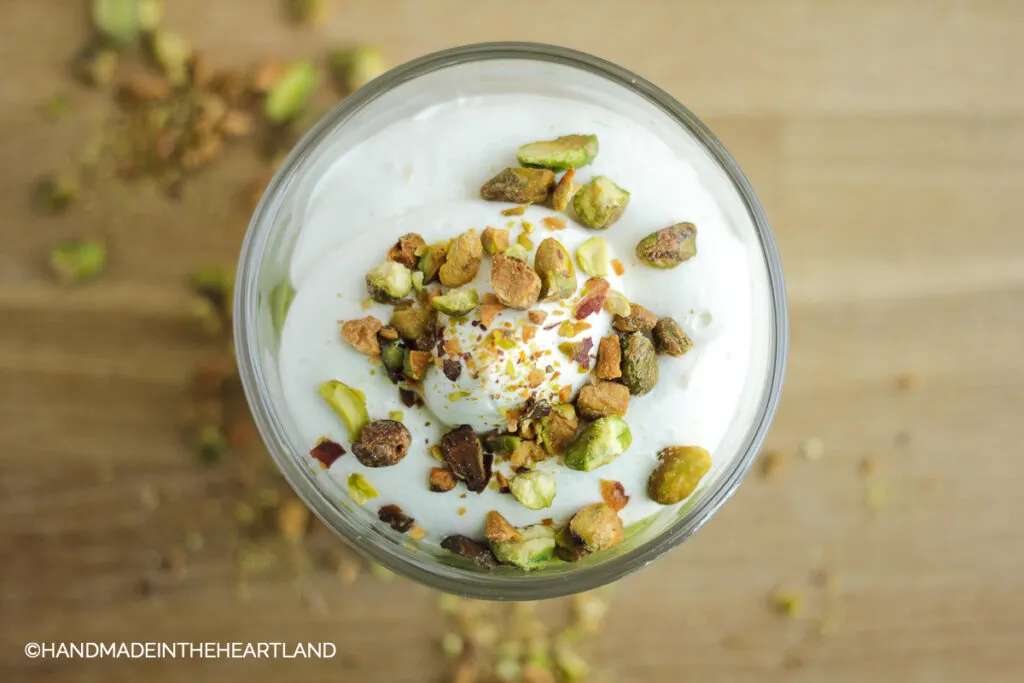 I love a dessert that is pretty and easy to put together and these parfaits hold up on both accounts. So if you need a delicious and lovely dessert to serve your family or friends these pistachio pudding parfaits have you covered!
Ingredients:
Pistachios- The star of this recipe you'll need shelled pistachios to put into a food processor or blender to make the paste for the base of the pudding.
Powdered sugar- The main sweetener for the pudding is powdered sugar.
Milk- The base of this fresh made pudding is milk, I prefer to use whole but 2% or skim will work.
Egg yolks & Cornstarch- These ingredients thicken the pistachio pudding during cooking.
Almond extract- If you've ever had pistachio ice cream you've probably tasted the almond flavoring, almond is a perfect companion flavor to pistachio.
Green food coloring- If you'd like the pudding to have a saturated green color you'll need to add a little food coloring. If you don't like food dyes, leave it out!
Cream cheese- the base of the whipped topped, make sure your cream cheese is room temperature before you mix it in.
Marshmallow fluff- This sugary fluff is the secret ingredient of the whipped topping.
Cool whip- Cool whip adds a little more fluff to the whipped topping.
Heavy whipping cream- It wouldn't be whipped cream without true cream.
Vanilla extract & lemon zest- These two flavor enhancers add depth and a little freshness to the whipped topping.
Vanilla wafers- I like vanilla wafers for the bottom of the parfait cup, any cookies will work.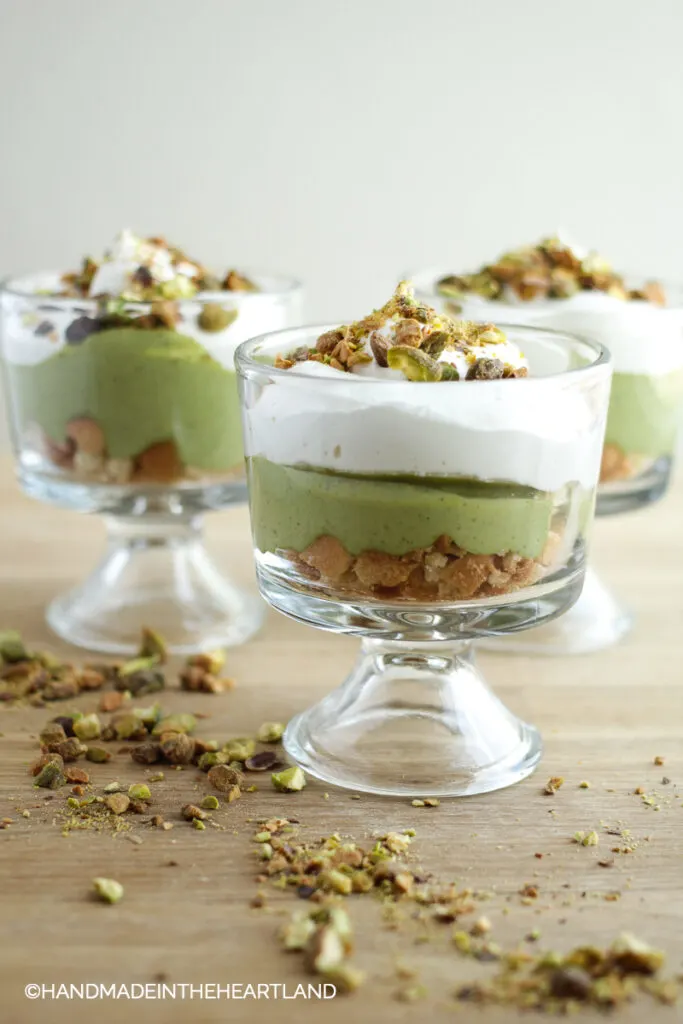 How to serve pistachio pudding
I love to serve homemade pudding in parfait cups with layers of cookies, like and whipped cream. You could do individual parfaits like I did, I found these little dishes at Walmart for $1.97 each(!), or you could put it all in a trifle dish and do two layers of each ingredient.
If you choose to make individual pistachio pudding parfaits I find the easiest way to make the layers look "professional" is to put the pudding and whipped topping in pastry bags and then pipe them into the dishes.
If you're looking for more parfait recipes check out my Chocolate and Caramel Cream Parfaits, Coconut Cream Pie Parfaits, Banana Custard Yogurt Parfaits, and Pumpkin Pie Ginger Parfaits.
How to make Pistachio Pudding from scratch
Making a custard pudding from scratch is a great skill to have up your sleeve. It might sound complicated but you can make pudding from scratch in 3 steps.
Mix the milk and pistachio paste in a saucepan and heat it over medium heat until it simmers. Then let it cool for a few minutes.
Whisk the egg yolks in a small bowl and make a cornstarch slurry with water in another small bowl. Add a little bit of hot milk a tablespoon at a time into the beaten egg yolks whisking the entire time. This will warm up the eggs without cooking them. Then add the warmed up eggs back to the sauce pan with the rest of the milk and add the slurry.
Cook the pudding over medium heat until it thickens, stirring constantly. Once it's thickened up remove it from the heat and let cool. Cover with plastic wrap and let it set up in the fridge for at least 4 hours.
If this recipe sounds complicated, its not! don't be afraid to try it, its 1000x's better than a boxed pudding mix, I promise!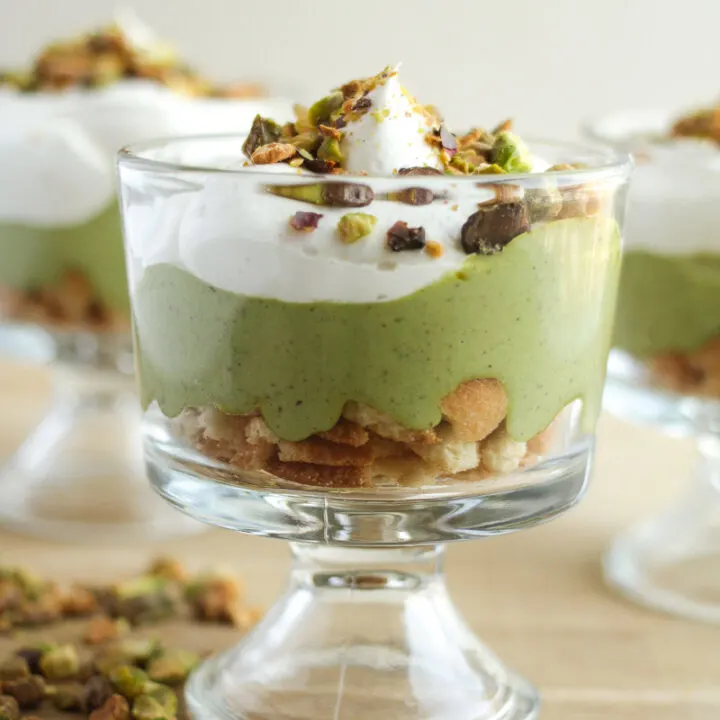 Pistachio Pudding Parfait
This delicious from scratch pistachio pudding recipe is delicious! Once you make this with fresh pistachios you'll never use a box again!
Ingredients
1 cup pistachios
1/2 cup powdered sugar
1/4 cup water
2 1/2 cups milk
3 egg yolks
1/4 cup cornstarch
2 tablespoons water
1 teaspoon of almond extract
a few drops green food coloring
Whipped Topping
1 package (8 ounces) cream cheese, softened
1 small container of marshmallow fluff
1 regular container of cool whip
1/4 cup heavy whipping cream
1 tsp vanilla
zest of 1 lemon
For Serving
1 box of vanilla wafers, crushed
Instructions
For the pudding start by using a food processor, grind the pistachios as fine as you can get them. Then add the powdered sugar and process a few times to combine. Add water to create a paste.
In a heavy bottomed sauce pan, combine the milk and pistachio paste and heat over medium low until it begins to simmer (do not let it boil), stirring occasionally. Once milk mixture begins to simmer, remove from heat and cool for 5-10 minutes.
In a separate bowl, slightly beat egg yolks. In a small cup or bowl, combine the cornstarch and 2 tablespoons of water to create a paste. Once the milk mixture is cooled slightly, add a few tablespoons at a time of milk to egg yolks while whisking to avoid cooking eggs, repeat this process two more times. You don't need to add the entire mixture just enough to warm up the eggs without cooking them.
Next, pour the entire the egg mixture back into the milk mixture and warm it back up over medium low heat. Add the cornstarch & water paste as well. Stir constantly.
Once the pudding thickens and coats the back of your spoon, remove from heat and stir in almond extract and green food coloring. Once pudding has cooled slightly (about 15 minutes) cover with plastic wrap (placing wrap directly on pudding to avoid pudding skin) and chill for 4+ hours.
Make the whipped topping: In the bowl of a stand mixer combine the cream cheese and marshmallow fluff and beat until creamy and smooth. Add the cool whip and the heavy whipping cream and mix until incorporated. Fold in the lemon zest.
Assemble the parfaits I find the easiest way to make the layers look "professional" is to put the pudding and whipped topping in pastry bags and then pipe them into the dishes. I layered crushed up vanilla wafers on the bottom then the pistachio pudding and finally the whipped topping. To add a pretty finished look I added some crushed pistachios on top.
Recommended Products
As an Amazon Associate and member of other affiliate programs, I earn a small commission if you purchase something I recommend. I would never recommend products I don't love and use!
Nutrition Information:
Yield:

6
Serving Size:

1
Amount Per Serving:
Calories:

323
Total Fat:

19g
Saturated Fat:

7g
Trans Fat:

0g
Unsaturated Fat:

11g
Cholesterol:

116mg
Sodium:

183mg
Carbohydrates:

29g
Fiber:

3g
Sugar:

13g
Protein:

11g
When you make this pistachio pudding please let me know! I love to see it when you make things from the blog! Share it with me in the comments or tag me on Instagram (@handmadeintheheartland) or facebook!
St. Patrick's Day Ideas
Looking for more St. Patrick's Day ideas? Here's a few that will be sure to make your March 17th a little more festive.