Eggnog cheesecake cupcakes decorated with Christmas lights are the cutest and most festive dessert to have this holiday season! Simple to make and delicious to eat these cupcakes take a fraction of the time it normally takes to make cheesecake.
This post contains affiliate links which means I earn a small commission if you purchase something that I recommend.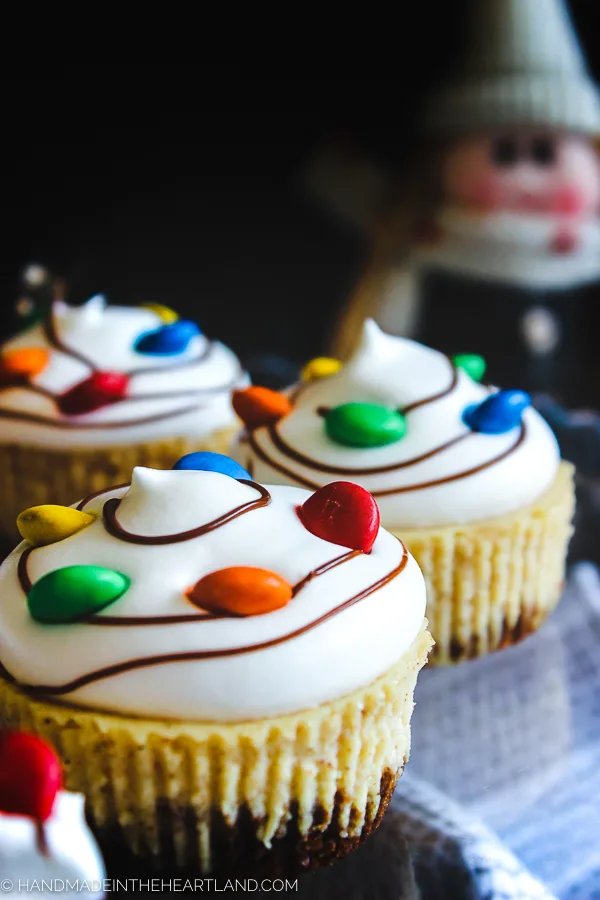 We love Eggnog in our house! Check out my egg nog cinnamon bread, a reader favorite and my easy eggnog ice cream is to die for!
This eggnog french toast casserole (which is basically bread pudding) is the perfect Christmas breakfast and if you're doing holiday baking don't forget about my caramel egg nog cookies!
I love Eggnog so much I created a list of over 70 eggnog recipes that use eggnog as an ingredient or are recipes for how to make eggnog from scratch.
Baking has always been a holiday tradition for me. When I was young my mom and I would take a day during Christmas break and bake all day. We would package up plates of our goodies and take them to friends and neighbors.
I love to continue this tradition with my family and add new recipes every year to our baking lineup. My kids love to decorate cookies and cupcakes and these Christmas eggnog cheesecake cupcakes are so fun to decorate with M&M's to look like Christmas lights.
---
Ingredients: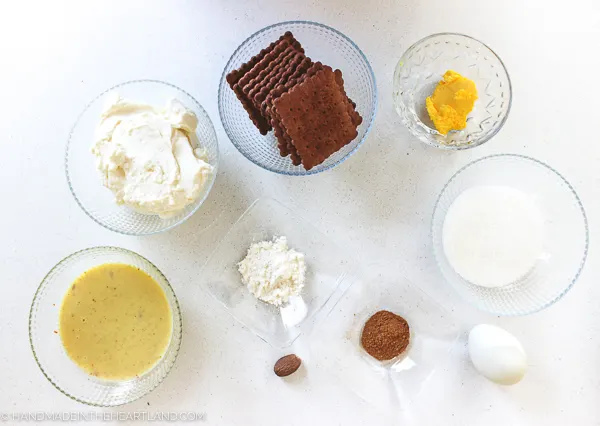 Chocolate Biscuits- A wafer type biscuit cookie is best for this delicious crust. You can also use gingersnaps if you'd prefer a ginger-ie flavor with the eggnog.
Cream Cheese- The key to making great cheesecake is to make sure the cream cheese is at room temperature so it mixes easily in with the other ingredients without leaving lumps. I like to pull mine out of the fridge several hours before I'll be baking.
Eggnog- I like to call Eggnog "Christmas in your mouth" It really does taste like Christmas! These little mini cheesecakes are filled with this sweet holiday taste!
Butter, Sugar, Vanilla & 1 Egg- All your standard baking ingredients needed for a cheesecake base.
Cinnamon & Nutmeg- It never hurts to add a little bit more of these sweet spices to the batter. Adding a little bit more enhances the flavor of the eggnog.
M&M's, Melted Chocolate & Whipped Cream- Just a few simple ingredients to decorate these cupcakes with Christmas lights.
---
How to make Eggnog Cheesecake Cupcakes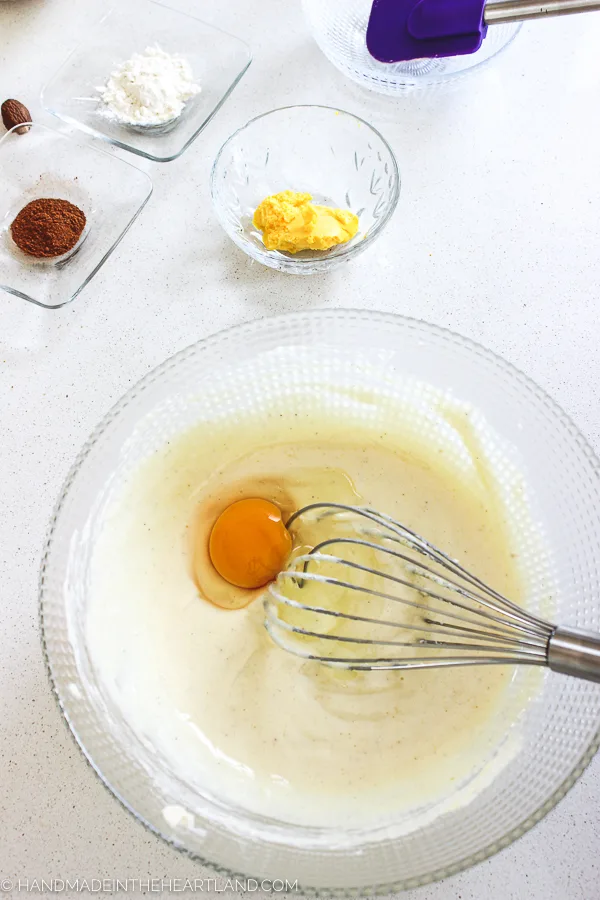 These mini eggnog cheesecakes are super easy to make. There's no complicated techniques or instructions. All you need to do is mix the batter together until it's smooth, divide the batter into muffin cups, bake and cool in the fridge.
This recipe is a small batch, it only makes 8 cupcakes. Sometime it's nice to have a small recipe where you won't have tons of leftover sweets in the house tempting you to eat more! You can easily double it to make 16 if you're feeding a crowd.
---
How long do Cheesecake Cupcakes bake for?
These cupcakes that are filled with a cookie crust and only about 1/4-1/3 cup of batter cook at 350° for 20 minutes. If they look extremely wiggly in the center cook for and additional 5 minutes.
Because a muffin tin is so much smaller than a regular springform cheesecake pan cheesecake cupcakes only have to bake for a fraction of the cooking time. If you're short on time but want cheesecake making them into cupcakes is the way to go! If you're looking for a full size cheesecake check out my Eggnog Cheesecake with Ginger Snap Crust.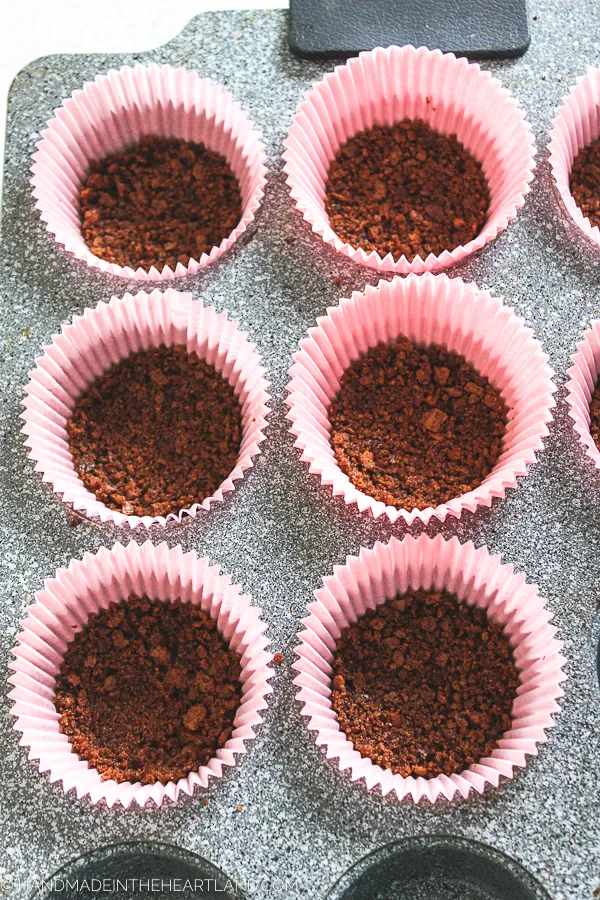 ---
How to decorate Christmas Light Cupcakes:
For these Christmas cupcakes I decorated them with "Christmas lights" by melting chocolate and piping it onto the cupcakes in a circular swirling motion. Then I stuck a few M&M's onto the chocolate circles.
If you don't have plastic piping bags no problem! After melting about 1/2 cup of chocolate chips in the microwave at 20 second increments I pour the melted chocolate into a ziplock bag. I'll squeeze the chocolate to one bottom corner of the bag and then snip with scissors a tiny bit of the corner off. I use this DIY piping bag technique all the time!
The result of these Christmas light eggnog cheesecake cupcakes is just so cute and it couldn't get more simple! This is a super easy cupcake decorating technique that even a preschooler could complete.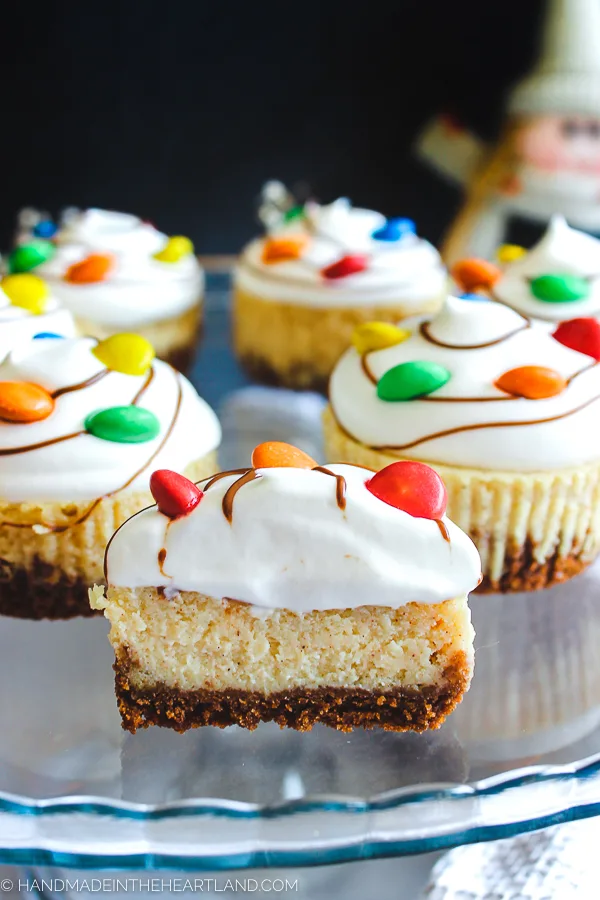 When you make these eggnog cheesecake cupcakes make sure and let me know! I love to see when you make recipes from the blog! Leave a comment or tag me on instagram @handmadeintheheartland or facebook !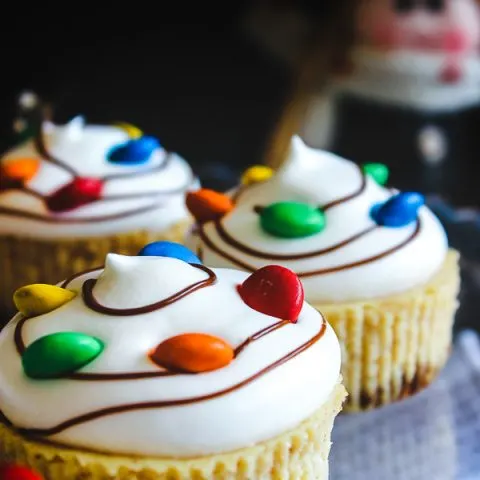 Eggnog Cheesecake Cupcakes
Total Time:
2 hours
40 minutes
Eggnog cheesecake cupcakes decorated with Christmas lights are the cutest and most festive dessert to have this holiday season! This recipe makes 8 cupcakes for a small batch, or double it for 16!
Ingredients
10 chocolate biscuits
2 tbsp butter, melted
1 8oz block cream cheese, room temp
1/3 cup eggnog
1/4 cup sugar
1/2 tsp vanilla extract
1 egg
1/2 tsp ground nutmeg
1/2 tsp ground cinnamon
For decorating
M&M's
melted chocolate
3/4 cup heavy whipping cream
1 tablespoon powdered sugar
Instructions
Preheat oven to 350°
In a food processor, blend cookies and melted butter. Press about a tablespoon into the bottom of 8 muffin cups.
In a bowl, using whisk, hand mixer or a stand mixer, beat cream cheese and sugar until it gets a creamy texture. Add eggnog, vanilla extract, egg, nutmeg and cinnamon, keep whisking. The batter should become creamy without any lumps.
Divide butter between 8 muffin cups, filling 3/4 full.
Bake for 20 mins. Remove and let cool at room temperature for 5 minutes, then chill for 2-3 hours in the refrigerator.
Decorate before serving:
Whip the cream and powder sugar, then pipe onto cooled cheesecakes. Use melted chocolate in a ziplock bag with a corner snipped off to pipe melted chocolate in a circular motion around the top of the cupcake. Place M&M's on chocolate circles to make Christmas lights.

Recommended Products
As an Amazon Associate and member of other affiliate programs, I earn a small commission if you purchase something I recommend. I would never recommend products I don't love and use!
Nutrition Information:
Yield:

8
Serving Size:

1
Amount Per Serving:
Calories:

387
Total Fat:

28g
Saturated Fat:

16g
Trans Fat:

0g
Unsaturated Fat:

9g
Cholesterol:

94mg
Sodium:

194mg
Carbohydrates:

30g
Fiber:

1g
Sugar:

22g
Protein:

5g
Egg Nog Recipes
I love eggnog and the delicious Christmas-y flavor it brings to desserts, breads and cookies! It's such a festive ingredient to use when baking during the holiday season! Here are my favorite eggnog recipes!